Critics – mostly Western – of Hong Kong's reopening say the city must address the impact of social unrest on its international reputation. Drawing a line under the 2019 protests is important for society, but it makes little difference to tourists, very few of whom are actually from Western countries.
Having finally thrown off Covid-19 pandemic shackles, Hong Kong is at last poised to reopen to the world. The HK$100 million (US$12.7 million) "Hello Hong Kong" campaign launched last weekend is offering up to 700,000 free air tickets, consumption vouchers, and welcome drinks in hotels, bars and restaurants across the city, as well as a menu of mega-events.

For our decimated hospitality industry, the reopening cannot come a second too soon. From 65 million visitors in 2018, the shrivelled total last year was around 600,000.

The World Travel and Tourism Council calculated that the contribution of travel and tourism to our economy shrank from HK$347 billion (US$44.7 billion) or 12.1 per cent of GDP in 2019 to HK$92.9 billion in 2021 – a paltry 3.2 per cent of GDP, with visitor spending down from HK$276 billion to a bare HK$7.7 billion.

In the process, travel and tourism jobs fell by 120,000 to 439,000 – and probably fell further through 2022. The sooner we are able to recover these losses, the better.

But how quickly the world clamours to reopen to us is an open question.
The sobering reality is that The New York Times, indifferent to the launch excitement among Hong Kong's tourism promoters, headlined its report: "Hong Kong tries to repair its battered image with plane ticket giveaway". It continued: "Interested in visiting a place that still calls itself 'Asia's world city' despite mounting evidence that it is marching toward an insular, authoritarian future?".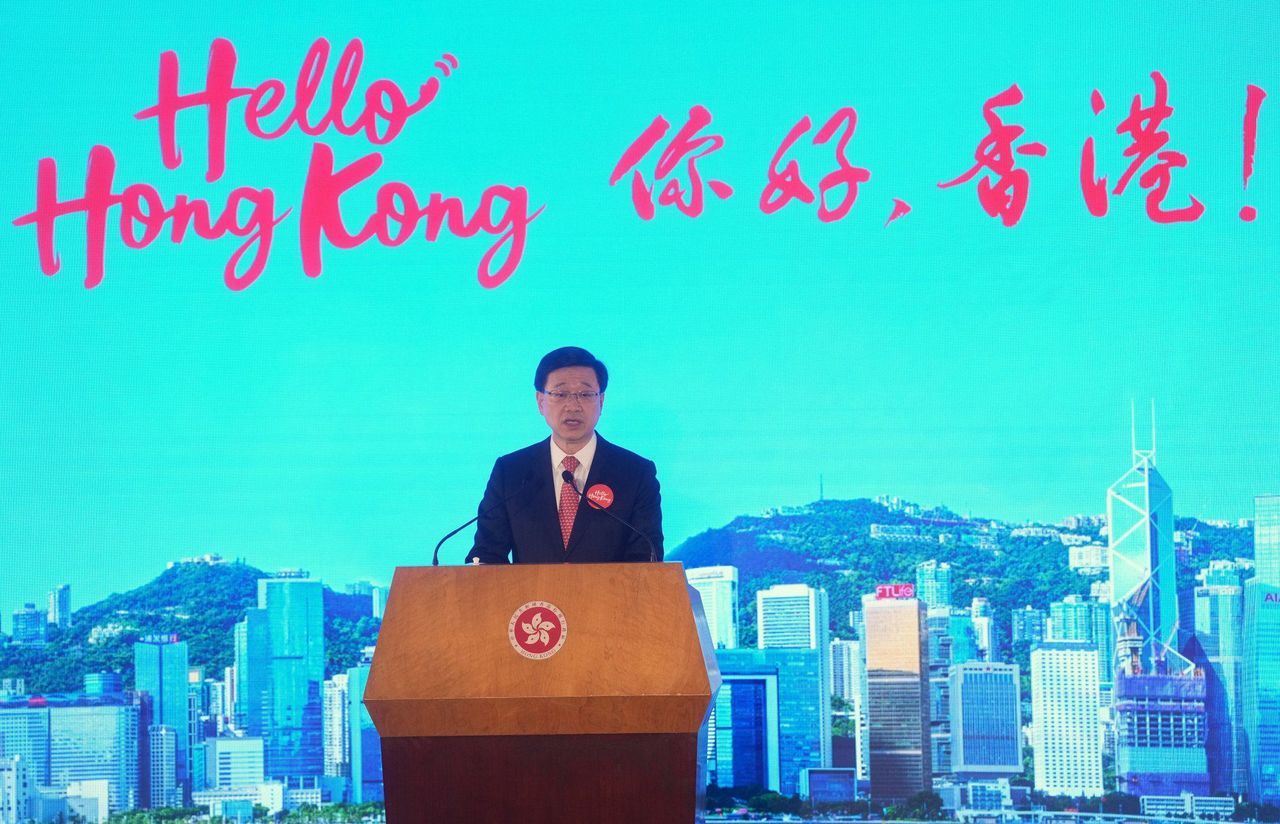 Chief Executive John Lee Ka-chiu speaks at the launch ceremony of the "Hello Hong Kong" tourism campaign on February 2.
Nikkei Asia wrote of a campaign that was "aimed at rebuilding an image battered by strict virus curbs and crackdowns on civil liberties".
Last Tuesday, just two days after the celebratory mood stirred by the "Hello Hong Kong" launch, the only Hong Kong-related story in the Financial Times was: "National security law trial of pro-democracy activists opens".
Most Western media did not even bother to mention the "Hello Hong Kong" launch. Even the website of the World Travel and Tourism Council, the leading lobbyist for tourism worldwide, has yet to mention Hong Kong's relaunch initiative as of the time of writing.
Here in Hong Kong, there were also dissonant voices. Some complained that the campaign is not well-focused. Others said it is being launched too soon. But most meaningfully, critics complained because it wholly skirted around the international controversies still simmering over our six months of appalling street violence in 2019, when activists destroyed metro stations and fought with police.
I have sympathy with SCMP columnist Cliff Buddle who, noting the 120,000 people that have left Hong Kong since the 2019 riots, argued that our administration should not "sidestep the political developments that have altered perceptions of Hong Kong overseas".
The relaunch also sits uncomfortably alongside ongoing trials of 2019 street demonstrators. As the Financial Times noted on Tuesday, Hong Kong's largest national security law trial has opened this week – and is likely to continue for the next three months – with 47 pro-democracy and pro-independence activists "facing up to life imprisonment in a landmark case that could spell the end of the territory's once vibrant political opposition".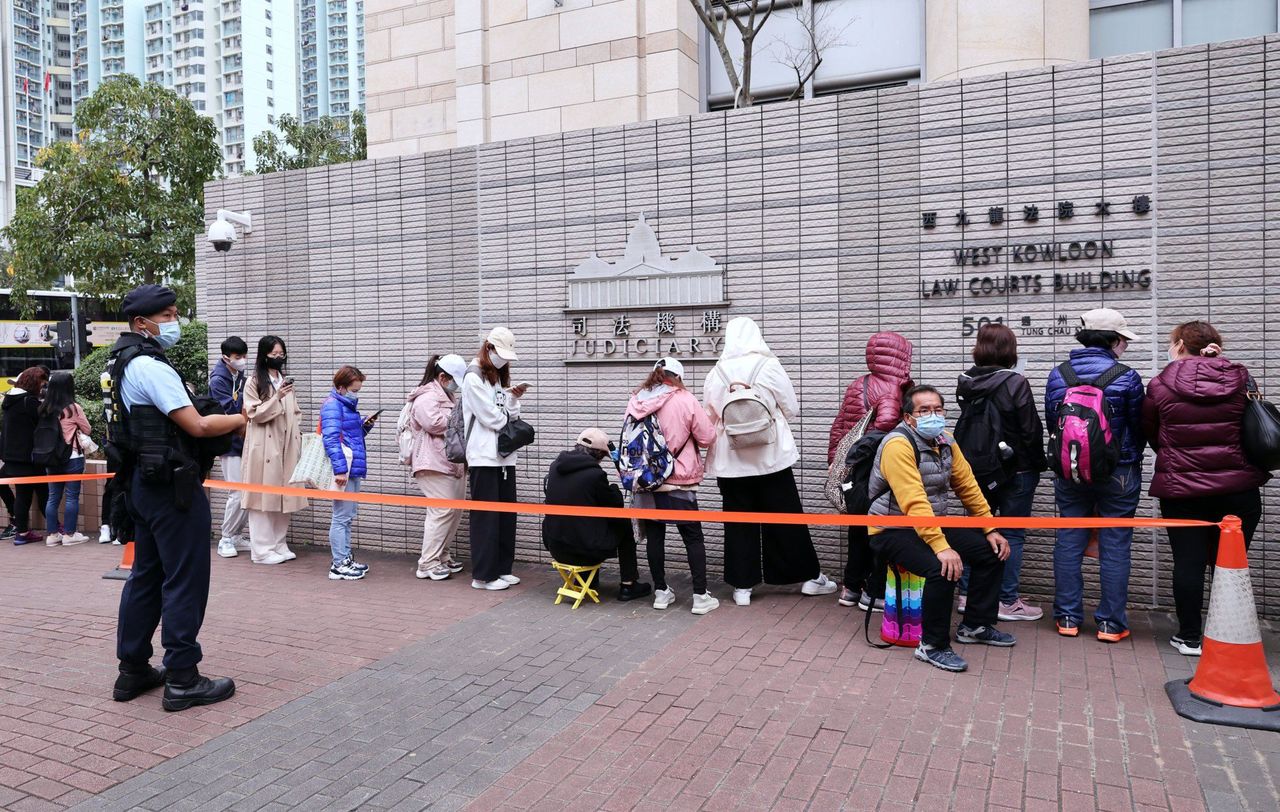 People queue outside the West Kowloon Law Courts to witness the national security trial of 47 pro-democracy activists on February 7.

I share the concerns of former government official Mike Rowse who complained back in December that of the 10,000 (mainly youngsters) who were arrested during the protests, 6,000 were still waiting for their cases to be processed. Each of these outstanding cases remains a festering wound not just for foreign critics to pick at, but for the thousands of Hong Kong families whose lives have been traumatised.

Rowse called for the government to "draw a line under 2019" by ensuring that these cases are heard, or dropped, by July 1 – the first anniversary of John Lee Ka-chiu being appointed chief executive. I agree with him: no healing can begin in Hong Kong until these prosecutions are behind us – nor can we expect foreign media to stop snapping at our heels.

After all, massive amnesties are not without precedent in Hong Kong, for anyone willing to recall Governor Murray MacLehose's amnesty that in 1977 brought to an end a decades-long era of pervasive police corruption.

Despite these concerns, which are more than anything important to those of us in Hong Kong, I suspect they will do negligible harm to Hong Kong's energetic campaign to rebuild our travel and tourism sector. This is likely to succeed, with visitor numbers soaring quickly from present moribund levels.

Why am I so confident? Of the 65 million-or-so visitors to Hong Kong in 2018, 78 per cent came from mainland China – few of whom cared much about "crackdowns on civil liberties" since 2019. The second largest group of visitors came from Southeast Asia – who again do not share the Western media's concerns about civil rights.

Just 3 per cent of Hong Kong's visitors came from the United States, and even fewer from places like the UK, or Australia. Hong Kong's hospitality sector did not rely on them before 2019, and will not in the future. Other sectors of Hong Kong's economy may have more to fear, but that is a story for another day.

Whatever the views of The New York Times, Hong Kong is not heading towards an "insular, authoritarian future", and if he hangs around long enough, their correspondent will be able to discover that for himself.