Hong Kong confirmed 42 new Covid-19 infections on New Year's Day, the lowest daily caseload since the start of the fourth wave about six weeks ago, but health officials and experts warned numbers could rebound because of recent festive gatherings.

Friday's count, which included 13 untraceable infections and six imported ones, was the lowest since November 20, when 26 cases were confirmed. More than 30 people tested preliminary-positive for the virus.

The city's overall infection tally stood at 8,888, with 149 related deaths, including the latest fatality, a 59-year-old man who succumbed in the afternoon.

The city's leader, Chief Executive Carrie Lam Cheng Yuet-ngor, reiterated a zero infection target in her New Year message and said border control measures were "watertight".

In a pre-recorded video chat with her Executive Council convenor Bernard Chan, Lam also said the government could introduce many stringent virus measures but they would not work without the cooperation and self-discipline of residents.

"Public health requires the participation of all people. The government could put forth a lot of stringent control measures, but if the public does not follow or is not disciplined enough, it will still be hard to handle," Lam said.

Meanwhile, Dr Chuang Shuk-kwan, head of the Centre for Health Protection's communicable disease branch, said the peak of the fourth wave of infections could have passed but a rebound was possible if mass gatherings took place over the New Year holiday.

"We can see the numbers are going down, it's a good thing, but we are worried whether the trend will last or will rebound," she told a regular Covid-19 briefing.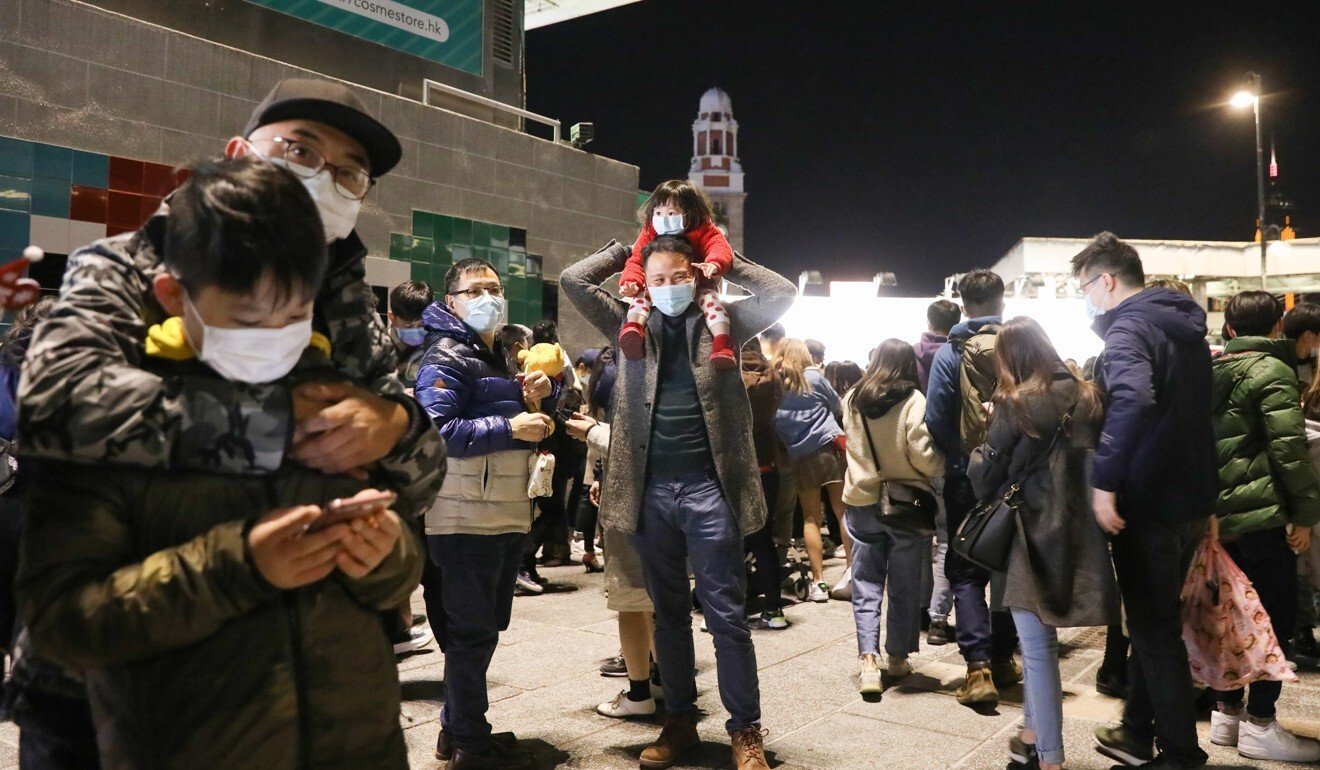 Despite the absence of fireworks, revellers still came to the harbourfront area of Tsim Sha Tsui to ring in the new year.

Chuang added that the latest daily figure only reflected the epidemic situation some time ago, and did not take into account a possible spread after the holidays.

"We all know the virus' incubation period is usually one week, but can be longer, so it cannot reflect all the cases in the community."

She also revealed that one more health worker linked to the United Christian Hospital cluster was infected, taking the number of cases to 21, comprising 12 patients and nine staff members.

The worker was responsible for patient care before her infection, which was identified while she was undergoing quarantine.

Chuang said no new buildings had to be placed under a mandatory testing order on Friday. Forty-three housing blocks were recently added to the compulsory testing list following a tightening of criteria which now required residents in a building to be screened if two or more unrelated cases were confirmed there.

Infectious disease specialist Dr Joseph Tsang Kay-yan also sounded the alarm over festive gatherings.

While the daily tally of new infections had dwindled from more than 100 in early December to dozens this week, Tsang said the trend could reverse.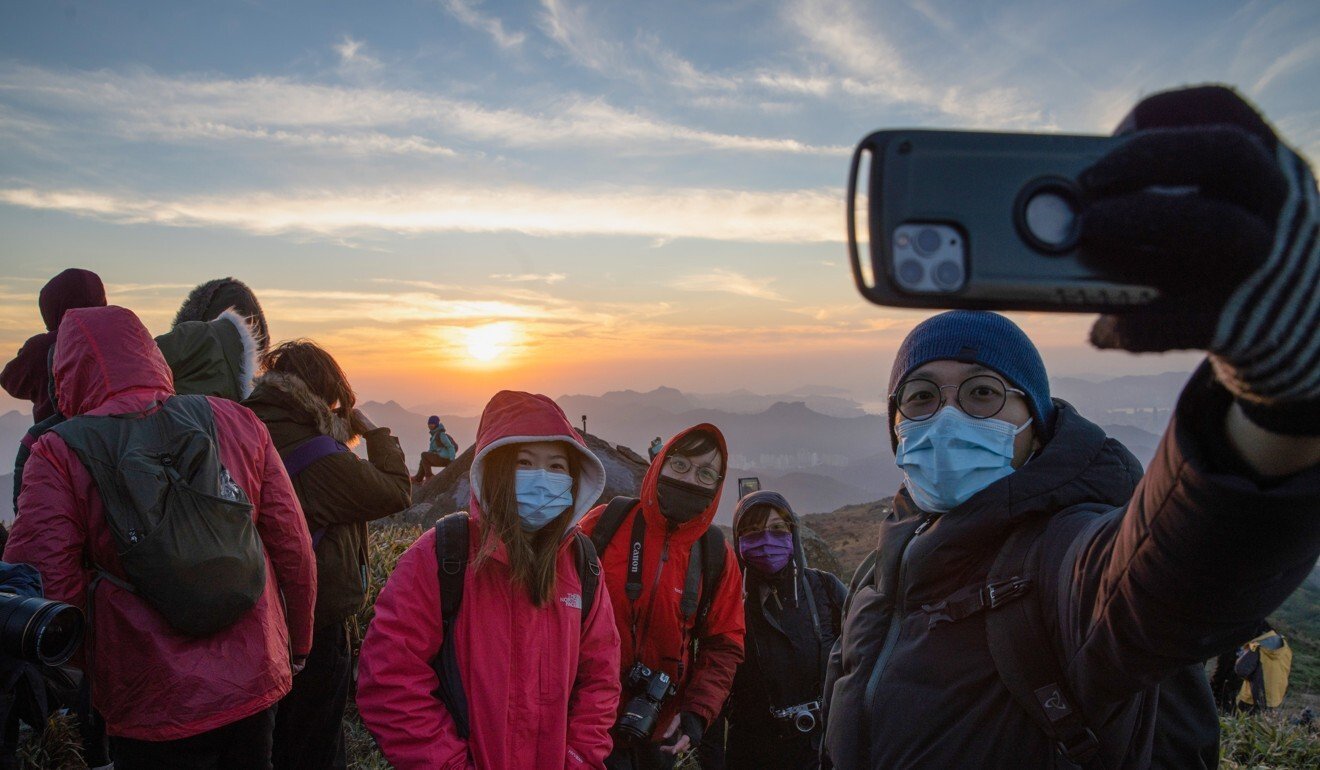 Neither cold weather nor Covid-19 fears kept Hongkongers from travelling to Tai Mo Shan to watch the New Year's Day sunrise.

"There were some family gatherings during the winter solstice and Christmas, and it's expected some cases will arise from those occasions," he told a morning radio show. "On [New Year's Eve], there were also lots of people on the streets."

Crowds were spotted welcoming 2021 at the promenade in Tsim Sha Tsui, despite the cancellation of the annual New Year's Eve fireworks. More than 100 people also made their way up Tai Mo Shan, the highest peak in Hong Kong, to experience the cold weather and witness the first sunrise of the new year.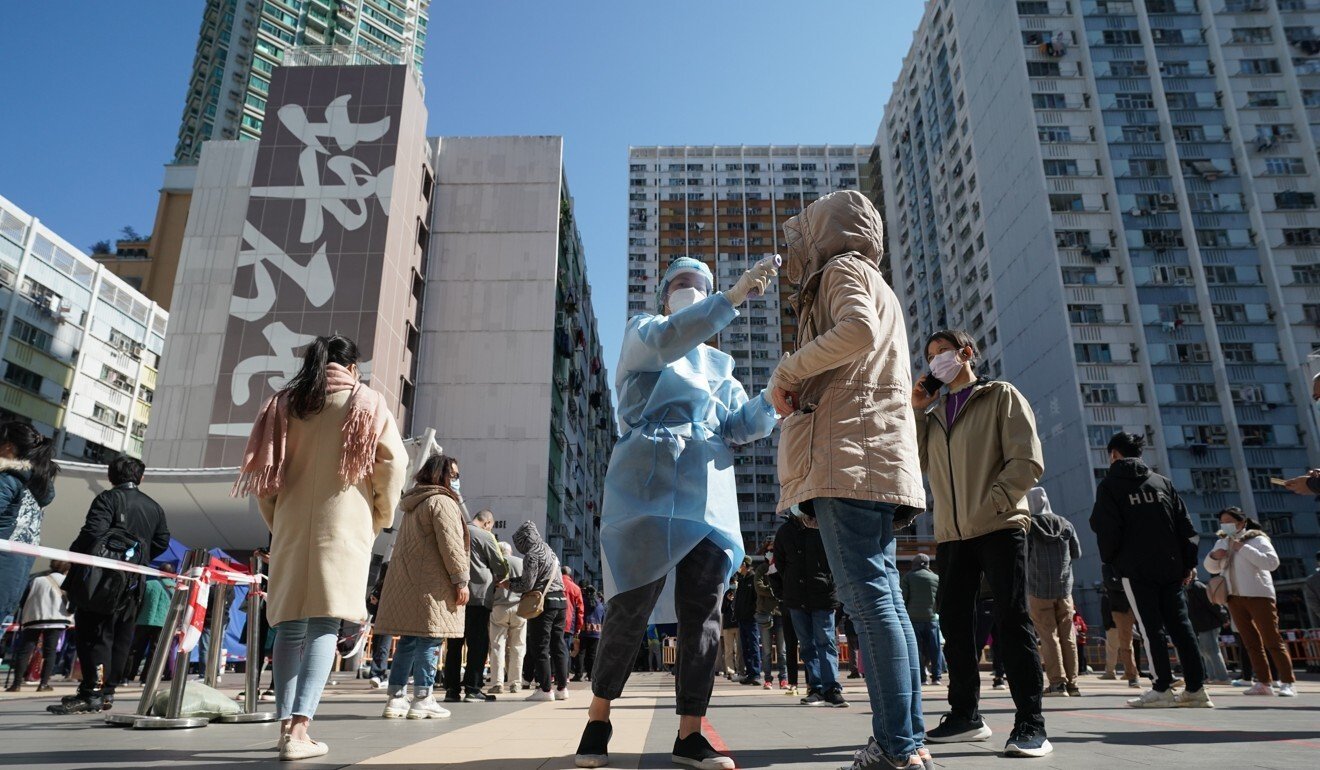 Mandatory testing is taking place at housing estates across Hong Kong.

On the recent news that mutated virus strains from both Britain and South Africa had been identified in some overseas returnees to the city, Tsang said it was possible the new variants had already been spreading in the community, noting they were prevalent in those countries back in November.

He also said health authorities should begin conducting genomic sequencing on samples obtained from locally infected patients, not just imported cases.
The Food and Environmental Hygiene Department said it conducted joint operations with police to enforce social-distancing
rules in 11 districts on New Year's Eve.

A total of 370 catering premises and 27 other establishments were inspected, and the department initiated prosecution procedures against 14 business operators suspected of breaching regulations such as adequate distancing or partitions between tables.

Separately, Secretary for the Civil Service Patrick Nip Tak-kuen said 3,300 people who arrived from overseas from December 22 to New Year's Eve had stayed in the 36 designated quarantine hotels, and 15 infected patients were identified.