Hong Kong's Legislative Council has passed HK$6.4 billion (US$826 million) in financial aid for businesses hard hit by the Covid-19 pandemic, with a single lawmaker voting against the scheme.

At a special meeting of the Finance Committee held on Monday, 32 lawmakers backed the measure, while Civic Passion legislator Cheng Chung-tai opposed it, and three lawmakers of the pro-establishment Federation of Trade Unions (FTU) abstained from voting.

The subsidy programme will mainly help companies operating in the entertainment, catering, education, as well as beauty and massage sectors, as tighter social-distancing rules have kept customers away and sharply eroded their bottom lines.

During the seven-hour meeting, Alice Mak Mei-kuen of the FTU said the government had failed to support other industries, including the aviation sector, while lawmaker Jeffrey Lam Kin-fung, of the Business and Professionals Alliance for Hong Kong, said small and medium-sized enterprises received no help.

Cheng accused authorities of "deciding everything behind closed doors", without a solid plan on what industries to help.

Chief Secretary Matthew Cheung Kin-chung admitted the package was put together quickly.

"There was no time to communicate with political parties during the process," he told lawmakers. "But under fiscal constraints, we can only concentrate on supporting those who have been ordered to suspend business by the government."

Unions representing workers in industries not covered in this fourth round of handouts lobbied lawmakers ahead of the vote.

Cross-border coach drivers staged a drive-by outside the government offices in Admiralty in the morning, while a dozen taxi drivers parked their cars outside the Legco building with slogans taped to their vehicles as members of their unions handed petition letters to government representatives.

"The HK$6.4 billion offered by the government this round should be targeted at those industries that were hit hard, like the financial secretary said," Yiu Si-wing, lawmaker for the tourism sector, said. "Unfortunately, the current round of relief is only being given to operators of premises that have to close."

Hong Kong is battling a fourth wave of the pandemic and recorded 85 new cases on Monday, taking the total to 8,237, with 131 related deaths. Social-distancing measures were stepped up in late November, with authorities banning dine-in services at restaurants after 6pm, temporarily closing bars and pubs, and restricting public gatherings to two people.

The government originally said no new financial help would be provided. But in a U-turn last Friday, Cheung unveiled the package, saying: "Some businesses have been hard hit. We need to offer them assistance."

Under the latest scheme, HK$5.5 billion will be distributed through 19 subsidy schemes with the remaining HK$900 million set aside for emergency use. The spending would push financial reserves down to HK$800 billion, equivalent to 12 to 13 months of government spending, and the deficit would balloon to a record HK$300 billion.

The programme has been criticised for not covering employees, but Cheung said there were no plans for wage subsidies as the administration was unable to afford them, disappointing some unions.

Edmond Chau Kwok-keung, chairman of the Hong Kong Taxi and Public Light Bus Association Limited, said the tightened social-distancing rules had also affected their industry, but they had been left out of the newest round of relief.

"With the dine-in ban, the city is dead after 8pm," he said. "Even if we came out, the most we get is HK$300 (US$39) a day, so we hope the government can really think about how to help us because if the situation continues, we might as well be dead."

His group called for a one-off subsidy of HK$60,000 under the relief measures, as well as lifting the dine-in ban.

The Commercial Organisation and Domicile Services Employees Association, the Hong Kong Beauty and Fitness Professionals General Union and the Hong Kong Massage and Physiotherapy Professionals General Union also submitted petitions, demanding a half-year cash subsidy for workers of up to HK$9,000 each month, similar to the citywide wage assistance the government previously provided.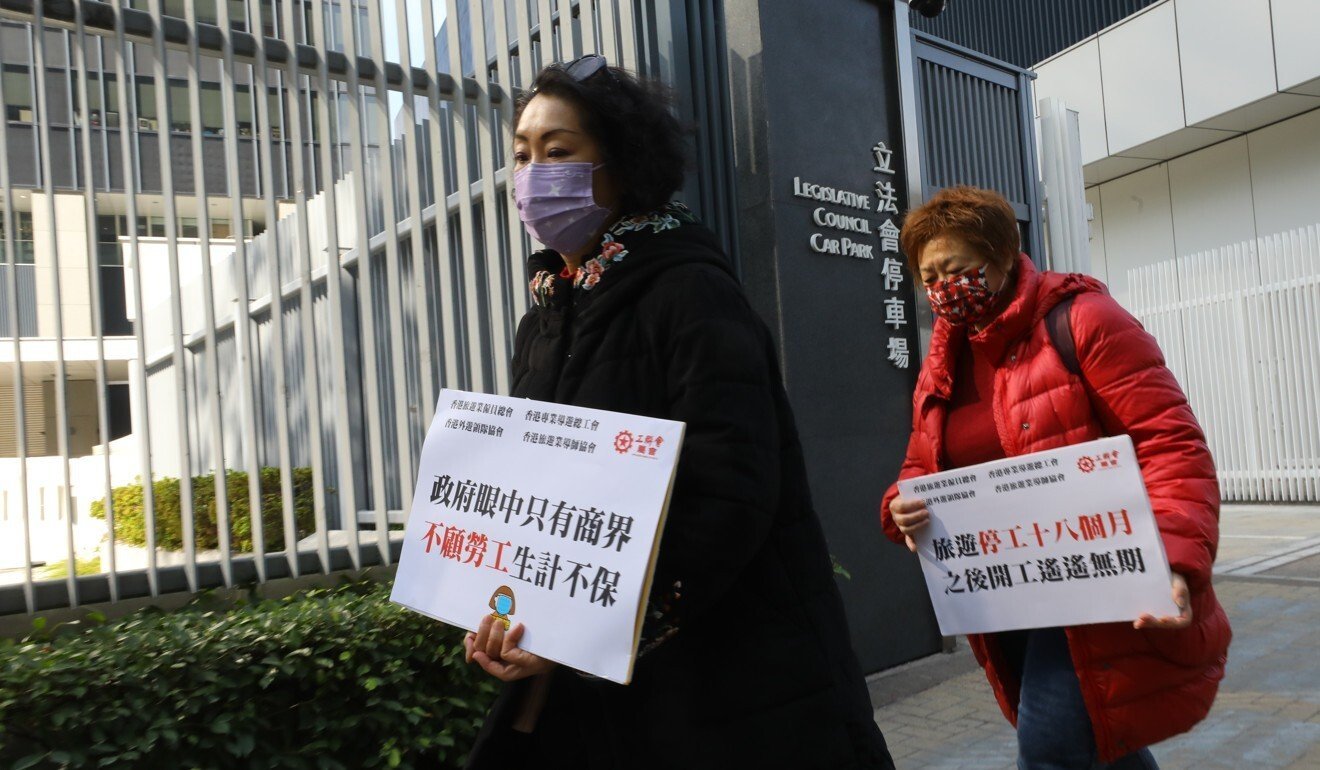 Various groups, including from tourism and transport sectors, gathered to petition the government for more financial support.

They also urged the government to directly send relief money to employees and accept other forms of identification rather than just proof of retirement funds, as well as a HK$10,000 one-off subsidy for workers in districts hardest hit by the pandemic.

Under the fourth round of aid, beauty and massage parlours are eligible for one-off subsidies of up to HK$100,000, depending on the number of workers in each business.

The Hong Kong Construction Industry Employees General Union and the Hong Kong Tourism Industry Employees General Union both called on the government to open up temporary positions in each sector, while the Hong Kong Recreation and Sports Professionals General Union said subsidies should also benefit coaches not registered with the Hong Kong Sports Institute.

All entertainment, recreational and sports facilities were closed temporarily under social-distancing rules.