Hong Kong's traditional Lunar New Year flower markets opened on Saturday for the festive period amid stringent coronavirus crowd-control measures.

Authorities have installed infrared sensors at the entrances and exits of each area to keep track of the number of people inside, to guard against Covid-19 infection risks at the city's 15 major flower markets.

The measures are in line with the administration's latest target to reduce daily coronavirus cases to fewer than a dozen by Lunar New Year towards the end of next week, in a bid for an economic revival.

An alert system on television, radio and the internet based on traffic light signals is being used to indicate crowd capacities at the flower markets. A red alert will be issued when capacity has been exceeded.

Under such circumstances, public entry is disallowed and visitors will be asked to queue at a designated waiting area with social-distancing measures in place.

On Saturday morning, the signal at markets in Mong Kok and Causeway Bay were green, meaning visitors were allowed in at any time.

Other rules for vendors include having to provide contact details of staff members, who must test negative for Covid-19 at least two days before they start work. The number of stalls are capped at half-capacity at each of the 15 flower market locations citywide.

The annual event was originally banned amid the coronavirus pandemic, but the government made a U-turn after an uproar from farmers. The Lunar New Year Fair is an annual event involving markets and thousands of florists and festive goods vendors in public parks and courtyards across the city.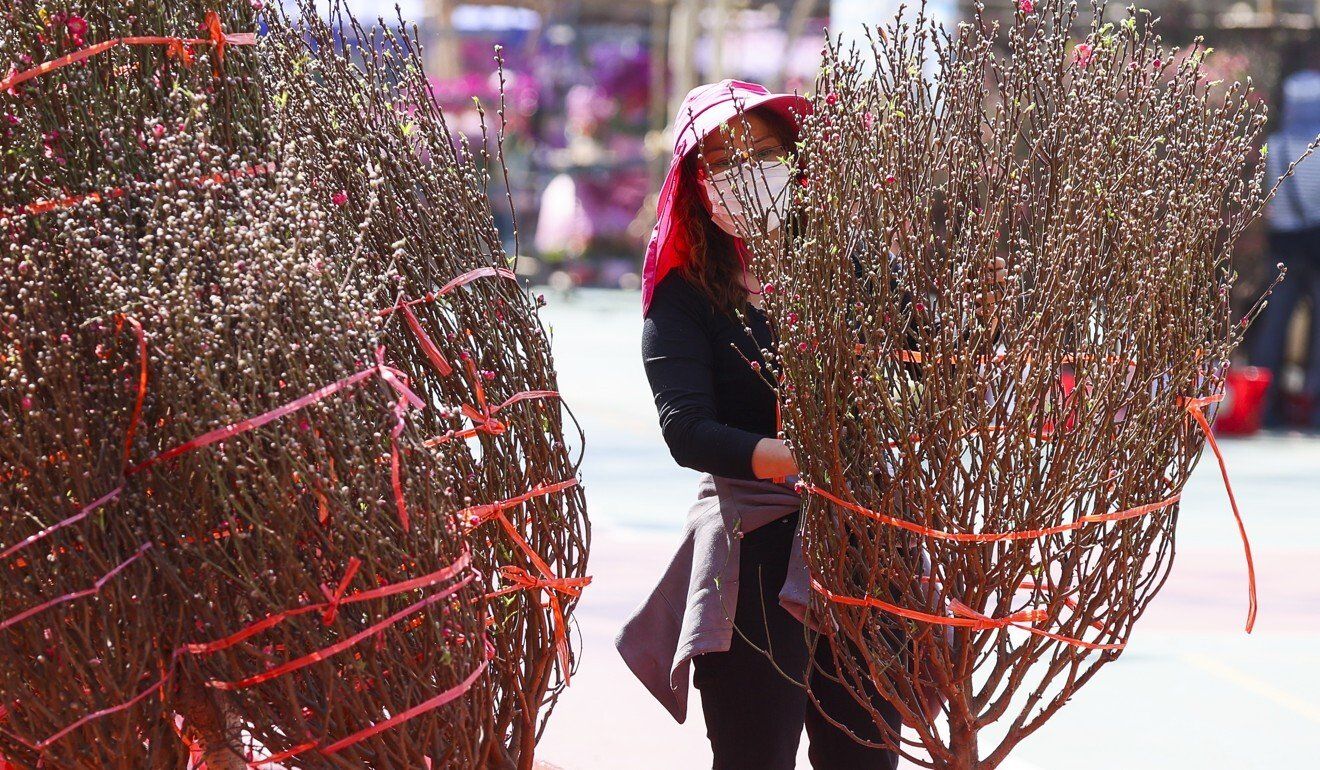 Hong Kong's traditional flower markets were allowed to open amid the pandemic after a U-turn by the government.

Standing in the queue to enter Victoria Park shortly before disinfection of the site was completed at 2.30pm, David Leung, a 60-year-old delivery truck driver, said he visited the flower market every year and was happy the government reversed its decision to ban the event.

"The number of Covid-19 cases is more stable now. The festivities only happen once per year. If people cannot go abroad for vacation, what are they going to do? Stay home?" he said.

"As long as we still have the flower market, it's not a big deal if there are fewer stalls this year. If there's a Covid-19 case and the government decides to cancel it, nobody will blame them."

Teacher Winnie So, 43, said she was not worried about catching the virus because of the infection control measures that had been put in place.

"I believe in the government and see that they are taking precautions. I came around an hour ago but the red light was on, so it reassured me that they are controlling the flow of people," she said.

"I was disappointed when the market was cancelled before because I come almost every year. I feel bad for the farmers who had to deal with the U-turn."

Investment banker Brian Cheung, 22, and fresh graduate Connie Chiu, 21, decided to join the queue because they had no activities planned for the afternoon.

Pointing to the large swathe of space between stalls at opposite sides of the park, Chiu said: "It's more subdued this year because the market is missing a whole chunk of stalls in the middle, but the government is doing the best it can."