Hong Kong's university entrance examinations began as scheduled on Friday despite concerns the annual assessment would be derailed amid the city's fifth wave of coronavirus cases.

A total of 21 candidates were at a special exam centre at the Penny's Bay quarantine camp on Lantau Island for Covid-19 patients and close contacts by the morning. Of them, 10 were confirmed cases while the remaining were under quarantine. One candidate who was feeling unwell chose not to sit the test.

This is the first time since the coronavirus pandemic began that infected students are allowed to sit the DSE.

Nearly 47,000 people began sitting the Hong Kong Diploma of Secondary Education (DSE) English test, held on Friday and Saturday, the highest number of candidates across all subjects.

The Education Bureau said in a release on Friday evening of the candidates at the special exam centre, 18 were admitted to the isolation centre before the day of exam while another three called for designated taxis on Thursday night and went to the facility the next morning. There were no calls for the taxis on Friday morning.

Another 19 candidates living in restricted areas got priority to be tested. All returned negative results on Thursday night and were able to sit the test.

At Po On Commercial Association Wong Siu Ching Secondary School in Tsuen Wan, more than 10 students were waiting outside as early as 7.30am.

Student Jojo Sum said she woke up at 5.30am to handle Covid-19 measures, including taking a rapid antigen test (RAT) and filling out a health declaration form.

"My family took out a suitcase for me in case I had to take the exam at Penny's Bay," she said.

The 17-year-old was a bit nervous about catching the virus but more worried about the exams. "I'm worried about taking the exam while being sick," she said.

Standing in line with her was Jenny Chan, whose residential building underwent restriction-testing a few days ago. She had to take a compulsory test two days ago and received a message on Thursday to say she had tested negative.

"I wasn't too nervous this morning when I took the RAT test because I got the negative result," the 17-year-old said.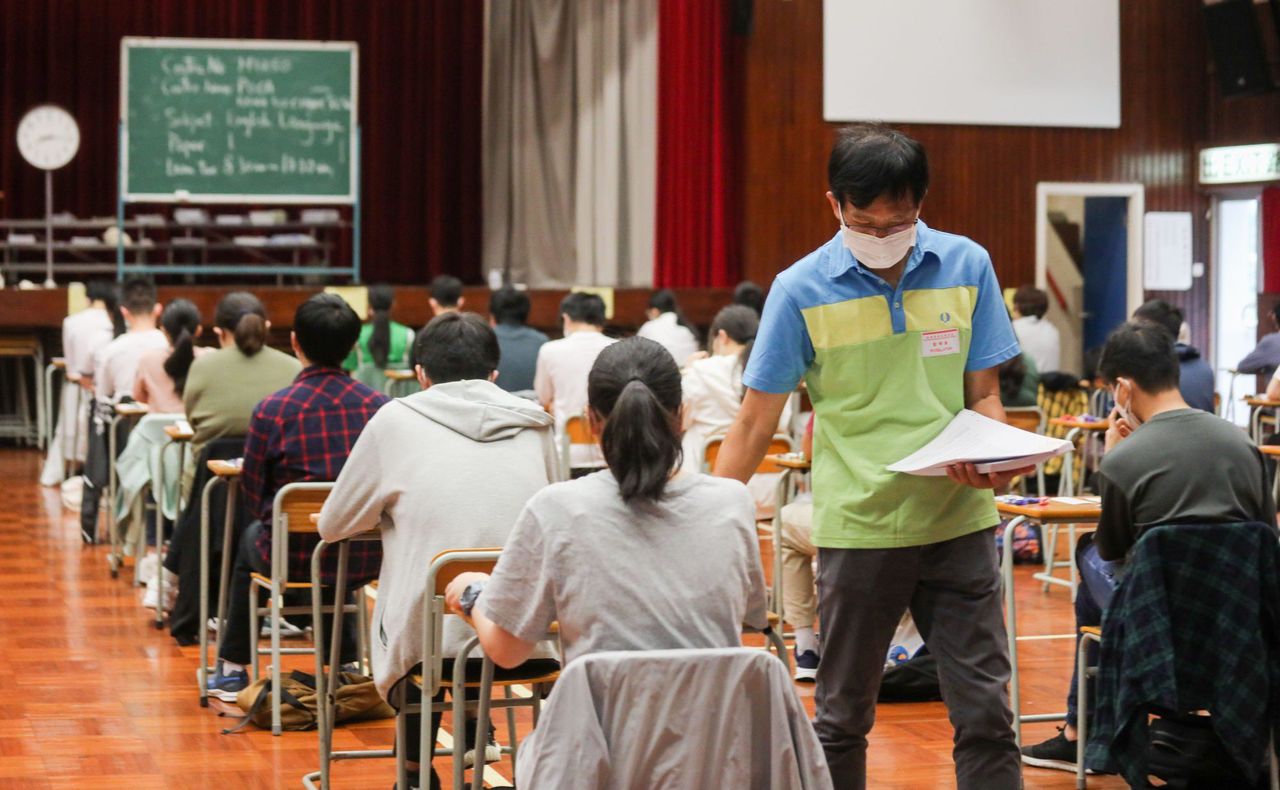 The English exam is being held on Friday and Saturday.

About 80 students arrived at the school before it opened at 7.45am for registration and identification. Most completed the registration process and went into exam halls before 8am.

Vice-principal Chung Siu-kee said the school would accommodate about 150 students on Friday. "I think the registration process this morning went very well," he said.

Chung added that he received no reports of students at the school being sent to Penny's Bay.

Thomas Tong Sui-leung, head of the English Department at Po On Commercial Association Wong Siu Ching Secondary School, said while the Covid-19 measures in place went well overall, it could be posing some pressure on students.

"I saw some students arriving very late this morning. It could be because of nerves, but it could also be them taking some time to adapt to all these protocols. The pressure is there," he said.

He said it was not too demanding for teachers, since the procedures were not too complicated and everything went smoothly.

"I thought we would be required to wear face shields or have more rules, but they [the authorities] didn't do that," Tong said.

He added that although he understood the intention behind a new rule that required students to leave the examination hall to drink water, it would cause some disturbance to candidates. He felt existing measures such as social distancing between each exam desk were sufficient.

In the special exam centre, each candidate will be assigned two isolation units – one for exams, the other for quarantine. The facility can accommodate 1,000 candidates.

According to exam authorities, candidates should remain in their respective exam units during the test. Invigilators will give instructions through a public announcement system and the whole exam process will be video-recorded.

About 60 trained invigilators will monitor the candidates via surveillance cameras to minimise contact, with each keeping an eye over about 10 students.

The arrangement came after the government announced in early April that the DSE would proceed as planned from April 22 to May 14. Given the ongoing fifth wave of Covid-19 infections, the exam period was compressed to three weeks instead of the usual four.

Two English papers on reading and writing, which take around 1½ hours and two hours respectively, are being held on Friday. The listening component will take place on Saturday morning.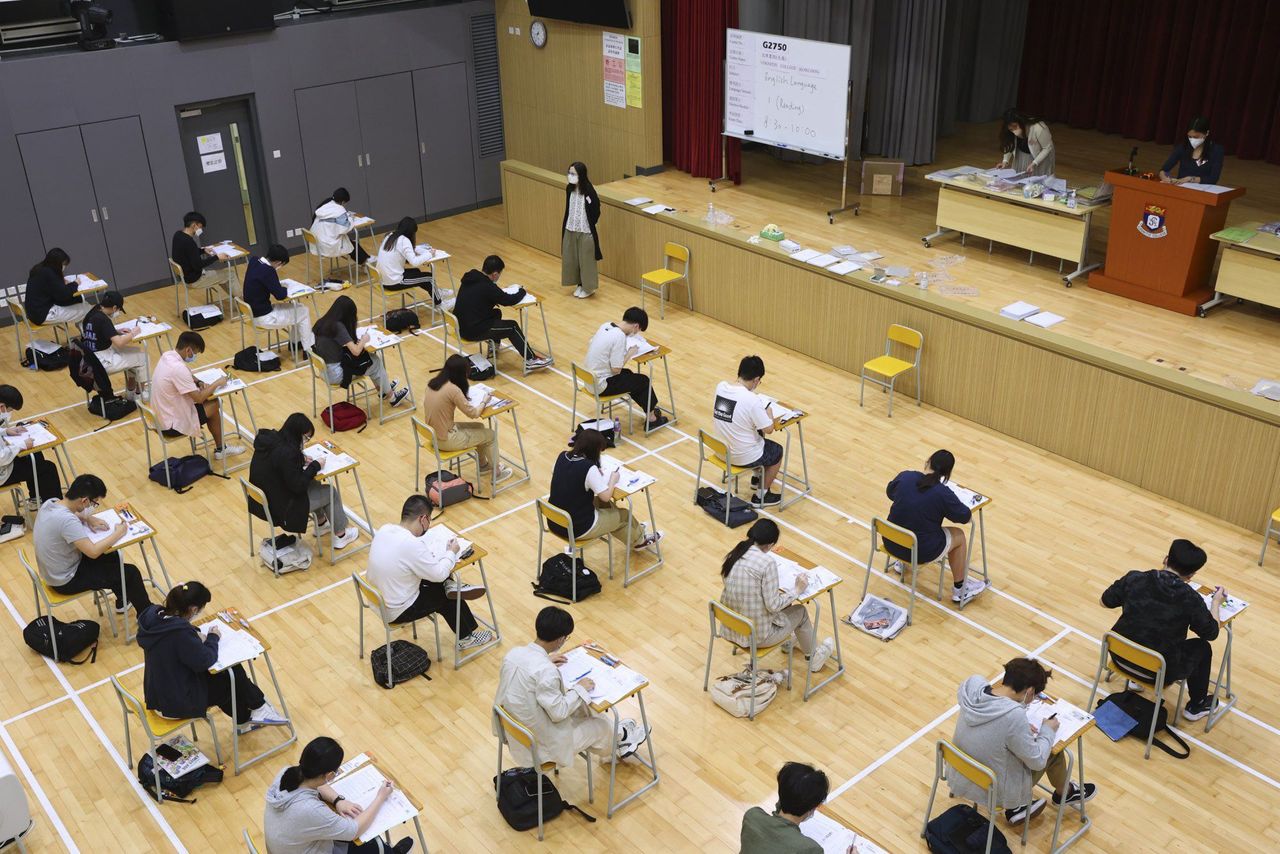 Heads down at Cognitio College.

All candidates have been issued RAT kits and admission forms by their schools. For every exam they sit, they must take a photograph of their negative test result with their admission slip, and sign a health declaration form.

General exam centres have been encouraged to keep a 1.8-metre seating distance between candidates, who must wear their masks at all times.

Candidates with a positive RAT result on exam days, and those who receive an isolation order for being a close contact, should call the Hong Kong Examinations and Assessment Authority's hotline at 3628 8860 before 6.30am.

They should then book a coronavirus-designated taxi at 3693 4770 to get them to Penny's Bay before 8.30am, free of charge.

A total of 400 designated taxis were on standby on Friday.

For candidates whose homes are under lockdown orders for compulsory testing, they and their family members should get screened within two hours of the order issued, or before 8pm. Showing their exam admission form will get them priority for testing.

Those who have not received the screening results by morning will be allowed to leave for the exam provided they and their family members do the RAT and all test negative.