Health official says decision to drop PCR tests on fifth and seventh day of arrival made after balancing necessities of medical surveillance and impact on travellers.
Inbound travellers to Hong Kong will only need to undergo polymerase chain reaction (PCR) tests on the first and third day after arrival from next Monday, as the city further relaxes Covid-19 screening rules for people entering the city.

The move was announced on Thursday as the city recorded 8,052 new Covid-19 infections, the highest since September 18, including 533 imported cases, as well as 12 more deaths.

Undersecretary for Health Libby Lee Ha-yun said the decision to drop PCR tests on Day 4 and Day 6, the fifth and seventh day after arrival, was made after balancing the need for medical surveillance and the effect on travellers.

She said statistics showed, between September 26 and November 6, 82 per cent of infected arrivals were detected through the first two PCR tests, and only 0.4 and 0.1 per cent of infections were found in later tests.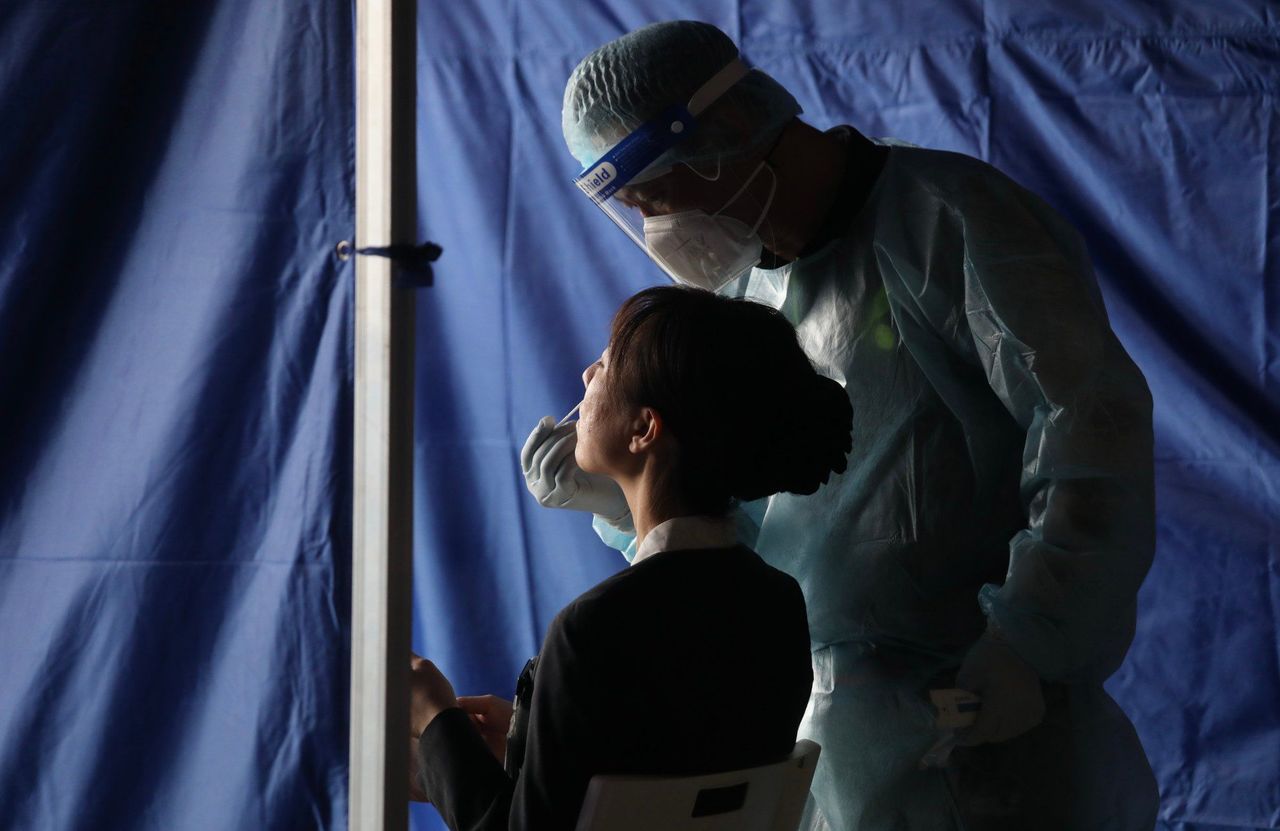 Travellers will have to undergo two PCR tests.
"As the Omicron subvariant has a short incubation period … we have considered the local pandemic situation and the relaxed arrangements for arrivals, which allowed them to conduct their activities in the community after conducting a PCR test at the airport," she said.
"We cannot be sure whether the travellers were infected locally or overseas if they were found positive on days 4 and 6. We believe it is more likely that they were infected locally than overseas."
Lee added that travellers who arrived in the city from Thursday would be exempted from the PCR tests on Days 4 and 6.
Travellers at present are asked to undergo a PCR test at the airport on Day 0, meaning on arrival, as well as on days 2, 4 and 6.
The change of policy means the total number of PCR tests for travellers will be halved from four, but requirements for daily RAT screening until Day 7 will remain in place.
Lee said the latest policy change was simply "an optimisation" rather than a relaxation.
"Travellers coming from overseas or Taiwan still need to conduct RATs every day until Day 7," she said. "But as the sensitivity of PCR tests is rather high, we are still requiring travellers to undergo PCR tests when they get off the plane and on Day 2."
Health officials highlighted that, compared with the previous week, overall caseloads in the past seven days had increased by 26.5 per cent, but the proportion of infections among overseas travellers had remained steady.
The number of deaths in the past seven days stood at 68, similar to the previous week, and the number of newly hospitalised
Covid
-19 patients per day had remained stable at around 200.
The average number of serious and critical cases had increased from more than 70 to 90 in the past week.
Care home residents who are listed as close contacts will also be allowed to leave quarantine facilities after they get negative PCR and RAT test results on Day 4 and Day 5 of quarantine respectively, instead of staying for seven days, to free beds amid a rise in infections in homes.
Arrivals at present have to conduct a three-day medical surveillance period on arrival under the "0+3" scheme. Their movements citywide are restricted under the amber health code, but they are allowed to go to work or attend school.
Amber code holders from Thursday will be allowed entry to places with mask-on activities, including non-dining areas of theme parks and museums, as well as to hair salons. But they will remain banned from venues with mask-off activities such as restaurants, bars and gyms.
Graeme Tyler, 65, an Australian who flew into the city in late October and visited the M+ museum on Thursday, said he believed the easing would only be a small incentive for tourists.
"I found the tests a little bit silly. The process was very quick and well-done but just too much. I have to do eight rapid antigen tests and four PCR tests in nine days," he said.
Tyler added he hoped that tourists could be exempted from all requirements after they tested negative on arrival.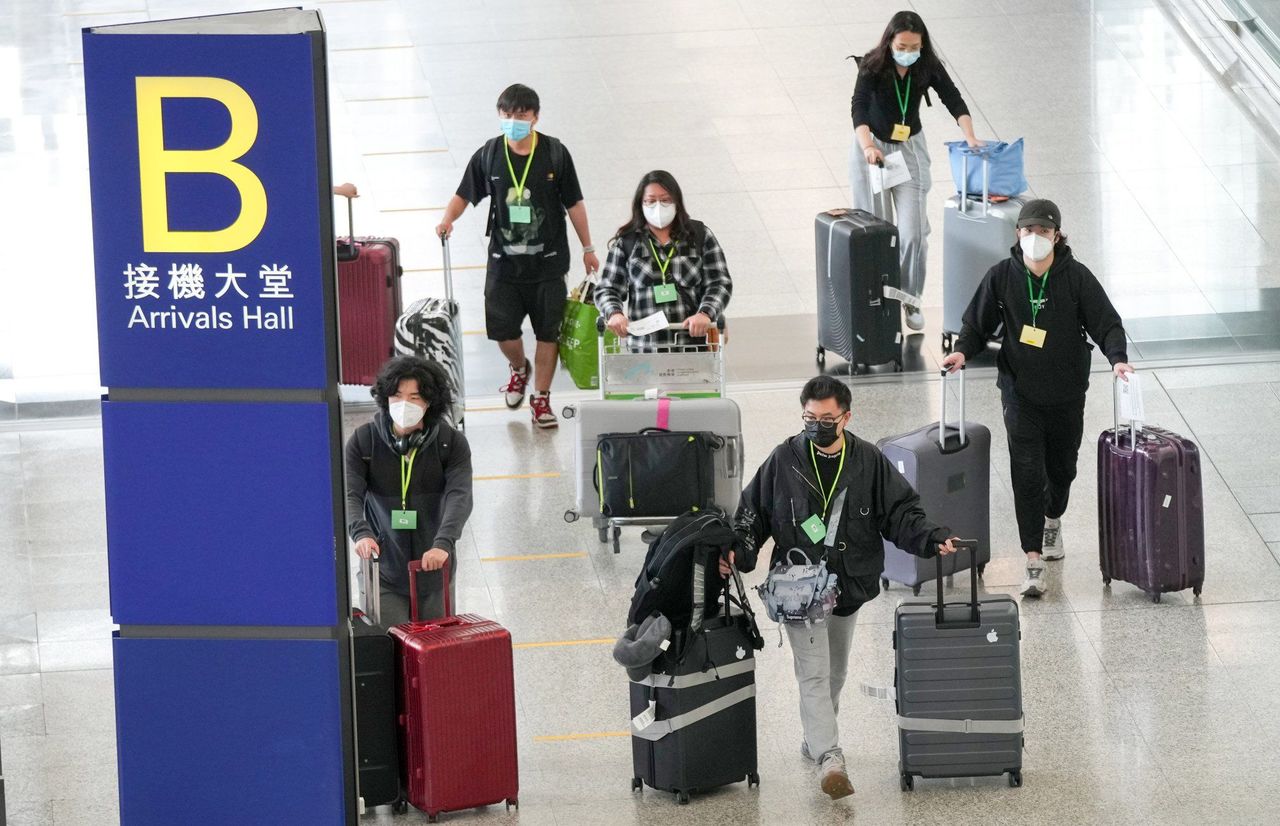 Passengers arriving at Hong Kong's airport.

Respiratory expert Dr Leung Chi-chiu said the daily caseload was likely to continue to rise and he expected new subvariants such as BQ.1.1 and XBB would lead to further outbreaks.

"But [the figure] is likely to peak [in a degree] similar to the last BA.5 wave, judging from experience in Singapore or the US," he said.

"As we do not have actual proportions of each variant among local cases, it may be difficult to give a reliable short-term forecast. The most important is to look at the burden on our healthcare system."

Health officials also announced that the BioNTech bivalent vaccine targeting the Omicron subvariant would arrive in the city at the end of this month at the soonest.

Lee said the new booster would not be compulsory, but recommended those aged over 50 and people taking part in high-risk activities should receive it as a fourth dose.

Unvaccinated residents with jab exemption certificates from next Tuesday will be issued a transitional vaccine pass if they decide to start the vaccination course, allowing them to enter premises with mandatory vaccine pass checks.

The transitional vaccine pass, which will remain valid until the holder is eligible for the next dose, can be obtained when they get jabbed at community vaccination centres.

Lee said the arrangement could cater to those who were earlier found to be medically unfit for Covid-19 shots but had recovered and wanted to get vaccinated.

As many as 50,000 residents could benefit from the arrangement, as about 19,000 exemption certificates are still in effect. A total of 31,000 expired in the past month.

Two doses of Covid-19 vaccines are required to enter premises with mandatory vaccine pass checks at present, including restaurants and bars. Starting from November 30, people aged 12 or above need to be triple-vaccinated to do so.

Hong Kong's total Covid-19 tally now Hong Kong's total Covid-19 tally now stands at 2,012,877 cases and 10,569 fatalities.

The news came as a fresh melioidosis case was detected which involved a 61 year-old male living in Sham Shui Po.

The man, who was admitted to hospital almost two weeks ago after being found to have, was said to be now in stable condition.

Among 37 melioidosis cases found in the city so far this year, 21 of them were from Sham Shui Po and were diagnosed in or after August.

The Centre for Health Protection collected 200 environmental samples from reservoirs in Sham Shui Po between November 3 and 9.

A total of 87 soil samples obtained in the area of Shek Kip Mei and Butterfly Valley reservoirs and six swabs from the ventilator at Shek Kip Mei reservoir tested positive for the bacteria.

Health authorities said, as all water samples tested negative, they could not find out how the patients had become infected.

The Water Supplies Department has increased the chlorine level in water across the city and will install filters on ventilators at all reservoirs inside two months.