City leader John Lee says city's temporary hospitals could be transformed into quarantine facilities for those going to China
Hong Kong is set to shorten the hotel quarantine period for arrivals with an announcement next week at the earliest, the Post has learned, while officials are considering converting makeshift hospitals and isolation facilities for Covid-19 patients for use by mainland China-bound travellers.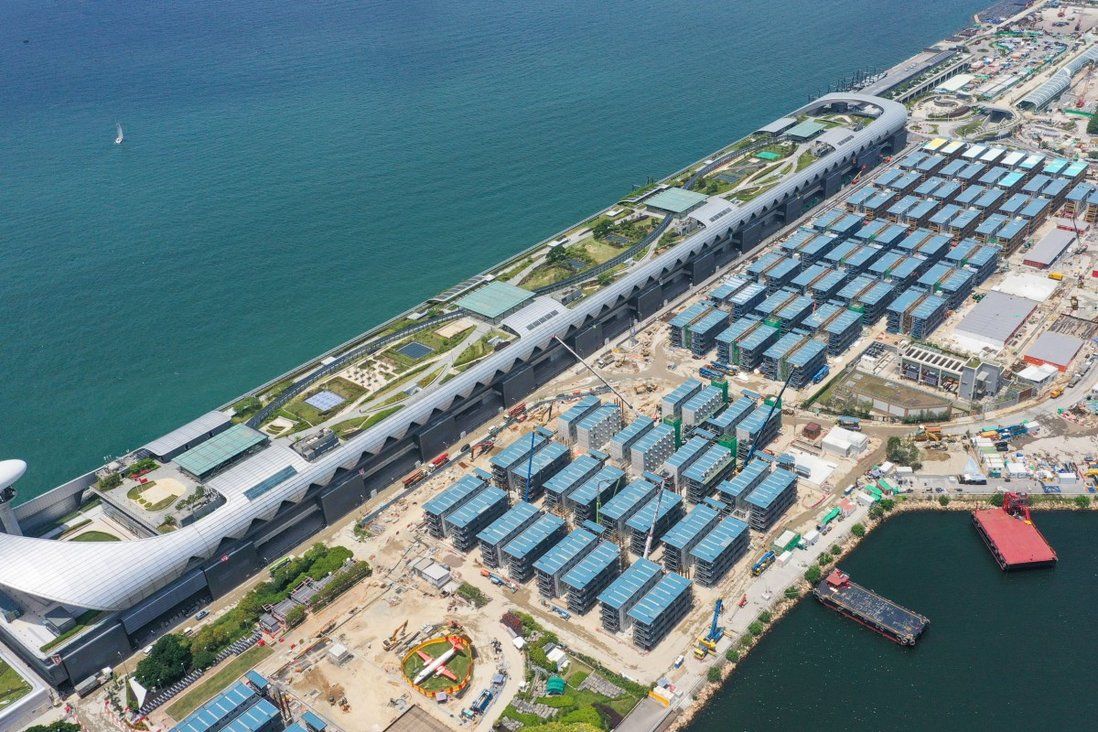 Community isolation facilities at the Kai Tak Cruise Terminal in Kowloon Bay.

Sources earlier revealed that officials were planning to cut the current week-long hotel quarantine period for fully vaccinated overseas arrivals to a "3+4" or "4+3" arrangement, referring to the combination of days spent in a designated hotel and in self-isolation.

One source on Saturday said the announcement would be made next week at the earliest, possibly on Tuesday.

The new arrangement is expected to be rolled out together with a two-colour health code similar to the system in mainland China aimed at better enforcing Covid-19 rules for infected patients and arrivals. The system will be tied to the vaccine pass installed in the government's risk exposure "Leave Home Safe" app.

Covid-19 patients will be issued with a red code, which will bar them from going to public places, while arrivals will be given a yellow code, restricting them from certain premises.

The city on Saturday reported 4,683 new Covid-19 infections, 193 of which were imported, and four more deaths. The overall tally has risen to 1,349,360 cases, with 9,501 related fatalities.

Speaking to the press after a community visit in Sham Shui Po, Chief Executive John Lee Ka-chiu said the government had been communicating continuously with counterparts across the border, hoping to "minimise the inconvenience of quarantine caused to residents returning to the mainland".

Lee said one of the ways, as suggested by civic groups, was to transform some of the city's temporary hospitals into facilities for people to quarantine before crossing the border, reducing the hassle of having to jostle for limited slots on the other side.

"They suggested using such facilities in preparation for border reopening. We are working hard on it," Lee said, adding also that authorities were looking into "resuming connection with foreign countries" in a nod to also reopening international borders, but he stopped short of revealing the exact measures.

"Our goal is to let our mainland counterparts understand the local situation. Our target is to control those who have to be isolated through precise methods, so as to let other residents resume their normal activities, while also minimising the risks of transmission."

But Lee said authorities would pay attention to the daily tally of Covid-19 infections, as this affected the usage of quarantine facilities.

The suggestion to turn some facilities for coronavirus patients into isolation centres for travellers was made after many people heading to the mainland complained about difficulties in securing a quarantine hotel room across the border.

Shenzhen authorities, following talks with the Hong Kong government, introduced a new measure earlier this month to crack down on the scalping of room bookings, requiring users to draw lots.

Before the new measure was introduced, Shenzhen Bay Port, one of just two available land crossings amid the pandemic, had been packed with crowds on weekend mornings after the Guangdong provincial city boosted the number of quarantine hotel rooms by 700 spaces to 2,000 daily and added additional spots for those in need.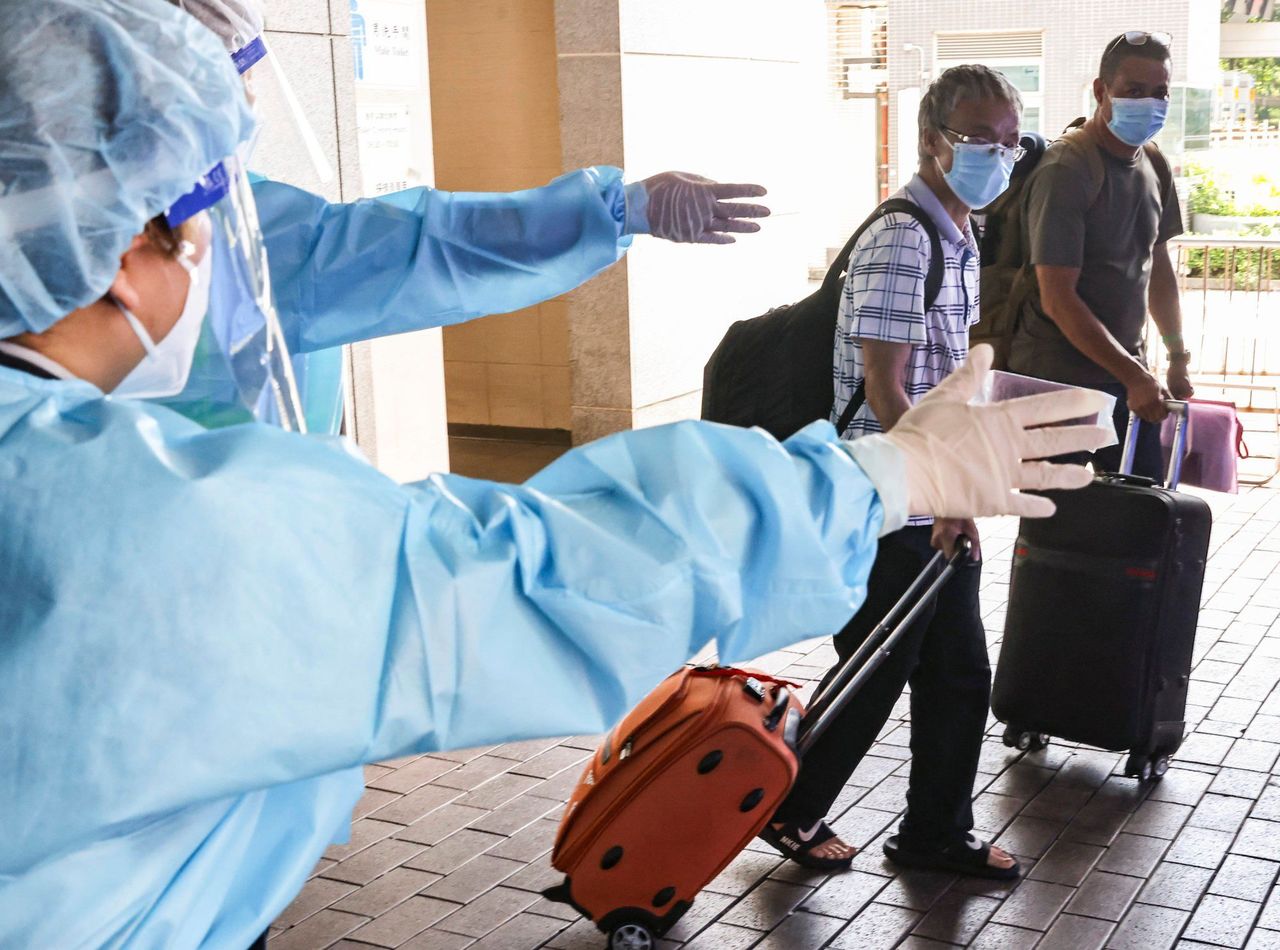 Cross-border travellers at Shenzhen Bay Port.

Arrivals from overseas have also complained of difficulties in securing quarantine hotels in Hong Kong.

Meanwhile, government pandemic adviser Professor David Hui Shu-cheong said there was no need to tighten social-distancing measures at the moment, despite the soaring Covid-19 caseloads.

"The vaccination rate in Hong Kong has been rising," Hui said in a radio interview. "We are mainly seeing mild cases with a low number of severe and critical cases … Our healthcare system can handle the number of patients."

Hui's response resonated with four University of Hong Kong pandemic experts, including two government advisers, urging authorities to gradually lift social-distancing measures, while the city awaited the possible arrival of a vaccine targeting the Omicron variant in winter.

The Centre for Health Protection also said its scientific committee would discuss vaccinating toddlers aged zero to three.

"You need to balance the recovery of the economy, normal life in daily living, versus infection control," Hui said.