Hong Kong education officials may further relax rules on in-person lessons and allow up to two-thirds of a school's student body to return to campus after the Easter holiday in April, the Post has learned.

Two sources said the Education Bureau was considering the relaxation – from the current one-third rule – for kindergartens and schools and a final decision would be made soon.

The revelation came as Hong Kong's two biggest teachers' unions urged the authorities to outline clear updates on class-resumption arrangements for after the Easter holiday amid an easing Covid-19 pandemic situation so schools could better prepare.

The calls on Thursday from the Professional Teachers' Union and Federation of Education Workers' came a day after the bureau revealed that more than 900 kindergartens, and primary and secondary schools – or about 40 per cent of the total – had already or were planning to bring back all students to campus for half days following fortnightly Covid-19 tests for staff.

School campuses had been shut for most of the past year with most students taking online lessons. Under relaxed arrangements after the Lunar New Year holiday in late February, all schools were allowed to bring back onto campus up to one-third of the student population for half-day sessions.

Schools which meet a government condition to test staff every two weeks are allowed to bring back the whole student body – a decision some heads and teachers say is not backed by science, while also raising concerns about feasibility.

One secondary school principal also wanted to know if having all teachers fully vaccinated meant regular testing would no longer be required. "Encouraging teachers to get jabbed is even better than having them regularly tested. Even if they get tested today, they may still be infected [by Covid-19] tomorrow," he said.

Teachers and school workers are among priority groups for jabs under the city's mass vaccination programme. So far, about 5.5 per cent of the city's 7.5 million population has received a first dose after the scheme was rolled out in late February.

But sources said education officials had yet to decide on the impact of teachers' vaccination on class resumption.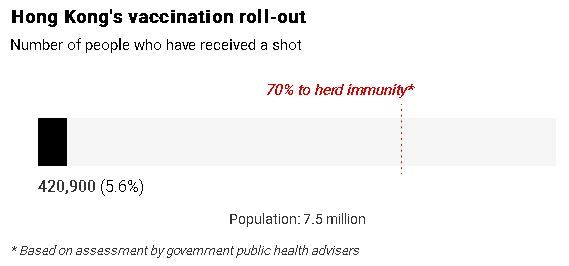 As many schools will start their Easter holiday from the middle or end of next week until mid-April, educators have called for clarity on arrangements for face-to-face classes as soon as possible.

"We hope the Education Bureau will provide an update soon such that schools can better prepare. It would be most ideal if schools can be notified of a full resumption plan at least two weeks before that," said Wong Kam-leung, a primary school principal and chairman of the Federation of Education Workers.

Education Convergence, a group formed by head teachers and educators, meanwhile, called for the bureau to consider allowing schools to bring back two-thirds of pupils, while looking at achieving a full resumption for all schools in late May.

On Wednesday, Secretary for Education Kevin Yeung Yun-hung said only that officials would continue to monitor the coronavirus situation, seek advice from health experts and liaise with the school sector.

"When the epidemic situation has gradually shown signs of subsiding and schools are adequately prepared, we will consider further relaxation of face-to-face schooling arrangements," he said.

The 22 kindergartens and schools run by the English Schools Foundation, the city's biggest international school group, are among those fully resuming face-to-face classes. More than 2,600 staff have undergone virus screening and will do so every 14 days.

Although a number of international institutions were affected by a superspreading Covid-19 cluster linked to a gym earlier this month, including one campus of the French International School (FIS), some parents had pushed for teacher testing to allow all students to return after Easter.

Following pressure from parents, FIS said on Wednesday it was planning to bring back all pupils at kindergarten and primary levels from April 12 with staff undergoing regular testing, while secondary students would continue with a partial return.

One parent said: "Under the private schooling system, we feel that parents are paying for the teachers' salaries. So they should get tested in order to bring back kids to school. If not now, when?"