Online shopping complaints surged 73 per cent, which council chairman Clement Chan says reflects change in purchasing habits during pandemic.
Hong Kong's consumer rights watchdog recorded more than 28,000 complaints last year involving grievances worth in excess of HK$1 billion (US$128.2 million), with nearly two-fifths of the cases relating to online shopping.

The Consumer Council on Monday released its annual summary, which showed that the watchdog received a total of 28,338 complaints last year, up by 7 per cent from the 26,506 recorded in 2021.

"As 2022 marks the third year of the Covid-19 pandemic, consumption modes and related complaints continue to evolve accordingly," council chairman Clement Chan Kam-wing said.

Last year the number of complaints related to online shopping increased by 73 per cent to 10,686 cases, accounting for 38 per cent of all grievances. The amount involved nearly doubled to more than HK$36 million from a year earlier.

"The pandemic has accelerated the prevalence of internet shopping and the resulting rapid emergence of consumption complaints across a wide range of consumer goods and services," Chan said.

Among last year's cases, those relating to food and entertainment such as theme parks and concerts topped the list of the grievances, with 3,128 complaints recorded, up by 43 per cent from a year earlier.

Most of these complaints involved late arrival, non-delivery or loss of services, as well as disputes over prices or charges and variation or termination of contracts.

Electrical appliances accounted for the second largest number of complaints with 2,916 recorded, up by 16 per cent from 2021 and marking a record high for the sixth consecutive year, involving an amount of more than HK$12 million.

The complaints were made mainly about traditional home appliances including repair and maintenance services as well as quality. Air conditioners, televisions and washers and dryers were among the most complained about.

According to the council, as the tourism industry recovered gradually, its related complaints surged by 111 per cent to 2,573 last year, ranking third in all categories and involving HK$17 million worth of services. Most complaints were made about hotel bookings or airline tickets.

Quarantine hotels were in the spotlight too – complaints rose by 469 per cent to 779 last year. Staycations, which were popular among cooped-up Hongkongers during the pandemic, recorded 48 complaints.
For other pandemic-related issues, the council also noted that although the number of cases involving face masks dropped significantly to 289 in 2022, from nearly 4,500 recorded in 2020, the item was still the most complained-about medical product. The council also received 287 complaints about rapid antigen test kits.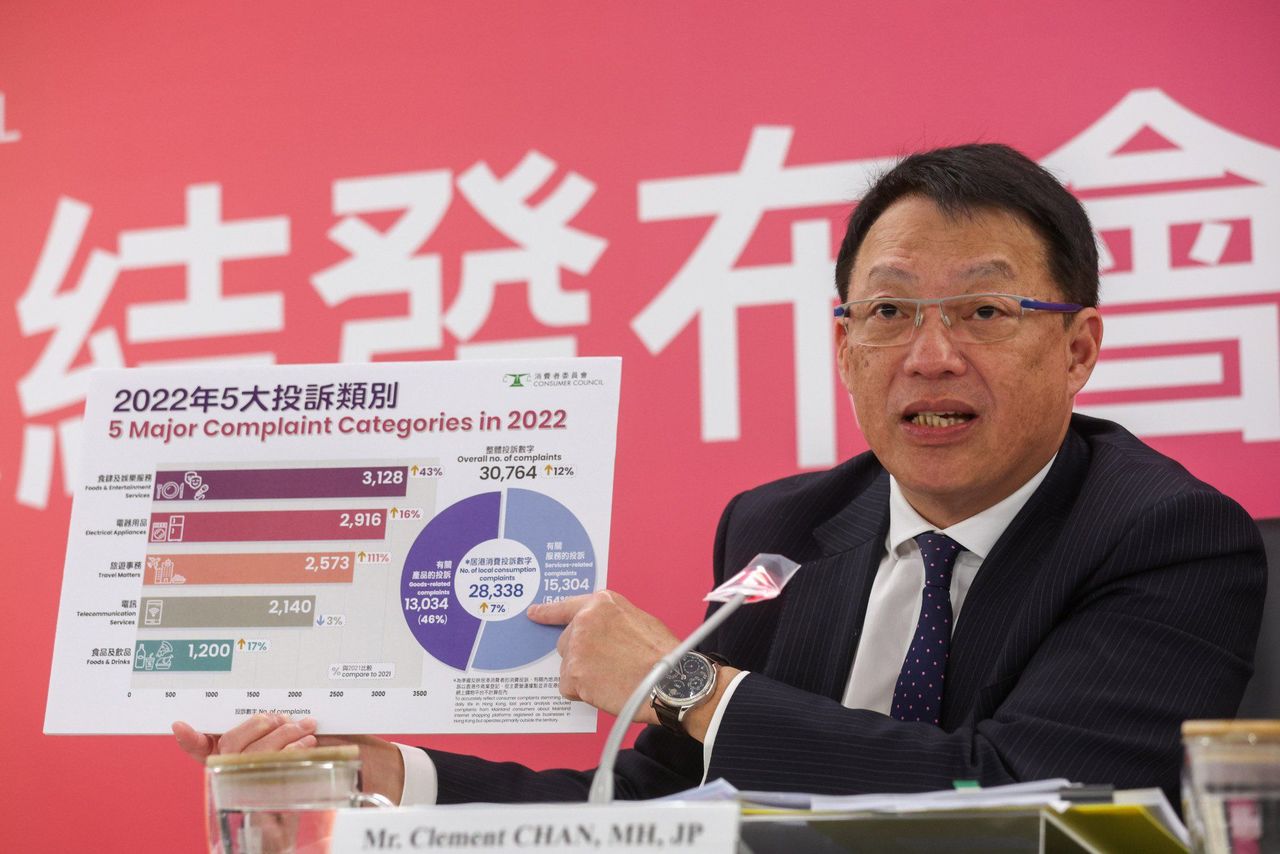 Clement Chan, chairman of the Consumer Council.
Chan said with Hong Kong's pandemic situation continuing to stabilise, he expected the number of related complaints, such as those about masks and
Covid
-19 testing kits, to decrease this year.
"We definitely envisage that the complaints about services which are totally to do with the pandemic will reduce likely because of the ending of the pandemic and a return to normality," he said.
Asked if the overall number of complaints raised an alarm, council chief executive Gilly Wong Fung-han said a healthy market consisted of both responsible traders and consumers, while the fluctuation of the complaint numbers last year was the reflection of the changes in consumption behaviours under the "new normal".
"All the complaint numbers are actually the reflection of the activeness of the economy and consumers for their consumption behaviours," she said.