Hong Kong confirmed 59 Covid-19 cases on Saturday, a new high for the year, as a senior official said more affordable hotels would be added to the government's list of quarantine facilities.

Fifty-three of the fresh infections were locally transmitted, including 20 not linked to previous cases. The latest figures took the city's overall tally to 9,211 cases. More than 20 people tested preliminary-positive for the virus pending confirmation. The city also reported two more Covid-19 deaths on Saturday, bringing the number of linked fatalities to 158.

Since the start of the month, the daily caseload had hovered between 25 and 53. On Friday, 45 infections were recorded, of which 42 were locally acquired.

Dr Chuang Shuk-kwan, head of the Centre for Health Protection's communicable disease branch, said authorities would look at the count over the next few days to see whether there was a rebound but noted the surge in cases could be linked to the holidays over the past two weeks.

"Some of the unlinked cases had family gatherings, but not all of them. Many of them are retired and they only went to the market or stayed in the park for morning exercises," she said. "I suspect there is still quite significant silent transmission in the community."

She warned that wearing a mask and washing hands could not fully shield residents because they might still catch the virus when sharing facilities or staying in an enclosed space visited by infected people.

Chuang revealed an outbreak had occurred at a construction site at the central tunnel of the Central Kowloon Route, a 4.7km dual three-lane trunk road connecting Yau Ma Tei with Kai Tak and Kowloon Bay. Six more employees tested preliminary-positive after a worker's infection was confirmed a day earlier.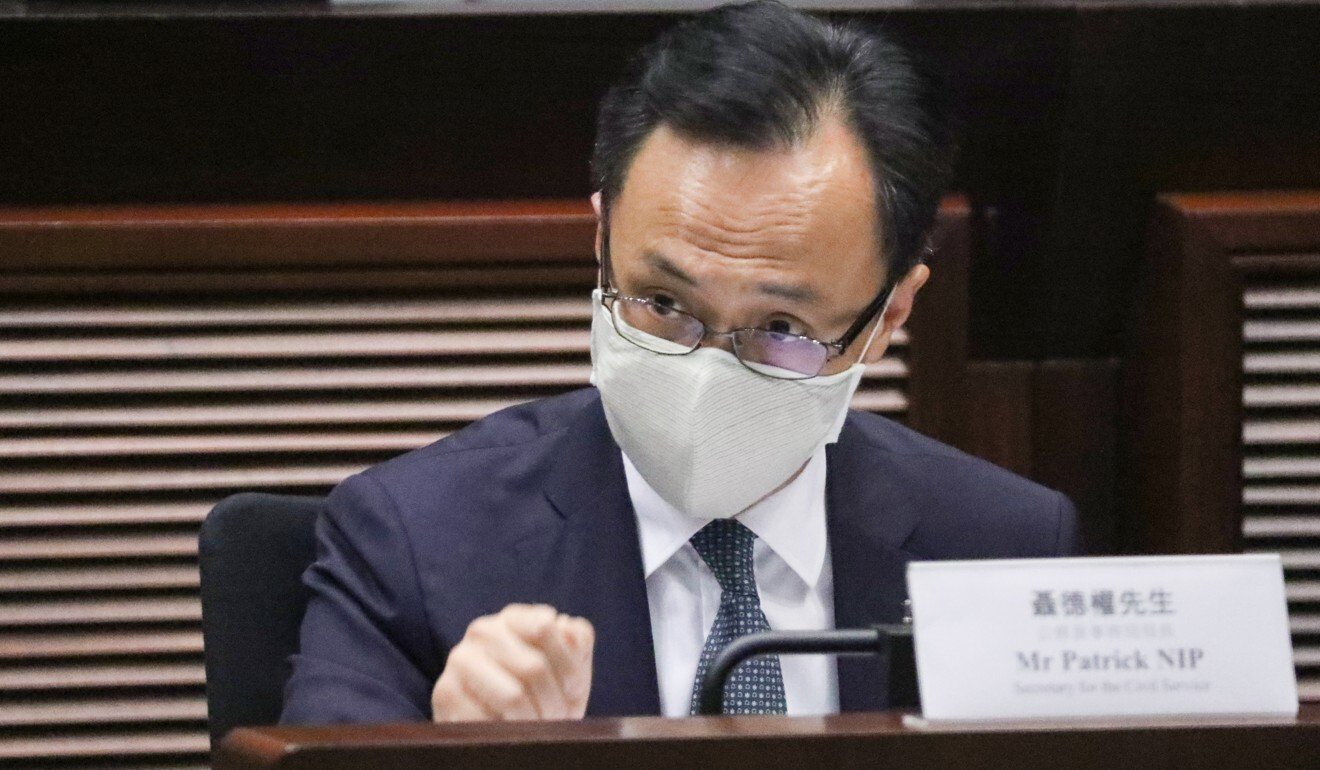 Secretary for the Civil Service Patrick Nip.

She said 300 people worked at the site, which had been ordered to close and undergo disinfection, adding the authorities were investigating whether the infected workers shared common facilities such as changing rooms. Anyone who had been there for more than two hours between January 3 and Saturday will have to take a compulsory Covid-19 test.

She also said two more buildings – Shan King Estate's King Lok House in Tuen Mun and Block 3 of the Sun Yuen Long Centre 3 in Yuen Long – had met the threshold of two unrelated infections so residents would need to undergo mandatory testing.

One more resident in coronavirus-hit Fung Chak House in Choi Wan (II) estate also tested preliminary-positive in a mandatory screening drive, after three infections were reported the previous day. Residents there had been ordered to undergo a second round of mandatory screening after sewage samples taken from the building's pipes continued to test positive for the virus.

Earlier, Secretary for Food and Health Sophia Chan Siu-chee noted the coronavirus crisis had in general eased slightly, but warned that travel data showed the public's mobility had not dropped to the level seen during the most severe stage of the third wave.

Meanwhile, civil service chief Patrick Nip Tak-kuen revealed the expanded hotel quarantine plan on a radio programme, amid complaints that limited supply of affordable rooms had left hundreds of residents and domestic helpers stranded overseas.

Nip said officials had invited hotels to join a second round of the designated hotel scheme from mid-February to mid-April.

Thirty-six quarantine hotels are currently providing about 12,000 rooms until mid-February. They were among the more than 100 hotels which applied to join the scheme when it was launched, and Nip said all 36 had expressed interest in continuing the service.

He also revealed that about 6,500 people had quarantined at the designated hotels from December 22 to January 7. The average occupancy rate was more than 40 per cent, though Nip noted some hotels were more popular than others.

Some Hongkongers stranded abroad and domestic helpers' employers had complained of there being too few affordable hotels, especially after authorities extended the quarantine period for all overseas arrivals from 14 to 21 days starting on Christmas Day.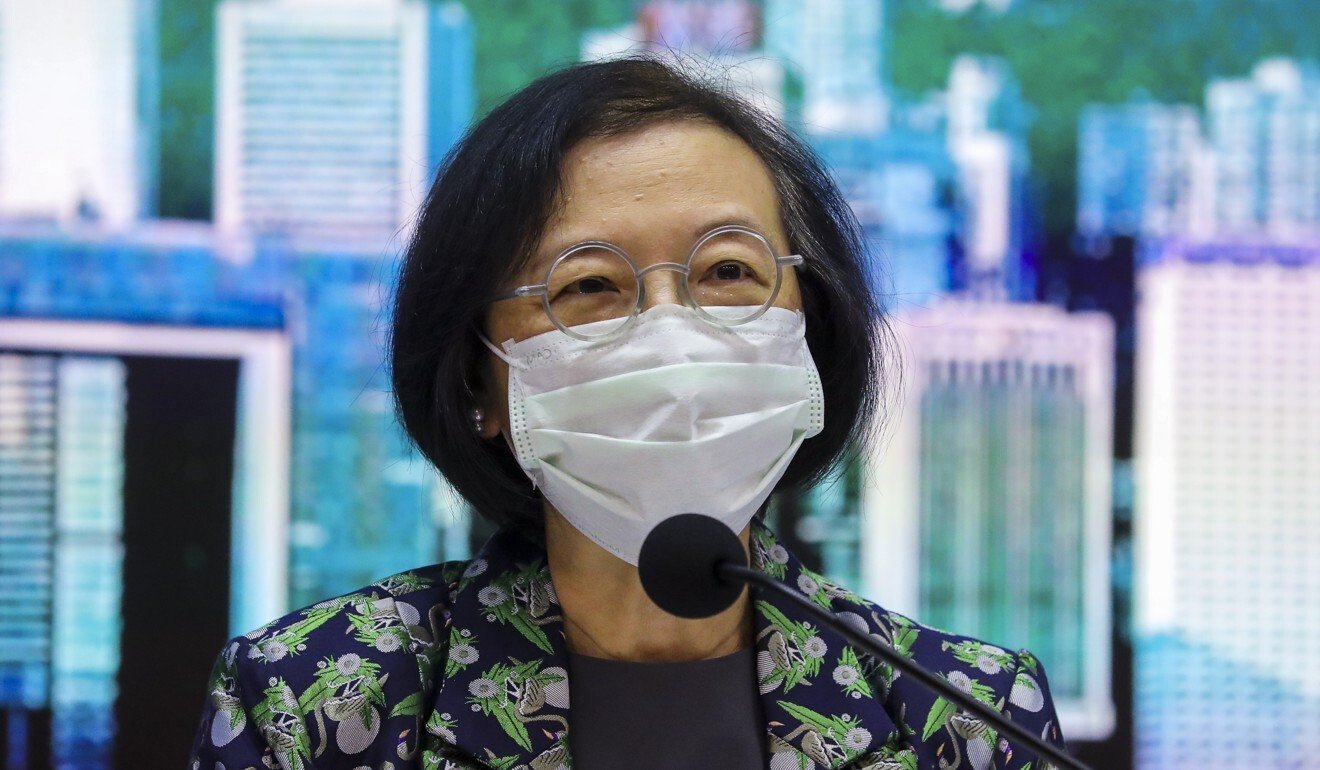 Health minister Sophia Chan warns of a rebound in infections.

Of the 12,131 regular rooms and suites available for quarantine, fewer than a third go for between HK$400 (US$51) and HK$700 a night. While 14 hotels offer rooms at this tier, a check by the Post on Saturday found only two properties could offer accommodation on the same day, and four others later in January. The rest can provide accommodation in early or mid-February.

Nip said authorities would increase the proportion of rooms in the cheaper HK$500 to HK$1,000 nightly price range.

But after reviewing arrival figures, he said there would only be 10,000 hotel rooms in the next round.

"We looked at the figures and made the adjustment," Nip said. "There needs to be a sufficient amount of rooms but we cannot have too many because there is a subsidy scheme for the hotels."

He was referring to the programme under which operators could be subsidised if the occupancy rate fell below 50 per cent. The amount will be 70 per cent of the room rate, capped at HK$600 per room.

During the 17-day period Nip cited for hotel occupancy, 29 imported cases were detected at the airport, while 28 tested positive in quarantine.

Michael Li Hon-shing, executive director of the Federation of Hong Kong Hotel Owners, said he learned from the government that more than 70 properties had applied for the scheme's second round. Noting officials were striving to get more rooms priced below HK$500 a night, Li questioned whether the low charges would be enough to allow businesses to provide sufficient services and three meals to guests.

"The government doesn't care about other factors. They just want it to be cheap. The meals provided by some affordable hotels are ridiculous," he said.

Thomas Chan, chairman of the Hong Kong Union of Employment Agencies, said having more rooms that cost around HK$500 would help relieve the financial burden of employers of domestic helpers. Chan said he recently tried to help clients to book rooms priced between HK$400 and HK$500, but all were full, so some employers had to delay their hiring plans.

"Some even cancelled the arrangement and chose to hire another worker who is already working in the city," he said.