Hong Kong and China markets ended higher at the lunch break, as investors focused on better than expected economic data from China's manufacturing and services industries, while digesting the outcome of the US presidential debate.

The Hang Seng Index gained as much as 2 per cent, before paring gains to 1.2 per cent to 23,549.47. However, the benchmark is on track to end the month with losses.

The CSI300 index that tracks performances on both the Shanghai and Shenzhen markets gained 0.6 per cent to 4,620.92, but is still likely to post a monthly loss.

Both China's official manufacturing and non-manufacturing indices showed positive economic activity for seven consecutive months, according to data released on Wednesday morning. China's official manufacturing purchasing managers' index (PMI) stood at 51.5 in September, above the reading of 51 in August and better than median estimates of 51.3 in a Bloomberg survey. Any reading above 50.0 signifies growth.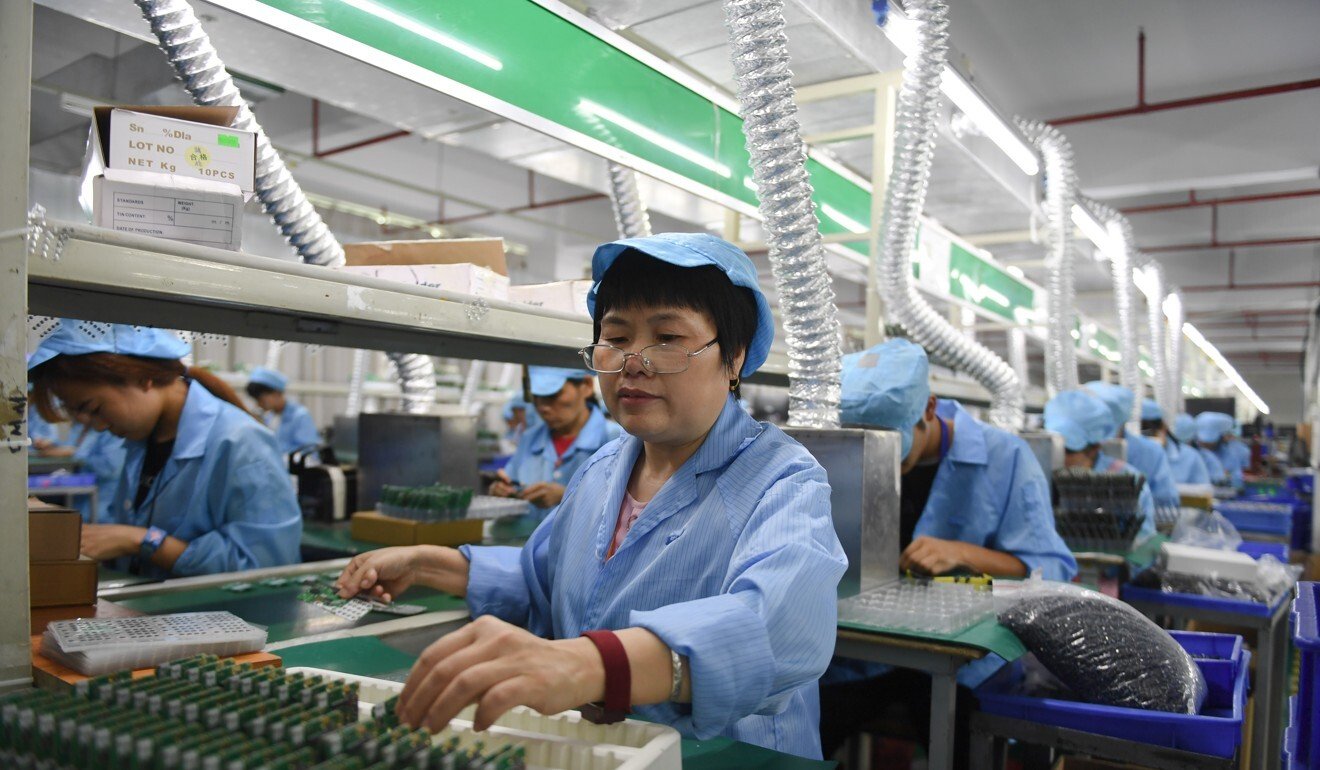 Workers assemble walkie-talkies at an electronics company in Xiamei Township, Nan'an, southeast China's Fujian province. China reported better than expected economic data from its manufacturing and services industries.

The official non-manufacturing PMI, which measures sentiment in the services and construction sectors, stood at 55.9 in September, above the reading of 55.2 for August and median expectations by Bloomberg of a decline to 54.7.

"The strong recovery in the second quarter relieves pressure on credit easing, and China's monetary policy has shifted from large-scale liquidity injection to more targeted instruments," said Xiao Chunxu, economist at Moody's Investors Service in a note.

"Loan support and further repayment extensions to small and medium-sized enterprises help firms stay afloat in the crisis but raise default risk when the grace period ends," said Xiao.

China's economic recovery "has picked up pace with supply and both domestic as well as overseas demand improving," said Stephen Innes, chief global markets strategist at AxiCorp.

"In the near future, however, great uncertainties remain about the overseas pandemic and the US election."

The first debate between President Donald Trump and Democractic challenger Joe Biden saw them sparring on six topics, including Covid-19, the US economy and "the Trump and Biden records".

"The extent to which the debate matters for markets is whether 'undecideds' are swayed either way. Polls in the comings days could provide more colour on any movement," said Innes.

In Hong Kong, China Evergrande Group , the nation's biggest developer by sales, soared as much as 18 per cent to HK$19.46 after it unveiled steps to avert a 130 billion yuan (US$19.1 billion) cash crunch in a late exchange filing on Tuesday.
The company said most investors owning 36.5 per cent in its key unit called Hengda Real Estate have agreed to drop a repayment option in a much-delayed Shenzhen deal, and would maintain their holdings for an undisclosed period of time.

The stock is still down 12.4 per cent for the year, over concerns about its debt load.

Other property developers also rose, with Chinese Resources Land leading gains on the Hang Seng Index with a 6 per cent increase. New World Development rose 3 per cent, while Henderson Land added 2 per cent.

Hong Kong bourse operator HKEX gained 0.4 per cent. Charles Li Xiaojia announced he would bring forward his retirement and step down as the head of Hong Kong Exchanges and Clearing on December 31, 10 months before his contract expires in a surprise announcement on Tuesday.

Li's right-hand man, Calvin Tai, will take his place on an interim basis from January 1, while the search continues for a permanent replacement.

Shares of Alibaba Group Holding, the world's largest e-commerce platform and owner of this newspaper, rose by as much as 4 per cent to HK$276.
Alibaba's cloud computing business is expected to turn profitable within the financial year ending in April 2021, while its Cainiao logistics network is expected to generate positive operating cash flow in the same period, the company's chief financial officer Maggie Wu said in a webinar for Alibaba investors on Wednesday.

On the CSI300, Shenzhen-based electric carmaker BYD rose 8.9 per cent to lead gains.

Markets in Hong Kong will be closed for the rest of the week for the National Day and Mid-Autumn Festival holidays. While Hong Kong will resume trading on Monday, markets in China will reopen on October 9.