Pandemic adviser to government also predicts infections spread by more transmissible variants will peak in coming week.
Hong Kong can fully reopen to the world only if its Covid-19 vaccination rate improves further, the city's finance chief has said, crediting effective pandemic control as the "fundamental stabilising force" of the local economy.

Financial Secretary Paul Chan Mo-po struck a cautious note on Sunday even as health officials reported the possible start of a downward trend in daily cases, and a pandemic adviser to the government predicted infections spread by more transmissible variants would peak in the coming week.

"It has been extremely challenging to strike a balance between curbing the pandemic and facilitating travel, while preserving the economy," Chan wrote on his official blog. "Only with concerted efforts to further expand the vaccination scheme will we have more leeway to resume international travel, stabilising the economy and restarting the impetus for growth to the greatest extent possible."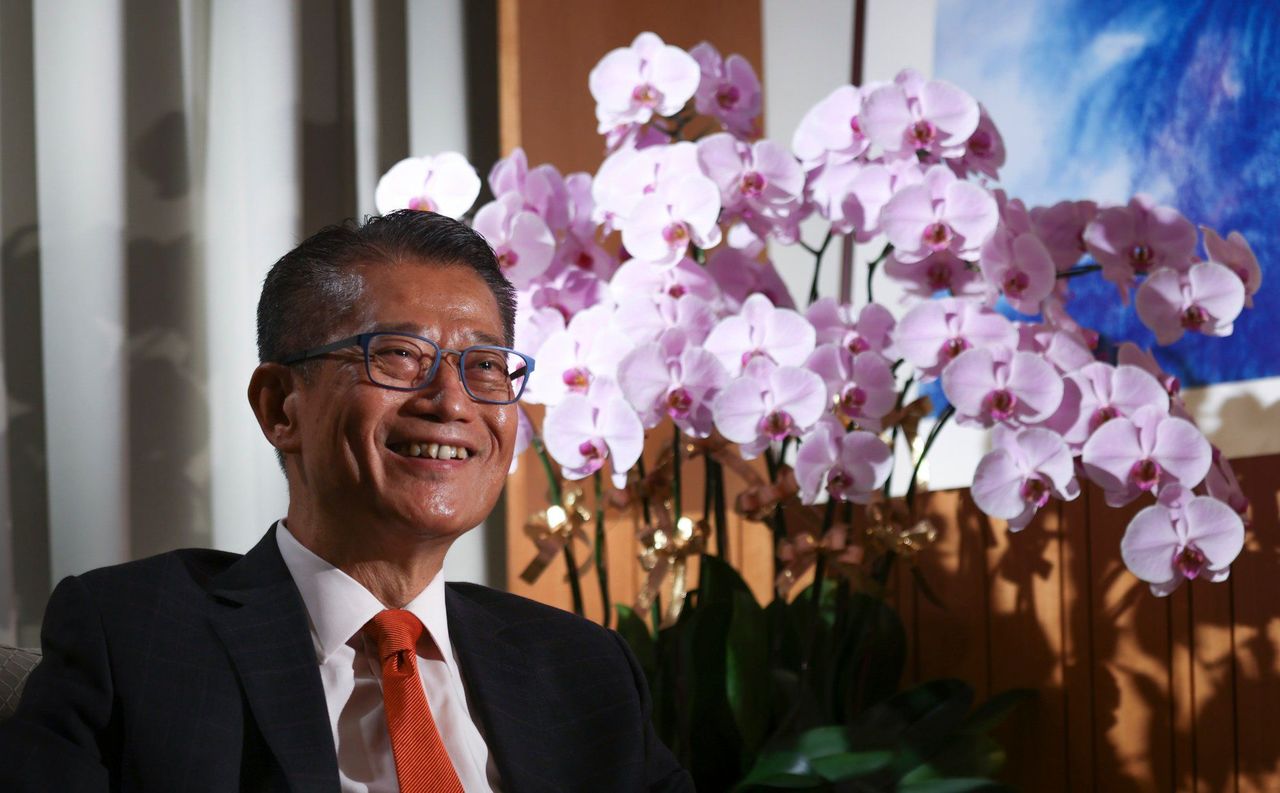 Financial Secretary Paul Chan.

According to the government, 93 per cent of residents have taken a first vaccine shot, and 91 per cent have received a second, while 74 per cent have completed all three. But the rate for residents aged 80 or above remains just 67 per cent for two shots and a mere 51 per cent for three.

Authorities have struggled to get those numbers up as infections have rebounded in recent weeks. Health officials on Sunday confirmed 9,033 new cases, of which 129 were imported, and 11 more deaths related to the virus. The city's Covid-19 tally stood at 1,651,974, with 9,799 fatalities.

This weekend's Mid-Autumn Festival is one of the biggest occasions of the year for families to gather for celebratory meals, and authorities have urged residents to avoid large reunions.

Professor Lau Yu-lung, chair professor of paediatrics at the University of Hong Kong and who advises the government on the pandemic, forecast new infections would crest in the next three to seven days after plateauing at about 10,000 in the past week.

The viral load in sewage had also shown signs of flattening, while the number of infected patients being treated in hospital between Thursday and Saturday had declined, he noted.

"There might be a small rebound after the three-day holiday," Lau said, adding that as long as residents adhered to social-distancing measures, the public had no cause for concern.

If the vaccination rate among the elderly and those under five years of age both reached at least 80 per cent, the government might consider laying out a timeline for easing pandemic curbs, he suggested, predicting that could happen in November.

The government last week announced the vaccine pass scheme restricting access to most public places would be expanded to require children as young as five be inoculated with at least one jab by September 30 and two shots by the end of November.

As of Sunday, 2,711 Covid-19 patients were in hospital, including 54 in critical condition and 57 in a serious one. Hospital Authority Chief Manager Dr Larry Lee Lap-yip described the patient numbers as having "stabilised".

But the number of elderly sent to the makeshift treatment facility at AsiaWorld-Expo continued to rise, Lee noted, adding a plan to increase bed capacity from 240 to 280 after the holiday remained.

"We dare not to let our guard down because based on our experience, changes, growth or declines in the pandemic can happen rapidly," he said.

Reacting to Chan's blog entry, Travel Industry Council chairwoman Gianna Hsu Wong Mei-lun expressed hope that the government would provide a road map to further relax the "3+4" policy that requires arrivals to spend three days in hotel quarantine and four more monitoring their health at home.

"Any quarantine measure is an obstacle to revitalise local tourism", Hsu said, adding the current administration had always maintained that any easing of the rule would be based on scientific data on infection numbers but stopped short of stating what numbers would be acceptable or how a lower figure could be achieved.

"When people travel, they need to tour around and enjoy the food. That's how travelling should be. But if they have an amber code, even if the quarantine is cut to '0+7' or even '0+3', there is no way you could attract inbound travellers with such restrictions," she said, referring to the vaccine pass QR code given to travellers upon arrival.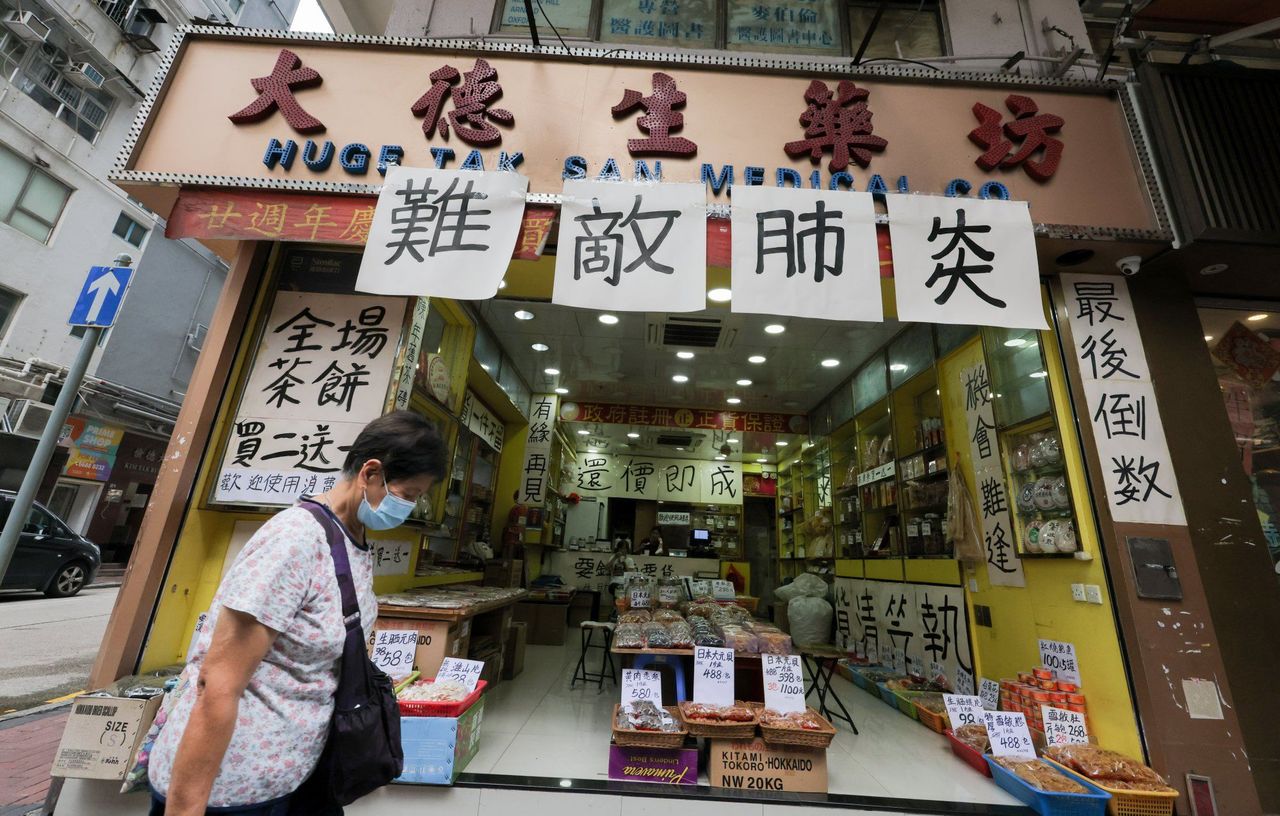 A shop in Yau Ma Tei with a banner saying "Can't fight Covid-19".

Ray Chui Man-wai, chairman of the food and beverage industry group Institute of Dining Art, said the strategies the government had adopted to tackle the pandemic were "problematic", noting the government had failed to set a target vaccination rate.

"We saw serious cases and deaths decreased compared with the fifth wave of infections. However, if the government continues to pose restrictions on restaurants and residents, it will bring a huge blow to the industry," he said.

Chui added many restaurants had suffered a drop of 30 to 40 per cent in business during the Mid-Autumn Festival compared with last year.

He urged the government to immediately relax measures by raising the maximum number of people allowed per table from eight to 12 and banquet attendees from 120 to 240.

Separately, authorities also made a change to the English-language version of information for people who tested positive posted on the website of the Centre for Health Protection. It now stated that anyone who tested positive using a rapid antigen test (RAT) "have to" report the results instead of only "can" report them.

But Chuang clarified that reporting positive RAT cases was "not yet compulsory by law at the moment".

"[But] we would like the people to report so we don't want them to feel like it's optional," she said.