Hong Kong's homebuyers returned to the market, snapping up 83 per cent of the 460 new flats put on sale at two locations in the city's biggest property sales weekend this year.

The city's subway operator MTR and its real estate partner Nan Fung Group sold 142 of the 179 flats on offer at the third batch of their LP10 project at Lohas Park in Tseung Kwan O as at 8:00pm, scoring a hat trick over three successful weekends of sales.

Over at Tuen Mun in the New Territories, Hong Kong Ferry (Holdings) and Empire Group Holdings found buyers for 241 of the 281 flats of Skypoint Royale when sales ended at 8.30pm, with 14 buyers bidding for every available unit, agents said.

The strong sales at the two locations marked the return of Hong Kong's property bull market, as investors and owner-occupiers alike took advantage of discounted prices and cheap mortgages to pick up assets, confident that the coronavirus pandemic may soon come under control. Sentiments were also lifted by a booming stock market, topped off by Kuaishou Technology's trading debut that gave investors a threefold windfall
on the first day.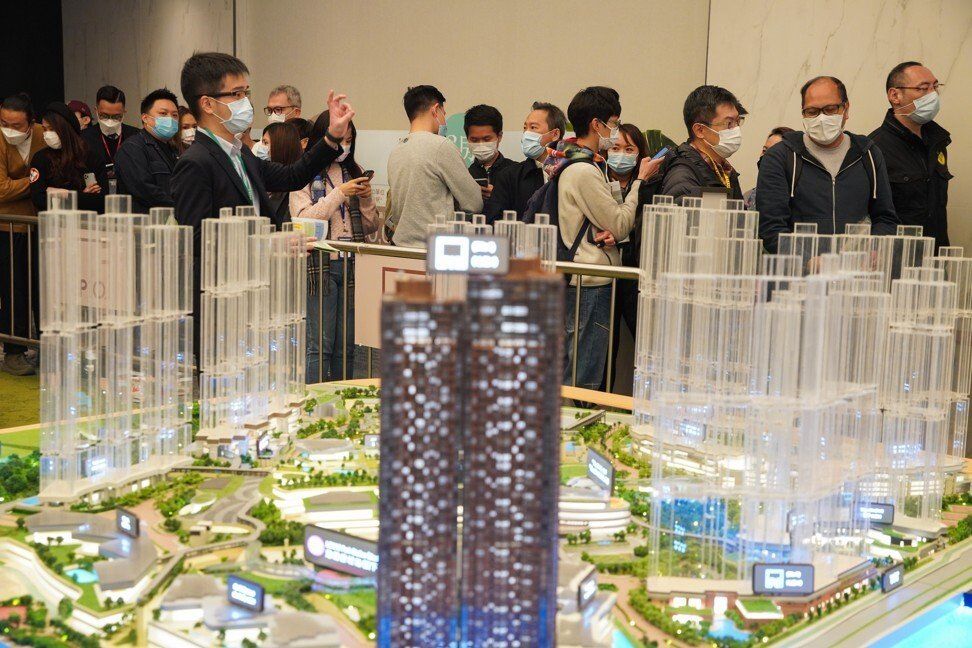 Buyers lining up for Nan Fung's LP10 (Lohas Park 10) flats in the sales office at Harbourside HQ, Kowloon Bay on January 30, 2021, during a sell-out weekend for the developer.

"After a whole year of turbulence, people realise that Hong Kong's home prices may correct but will not slump," said Derek Chan, head of research at the city's major property broker Ricacorp Properties. "With vaccines rolling out soon, the macro environment is expected to bottom out. Thus people with real demand for a home decided not to wait any more."

LP10, the 10th phase of a massive development at Lohas Park, comprises 893 flats in total. The 179 apartments on offer were priced at HK$16,372 per square foot on average after discounts, a 1 per cent increase from last weekend's sell-out launch. The smallest flat, measuring 513 square feet (47.6 square metres), was listed with a starting price of HK$7.7 million.

"Sales have been brisk since late January, with enthusiastic reaction among home seekers," said Louis Chan Wing-kit, Centaline Property Agency's Asia-Pacific vice-chairman and chief executive of the residential division. "The strong sales have also given developers the confidence to put more flats on the market."

Skypoint Royale is the third phase of a six-block project called The Royale in Tuen Mun. A total of 557 units are available in the two Skypoint blocks, with each floor hosting between 18 and 27 units.

The homes on the offer this weekend comprise studio apartments and one-bedroom units from 208 square feet to 361 square feet, with a starting price of HK$2.99 million (US$385,686) for the smallest unit.

Encouraged by the strong sales result, Skypoint's developers said they would put more flats on the market next week, raising the catalogue price by 5 per cent.

Elsewhere in Kwun Tong, 132 apartments of the Grand Central Phase 2 project will go on sale on Monday, said the developer Sino Land.

"There could be an explosive increase in home prices of up to 10 per cent in the first half if the Covid-19 outbreak in the city eases by the middle of the second quarter," said Ricacorp's Chan, adding that prices may rise by 1 per cent in February, faster than January's 0.3 per cent increase.

Some 2,000 new flats are expected to be sold in February, a further increase from 1,500 in January and 583 in December.

The strong sales of new homes have put a floor under home prices, ending in a 0.02 per cent increase in 2020 that defied the city's 6.1 per cent economic contraction. Hong Kong's unemployment rate rose to a 16-year high in the quarter ended December, with 250,000 people out of work while the prolonged fourth wave of the coronavirus pandemic combined with the city's worst recession on record.

The economic malaise is likely to compel the local monetary authority to keep the fiscal and financial taps on to bolster the economy, which will further attract money to seek shelter in fixed assets.