With few international fans making the journey this year, owners are asking if the tournament's glory days are over.
Bars in Wan Chai expected only a slight boost to business at the start of the Hong Kong Sevens on Friday due to the smaller crowds and despite the government dropping a rule that venues must close by 2am.

Initially thin crowds grew slowly at bars in Wan Chai at 8pm, shortly after the end of the first day of the tournament, which returned to the city for the first time since 2019.

The scene was less boisterous compared with the pre-pandemic era, when fans would flock to bars and clubs in the area or simply crowd along roads outside convenience stores after spilling out of Hong Kong Stadium in Causeway Bay.

This year, more than 25,000 tickets were sold, but almost all of them went to local fans, while another 6,000 were given to schoolchildren and more than 1,000 to charities and NGOs.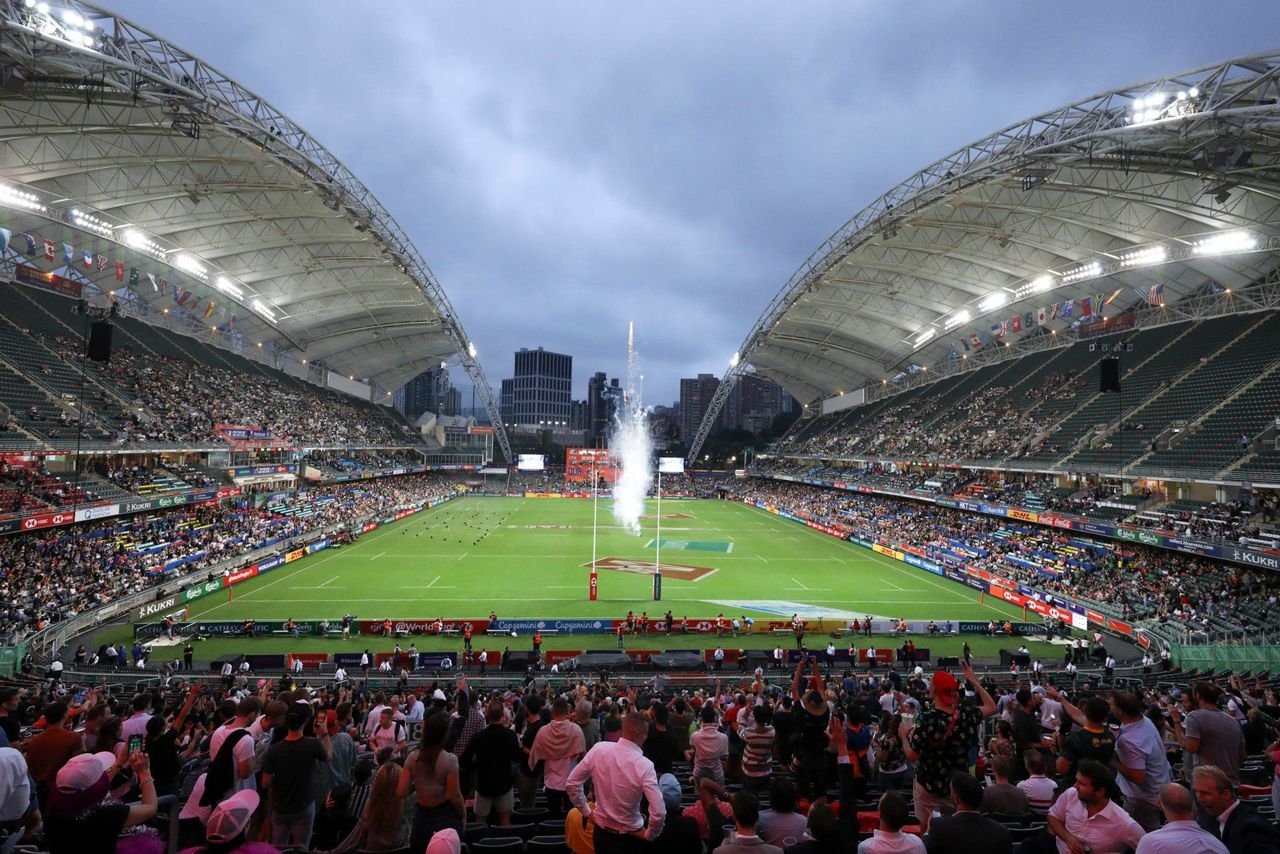 The opening of the Hong Kong Sevens on Friday.

Among the revellers in Wan Chai was a 40-year-old university lecturer, who only gave his last name as Li. He said he had been following the tournament for 20 years and missed the international fans that usually flew in for the matches.

"It's definitely much quieter as you can see from the [tournament] turnout," he said. "I'm actually worried that it might not come back next year. It doesn't seem profitable."

Li said he watched the action at a pub but would head to the stadium on Saturday.

Banker Aidan Slinger, 55, who also watched from a bar, agreed the atmosphere was quieter this year, and would join the fans the next day.

"We are looking forward to getting back to what it was before Covid-19. Hong Kong Sevens is coming back," he said.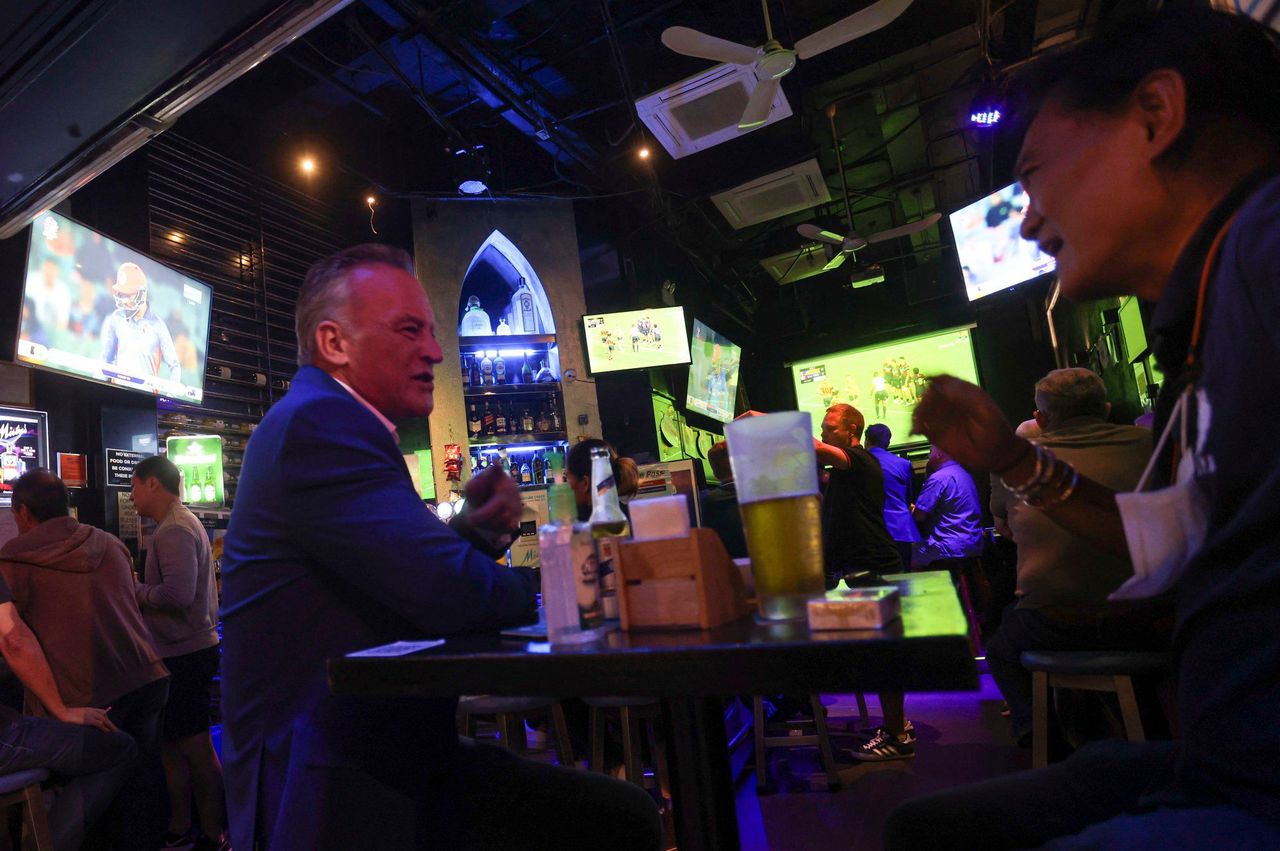 Bars no longer have to close by 2am after social-distancing rules were relaxed.

On Thursday, bars, pubs and restaurants were given the go-ahead to set their own operating hours again after previously being forced to close at 2am as part of the social-distancing regime. But owners were pessimistic in their predictions for the weekend's takings.

One of the pubs visited by the Post said it would be serving customers until 4am. But staff complained that the end to mandatory hotel quarantine in September had benefited mainly residents who wanted to travel, while failing to attract tourists to the city.

Arrivals must currently undergo three days of medical surveillance at home or in a hotel, during which they are free to go out but cannot enter places such as eateries and bars.

Noel Smyth, managing director of Delaney's pubs, said that while business in Wan Chai was a little better on Friday, he was sceptical that the Sevens weekend would have much of an impact on turnover.

"The Hong Kong Sevens has added reasons for Hongkongers to go out and have a weekend celebration to forget about three years of nonsense, but there is not a huge increment for business," he said.

The manager of the White Stag, David Fong, also reported a slight uptick in customers on Friday, but he too did not have high expectations for the weekend.

"It isn't like previous Hong Kong Sevens," he said. "The government is opening now, but people aren't coming back to bars yet."

But entertainment tycoon Allan Zeman, chairman of Lan Kwai Fong Group, said the sporting event had been a good income generator prior to the pandemic.

While he admitted there were not as many tourists this year, he estimated the weekend would help boost takings by about 30 to 40 per cent.

"It's something they've been waiting for, for so many years," he said.

Max Traverse, who runs Maka Hiki Tropical Bar and Grill in Tai Hang near the stadium, said he was hoping to attract rugby fans leaving the stadium on Friday.

"We hope that the Sevens will start the festive season," Traverse said. "We really need that push."

Traverse, 42, was among bar owners hit hard by the pandemic, with his Honi Honi Tiki Cocktail Lounge in Central forced to close last May.

Meanwhile, police were carrying out sting operations against thieves targeting bar-goers, with undercover officers posing as patrons over the weekend, a force insider said.

With more residents venturing out at night as social-distancing rules eased, crooks would use the opportunity to seek out targets, the source said.

Police arrested one man who tried to steal valuables from an undercover officer impersonating a customer in a Tsim Sha Tsui entertainment area last weekend, according to the force.

"People should stay alert to guard against such opportunistic crime," the source said.