Flights from the city can only land at Seoul's Incheon International Airport under curbs announced on Tuesday.
Hong Kong has asked South Korea to withdraw "unreasonable" restrictions that restrict flights from the city to only landing at Incheon International Airport in the capital after a row between Seoul and Beijing over Covid-19 travel curbs escalated.

Hong Kong authorities took to official channels on Tuesday after their South Korean counterparts announced the new measures earlier in the day in retaliation for Beijing's decision to suspend the issuance of short-term visas to arrivals from the country.

"The Hong Kong government has written to the Korean authority and liaised with the consulate general of Korea in Hong Kong to express our grave concern and strongly request the authority to withdraw the restriction concerned," a government spokesman said, calling the ban "unreasonable".

The Transport and Logistics Bureau reminded local airlines to tell affected travellers of the latest flight arrangements as soon as possible, and to provide them with necessary support and assistance.

Official websites of airlines showed that all direct flights from Hong Kong to Jeju or Busan airports had been suspended. One-way flights to Seoul around the Lunar New Year had shot up to HK$4,000 ($512), or roughly double the non-peak prices.

South Korea's flight restrictions derailed some Hongkongers' planned trips to popular travel destinations outside Seoul during the upcoming holiday.

Steven Huen Kwok-chuen, executive director of travel EGL Tours, said his company was scrambling for flights for 60 affected tourists planning to visit Busan during the Lunar New Year holiday, which begins on January 22, via direct services operated by budget carrier Hong Kong Express.

Instead of travelling directly to Busan, he said the customers now had to fly to Seoul first before taking a three-hour bus trip to the popular port city.

"This abrupt ban is not only a buzzkill for tourists in Hong Kong after three years under strict travel restrictions, but it also affects hospitality businesses in South Korea. It's a lose-lose situation," Huen said.

Yonhap News Agency reported on Tuesday that South Korean authorities cited centralised epidemic prevention and control in requiring flights from Hong Kong and Macau to only land at Incheon until February 28.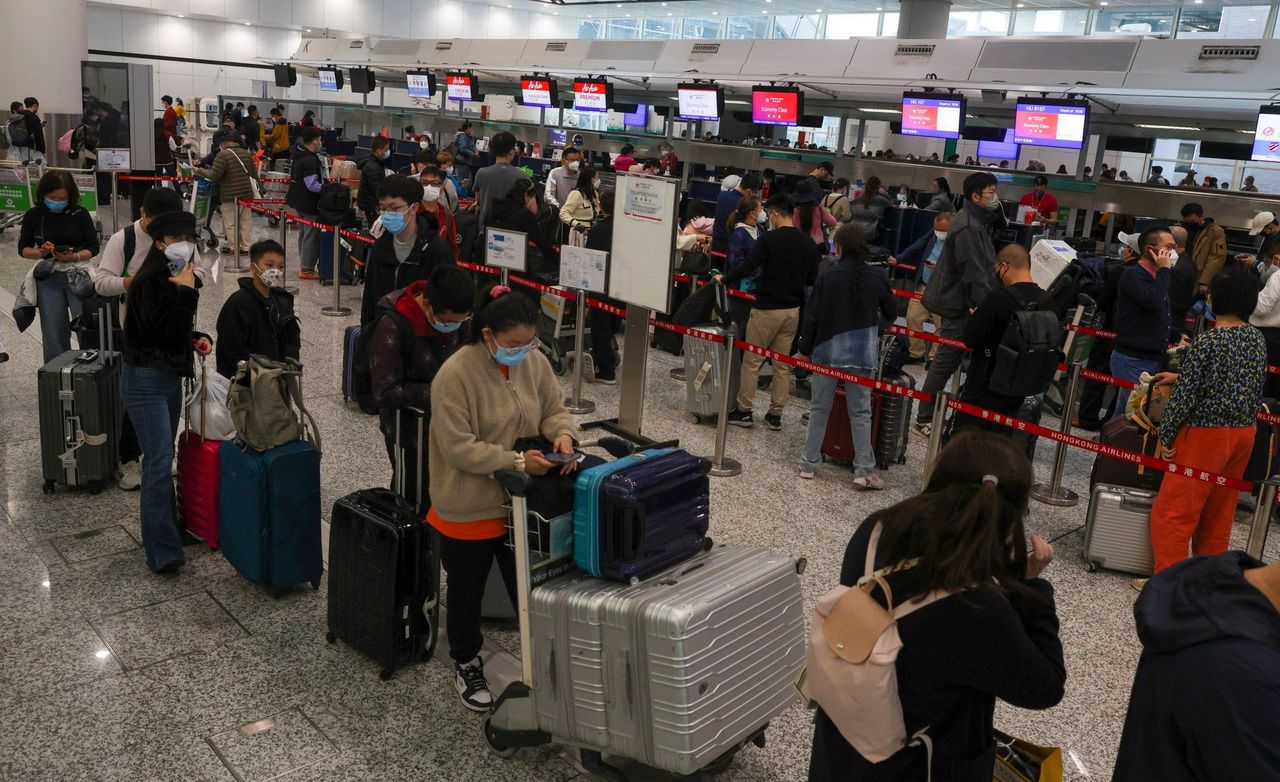 Passengers at Hong Kong's airport.
The polymerase chain reaction test (PCR) requirement for all arrivals from Hong Kong and Macau within 48 hours before their arrival is still effective from January 7.
Domestic transit to other flights at Incheon was also not allowed, according to a notice on the website of the South Korea consulate in Hong Kong.
The row was sparked by Seoul's move last month to join a list of nations imposing travel curbs on Chinese visitors, such as visa restrictions and testing requirements, citing a surge in
Covid
-19 cases in mainland China.
These restrictions were put in place after China announced it would drop mandatory isolation measures for positive cases as part of its drastic departure from its zero-
Covid
policy.
In Beijing's retaliation against
Covid
-related curbs, China has not only suspended issuing some visas for South Korea, but also Japan according to media reports in Tokyo on Tuesday.
International relations scholar Wilson Chan Wai-shun of Chinese University said Beijing's reaction fulfilled a "promise" suggested by its diplomats earlier.
He referred to remarks by Mao Ning, a foreign ministry spokeswoman, that the travel curbs lacked "scientific basis" and that China could take countermeasures.
In Beijing's view, the scholar said Seoul's reliance on China for its semiconductor materials made such retaliation a "rather safe card" to play.
"South Korea's countermeasure is quite at an equivalent level to satisfy diplomatic needs, as it only limited the flow of passengers – mainly tourists – without harming business activities in its capital," he said.
Chan added that further escalation by either side was "unlikely" considering that a return to normalcy had been played up in Beijing's official narrative and the Korean government might not wish the row to spillover to other areas, notably trade and business.