Groups of Hongkongers gathered outside dim sum restaurants and MTR stations on Saturday morning as part of local tours that resumed after months of suspension.

But operators said revenue was "not comparable" to what they made before the coronavirus pandemic hit.

More than 100 itineraries from 58 tour agents were approved by the Travel Industry Council as of Saturday, as operators were allowed to take groups of up to 30 people from yesterday.

Tours of up to 50 people had operated in June and early July, before the third wave of the coronavirus hit the city and groups were capped at four people.

Travel Industry Council chairman Jason Wong Chun-tat said he expected more agencies to come up with ecotour itineraries in the coming weeks as some of them were trying to explore unique routes.

"We hope more locals can explore nature sites while they cannot travel abroad," Wong said, adding another benefit of the scheme would be to bring revenue to restaurants and shops in remote areas.

The coronavirus pandemic, which has infected 5,289 people with 105 fatalities in Hong Kong, has decimated the local economy, in particular the tourism industry. Tourist arrivals into the territory plunged to 99.7 per cent year on year in September.
Non-residents arriving by plane are barred from entering the city in most cases, while Hongkongers and work visa holders are subject to 14 days of compulsory quarantine.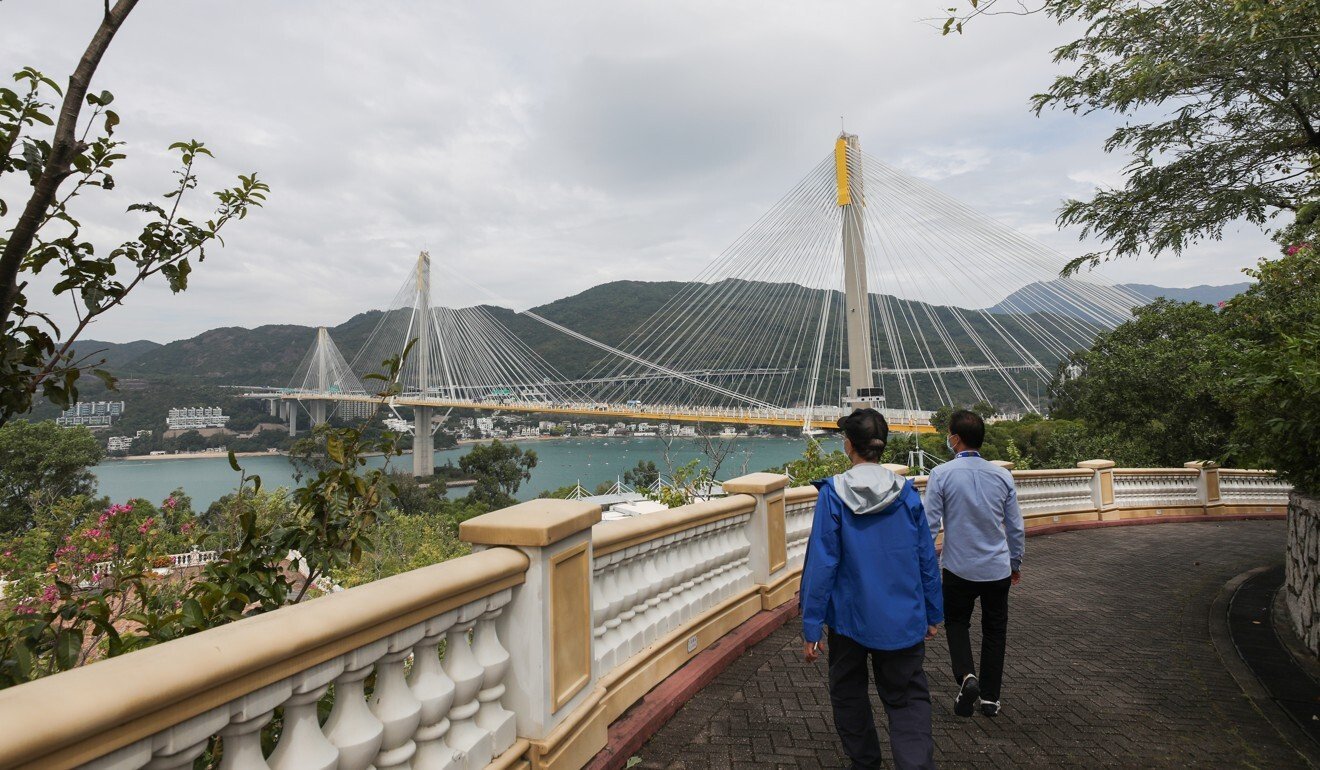 People enjoy a view of the Ting Kau Bridge during a local tour on Saturday.

For local Sally Au-yeung, who was with her 70-year-old mother, taking a tour is a chance to see something new.

"I'm just happy to get her out of the house to do something different," Au said. She was among 14 people who paid HK$88 (US$11.35) to join a tour near Tsing Ma Bridge and Yuen Long, organised by travel agency WWPKG.

Also in the group were Mr and Mrs Chiu, who regularly travelled across Southeast Asia and hoped to visit Europe. But those plans were upended by the health crisis and border closures. They were not so worried about the risk of Covid-19 infection while travelling in a group with strangers, as the daily caseload in Hong Kong remained low.

"There shouldn't be any problem if we take proper precautionary measures," Mrs Chiu said.

Members of the Travel Industry Council were monitoring infection-control measures for the group at Tim Ho Wan dim sum restaurant in Hong Kong station, to ensure temperature checks were being conducted on all participants, everyone was wearing a mask, and no more than four people were sitting at each table.

A member told the Post the council would continue to monitor tours in the coming weeks.

Operators breaking the rules risk losing out on government subsidies, being banned from conducting tours for a month and even potential prosecution.

Travel agencies must sign an agreement with the council ensuring members of the tour group complied with a set of rules, such as purchasing health insurance for the clients, recording their contact information, conducting temperature checks and ensuring they wear masks throughout the trip.

WWPKG chief executive Yuen Chun-ning said the rules were not difficult to follow, but the new elements were the provisions for Covid-19 insurance coverage and the requirement for tour guides to test negative for the virus. He welcomed commerce minister Edward Yau Tang-wah's announcement of a one-off free virus testing for all tour guides next week.

Among the itineraries approved was a bike tour arranged by Creative Asia Travel. The trip will take 20 bikers led by a guide from Kam Sheung Road in the New Territories through sites such as the Hong Kong Wetland Park and Pat Heung Old Temple.

Rebecca Lau, who organised the route, said most of the participants were loyal clients of Creative Asia Travel, which had helped customers book plane and cruise tickets before the pandemic.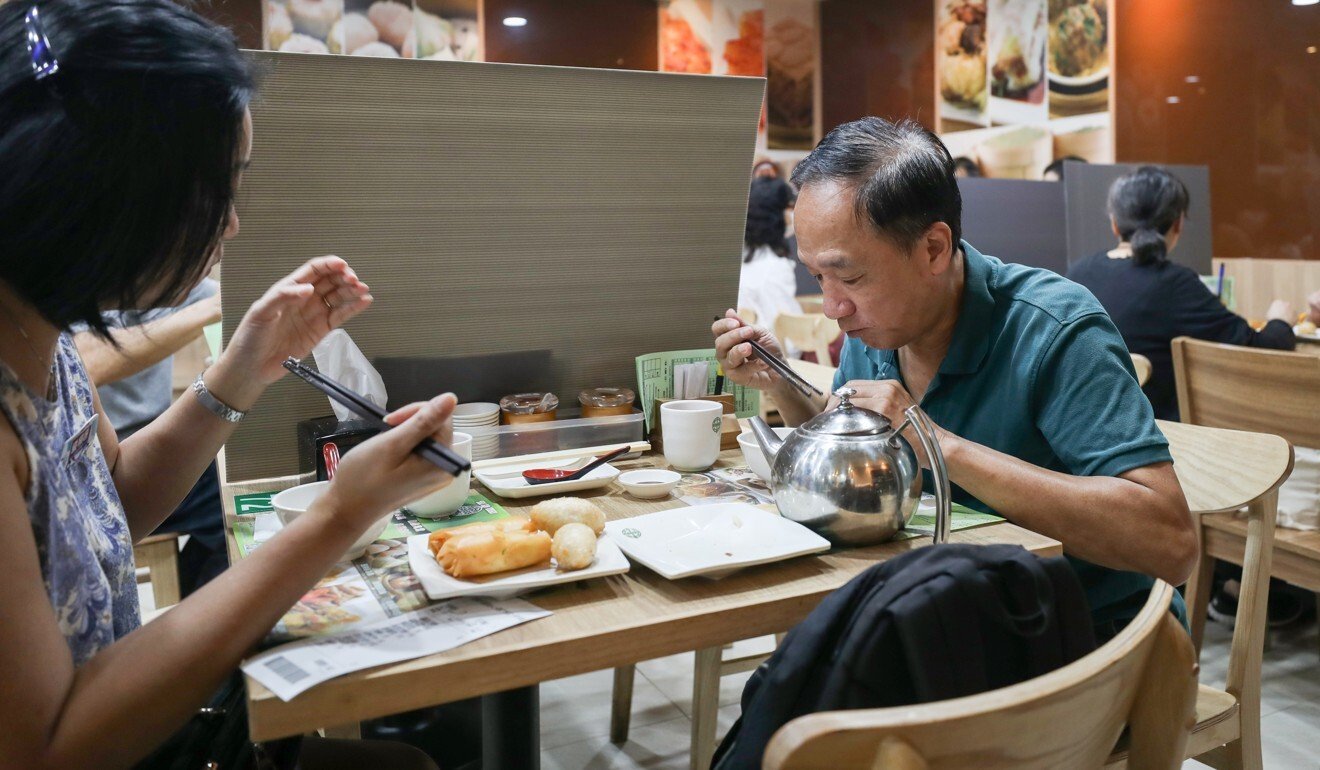 Hongkongers enjoy dim sum at Tim Ho Wan restaurant on Saturday.

Sirena Wu, a representative of Crux Global Hotel Reservation, said two tour routes for the weekend filled up almost immediately. About 28 people signed up for the tours at the HKFYG Jockey Club Sai Kung Outdoor Training Camp on Saturday and to the remote island of Tung Ping Chau on Sunday.

"We're not very familiar with operating local tours, but we hosted six successful ones back in June before the third wave of coronavirus infections," Wu said, adding the company originally booked hotels and resorts in destinations such as Thailand, Cambodia and Japan.

Wu said that they capped participants to about 27 people as the tour guide, bus driver and boat driver were also included in the maximum headcount.

Yuen, who normally organises overseas trips, welcomed the change in rules, but felt local tours were not enough to help travel agents survive their business.

"The margin is not comparable to what we used to do … If I'm optimistic, it may salvage 1 to 2 per cent of our previous sales amount," he said.

Hong Kong and Singapore recently announced they would launch a quarantine-free travel bubble between the two regions within "weeks". According to the preliminary plan, travellers will have to show negative test results for the coronavirus before departure, while there will be no restrictions on the purpose of travel and itineraries. But, transit passengers will not be allowed.

Yuen is looking forward to the outbound travel market to resume.

"Many of us are already contacting airlines for seat availability and checking out with the tourism board to see if there are opportunities for promotional tours. We all are getting prepared."