Hong Kong Airlines, the city's third-largest carrier, is cautious about expanding after the closure of hometown rival Cathay Dragon, according to a company executive, with the focus still on its own survival amid the Covid-19 pandemic.

A member of the cash-strapped Chinese aviation conglomerate HNA Group, the airline also said it was unable to hire any of the estimated 2,500 Dragon cabin and cockpit crew made redundanton Wednesday.

The aviation landscape was rocked after Hong Kong's largest carrier Cathay Pacific Airways shut down its smaller sister airline Cathay Dragon, as part of a sweeping overhaul leading to 5,900 jobs axed worldwide.

Dragon served 51 regional destinations and mainland China, with the routes to become available for bidding from other airlines. Cathay Pacific, along with its other subsidiary HK Express, has said it was eyeing most of the routes. Hong Kong Airlines is also seen as likely to benefit.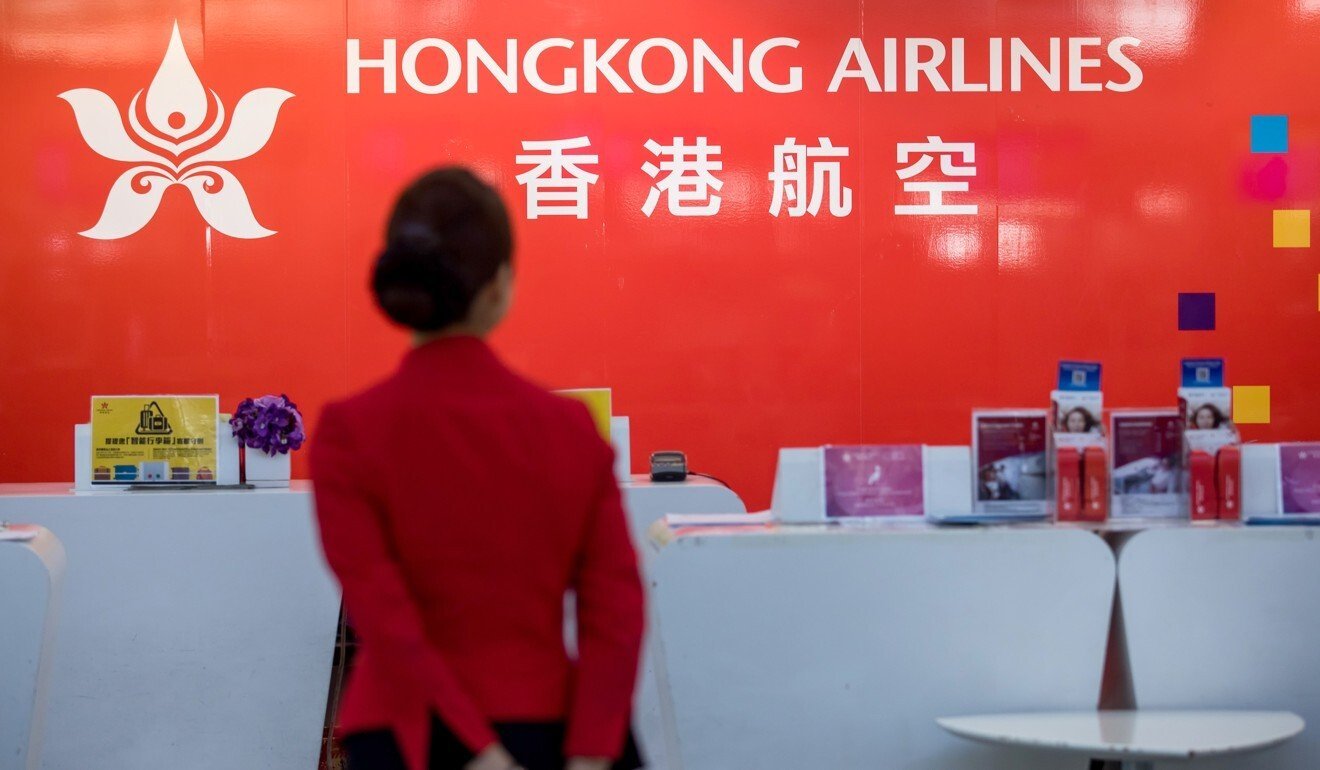 Signage for Hong Kong Airlines at the departure hall of the airport.
Ricky Chong Wai-ki, director of corporate governance and development at Hong Kong Airlines, said: "If there are available slots and traffic rights, of course it would be an opportunity to other airlines, but we need to see the situation and also make an evaluation afterwards."Even if they reallocate the traffic rights, no matter to whom – Cathay Pacific or us – it's still hard to well utilise, or fully utilise [the routes] under the situation of the pandemic," he added.


Chong's conservative projection was centred on the collapse in air traffic, and closed borders caused by the pandemic. He said the company would make a "very cautious" evaluation on traffic rights and weigh up market demand.

He added that the next step was for Cathay Dragon to relinquish its rights to the Transport and Housing Bureau, and for the government department to subsequently invite airlines to bid. With no time frame, Chong said it was possible authorities might take a year or two to call for bidding.

Chinese airlines offer unlimited flights to coax travellers back as Covid-19 crisis is under control


The carrier on Saturday afternoon hosted a "flight to nowhere" – the first by a Hong Kong airline for the paying public. Themed "Embrace 'Home' Kong", flight HX852 lasted 90 minutes to allow its 104 passengers, the oldest being 92 and the youngest nine, to take in majestic sunset views.

Separately, Chong said his airline's financial constraints meant it would not be possible to hire staff from elsewhere.

"We have no-pay leave. It is really critical for us to control staff costs. So in the coming months we do not foresee any need or opportunity to start external recruitment again," the Hong Kong Airlines executive said.

The financially battered carrier is operating around 5 to 10 per cent of normal services, and flying fewer than 10 aircraft. At its peak, it employed more than 3,900 people and flew 38 planes.

On a more optimistic note, the airline operates 100 weekly flights for passengers and special cargo, allowing it to make a small profit or at least break even.

"We hope we can keep the momentum, and the Hong Kong-to-Hong Kong flight is an additional source of revenue for us. We hope to maintain this kind of scope and capacity over the coming months," Chong said.

Hong Kong Airlines was one of the first carriers to cut jobs in February, at the start of the pandemic, before the full scale of the devastation wrought by the health crisis hit the industry. Some 400 jobs from a 3,500-strong workforce were cut.

Since then, it sought to reduce the pay of its more than 1,200 cabin crew members by 30 per cent over four months. Captains and first officers saw their salaries and allowances slashed by 60 per cent for six months.

The airline has also sought a second round of support under the government's coronavirus relief scheme to cover a portion of wages from September until the end of November. Pilots originally took a two-fifths cut on fixed salary and allowances from March through to September.

The airline received HK$77.1 million (US$9.9 million) to help cover salaries of 2,940 employees in the first phase of the scheme from June to August.

Hong Kong Airlines has also received more than 1 billion yuan (US$149.5 million) in extra funding from Chinese banks since January to help repay maturing debt.