Hong Kong is adding France and Russia to its list of countries deemed at high risk of Covid-19, requiring arrivals from the two nations to test negative for the coronavirus before departure and to quarantine in a hotel upon landing.

Authorities also banned flights operated by Air India from New Delhi and an Indian airline jointly owned by Singapore Airlines running out of Chennai in the continent's southeast for 14 days after they brought in 10 infected passengers.

Hong Kong confirmed seven cases on Friday, with the single local infection involving a social worker employed at a dormitory for recovering mental health patients. At least 14 people who came into contact with him have been quarantined.

The city has closed its borders to nearly all tourists since late March in a bid to limit the number of imported infections. With the addition of France and Russia, Hong Kong now has 13 countries on its high-risk list, including Britain, Bangladesh, Pakistan, India and the United States, with the last two the world's worst-hit nations, sharing more than 15 million cases between them.

The regulations covering arrivals from France, which has more than 750,000 cases, and Russia, with roughly 1.35 million infections, will take effect on October 26.
Hong Kong third wave
Tracking the spread of local Covid-19 cases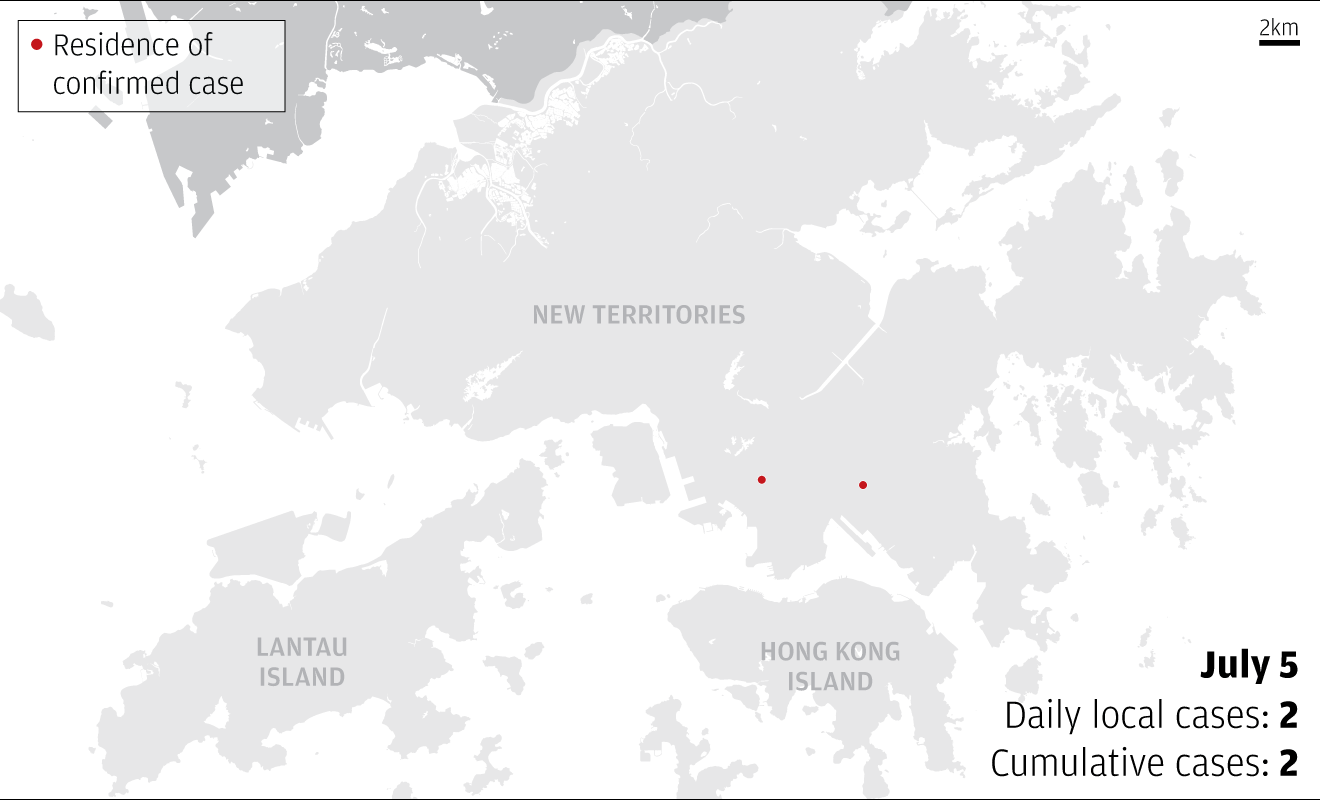 Source: Centre for Health Protection

The Indian Air India flight from Delhi and an Air Vistara flight from Chennai each brought in five infected passengers on Thursday, triggering an automatic ban, which will run from Saturday until October 30. It is the third time the national carrier has been ordered to stop flights into the financial hub due to carrying too many people with Covid-19.

Four of the Air India arrivals were among Friday's six imported cases, and the other infected passengers on board the two flights could be among the more than 10 people who have tested preliminary positive. The other two confirmed imported cases were from Nepal and Malta.

The city has recorded 5,220 Covid-19 cases, with 105 related deaths.

The local social worker, whose infection was untraceable, is employed by the Mental Health Association of Hong Kong at Lei Cheng Uk House in Sham Shui Po, a transitional facility for people recovering from mental illness, with 41 residents. The patient, 28, was responsible for counselling, according to Dr Chuang Shuk-kwan, head of the communicable disease branch at the Centre for Health Protection.

"He usually worked in the office, which is next to the dorm," she said. "Residents would go to his office for counselling if necessary."

Authorities have quarantined eight residents, a staff member and two volunteers who went cycling with the infected worker on October 12, while another three people who ate lunch with him and his family members must also be quarantined.

The facility would be closed for two weeks for disinfection, during which residents would not be allowed to leave, the Mental Health Association said. The remaining residents and staff at the dormitory will be tested. Specimen bottles to collect samples will also be distributed through a church in To Kwa Wan, which the man visited on October 11.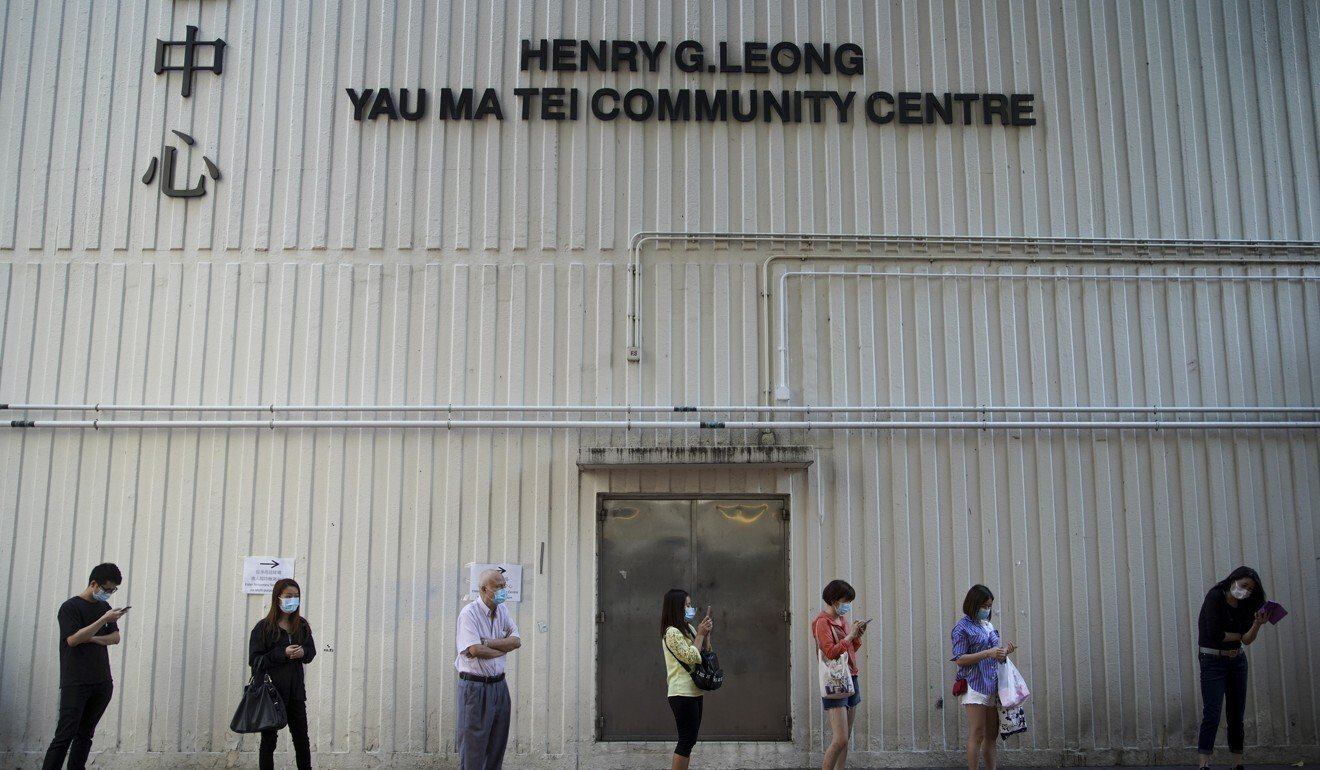 People queue up for virus test at the temporary testing centre in Yau Tsim Mong.

The global Covid-19 situation has been worsening in recent weeks. According to the World Health Organization, Russia has been reporting an increasing number of new daily cases since mid-September, with more than 10,000 confirmed daily in the past week alone.

While figures in France have been fluctuating, the daily count has been trending upwards, hitting more than 26,000 on a single day this week. Over the past four weeks, Hong Kong has recorded seven cases imported from France and three from Russia.

But more than 60 per cent of infections since Sunday have been locally transmitted, leading authorities to urge private doctors to watch out for patients with possible Covid-19 symptoms and to test them.

The government is expected to close temporary screening centres in Wan Chai, Kwai Tsing and Kowloon City on Friday, but one in Yau Tsim Mong is due to remain open until Sunday.

A mobile testing truck will also visit nightlife districts throughout the weekend to distribute specimen bottles and encourage people to get screened. The truck will cover Kennedy Town on Friday, Prince Edward on Saturday and Soho in Central on Sunday.

Following an infection linked to the city's philharmonic orchestra, health experts have debated whether patients with mild symptoms should also be forced to get tested.

Chuang said orchestra members were still being screened, but the roughly 1,400 audience members at concerts on October 9 and 10 should come forward for voluntary testing, as authorities did not have a list of their names.