Even by the dismal standards of 2020, Hong Kong has had a rough year. Eight months of pro-democracy protests gave way to the global pandemic in January, followed by China's imposition of a sweeping national security law, a crackdown on activists, and the year-long delay of a crucial election. It's enough to make one run for the hills.

Which is literally what I have done: After spending my days reporting on the city's political turmoil, I've jogged up and away from Hong Kong Island's wall of skyscrapers and into the jungle along a vast network of trails.

Despite being one of the densest cities on Earth, Hong Kong boasts a remarkable amount of green space. Roughly three-quarters of the city's 1,100-square-kilometer territory (or 425 square miles) is natural landscape - from rocky coastlines and beaches to forested hillsides and mountains. About 40% of it is protected in vast "country parks" that are easily accessible from around the city, and woven together with more than 530 kilometers of paths, trails and hiking routes.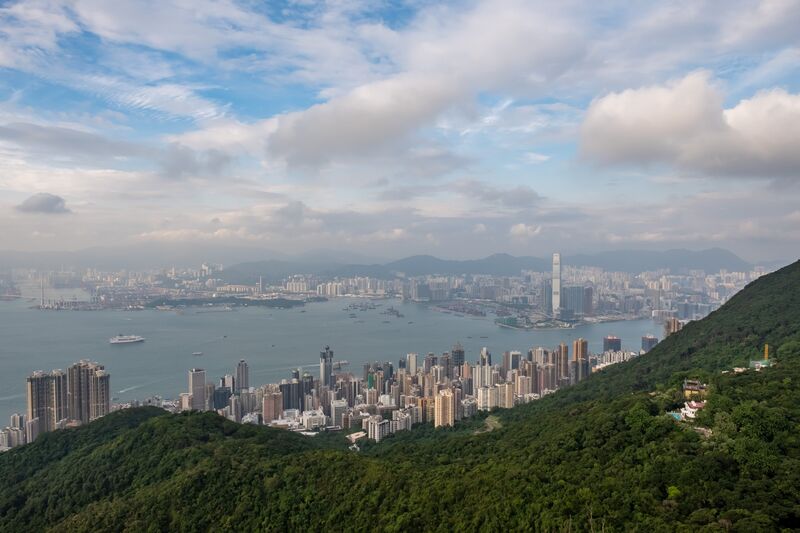 Looking down from High West, a vista point in the forested mountains surrounding Hong Kong.

The sheer proximity of the forests to the urban environment is startling. When I arrived here in summer 2019, at the peak of the protests, one of the city's wild boars ran past me on the way to my first day at work in the dense Wan Chai neighborhood. On a jog along the prestigious mountaintop Peak neighborhood - where Chinese residents used to be banned, foreign residents would be transported in sedan chairs, and a four-bedroom home was recently listed for $446 million - it's possible to disappear down a dirt path and forget you're in a city. I sometimes add a trip to my regular running loop around Victoria Peak up the High West ridge, with panoramic views stretching from Kowloon to Hong Kong's verdant outlying islands. The skies have been mercifully free of smog - a silver lining of the pandemic.

Fleeing the city's tiny apartments and crowded streets for the countryside has long been a much-loved escape for Hong Kongers. This spring, as the pandemic shuttered playgrounds and gyms and travel restrictions prevented getaways to Vietnam or Thailand, the hiking trails were unusually packed, and they stayed busy throughout what was the hottest summer since record-keeping began in 1884.

Similar trends have been seen globally as coronavirus-weary residents sought respite in outdoor recreation: In Australia, for example, twice as many people used tracks and trails in the Western Sydney Parklands in May and June, according to one government survey. A study of Google Trends found searches for exercise across the U.S., U.K and Australia surged during lockdowns.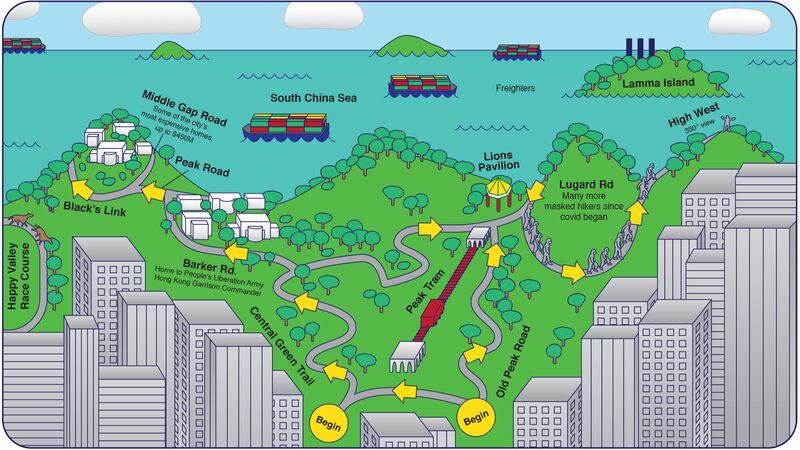 A stylized map of the author's adventures through the hiking trails above Hong Kong shows routes to the famous High West overlook as well as through some of the city's priciest enclaves.


But the pandemic is just one of several stressors that Hong Kong residents have endured lately, as the city was battered by political unrest, a recession, and most recently by a crackdown from Beijing. The percentage of residents who showed signs of probable depression jumped to 11.2% during the unrest, up from just 1.9% a few years earlier, according to a study in the Lancet. In this atmosphere, the peace that the city's trail network offers is a precious commodity.

That was also true during the SARS epidemic that hit the city hard in 2003, says Shum Si Ki, 63, who runs a Hong Kong hiking Meetup group. He recalls a similar burst of interest in hiking during that outbreak, and says that the level of demand these days is visible not just in the crowds but also in new people joining the group: roughly 350 each month since the pandemic began, up from around 200.

Getting away from it all in a city of more than seven million isn't always easy. In response to a virus surge in July, the government mandated masks outside, even while exercising. Senior government adviser Bernard Chan told me this was partly about making it too uncomfortable for people to hike. "The government is announcing these things to discourage you," he said. "You're still allowed to go out, but what's the point?"

But Hong Kongers persevere. Some sport large floppy hats with comically large plastic face-guards; others, like me, clandestinely slip their masks below the nose on empty trails.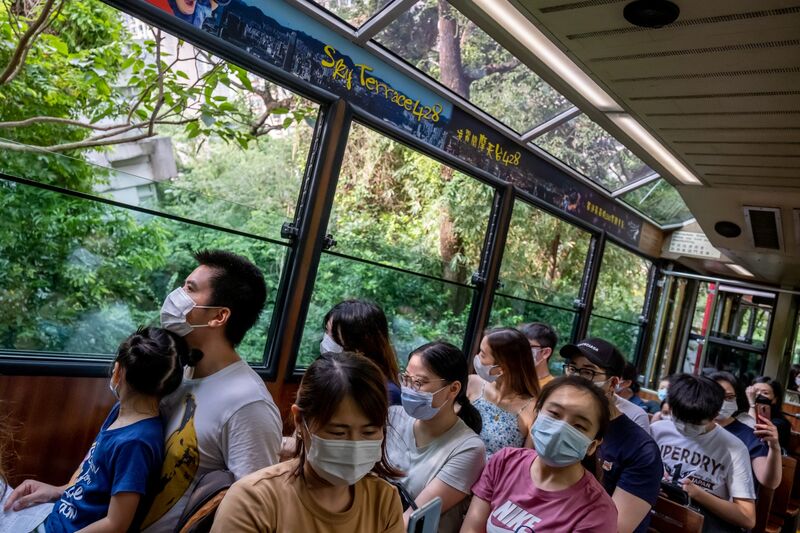 Tram riders heading to the Peak in Hong Kong.

There's a darker side to the city's green spaces, too. These protected natural areas reflect the government's tight control of Hong Kong's finite landmass, of which only 5% is used for residential housing. The system of selling pricey plots to a small group of developers has created the world's least affordable housing market, along with stark inequality and an economy presided over by powerful real estate tycoons. While a minority have magnificent views of the sea or skyline from luxury villas or towers, ordinary Hong Kongers cram entire families into 300-square-foot apartments - and the destitute rent bunks in so-called coffin or cage homes.

That dilemma isn't easily solved. The government has examined building housing on the periphery of the country parks and is promoting a controversial $70 billion plan to develop artificial islands off Lantau Island. Both ideas are opposed by environmentalists, who say the government should instead develop brownfield or industrial sites, and leave the parks alone.

In other words, you can't easily escape Hong Kong's rancorous politics, even in the woods. Opposition politician Dennis Kwok told me he'd been tramping around Victoria Peak with his kids in April when his phone lit up: In an unprecedented statement, Beijing accused him of violating his oath of office - and soon announced a sweeping new national security law, the most restrictive measures imposed on the city since it returned to Chinese rule in 1997.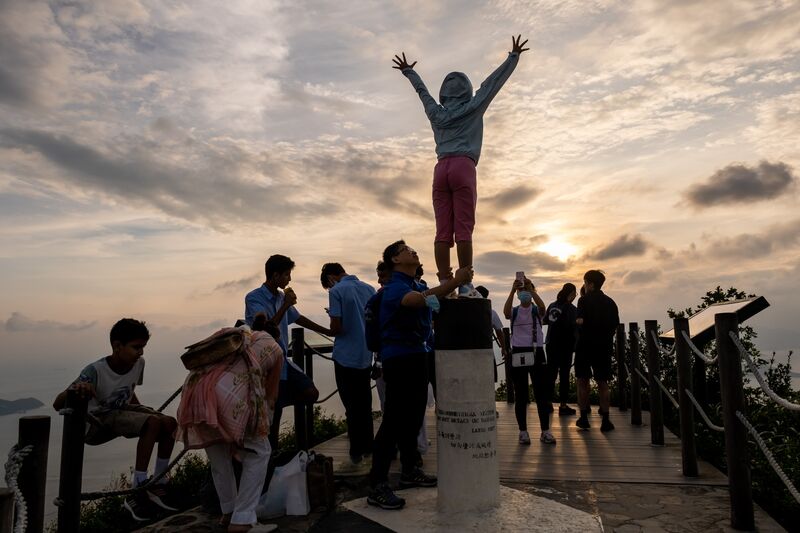 People rest and take photographs at High West in Hong Kong.

Those trails are seeing a new surge of visitors as the summer heat recedes and fair-weather hikers rejoin those of us who have been sweating it out. On a recent run along Barker Road and around Black's Link, I had to wait as a group of a dozen neon-clad joggers ran past. Lugard Road is once again congested with families. I only found solitude along nearby Dutch Lane, an overgrown path with fleeting views over the city named for the foreign merchants who used to traverse it.

The city appears to have successfully controlled a summer Covid-19 outbreak - its worst yet - but the fall is certain to bring new tensions. The government may have a harder time justifying maintaining the social-distancing rules that have recently curtailed protests, especially after delaying a September legislative election that pro-democracy candidates hoped to win. Without compromise, solution or reconciliation, Hong Kongers will want room to roam, and space to breathe. At least they'll find it on the trails.