Secretary for Health Lo Chung-mau says report had cost the media its integrity, while city logs highest daily Covid tally since March 24.
Hong Kong's health minister has strongly rejected a news report alleging internal conflict among officials over whether to scrap hotel quarantine by November, questioning media professionalism behind it and deploring the impact on the city's battle against Covid-19.

A government source told the Post the administration had not decided on further easing quarantine rules for overseas arrivals and was focused on combating the Covid-19 surge, which on Sunday pushed the daily tally past the 10,000-mark for the third time in four days.

Secretary for Health Lo Chung-mau voiced his disapproval after American news outlet Bloomberg published a report that cited "people" claiming Chief Executive John Lee Ka-chiu hoped to cancel hotel quarantine by November, but officials were split on the decision.

Without naming the agency, Lo slammed the Bloomberg report for being inaccurate. Writing on his official blog, he said: "There are indeed a lot of viewers, but the report led readers to mistakenly believe that the government is divided and contradictory in the fight against the pandemic.

"The loss is not only the media's professionalism, but it may also affect the government's fight against the pandemic. As one of the major officials, I find it necessary to clarify."

Lo likened the report to "Chinese palace dramas" – fictional stories set in real historical periods – adding: "It did not seem to matter whether the insider information was true or not. It was widely reported by other media as if it was true."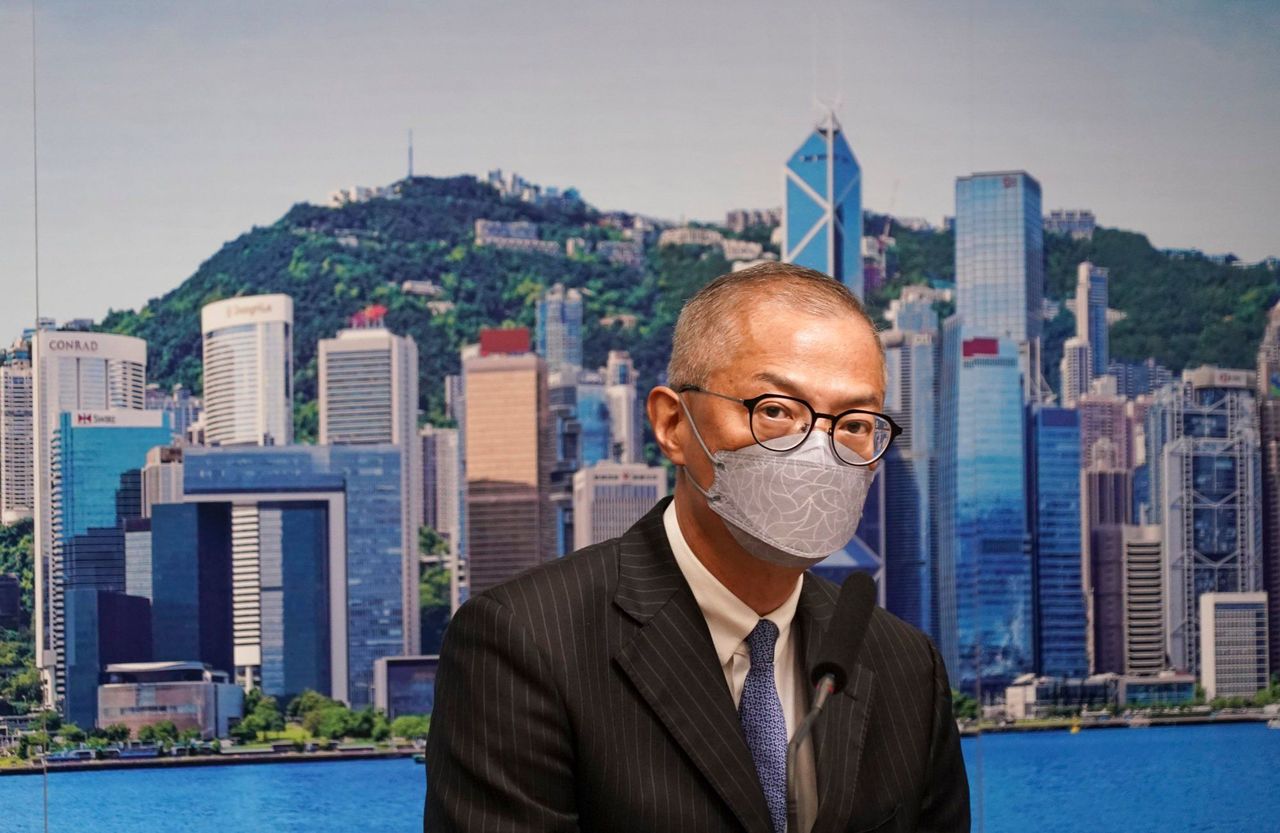 Secretary for Health Lo Chung-mau.
His remarks came as the city on Sunday logged 10,683
Covid
-19 infections, the highest daily tally since March 24, including 193 imported cases. Eight more deaths were reported. The city's virus tally stood at 1,582,399 cases, with 9,724 deaths.
Despite daily caseloads hovering around 9,000 to 10,000 recently, Dr Albert Au Ka-wing of the Centre for Health Protection said no evidence existed to suggest the figures had plateaued and authorities were expecting the number of infections to grow further.


"In the past two to three weeks, an upward trend was observed. Although there was no exponential rise similar to the one in February and March, the rate of increase has sped up since mid-August," he said, urging the public not to let their guard down.

Au said sewage testing in different districts had revealed an increasing trend in the viral load per capita over the past five days, which had returned to the levels recorded in early to mid-March during the peak of the fifth wave of infections.

With the more transmissive BA.5 subvariant becoming the dominant strain, Au warned that the level of antibodies of residents who had been infected in February or March might have dropped if they had not received another dose of a Covid-19 vaccine, resulting in a higher risk of infection.

Quoting anonymous sources, the Bloomberg article on Thursday suggested city leader Lee preferred abolishing hotel quarantine before a global bankers summit and the Hong Kong Sevens rugby tournament in November. But he faced opposition from other officials such as Lo, who favoured curbing infections and resuming quarantine-free travel with mainland China.

Lo stressed that the chief executive and his team shared common goals in dealing with the pandemic, which were based on five principles, such as controlling infection numbers, minimising severe cases and deaths, and protecting high-risk groups.

"It is without contradiction or doubt that every member of the governing team will adhere to the five principles," he said.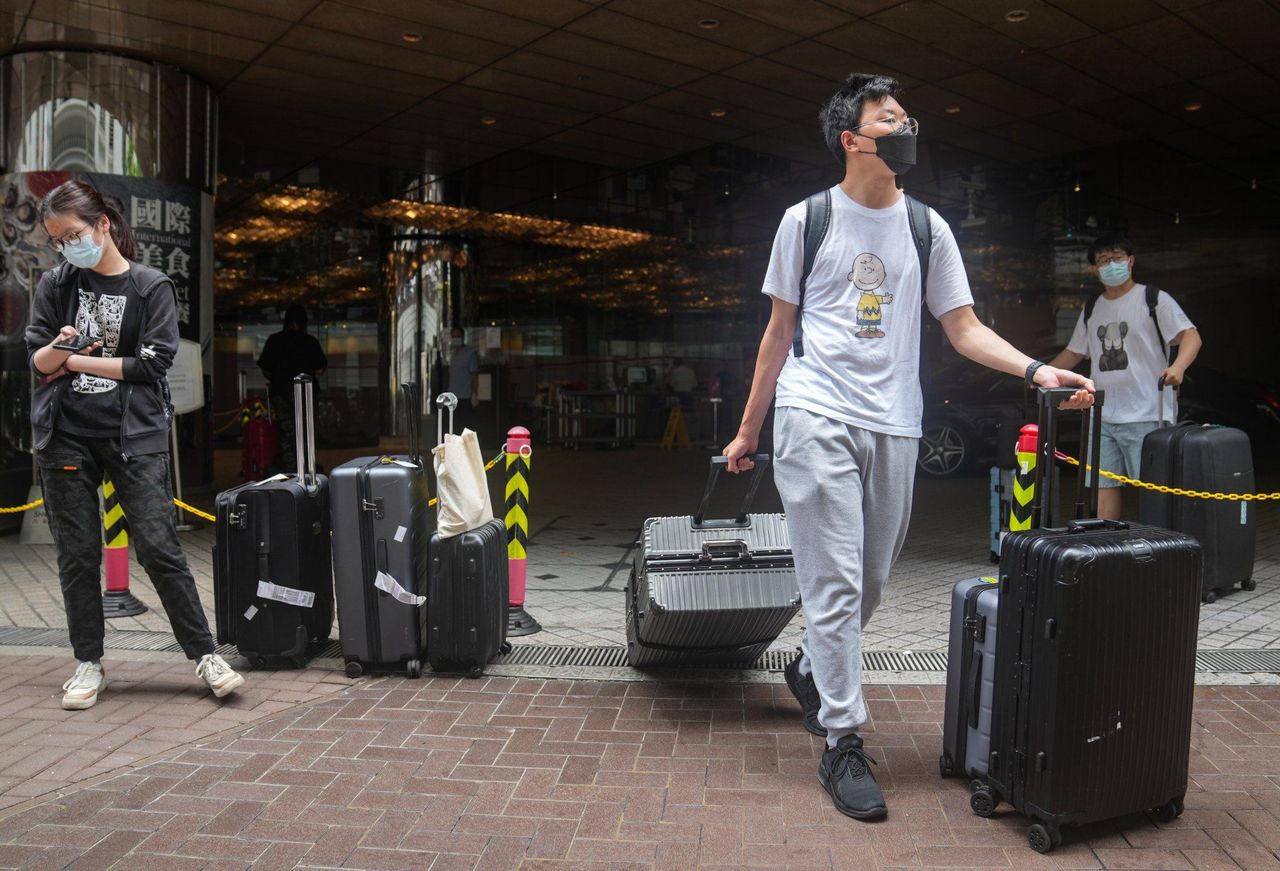 Travellers leaving a designated quarantine hotel.

Lo also suggested that the report had "certain purposes" when mentioning China's pandemic strategy, pointing out the mainland had done a better job than the rest of the world in preventing a large number of pandemic deaths.

"It is important to know that President Xi Jinping has always insisted that 'the lives of our people are of utmost importance'," he said.

"It is indisputable that the mainland is far better than the rest of the world in preventing a large number of deaths during the pandemic, which is supported by a huge amount of data. It is not 'trumpeting' as reported by the article."

Lo noted that while the mainland had only recorded about 5,200 Covid-19 deaths, more than 1 million people had succumbed to the virus in the United States, while the figure for Britain was over 200,000.

Hong Kong earlier cut its week-long hotel quarantine for overseas arrivals to three days of hotel isolation followed by four under home medical surveillance.

Lee on Thursday also announced he had received initial approval from mainland authorities for a "reverse quarantine scheme", which would allow travellers to undergo isolation at designated facilities in the city before crossing the border.

Former health chief Dr Ko Wing-man told a radio programme on Sunday it was "too early" to say whether Covid-19 had become like influenza, adding that new variants of the virus should not be assumed to result in fewer severe cases and deaths.

He disagreed with the idea of relaxing social-distancing measures to trigger outbreaks in order to bolster herd immunity, a strategy adopted by some overseas countries, stressing the city must prevent the collapse of the healthcare system.

"I think on one hand we should emerge from the pandemic and ensure the resumption of our normal lives, studies and economic activities, but we cannot just loosen every measure to make outbreaks happen," he said.

Ko added that public figures should convey a clear message to show the importance of vaccination, as residents might get confused about the necessity of inoculation if experts said social-distancing measures could be relaxed to achieve herd immunity.

Meanwhile, health authorities said evening clinic services at the Lady Trench General Out-Patient Clinic in Tsuen Wan would be suspended starting Monday so more manpower could be deployed to designated facilities and teleconsultation services for Covid-19 patients, bringing the number of such suspensions to 15.