The social turmoil of 2019 sowed the seeds for another tumultuous year for Hong Kong, even as it battled the Covid-19 pandemic. Following Beijing's imposition of the national security law, there were multiple arrests of opposition figures, as well as disqualifications of lawmakers from the bloc.

As polls were postponed amid the pandemic and four opposition lawmakers were unseated, their peers resigned in protest, leaving a legislature devoid of pan-democrats.

Prominent activists also fled the city, fearing they would be the next targets under the security law.

The Post looks at 10 events that have redefined Hong Kong's political landscape in a roller-coaster year.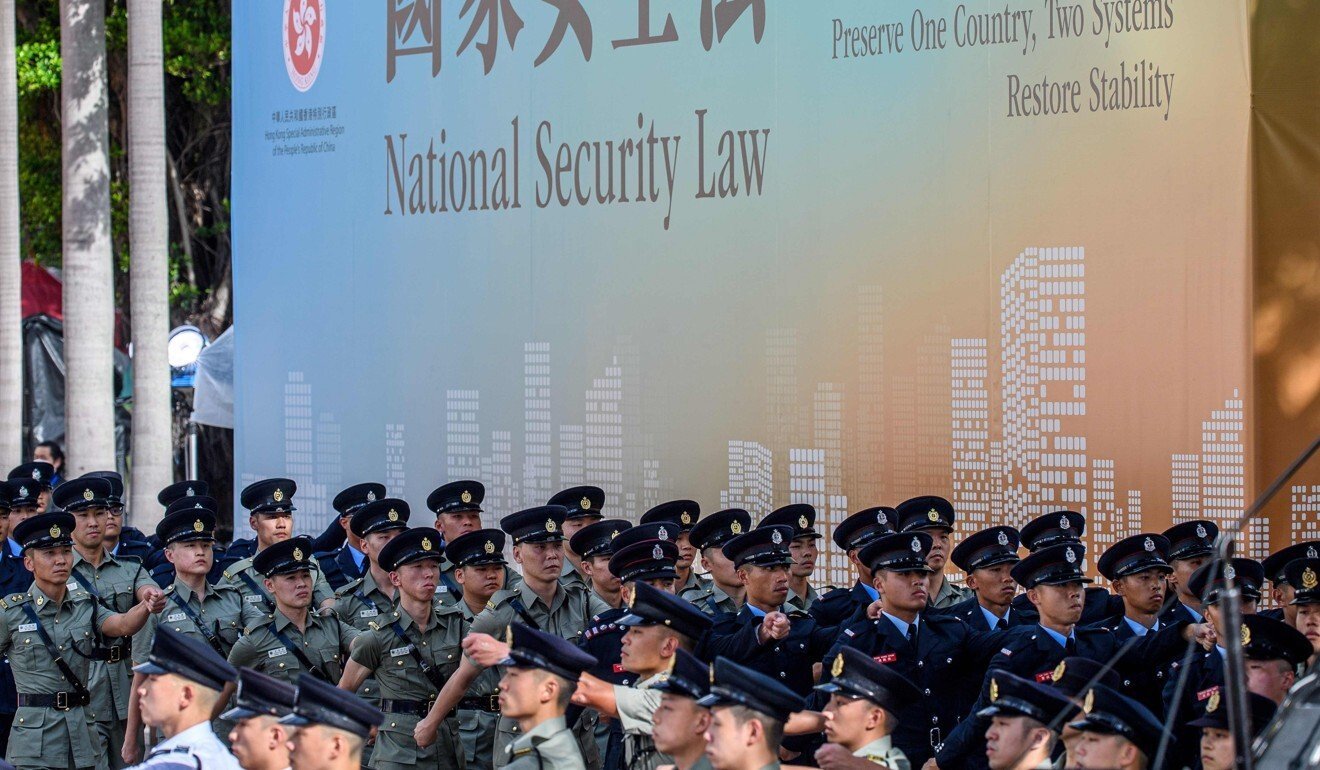 Uniform groups march past a banner of the newly imposed national security law.
1. National security law lands

The broad legislation, decreed by Beijing, came into force in Hong Kong on June 30, a day before the 23rd anniversary of the city's return to Chinese rule. The law has been a game-changer for the city in 2020.

It was set up to prevent, stop and punish acts of secession, subversion, terrorism and collusion to endanger national security, and largely curbed social unrest.

About 30 people have been arrested under the new law in half a year. The legislation also prompted Western countries, including Britain, Australia and Canada, to suspend their extradition agreements with Hong Kong and consider "lifeboat schemes" for Hongkongers.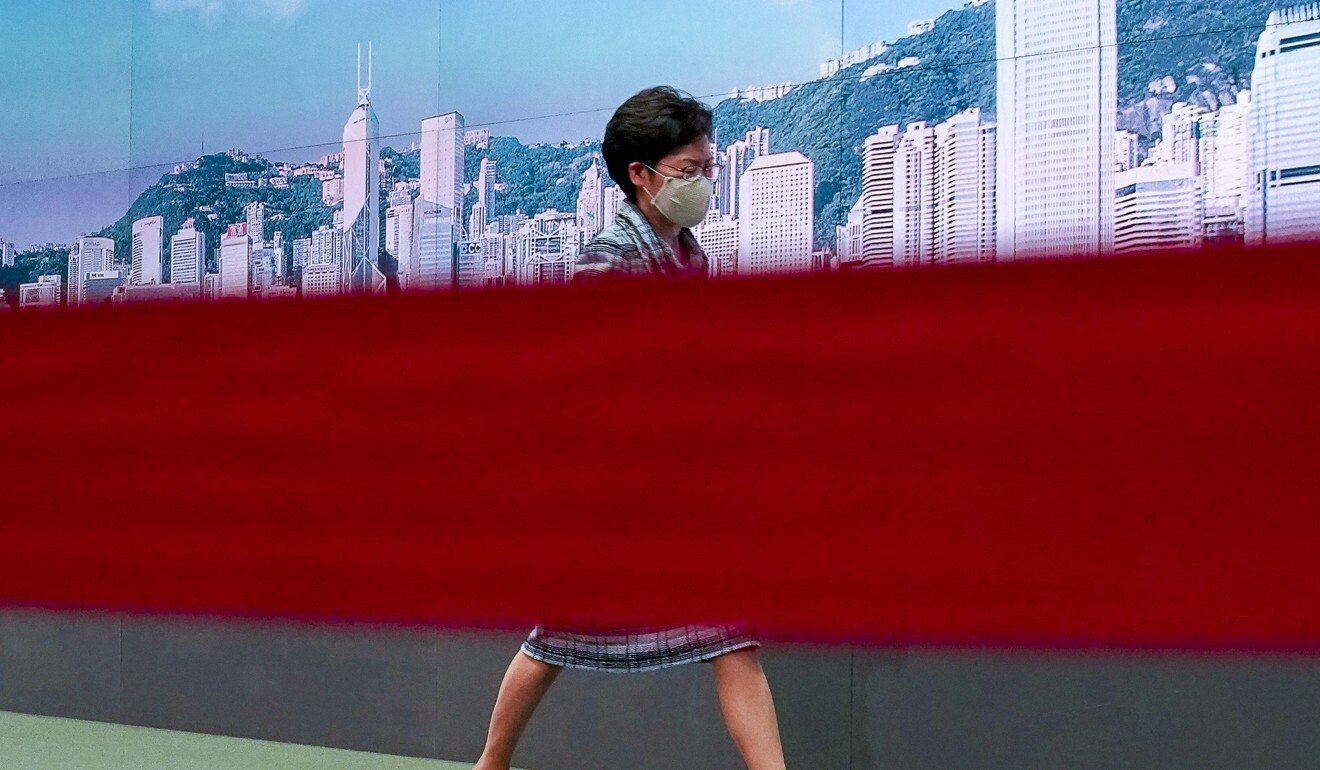 Hong Kong leader Carrie Lam is on the list of individuals sanctioned by the US.
2. US sanctions Hong Kong officials

Hong Kong has been caught in the crossfire of US-China tensions, as the Donald Trump administration imposed rounds of sanctions on local and mainland officials starting from August, accusing them of undermining the city's autonomy with the "draconian" security law.

Chief Executive Carrie Lam Cheng Yuet-ngor, who is on the list, admitted last month she now had no bank accounts and got around sanctions by collecting her salary in cash.

Former lawmaker Ted Hui has fled to Britain via Denmark.
3. Opposition activists flee their home

A wave of opposition supporters and activists sought asylum overseas, with varying success. Nathan Law Kwun-chung, a former lawmaker and student leader in the Occupy movement, was the first to announce he had resettled in London shortly before the enactment of the security law. His departure was followed by Ted Hui Chi-fung, who was among the lawmakers who resigned in protest. Hui flew legally to Denmark, ostensibly for a conference, while out on bail and facing charges linked to last year's unrest, but later absconded to Britain in self-exile.

Baggio Sixtus Leung Chung-hang, another former legislator ousted for antics over his oath-taking and jailed for storming the legislature, left for the United States.

Apart from prominent figures, the news of 12 Hong Kong fugitives who were captured at sea by the Chinese coastguard while trying to flee to Taiwan also grabbed international headlines. They have been detained since August in Shenzhen and will face trial on Monday.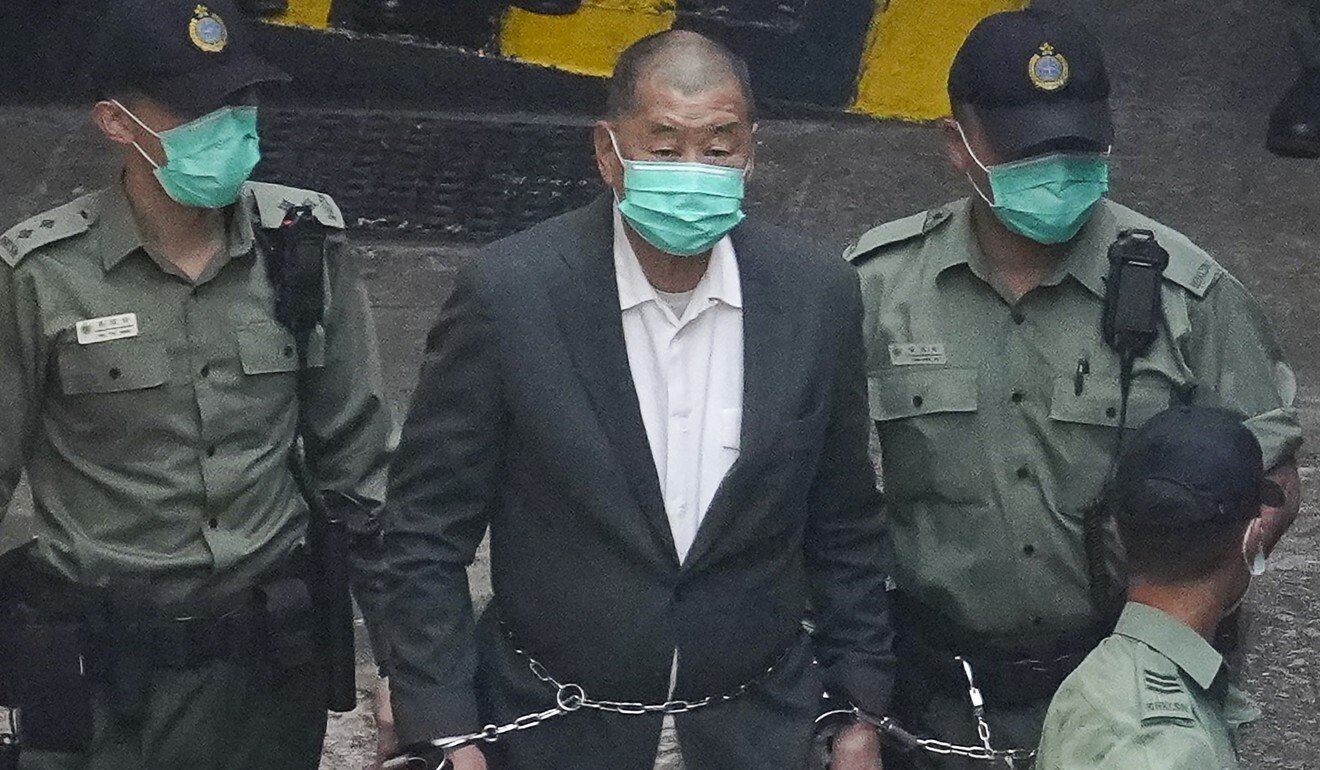 Media tycoon Jimmy Lai will return to court on Thursday.
4. Arrests of big names behind protests

Media tycoon Jimmy Lai Chee-ying, founder of Apple Daily newspaper which has been a vocal supporter of last year's anti-government protests, was one of the most high-profile targets arrested in August under the national security law. He was granted HK$10 million bail and placed under house arrest on December 23, with his trial to begin in April. Prosecutors have lodged a bid to keep him in custody, and Lai will return to court on Thursday for another hearing.

In early December police also arrested eight opposition activists, including three former lawmakers, over an illegal assembly on July 1 – the first large protest after the enactment of the Beijing-drafted national security law.

Meanwhile, activists Joshua Wong Chi-fung and Agnes Chow Ting started their prison terms this month for their roles in a siege on police headquarters in June last year.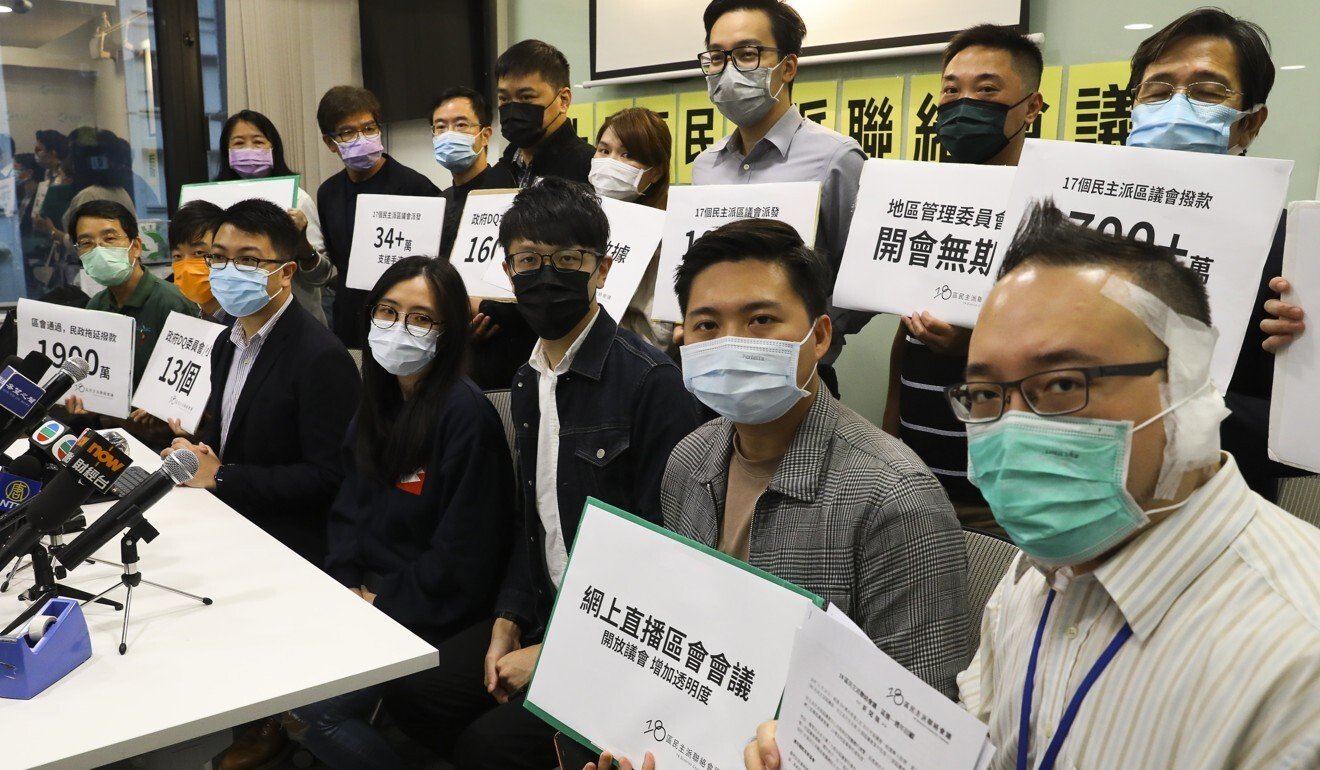 Opposition district councillors at a press briefing marking the anniversary of the polls in which they won handsomely.
5. Record number of district councillors arrested

It has been a difficult year for opposition district councillors, who had won all but one of 18 municipal-level bodies in a landslide victory at the polls in November last year. Some 50 elected members – 13 per cent of the bloc – have been arrested this year over election expenses, police obstruction, illegal assembly or misconduct in public office. In council meetings, their deep discord with officials raged, with many sessions ending in walkouts by government representatives.

Sources also said China's top legislative body, the National People's Congress Standing Committee, would conclude its meeting on December 26 by passing a resolution that could lead to the disqualification of district councillors deemed to have endangered national security.


6. Postponement of Legco elections

The Hong Kong government postponed by one year the Legco elections scheduled for September, citing the severe pandemic situation. But the opposition camp accused authorities of using the health crisis as an excuse, claiming the administration feared another pummelling at the polls after the results of the district council elections in November last year, and with the bloc's primaries in July drawing residents in droves.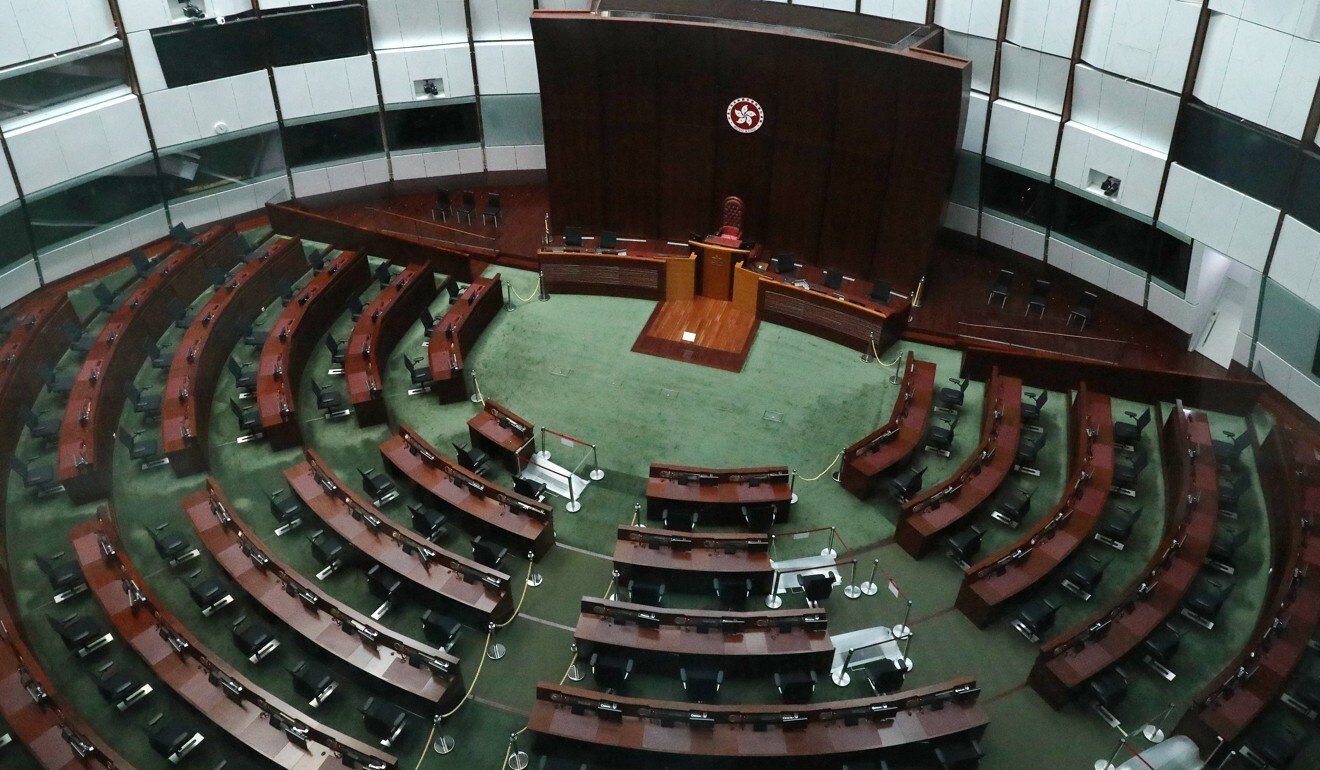 Legco was left devoid of an opposition bloc for the first time ever.
7. Mass resignation of opposition lawmakers

The government ousted four opposition lawmakers with its new power granted by China's top legislative body in November to disqualify legislators deemed to have breached their oaths of office. This prompted the 15 remaining opposition legislators to resign en masse in protest, leaving the local legislature with no pan-democrats for the first time.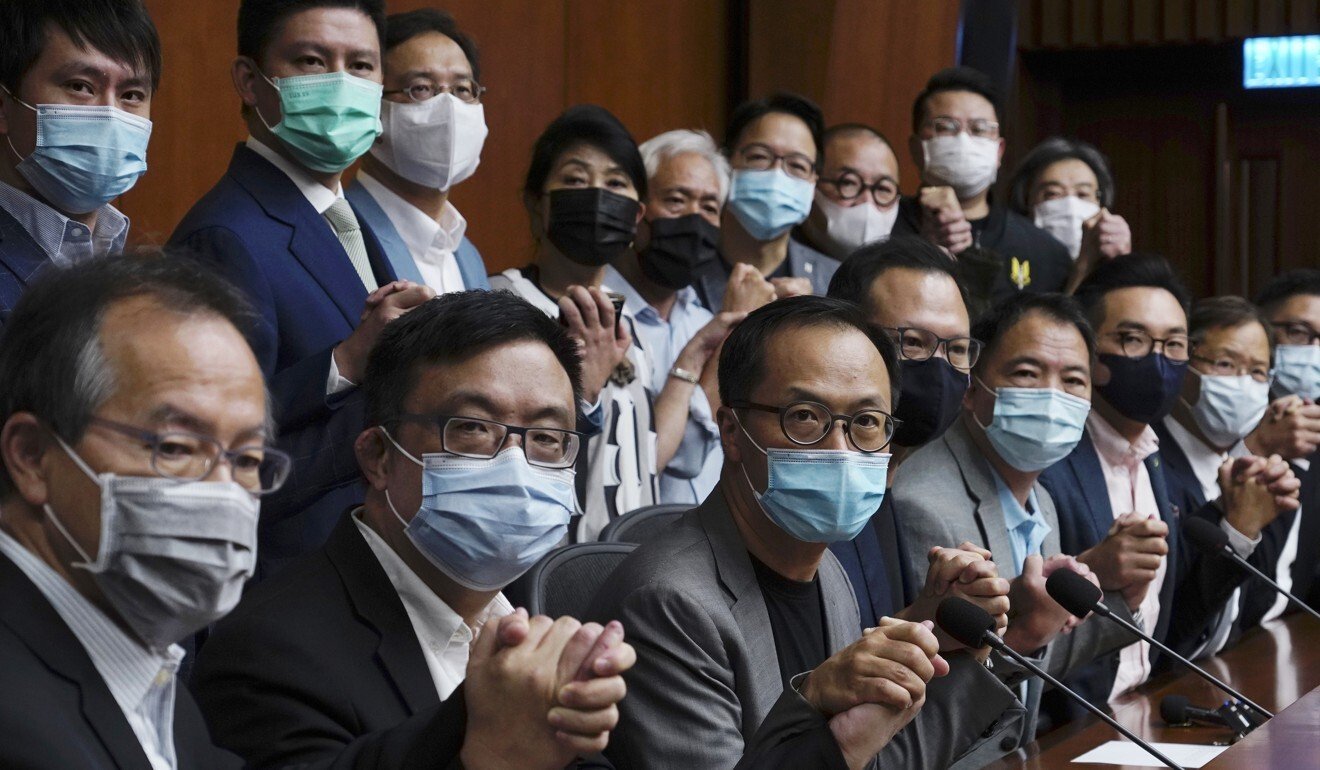 Opposition legislators at a press conference.
8. Leadership reshuffle in Beijing's top offices

The year kicked off with some personnel upheavals in Beijing's top offices dealing with Hong Kong affairs.

In January, Luo Huining, a former party chief of Shanxi province, replaced Wang Zhimin as head the central government's liaison office in Hong Kong. A month later, former Zhejiang party chief Xia Baolong, who gained a reputation overseeing the controversial demolition of Christian churches in the province, was named head of the State Council's Hong Kong and Macau Affairs Office.

The appointment of the two top men was widely seen as Beijing's change of strategy to be more hands-on over Hong Kong's affairs. When Shenzhen offered to donate 1 million face masks to Hong Kong with the city short on supplies in February, it was the liaison office that received the protective gear and distributed it to the public.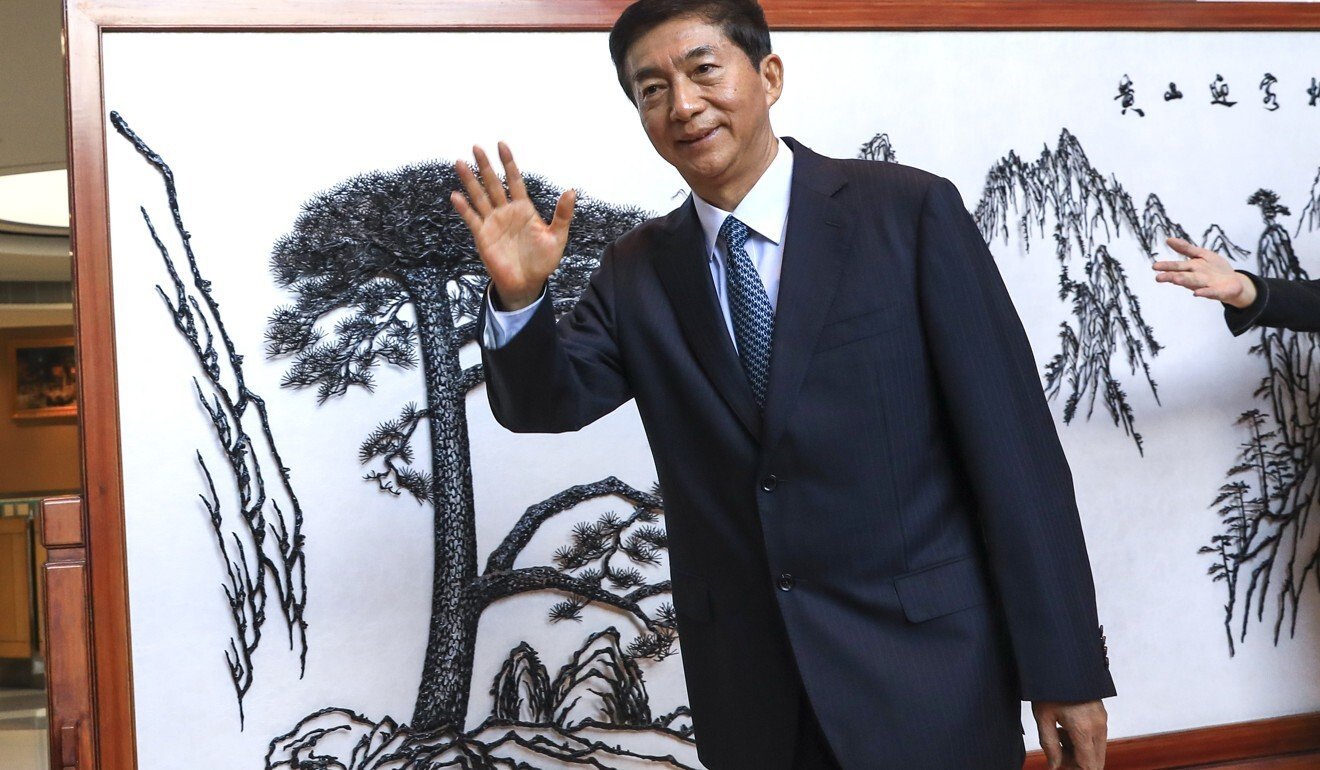 Luo Huining was a Beijing heavyweight brought in to head the liaison office.

Luo also made high-profile visits to homes of the needy and builders of quarantine sites.

In June, the official Xinhua news agency confirmed Vice-Premier Han Zheng was head of the Chinese Communist Party's Central Leading Group on Hong Kong and Macau Affairs, elevated and renamed from the previous central coordinating group, with Zhao and Xia as his deputies.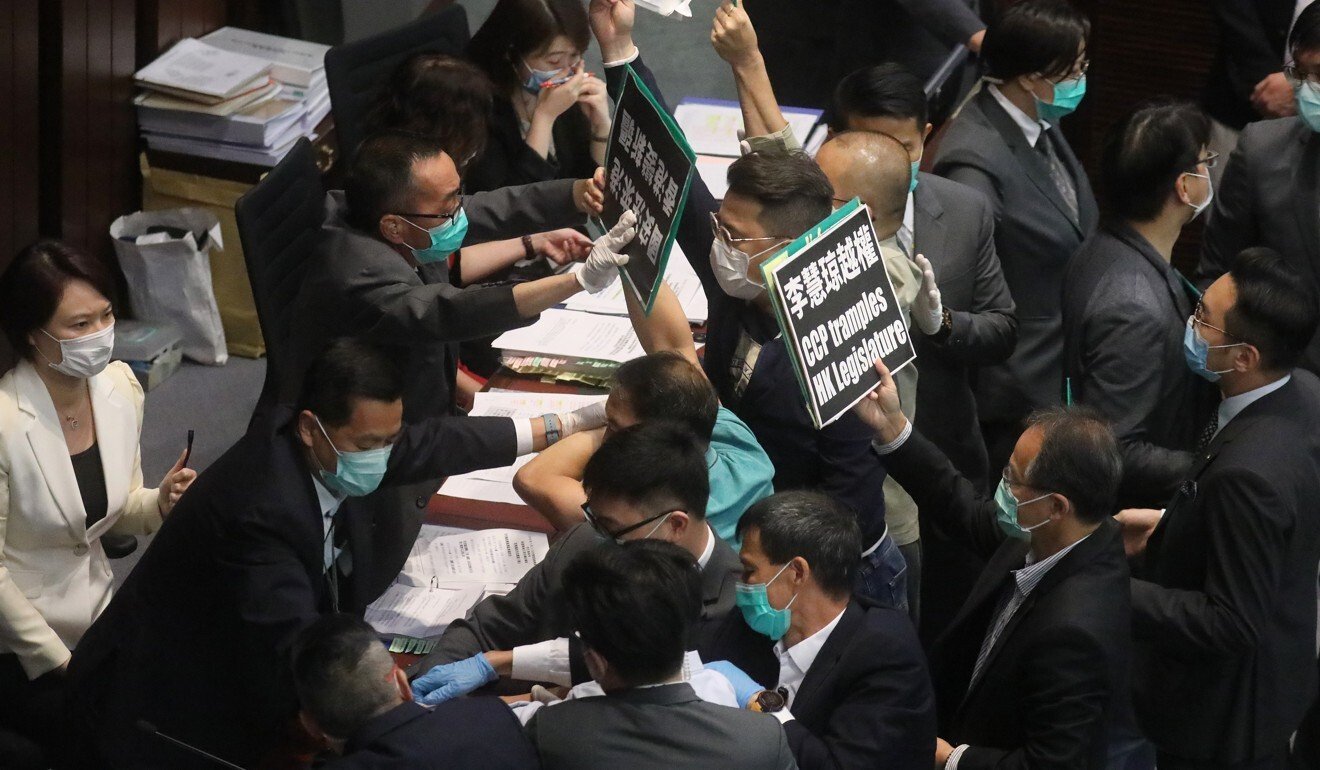 Chaos broke out in Legco over the House Committee.
9. A seven-month deadlock in a key Legco committee

A symbolic face-off between the opposition bloc and Beijing loyalists in the legislature took place at the House Committee when opposition lawmakers held up its work with filibustering to stop a national anthem law and other bills from being approved.

Since October last year, the gridlocked committee, tasked with scrutinising government bills before they are put to a final vote, had failed to elect a chairman for more than 15 meetings. Dennis Kwok, the Civic Party lawmaker who presided over the committee, came under repeated attacks from Beijing's Hong Kong and Macau Affairs Office and the liaison office.

After several meetings which descended into shouting matches and scuffles, the pro-establishment camp seized control in May and booted out their rivals
for clashing with security guards.


10. Money-laundering allegations over crowdfunding activities

This year was also marked by unprecedented actions by police to freeze the bank accounts of opposition groups and activists, citing money-laundering crimes, especially in light of the national security legislation.

The latest allegations were directed at exiled former opposition lawmaker Ted Hui and the Good Neighbour North District Church, a Christian group that helped young protesters.

Yeung Pok-man, a 30-year-old teacher who kicked a policeman at a protest scene was also arrested for raising a sum far exceeding the original target in a crowdfunding campaign for his ailing parents.