Hong Kong's equality watchdog has told employers they risk breaching discrimination laws by firing workers who refuse to get vaccinated against Covid-19, just as staff at restaurants planning to relax social-distancing measures were told they could be allowed to work if they could show they were unfit to be inoculated.

Equal Opportunities Commission chairman Ricky Chu Man-kin on Friday noted that anti-pandemic measures would inevitably result in differences in the way people were treated, and those variations could fall outside the scope of the discrimination regulations if they were deemed necessary and reasonable.

The Confederation of Trade Unions earlier revealed some bosses had told staff they would be suspended or asked to take unpaid leave if they did not take the shots.

On Monday, the government announced it would allow restaurants and other businesses to resume operations on a larger scale, provided staff were vaccinated.

The labour union said it had since received more than 20 enquiries from workers, mostly on whether they could turn down management requests to get vaccinated – and if they had any legal protection for taking that stance.

Chu urged employers not to be too rigid in their approach and simply fire anyone who refused to receive the jab, and instead should explore solutions acceptable to both parties in discussion with workers.

But asked if sacking workers for that reason would fall under the remit of the discrimination ordinance, he said: "Maybe, it's possible."

"According to the Disability Discrimination Ordinance … no matter what measures employers place on employees, you have to fulfil the conditions that these measures are reasonable and necessary," he told a radio programme.

If workers believed they were being directly or indirectly discriminated against, they could seek help from the commission, he added.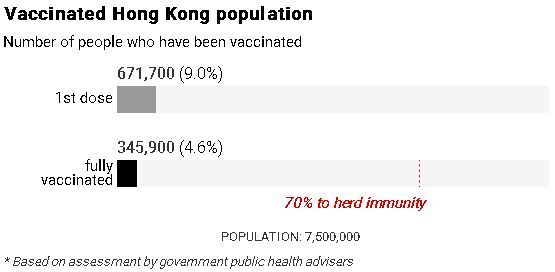 After a meeting between the government and the restaurant sector on Friday on the epidemic measures, Simon Wong Ka-wo, president of the Federation of Restaurants and Related Trades, said the government was likely to launch a self-declaration form for staff deemed unfit for vaccination.

"The form would be filled in by individual staff, who would need to state why they can't be vaccinated. I believe it would be mostly because of medical reasons," Wong said.

Government did not elaborate whether medical proof would be needed along the declaration form, he added, but workers would still have to be tested every 14 days.

Wong said not wanting to be vaccinated out of personal preference would not be accepted as a reason.

Hong Kong's workers have raised concerns over their future after the government unveiled a "vaccination bubble" scheme allowing for the easing of several social-distancing rules, including changes tied explicitly to Covid-19 vaccinations.

Wong said staff who had made the declaration would be able to go to work, even if their employer hoped to benefit from the relaxed measures under the scheme.

The three-stage road map for relaxing restrictions on restaurants and bars was aimed at encouraging more people to get vaccinated. The new rules are expected to take effect on April 29 at the earliest.

For restaurants, a tiered system for loosening restrictions will permit diners to eventually eat in groups of 12 and businesses to run dine-in services until 2am, if all employees and customers have been fully vaccinated.

They will also need to designate specific "clean" zones for customers who have had at least one Covid-19 jab.

Dr Joseph Tsang Kay-yan, an infectious disease specialist, said medical proof should be required along with the declaration form.

"Or else the government could not achieve the original purposes of the measures," Tsang said. "There could be lots of arguments if there is a lack of medical proof."

Bars and pubs – closed entirely since late November – will finally be allowed to reopen, but only to a limited capacity and if all staff and customers have received their first vaccine dose.

Mung Siu-tat, chief executive of the Confederation of Trade Unions, said workers were angry about the "vaccination bubble" arrangement and felt the government was lacking a conscience.

"Chief Executive Carrie Lam Cheng Yuet-ngor said they would not make the vaccination scheme mandatory, but now [authorities] use people's job security to threaten the workers to get vaccinated," he said.

Chu said authorities should adopt a positive approach to encouraging residents when pushing ahead with anti-pandemic measures.

"We all want Hong Kong to move forward. It's not to divide Hong Kong into two parts," he said, adding the commission had already received about 10 inquiries over the past two days regarding vaccination policies.

Earlier, a banquet services firm called U Banquet Group was engulfed in controversy after the company told workers they would be suspended if they did not get vaccinated by late April.

Its chairman Cheung Ka-ho said the firm previously offered workers HK$1,000 (US$138) to get inoculated, but had not yet finalised the consequences for those not doing so.