Covid-19 outbreaks continued to grow across Hong Kong on Friday at bars, a care home for the disabled, and a five-star hotel that evacuated guests and shut down, as worried health officials widened coronavirus testing.

Undersecretary for Food and Health Dr Chui Tak-yi confirmed eight new cases as he warned of a "significant rebound", citing a 10-day run of infections of unknown origin since September 30.

"There are invisible chains of transmission in the community. It's an alarm signal," he told a regular press briefing. "Their footprints are widespread, involving many buildings and districts."

To stem an expanding outbreak in bars, Chui said the government would operate a mobile testing centre in Lan Kwai Fong, a popular entertainment district in Central, on Friday night, and encourage workers there to get tested. There would be similar arrangements in the bar districts in Tsim Sha Tsui and Wan Chai on Saturday and Sunday respectively, he added.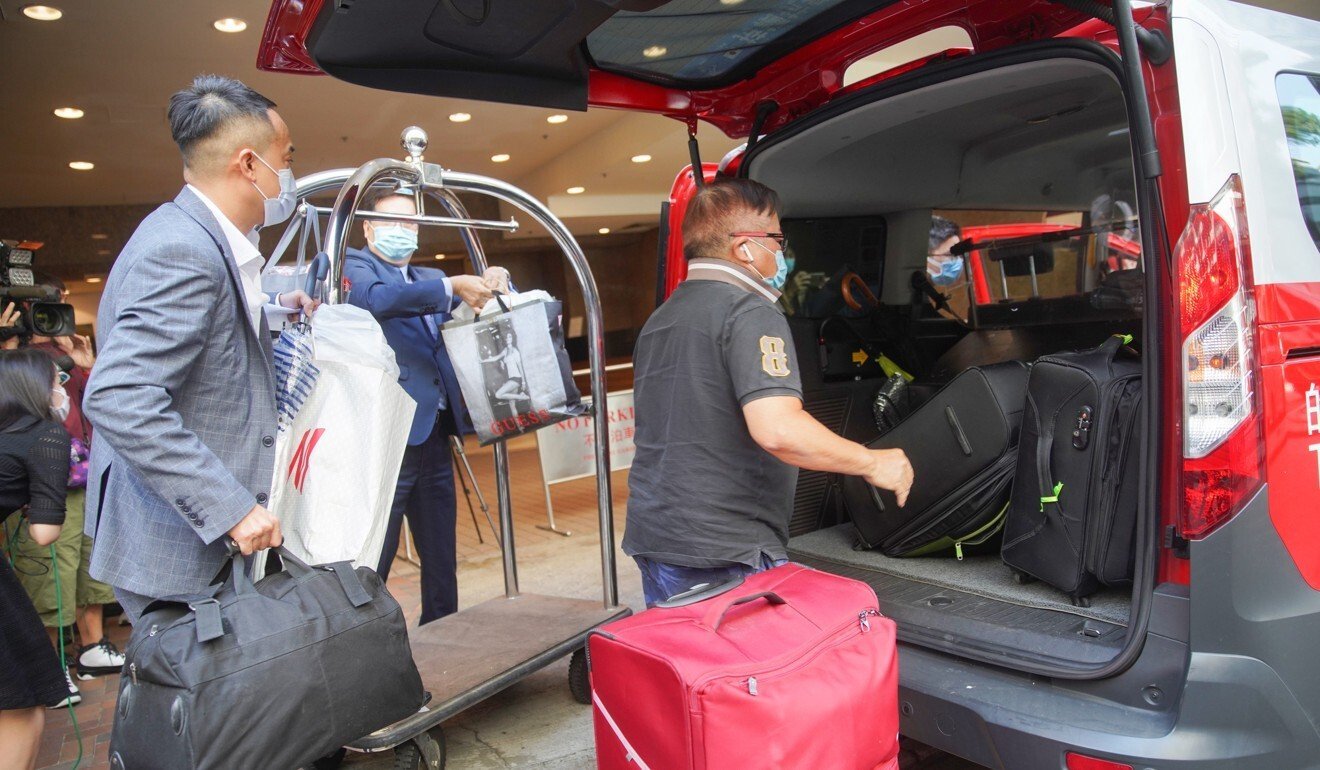 Guest leave The Royal Garden in Tsim Sha Tsui after it was ordered to close for two weeks.

He said the government had been trying to offer "more flexible and innovative measures" to encourage people to come forward for testing, and believed the mobile service would help.

"[Some people] may find it more convenient than going to a centre at a particular time for testing," Chui said. "This mobile service will operate from 6pm to midnight, which is not the usual operating hours for fixed locations."

Deep-throat saliva specimen bottles would be distributed via the mobile centre, and collected a day or two later from bar staff. Others who picked up bottles would have to hand them in to a specific truck in Quarry Bay between Saturday and Monday.

The government will open a temporary testing site at the Harbour Road Sports Centre in Wan Chai on Saturday, and on Sunday in Shek Lei Community Hall in Kwai Chung, the district where Home of Treasure, a facility for the disabled with a recent string of infections, is located.

A quota of around 1,000 tests, which would be done through combined nasal and throat swabs, would be available daily at each of the centres. Both testing centres would be open until next Wednesday.

Centres in Kowloon City and Tsim Sha Tsui will also begin to operate soon.

"I am here making an appeal, for the sake of yourself and others, please avoid going out for gatherings this weekend … if you have any worries, please take a test as early as possible," Chui said.

Earlier in the day, guests were seen leaving The Royal Garden hotel in Tsim Sha Tsui after more of its staff contracted the coronavirus. The 504-room hotel said it would evacuate all guests before noon and have the building deep cleaned. It said it would help guests transfer to other hotels.

A waiter at a Vietnamese restaurant in the hotel had contracted Covid-19 on Tuesday. He last went to work for a few hours on October 3 and six of his colleagues have been sent to quarantine.

On Friday, health authorities confirmed three more infections at the hotel, involving a waiter at its Italian restaurant, a worker at a cafe kitchen and an air-conditioning mechanic.

Dr Chuang Shuk-kwan, head of the Centre for Health Protection's communicable disease branch, said all four infected employees were men, and believed transmission might have taken place in a changing room.

"Another common factor of the patients is that they all go to a staff canteen, but both male and female staff will go there," she said, adding that all 300 workers who used the men's changing room would be sent to a government quarantine camp for 14 days. Female staff would be tested again.

One local infection involved a patient linked to the Tsim Sha Tsui bar China Secret, taking the total there to 11. Another two local cases were tied to other earlier infections. The sole local case of unknown origin involved an unemployed man, 25, who would have meals with his family but did not "engage in any high-risk activities", Chuang said.

One imported case, an arrival from India, was also recorded.
Hong Kong third wave
Tracking the spread of local Covid-19 cases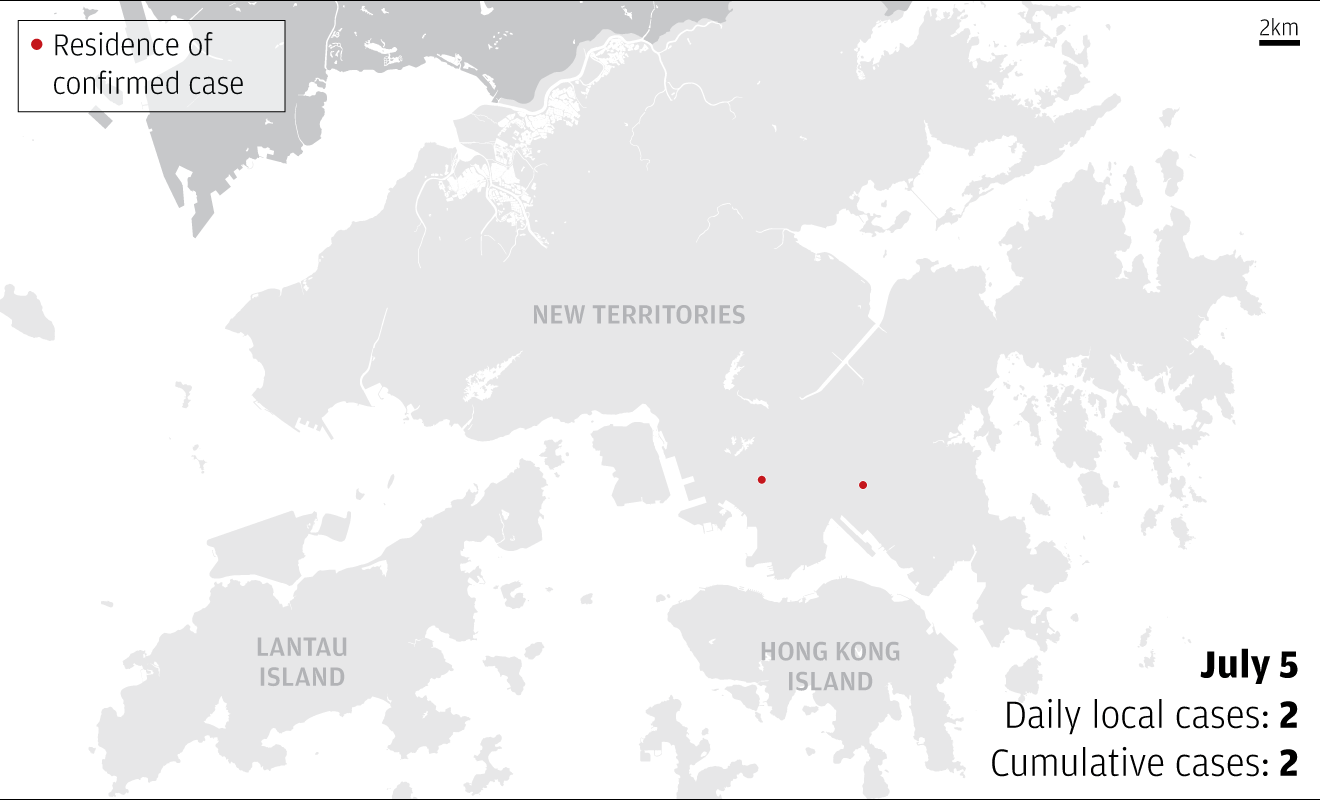 The city's tally of confirmed cases stands at 5,169, with 105 related deaths. Fewer than 10 people tested preliminary positive on Friday, including a patient linked to Home of Treasure.

Opposition lawmaker Shiu Ka-chun, of the social welfare constituency, said he was concerned about the home – which now had 12 confirmed cases – as its operating standards "just passed the bare minimum".

Shiu said there were 47 private care centres with similar conditions as the home and staff at some did not change protective equipment in between changing diapers and feeding residents, with employees sometimes not even wearing gloves. Another concern was the poor indoor air quality in such facilities.

He was also worried that care workers for the elderly and disabled still lacked epidemic prevention awareness, adding centres were often understaffed and poorly funded. Shiu also believed mandatory testing for all residents and staff at these homes was necessary, especially for centres that had faced an outbreak.

The Social Welfare Department said it was planning a trial this month to test some care home residents, including those who needed to leave the facilities occasionally.

Meanwhile, the government said expansion of a community treatment facility for coronavirus patients at the AsiaWorld-Expo convention centre had been completed with the help of mainland Chinese authorities, with close to 1,000 beds added across four halls.