Overjoyed England fans celebrated into the night as the Three Lions smashed four goals past Ukraine to set up a mouthwatering semi-final clash with Denmark at Wembley next week.

Supporters packed out fan zones and pubs up and down the country, including London's Trafalgar Square, to watch the big Euro 2020 clash.

Harry Kane scored twice, while goals from Harry Maguire and Jordan Henderson sealed the victory, sending England fans wild with joy.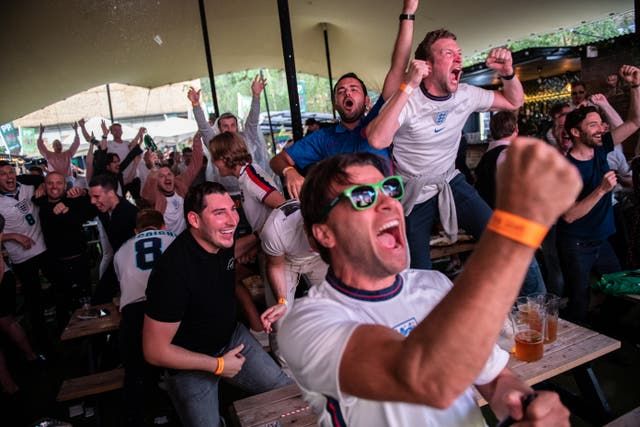 England football fans celebrate at Flat Iron Square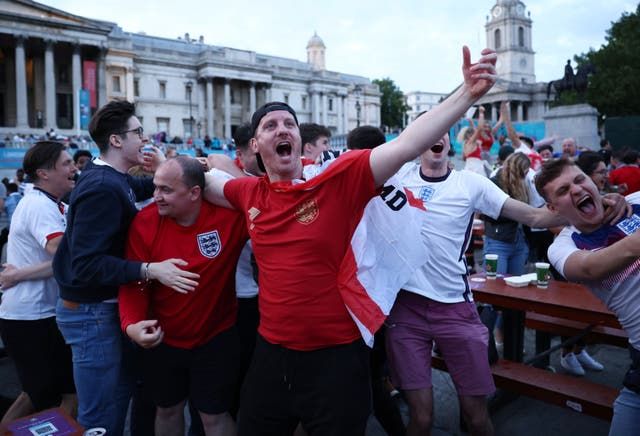 Fans in Leicester Square, London
Dozens of men ripped off their shirts and swirled them around their heads in Trafalgar Square after England scored a fourth goal in Rome.

One supporter, Marc Ghossein, told the Press Association (PA) news agency: "It's an amazing feeling. We have been waiting for this for 25 years now.

"We're almost at the semi-final, it's coming home. England is going to win this year."

His friend Ellie Mhanna added: "England is going to win this year's Euros for sure. They've been consistent and they deserve it."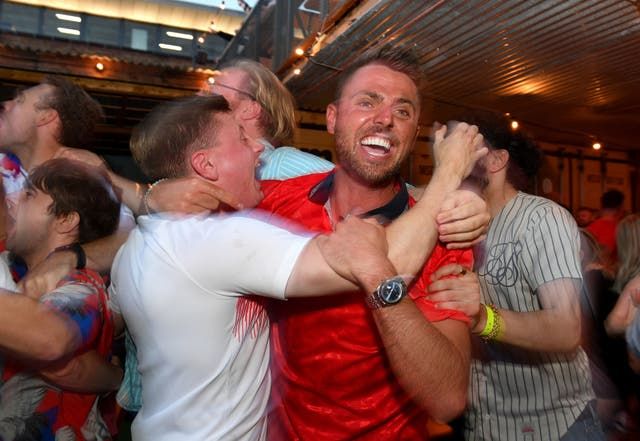 Fans at the Vinegar Yard in London celebrate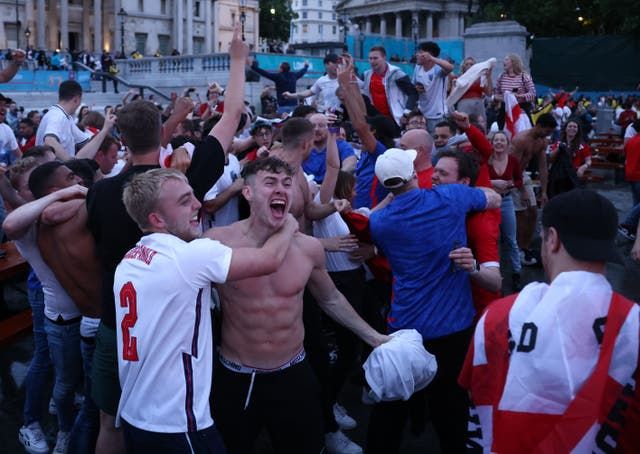 England fans celebrates scoring a goal in Trafalgar Square
One woman, whose boyfriend had celebrated the win with the crowd, said: "He's taken off his shirt now, there's nothing I can do."

Supporters in Leicester Square were also in high spirits, singing and chanting "it's coming home".

Trevor Harris, 40, from Watford told PA: "It's coming home. You can hear everyone chanting it. England is England and it's about time we actually started playing."

Keira Starr, 19, added: "I thought we'd lose, but now I actually think we'll be in the final."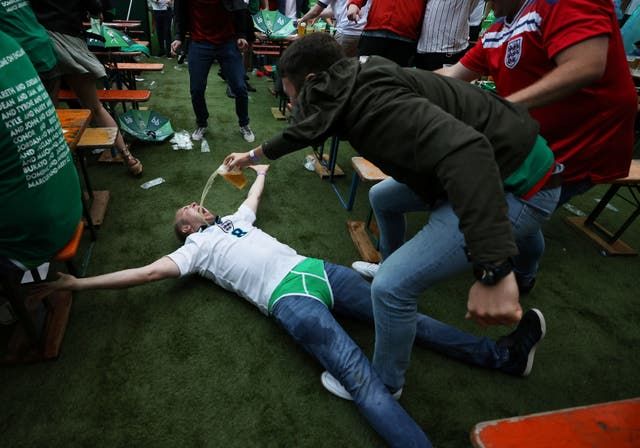 Fans recreate the Gazza 'Dentist Chair' celebration in Newcastle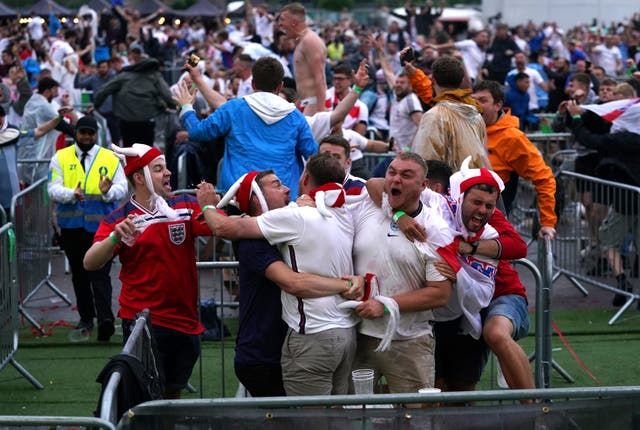 Fans in Manchester celebrate in the fan zone
As England raced into an unassailable lead, Charles Khalaf, 19, from London, said he thought the game had been "perfect".

He said: "For the first time ever, I'm actually enjoying watching England because their playing is good. The position is good and we're controlling the game.

"Kane is awesome. He might have missed the first few games but he's our captain. It's coming home."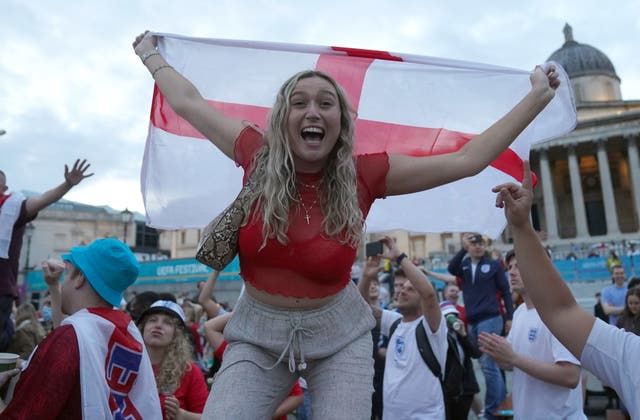 Fans in Trafalgar Square, London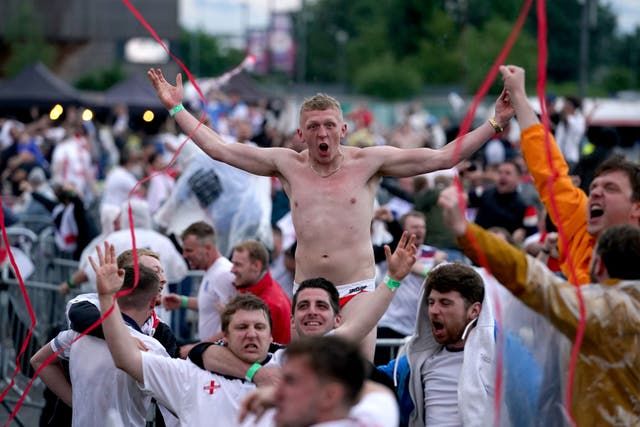 Fans in Manchester celebrate
Mo Mason-Jones, 24, a visual merchandiser, travelled down to London from Newcastle with her mother, Ellie Bond, 55, a doctor who works in a hospice, to watch the game.

Dr Bond said: "When England scored we were so elated, we were hugging, it was so exciting. Everyone was just screaming, shouting and jumping and wanting to hug each other but we're all in our bubbles. We're just so thrilled. It's been such a strong start for England.

"We came down specially to watch the match."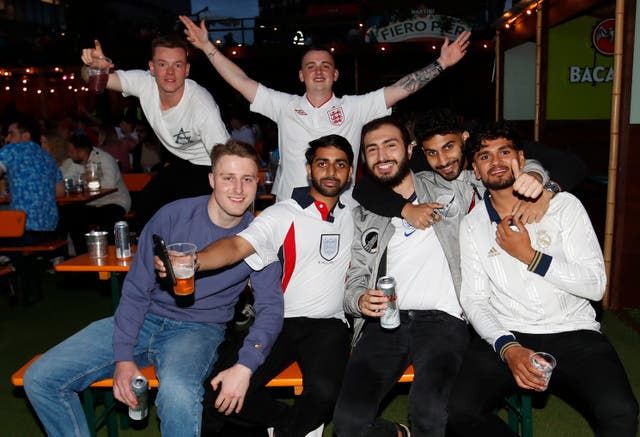 Fans enjoying the action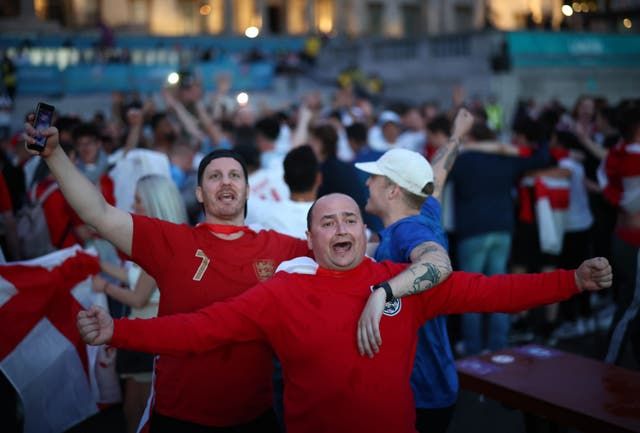 England fans react in Trafalgar Square during the match
Ms Mason-Jones added: "The atmosphere has been incredible with all the singing. It's coming home. We managed to get tickets but my dad and my brother didn't make it, so they're at home watching it on TV and we're here. We can't believe it.

"My mum was really worried about all the Covid things but being here it's been so well done and it's so well organised."