She does have opinions and feelings, of course, but Elizabeth II knows that if she expresses them it could alienate some people and undermine her duty to represent all her subjects as an impartial head of state. If you're looking for universal approval, the best response is often to give no response at all.

But behind palace walls, the Queen can be herself -- and we got a peek into that this week when Prince Harry spoke about his visit with her at Windsor Castle last Thursday.

"Being with her, it was great. It was just so nice to see her. You know, she's on great form. She has always got a great sense of humor," he told NBC.

That was reassuring for many who have been concerned at the number of public engagements the monarch has pulled out of due to mobility issues. By all accounts, she is mentally as fit as ever and keeping up with essential paperwork from her desk at Windsor.

The Queen turned 96 on Thursday -- by some distance the longest a British monarch has lived. In the last few months, she's battled Covid and has had to scale back her schedule.

But she was celebrated by her relatives and politicians alike on reaching yet another milestone, and Buckingham Palace released a new photo of her smiling alongside two horses to mark the occasion.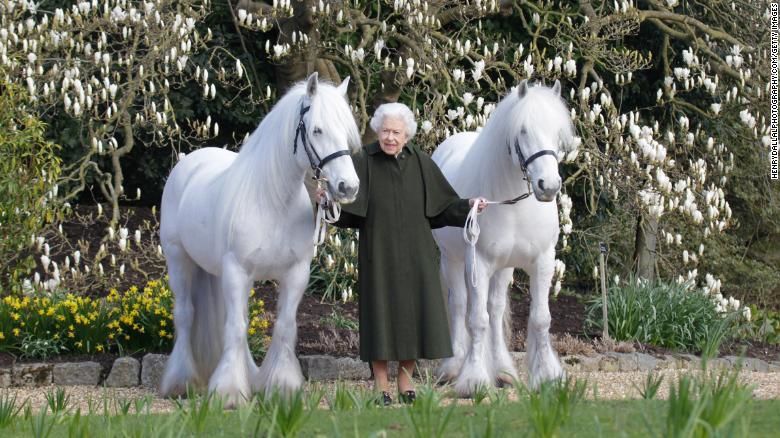 Queen Elizabeth II with her two Fell ponies, in a photo released to mark her 96th birthday.

In recent years, she's started cracking a few jokes and appearing relaxed with attendees at her engagements -- at the G7 summit last year she used a giant sword to cut a cake, forgoing the offer of a knife because "this is more unusual."

But the new image of her is a fitting one, because the time we usually see the Queen being herself in public is at the races. She's a respected horse breeder and loves to win; last year she was even inducted into British Racing's Hall of Fame for her "outstanding contribution to British flat racing."

Elizabeth is currently planning to go to the prestigious Epsom Derby which falls during a weekend of celebrations in June to mark her Platinum Jubilee. If everything goes her way, we could see a smile on her face as she has entered three horses she bred into the race.

She was all smiles in October, too, when she attended races at the Ascot racecourse. Jockey Willie Carson used to ride for the Queen -- the pair get on famously well, and they were pictured sharing a joke at the October event -- so CNN asked him what tickled her so much.

"She said to me, 'Willie, I've just been inducted into the Hall of Fame for the turf here.' She says, 'The medal is so, so heavy. The medal's so heavy.'

"She said, 'Have you ever been inducted into the Hall of Fame?' No, ma'am. You've got to be old or dead to get into that."

When CNN expressed surprise that Carson got away with the quip, he said, "Well, I didn't know what was saying, did I?"

It's telling that Carson briefly forgot himself as he was speaking to the most famous woman in the world. It's in those moments that she too forgets her role, and is able to be herself. Asked what she's like as a person, he replies: "Normal, normal, just a normal person. Very nice."