A booking link and passcode meant for staff at Barts Health NHS Trust were circulated via Whatsapp to staff at local schools, teachers told the BBC.

Some have received a jab as a result.

The trust said it was investigating and will take steps to improve the security of its booking system.

The government told the BBC's Newscast podcast in a statement it was "absolutely critical that vaccines are offered in the priority order".

Teachers at schools in north and east London - including in Hackney, Camden and Barnet - said the messages had been sent via school management and were spreading in WhatsApp groups with dozens of members.

Newscast found that it was still possible to book an appointment using the information in the messages on Thursday evening.

One teacher who booked an appointment, and who asked to remain anonymous, said it was "not a case of trying to jump the queue".

"When the appointment was confirmed I was surprised, thinking that it would have been refused if teachers were not actually entitled to these vaccines," they said.

"The conflicting and changing guidance from the government made me feel like it was possible that this was a genuine offer for teachers that had just not been passed on."

They added: "Obviously, teachers will only have the vaccine when it is made available to us."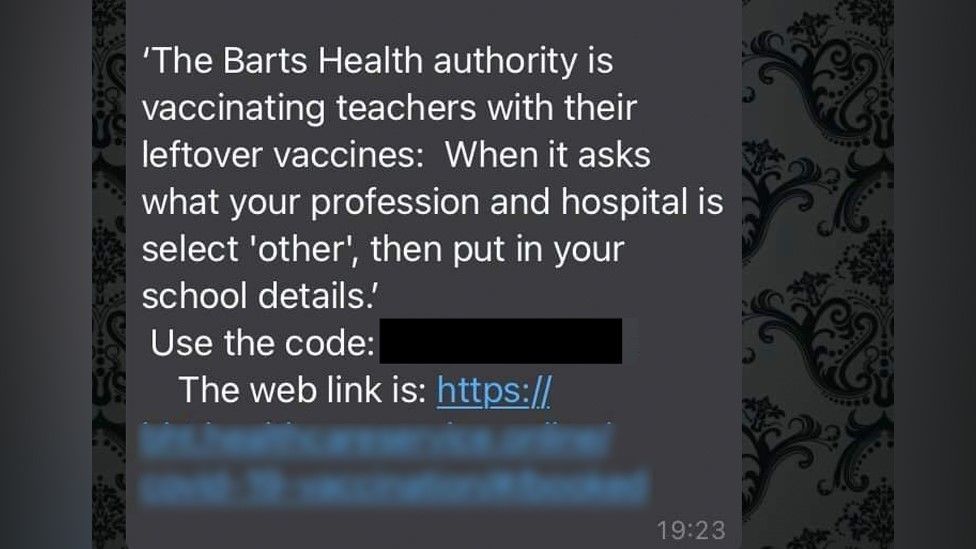 "I thought this must be a local ad hoc way of avoiding wasting vaccines that hadn't been taken up. But I did some research and concluded this wasn't right," the teacher said.

"I think the problem is that people think this is genuine and don't think it's a loophole, but a local policy. It's not malicious or about queue-jumping."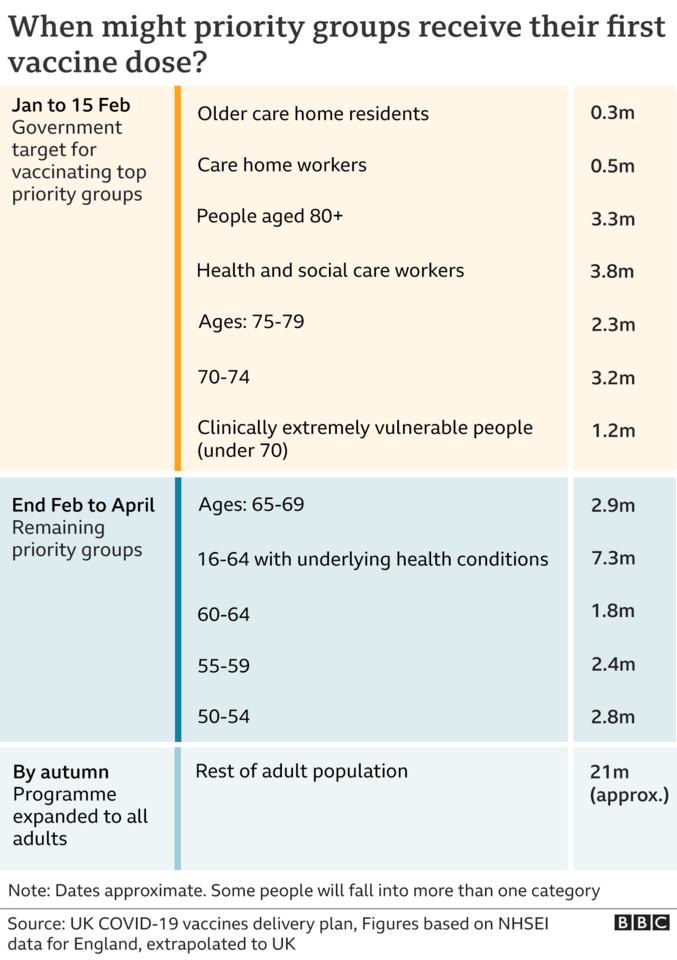 Barts Health NHS Trust confirmed that a booking link for its own employees was forwarded to local school staff and that this should not have happened.

It said it was investigating the source of the messages and measures were being put in place to make the booking system more secure.

It said anyone attending an appointment who is ineligible to do so would be turned away and that members of the public should not book an appointment until they have been contacted directly by the NHS.

In a statement, the trust said that it was vaccinating frontline staff and their relatives - where relevant - in line with national guidance.

"To avoid waste, any unfilled vaccination slots are offered to other staff working within our hospitals," it said.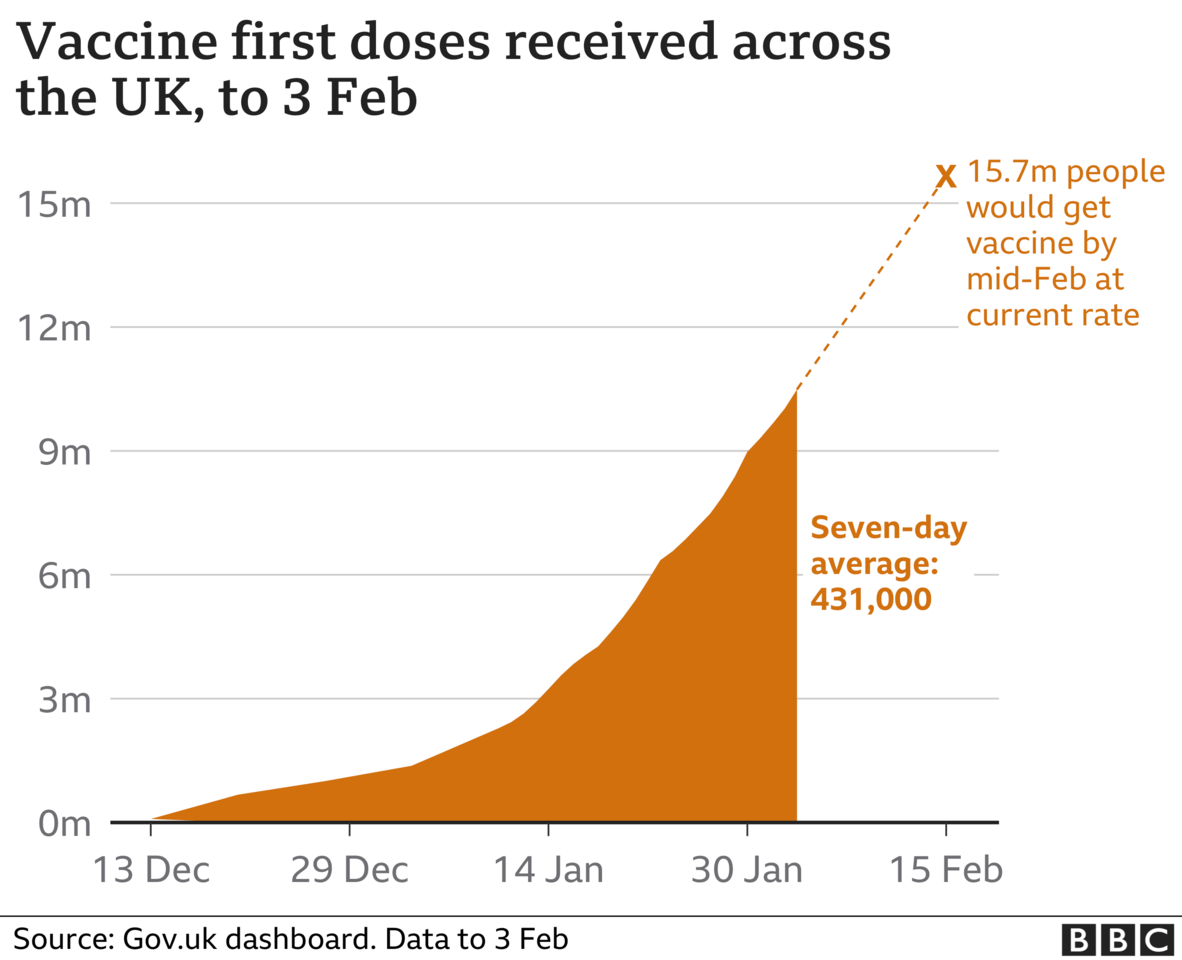 It comes after reports that Rochdale Borough Council in Greater Manchester wrote to head teachers accusing some school staff of trying to get jabs via an "inappropriately shared" email.

Vaccination centres in Rochdale will now require people to show proof of employment in order to prevent people from being able to circumnavigate the system.

The leader of Manchester City Council, Sir Richard Leese, warned that anyone who had received a vaccine under those circumstances would be investigated and appropriate action taken to ensure that vaccines are given to those in greatest need.

During a press conference on Wednesday, Sir Richard said some people were "fiddling the system, using other people's links to get access".

"People should not go before they are called to go as you are taking a slot away from someone in greater need," he said.

"If people are gaming the system, if they are using other people's names, and they are not in priority groups, they are denying somebody at greater risk a vaccine and given the primary objective of this first half of the first phase is to save lives and take the pressure off our hospitals, they are also undermining our efforts to do that."

He added: "We will eventually be able to identify anyone who has had a vaccine ahead of their eligibility criteria."

The NHS is currently only offering vaccines to people within England's first four priority groups, in line with the Joint Committee on Vaccination and Immunisation (JCVI) guidelines.

This does not include teachers, unless they also meet age or health-related criteria.

The Department for Health and Social Care said: "It is absolutely critical that vaccines are offered in the priority order, as determined by the JCVI, and we expect everyone involved in vaccinations to follow this guidance closely."

"Vaccinating these groups first will save the most lives and provide the quickest and safest route out of the pandemic."

Almost 10.5 million people in the UK have now received a first dose of a coronavirus vaccine, according to the government's coronavirus dashboard, and more than 500,000 have received their second dose.