Welsh residents can currently only use more expensive NHS tests - except in exceptional circumstances - in a stance that had been criticised.

But that will change because of new UK rules policing private PCR travel tests and a spot checks regime.

The Welsh Tories have accused Wales' Labour government of a "belated U-turn"

But Wales' health minister Eluned Morgan said the change is because of new UK regulations which will have an "impact on standards for private tests".

Travellers returning to Wales must currently use NHS PCR tests on day two of their return - and day eight if unvaccinated - at a cost of £68 each. In England, private testing is available, from about £50.

This was previously criticised by travellers as "unfair" because it meant people in Wales had to pay more - and there had been a £1,000 fine for using a private test provider instead.

Test requirements applied to travellers returning to Wales even if they arrive at an airport or port in England.

Tory MP David TC Davies had asked the monopolies watchdog to investigate the decision not to allow people returning to Wales to shop around for the cheapest deal on Covid PCR tests to save money, as is allowed in England.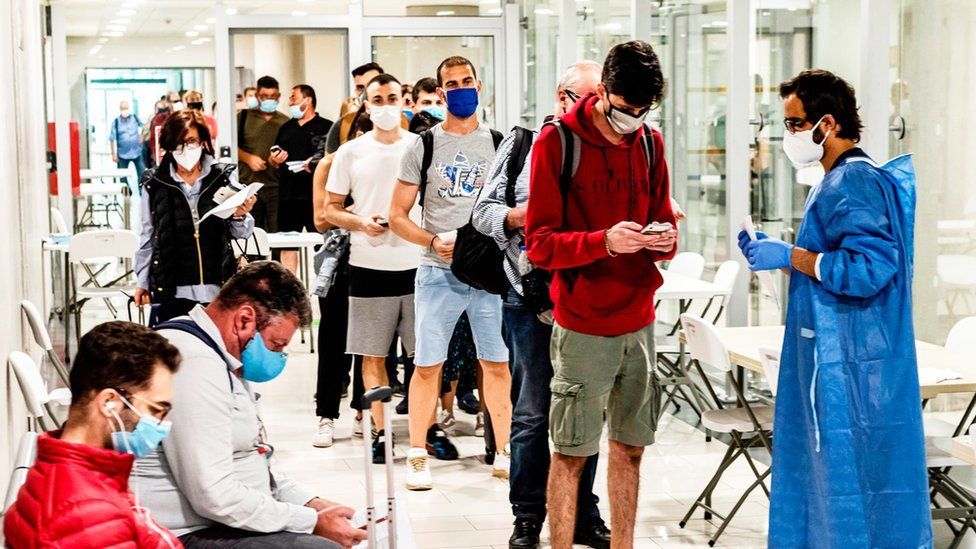 But Welsh ministers said NHS testing ensured any positive cases and harmful variants were identified as early as possible, flagging concerns that test results were "not flowing into Welsh systems", making it difficult to track and trace holidaymakers who might be infected.

As a result of concerns, the Competitions and Markets Authority has made a series of recommendations to UK ministers to improve the travel testing market.

The UK government said it would tighten rules on private providers following complaints of "cowboy behaviour" by some testing companies, after complaints were raised about inaccurate and misleading advertised pricing and slow delivery of results.

The Welsh government said the new measures would ensure test results - including identifying new variants of Covid - would be processed and reported "quickly and within a comparable time period to NHS tests", and it will therefore allow private tests to be used for people returning to Wales.

"We've been putting a lot of pressure on the UK government to come in with measures that would give us a lot more confidence that if people were to used these private tests that they would be of a particular standard," said Ms Morgan.

"Given the new regulations and the impact on standards for private tests, we will make changes to the rules to enable people travelling to Wales to book tests with private sector providers, if they wish."

The health minister said she welcomed the progress made addressing concerns over private testing - and stressed NHS tests would also be available to book.

"It's important to remember that coronavirus is still with us, and our advice continues to be that people should avoid all non-essential international travel," Ms Morgan added.

The Welsh Conservatives have accused Wales' Labour government of a "belated U-turn" which they say "will come as little consolation to the thousands of hardworking Welsh families who've been clobbered by Labour's costly testing scheme".

"Far from something to celebrate, the timing of such an announcement after the conclusion of the summer holidays will anger many families who've been forced to fork out hundreds of pounds due to the stubbornness of Labour ministers," said their health spokesman Russell George.