Bedfordshire, Buckinghamshire, Berkshire and Hertfordshire will move to tier three, as will parts of Surrey, East Sussex, Cambridgeshire and Hampshire.

And swathes of the nation already in tier three will remain there.

Announcing the changes, Health Secretary Matt Hancock told MPs: "We've come so far, we mustn't blow it now."

Bristol and North Somerset will move from tier three to tier two, and Herefordshire will move from tier two into tier one.

The changes come into effect at 00:01 on Saturday.

It comes as the UK recorded a further 532 coronavirus deaths, taking the total number of people who have died within 28 days of testing positive for the virus to 66,052.

A further 35,383 cases were also recorded on Thursday, up from 25,161 on the previous day.

This figure includes 11,000 positive cases from Wales that were not previously recorded in official figures due to maintenance work on Public Health Wales' computer systems at the end of last week.

The announcement on tiers means that 68% of England's population - 38 million people - will be living under the toughest restrictions of tier three from the weekend. Some 30% of the population will be in tier two, while just 2% will be in tier one.

Labour leader Sir Keir Starmer said he was concerned the tier system was "just not strong enough to control the virus".

"We've been seeing the numbers going in the wrong direction across the country in the last seven days in particular," he added.

In Greater Manchester, which was first placed in tier three on 23 October, mayor Andy Burnham said he was "not surprised but very disappointed" that the region was staying in tier three, having called for some parts to be downgraded.

He told BBC Radio 4's World at One that Greater Manchester has lower infection rates than Liverpool and London had "when they were originally put into" tier two.

"It feels like if... London and the South East has rising cases, everyone stays under restrictions," he said.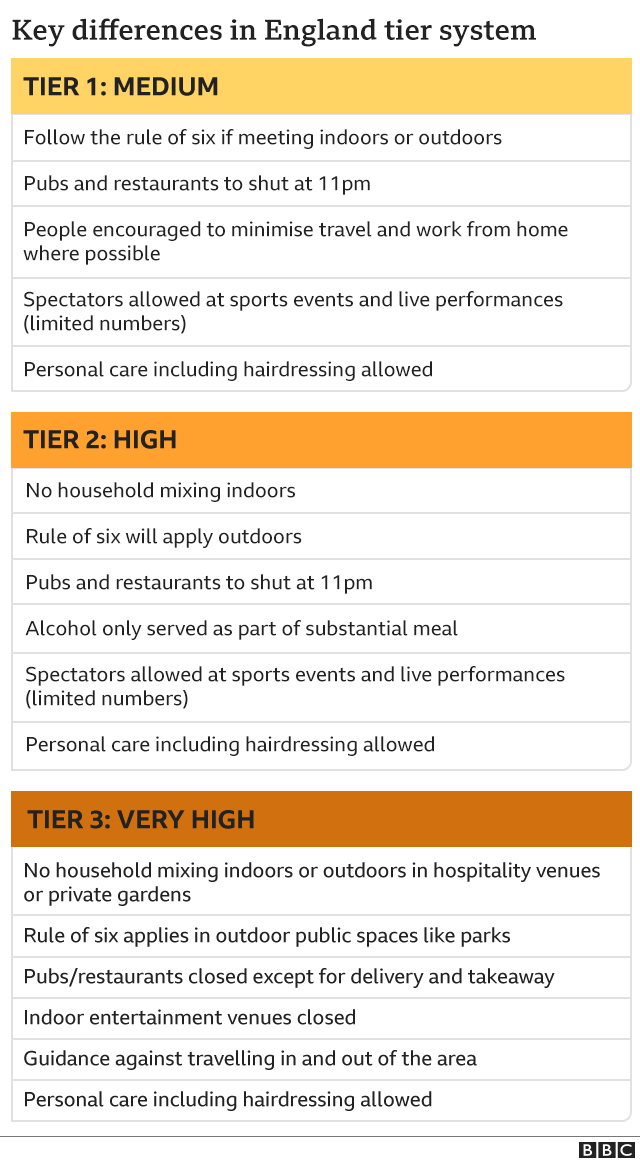 Announcing the outcome of the first formal review of the new tier system in England, Mr Hancock told MPs "no-one wants tougher restrictions any longer than necessary".

However, he said "these are always the most difficult months for people's health" and we "must keep suppressing this virus".

Cases have risen by 46% in the past week in the south-east of England, he told MPs, and were up by two-thirds in the east of England.

Meanwhile, the government has announced the return to school in January will be staggered for secondary pupils in England, with some starting term online rather than in class.

It will allow schools to set up a Covid testing scheme - but exam-year pupils will start term as usual.

There will also be a staggered return for schools in Wales after the Christmas break.

Which areas are changing tiers?

The health secretary said from 00:01 Saturday 19 December:

* Bedfordshire, Buckinghamshire, Berkshire, Peterborough, the whole of Hertfordshire, Surrey (except Waverley), Hastings and Rother, Portsmouth, Gosport and Havant will move into tier three.

* Bristol and North Somerset will be moved down to tier two.

* Herefordshire will move from tier two to tier one.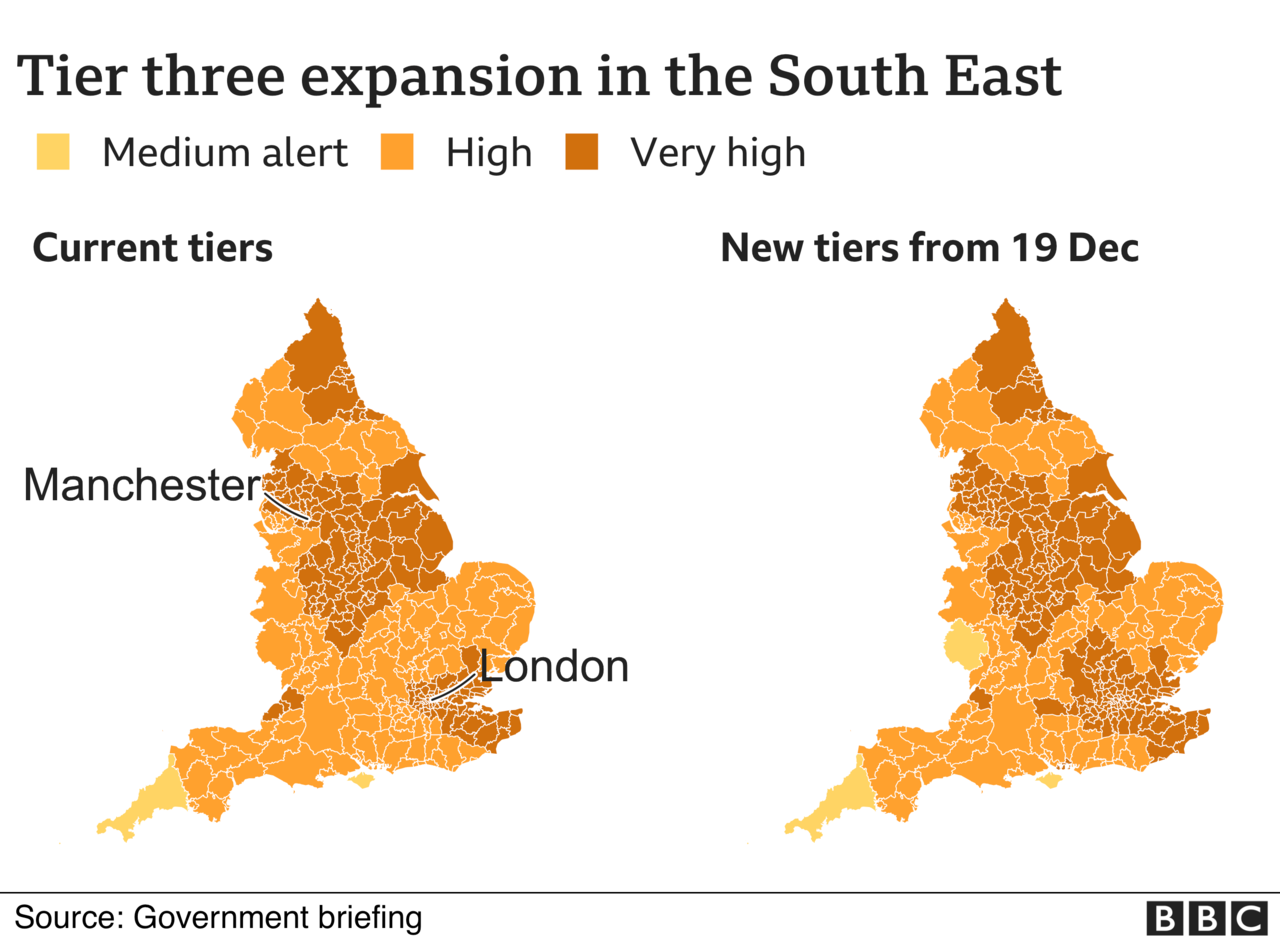 With the majority of the country in the highest tier, many will be wondering how long it will be before the rules are relaxed.

The trajectories are quite different across the tier three areas.

Large parts of the North have seen cases fall and now have lower than average infection rates, although there are signs those decreases have stalled.

Other areas, particularly large parts of the home counties, have relatively low rates that are rising.

Then there are places - east London and the surrounding areas - that have high rates that are rising.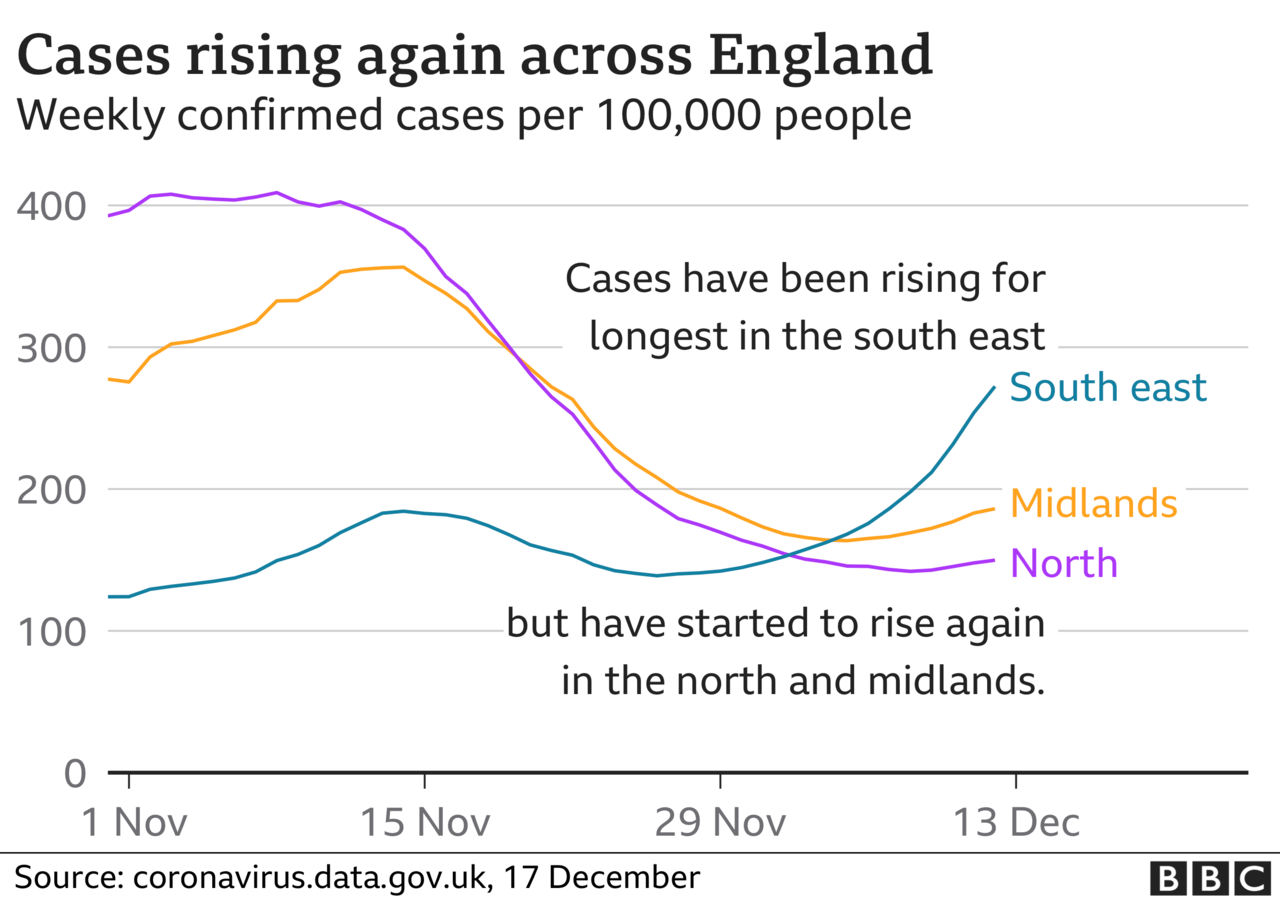 The fact that they are all facing the tightest restrictions is a sign of how cautious ministers are being.

That, of course, is because of the Christmas relaxation - and fear it could lead to a spike in cases.

If that happens, tier three could become the norm for months - maybe accompanied by a third lockdown.

That would leave the government and public pinning everything on the vaccine programme.

Earlier this week, ministers said a good start had been made with 137,000 people vaccinated.

But there are more than 25 million in the priority groups - 12 million of them over the age of 65.

In theory, two million could be vaccinated every week, but that depends on multiple things going right.

This could become the status quo for many until the spring.

Around 34 million people have already been living under tier three rules.

London, most of Essex and parts of Hertfordshire were placed under the strictest curbs on social contacts on Wednesday.

They joined much of the Midlands, north-west England and north-east England.

The news Greater Manchester would remain in tier three provoked anger from some of the area's MPs, including Sir Graham Brady, chairman of the influential 1922 Committee of Conservative backbenchers.

"The statement will be greeted with dismay in Greater Manchester where we have had severe restrictions for nine months, where in nine of the 10 boroughs rates are below the national average," he said.

And the West Midlands' Conservative mayor Andy Street called for more government funding to support businesses in tier three areas.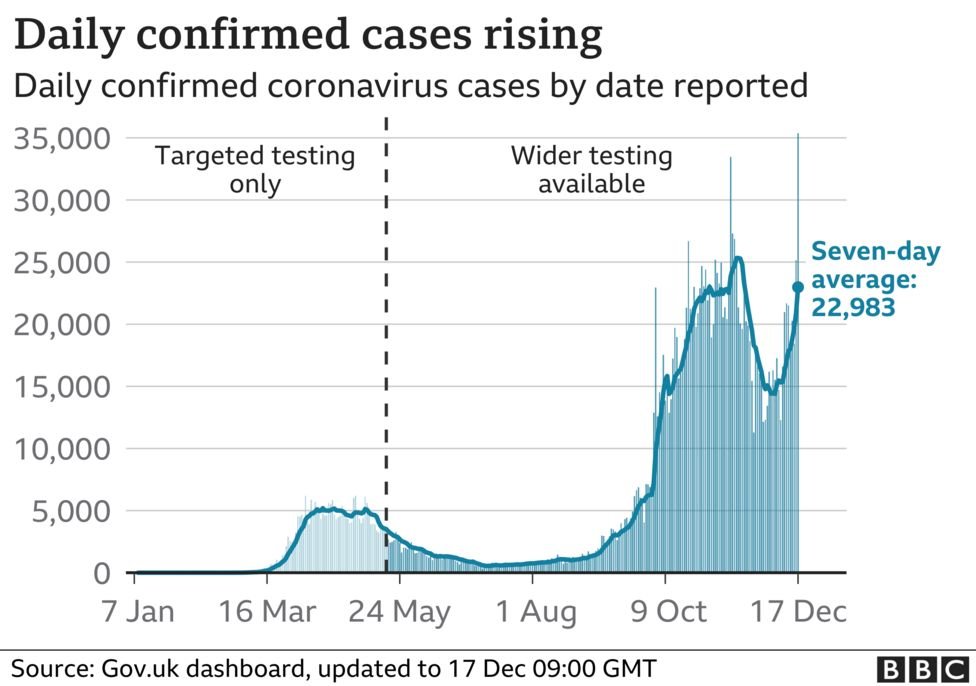 Leaders in areas moving from tier two to tier three also expressed their concerns.

Stephen McPartland, Conservative MP for Stevenage in Hertfordshire, tweeted that it was "ridiculous" the town is "being dragged into" tier three.

He said tiers "should be imposed on a district basis instead of this unbalanced county-wide approach".

Gerald Vernon-Jackson, the Liberal Democrat leader of Portsmouth City Council, said the decision to introduce the toughest measures there was "bizarre".

He said he was "slightly surprised" because he had been told that "the problem" was with the city's Queen Alexandra Hospital.

However, the hospital also serves nearby local authorities, such as Fareham and Winchester City, which were not being moved up.

"The government has made a number of bizarre decisions, so it's no surprise they have made another one," he said.

Elsewhere in the UK, ministers in Northern Ireland have agreed a six-week lockdown from 26 December, in an attempt to curb the spread of the virus.

In Wales, non-essential shops will close from the end of trading on Christmas Eve, with an alert level four lockdown starting four days later.

And in Scotland, the deputy first minister warned that tougher restrictions - including a potential lockdown - after the festive period cannot be ruled out.