It said its projected rates were "in line" with Westminster's after the prime minister pledged the new target.

Boris Johnson said this would allow vulnerable people to be protected "sooner" and would help to further ease lockdown rules across the country.

He said he wants the programme to "go further and faster".

The Scottish government said it was expecting to receive revised forecasts of vaccine supply shortly.

Under its current targets everyone aged over 50, unpaid carers and people with underlying health conditions should receive the first dose of the vaccine by early May.

A spokesperson said: "We have not committed to a date for vaccinating all adults due to the uncertainty of supply, but our projected rates remain in line with those announced by the UK government.

"If more supply is available earlier we will ensure this is used to vaccinate as many people as quickly as possible.

"Around 400,000 people are vaccinated each week and if greater supply becomes available we will adapt to use all available vaccines."

It comes after First Minister Nicola Sturgeon said Scotland's vaccination programme was slowing down because of supply problems.

Ms Sturgeon told Holyrood on Tuesday that vaccine manufacturer Pfizer had not reduced the overall number of doses Scotland will get but it had "re-phased" the delivery.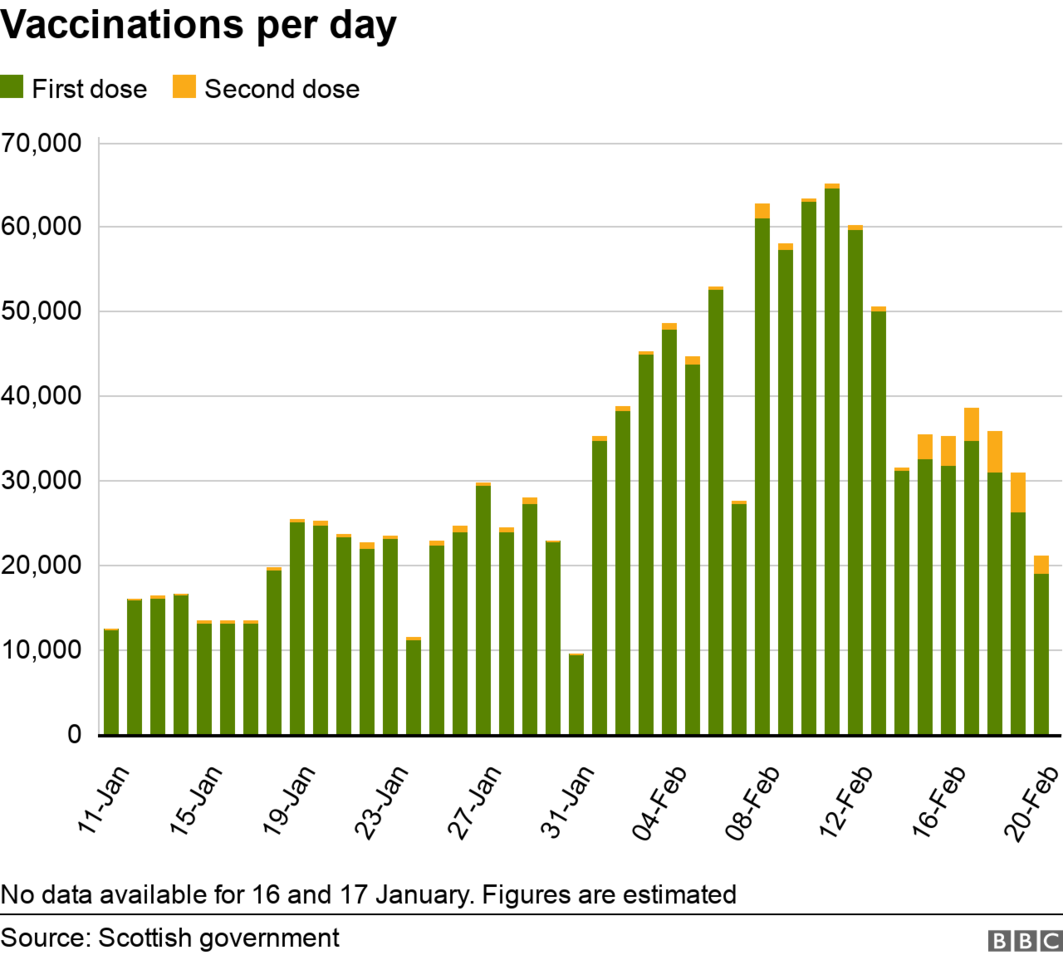 This meant there would slightly less supply than originally expected over the next few weeks, she said.

In the week beginning 8 February, an average of almost 47,000 people per day were given the first dose of the vaccine. That compares with 36,000 the previous week and less than 20,000 in the seven days before that.

So far, almost all care home residents, frontline workers and people aged over 75 have received their vaccine in line with Scottish government targets.

Everyone in the over 65 age group should receive their first jab by early March, and the remainder of those in the priority groups drawn up the Joint Committee of Vaccination and Immunisation (JCVI) will be vaccinated by early May.

The order of priority for the under 50s has yet to be outlined by the JCVI.

'No let-up'

Prof Adam Finn, a member of the committee, said he expected that a public announcement would be made on vaccine priorities at some point in the next week.

He told BBC Breakfast: "The strategy from JCVI that's being provided as advice to the government is just being finalised at the moment, and then government will make their decision as to how to do this during the coming days, so I think there'll be some kind of public announcement around that in the next week or so."

The Scottish Conservatives urged the Scottish government to be "transparent" about whether they are likely to hit the timescales laid out by the UK prime minister.

"The UK government are confident they will have the supplies and that will have the desired knock-on effect for Scotland," their health spokesman Donald Cameron said.

"At the earliest opportunity, SNP Ministers should be clear whether this hope of vaccinations by the end of July will be given to adults in Scotland.

"There should be no let-up in getting the vaccines into people's arms. That will enable us to ease restrictions on individuals and businesses sooner."

The first minister is expected to publish a route map out of lockdown later this week.