The organisation's accounts showed an 85% dip in revenue, largely due to the postponement of the in-person event.

Donations also dropped from £114,000 in 2019 to £9,000 in 2020.

The chairman of Manchester Pride's board of trustees said "some difficult but necessary choices" had been made, including three redundancies.

The charity's "celebration of LGBTQ+ life" moved online in 2020, with about 114,000 people joining a virtual event, and its annual parade, which sees floats and performers travel through the city, was cancelled for a second year running in July over concerns it could not run in accordance with Covid rules.

The main festival returned on August Bank Holiday weekend as planned, but more than 1,000 protesters took part in a march over concerns about the management of the event.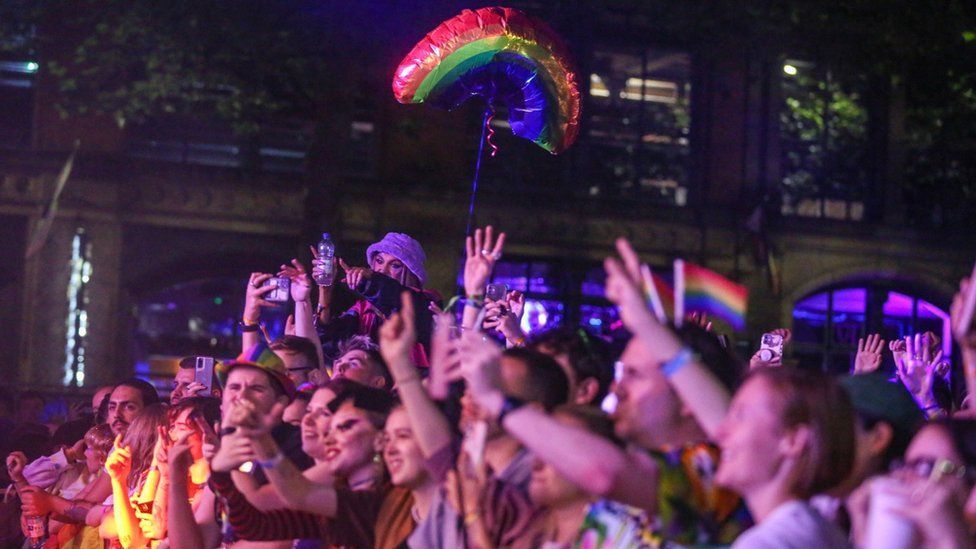 Board chairman Paul Wheeler said the pandemic had had "a significant impact on our charity".

"As the majority of the charity's income comes from the annual Manchester Pride festival, the fact we couldn't deliver a physical festival in 2020 had a deep impact," he said.

He said that as a result, difficult choices were made "to meet our obligations".

However, he said the charity was "still able to continue to deliver on our charitable objectives" by moving much of its work online and had continued to support external organisations and charities, distributing over £100,000 in grants and funding.

Mr Wheeler said Manchester Pride had "learnt a great deal over Covid, and we want to ensure we're listening and continuing to focus our charitable efforts in the right way as things begin to get back to normal".

He added that the details of a promised consultation process would "be announced imminently".