The Scottish government will decide on Tuesday if the scheme that came into effect in Scotland last month will be extended to include other settings.

Mr Ross told BBC Scotland: "Where is the evidence that these vaccine passports actually work?"

He added: "Their own 70-page document can't tell us."

The government's evidence paper claims that to "suppress the virus further" there is a choice between limiting social contacts or requiring passports at more hospitality venues.

Covid case numbers are currently much lower than during the most recent peak in August, but they have been slowly climbing again in recent weeks.

The Scottish government is worried about the impact this could have on the NHS over winter.
Currently, people attending nightclubs and other large events such as football matches, have to show they have been double jabbed, but Nicola Sturgeon said the scheme could be widened to include theatres, cinemas and other hospitality venues.

Any extension to the scheme would start on 6 December.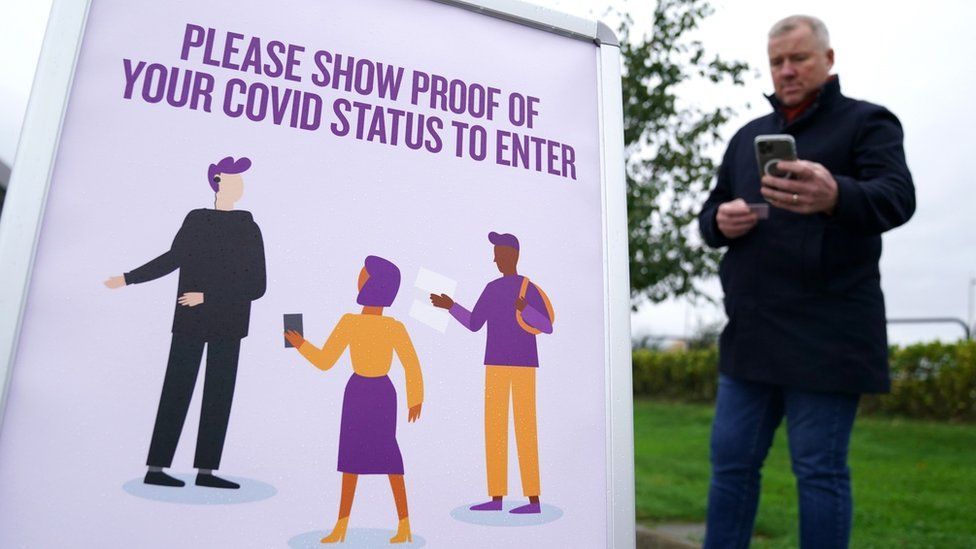 Mr Ross told the BBC Scotland Sunday Show: "I think this is absolutely wrong to be putting this added pressure and burden onto businesses at such short notice.

"Two weeks ago we were told to tune in [to the government statement] this week, this week we were told to tune in next week and businesses don't know where they're going.

"I want them to explain why they couldn't take a decision, if they are going to extend vaccine passports and what is that going to mean for the businesses that are already saying this will not be workable."

He added: "We know from many studies already that businesses are strongly opposed to any extension, and we've had no idea apart from the first minister and deputy first minister saying some other hospitality venues may be affected, which ones?

"I've asked two weeks running, 'which businesses should be preparing for the expansion of the vaccine passport scheme?' and they failed to tell those businesses, therefore they can't prepare properly."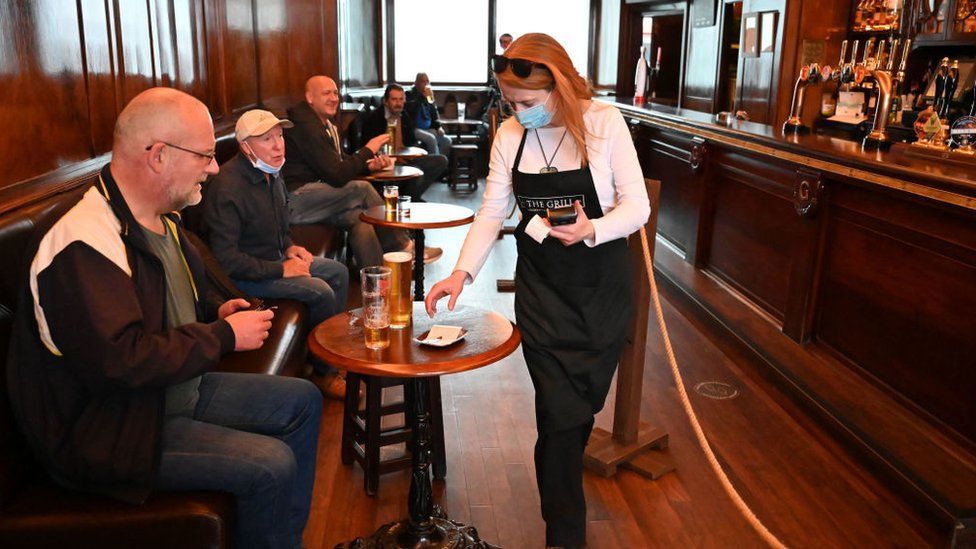 People may need to show vaccine passports to get into pubs

Silkie Carlo, from civil liberties group Big Brother Watch, also told the programme: "It seems it's our freedoms that are being sacrificed time and time again, even when there is no evidence base.

"In Scotland, you've had Covid passports for almost two months... but we can see it hasn't worked so why is it we are looking on Tuesday at extending the scheme when there's not a scrap of evidence that this has had any positive impact?

She added: "When you talk about spot checking in public places, who is most likely to be spot checked by police? Who is going to be punished by this system the most?"

The scheme "should be scrapped, not extended", she added.

Prof Roland Kao, an epidemiologist from Edinburgh University, told the Sunday Show that meeting indoors, particularly with large numbers of people, was a risk for onward transmission of the virus.

He said: "If you're reducing contact of unvaccinated people with others in high-risk situations, they will contribute positively. We allow all sorts of restrictions on our behaviour if they have the ability to harm others.

"We have restrictions on speed and things like seatbelts so it's not an either/or. We need to do a balance between what the restrictions are doing to individuals and what the application of the measures do in terms of preventing harm to others. And we know the vaccines work."

A Scottish government spokesman said: "As the deputy first minister has made clear, the situation around the pandemic is serious so we are being open about all the options available to us that may be required to protect the public.

"No decisions have been made and parliament will be informed if and when any decisions are reached. We continue to liaise closely with stakeholders including the hospitality sector."

John Swinney has previously said vaccine passports would help to "keep people safe and get through a challenging winter without having to re-introduce any restrictions".
Douglas Ross is asking for the evidence that vaccine passports work