After months of closure under lockdown, the hospitality sector has struggled to find workers as it fully reopens.

Former restaurant worker Aleksandra Zadroga said being on furlough had given many a "push" to quit.

So why are they so keen to leave the industry?

Ms Zadroga, 26, from Swansea, quit her job in hospitality to pursue a new career following months on furlough, which she said had made her re-evaluate her work-life balance.

"It takes its toll on you... it's very tough these days," she said.

Having started out as a waitress eight years ago while at university, she'd progressed to duty manager by the time the pandemic hit and she was put on furlough in March 2020.

"While most people think it must be nice to be on furlough and get 80% paid, it was just very stressful," she said.

"You don't really know when you'll be coming back to work, whether it would be full-time or part-time, whether your job will still be there because some restaurants had to close down."

'I now have an eight-hour day'

When restrictions were lifted by the Welsh government, Ms Zadroga returned to work. But days later, she quit with nothing else lined up.

"I think for a lot of people going back to hospitality after such a long period on furlough is just a huge readjustment - you have to be on your feet for 14 hours again and that's not easy," she added.

"Having to wear a face mask for 14 hours is very difficult... it was just the last straw really."

Despite having no prior experience in the recruitment industry, she was hired by Work Wales the following day as a recruitment administrator and has since been promoted to the role of recruitment and compliance officer.

"I get to have a weekend these days, I don't work as much overtime, I have an eight-hour day rather than 14-hour," she said.

How many hospitality workers have left the sector?

Figures suggest more than one in 10 UK hospitality workers left the industry in the last year.

The latest figures from global recruitment firm Broadbean Technology found that in April, vacancies in UK hospitality soared 77% from the previous month. However, compared with April 2020, the number of applications slumped 82%.

Ryan Jones, the business manager at Ms Zadroga's new employer, Work Wales, said hospitality businesses had needed extra help finding employees to fill gaps when reopening after lockdown.

Recruitment site Caterer.com said the pandemic and Brexit were to blame.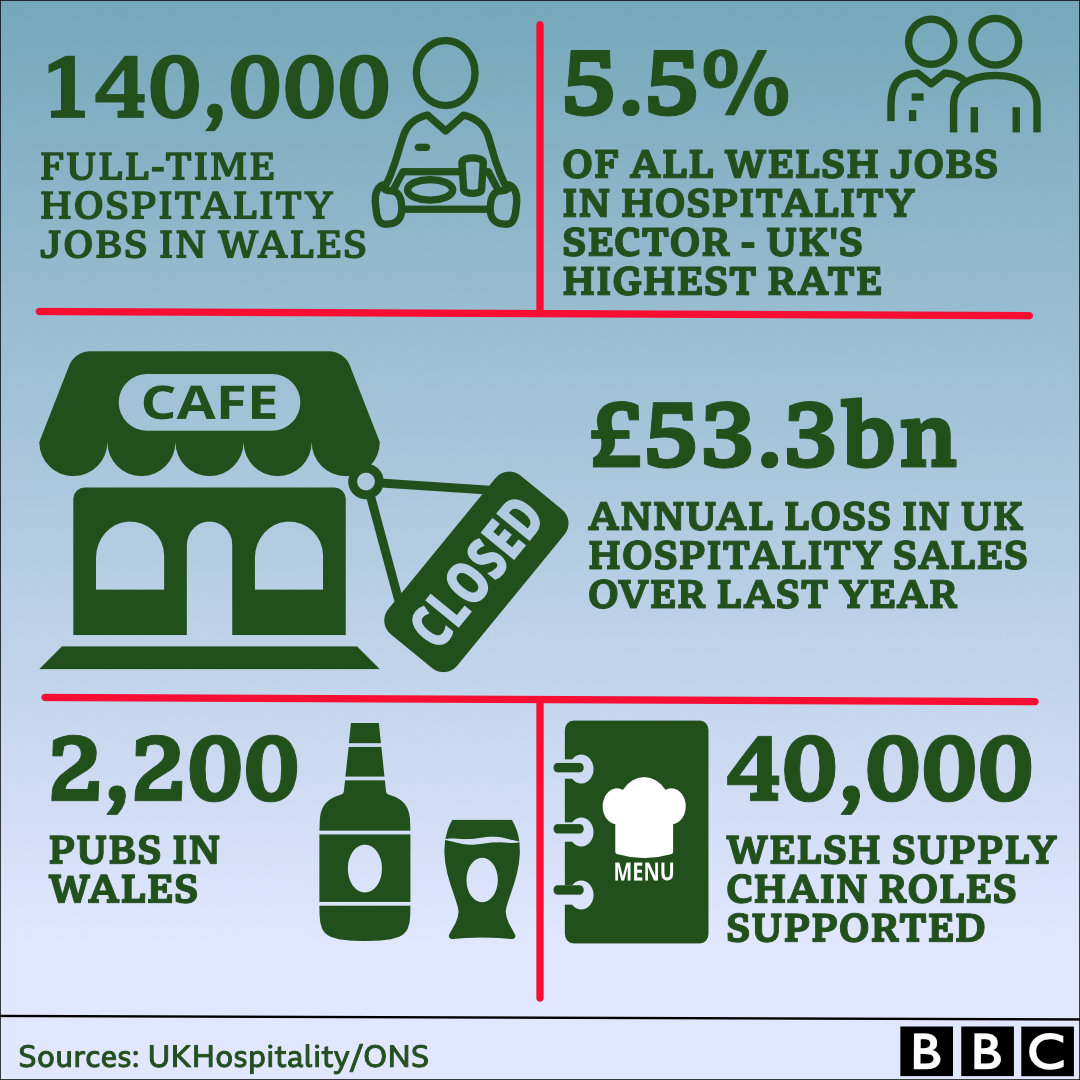 A high proportion of hospitality workers may have left the UK altogether, but some have managed to find alternative employment, the recruiter said.

Niki Turner-Harding, senior vice president of recruitment agent Adecco, said many hospitality workers had moved industries after furlough, in the hope of finding more stability.

"They have used their transferable skills to secure mostly customer service roles, for example in contact centres and in retail," she added.

'Shouted at or unnecessarily touched'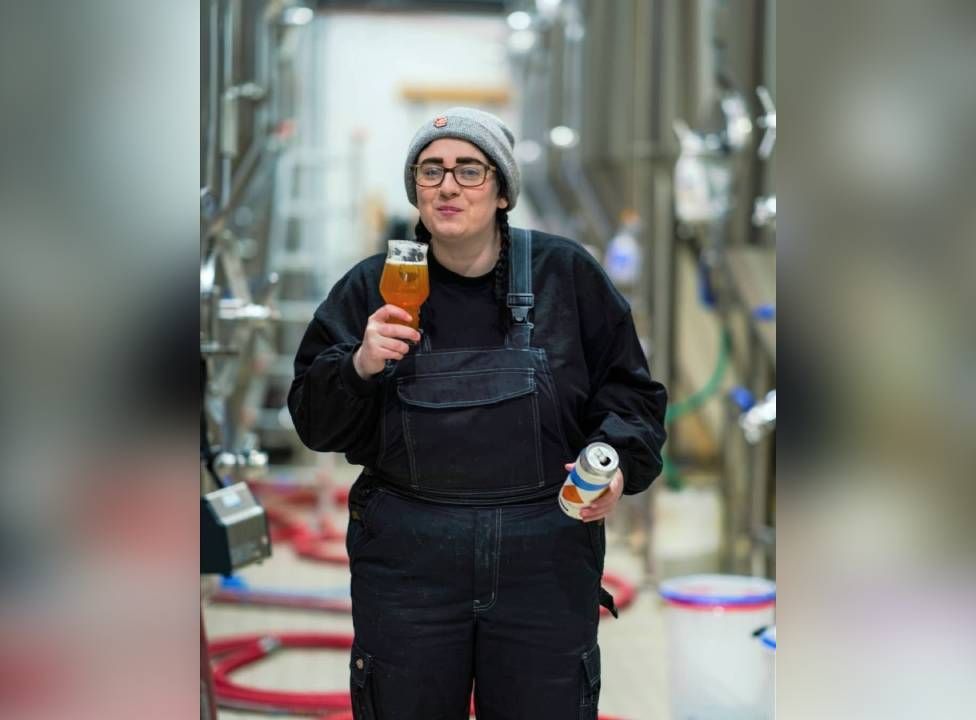 Helen Anne Smith, 27, from Cardiff, was studying to become a cicerone (a certified beer server, like a sommelier), but now plans to leave the industry after nearly four years.

She said getting 80% of the living wage had made her "already precarious financial situation worse", alongside other drawbacks.

"Even though my job has given me an incredible education in beer, it has made me realise how unsustainable a job in hospitality is, both financially but also it is a tiring job and the working hours mean that I don't get to see my wife who works during the day.

"Secondly, during the first lockdown, I found myself in a situation where finally I wasn't being shouted at or unnecessarily touched by customers, and it was honestly incredible. I felt like I had some autonomy back.

"Having to come back in August was hard but table service made me feel much safer within my role.

"I know that eventually social-distancing will no longer be a concern and I really don't want to go back into that environment."

Switching the kitchen for Amazon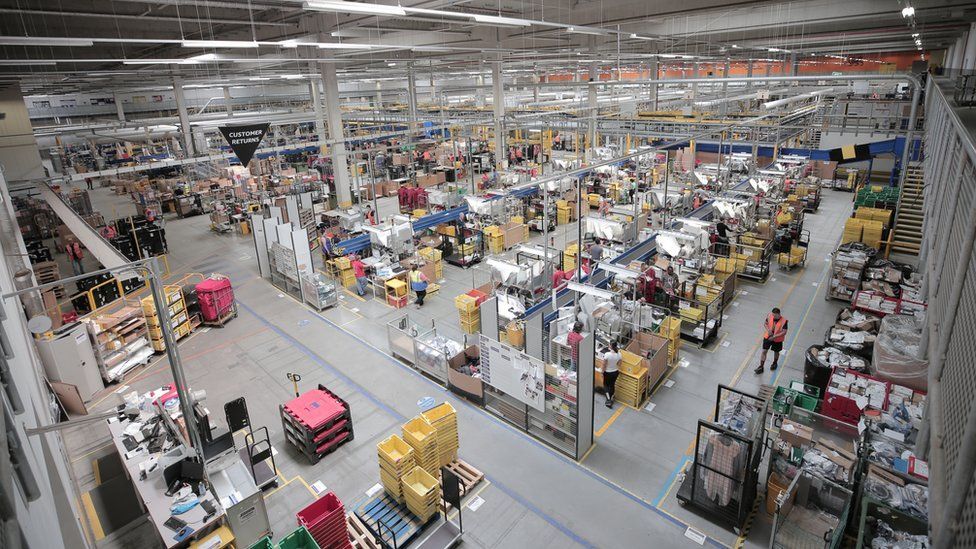 Karl Summerfield, 28, now works for Amazon at their fulfilment centre in Swansea, after 12 years as a chef.

When he was made redundant from his role as head chef at a restaurant in Machynys, Carmarthenshire, Mr Summerfield joined as a packer and is now part of the team picking customer orders.

"I was fortunate that my brother-in-law works at Amazon and informed me of the job opportunity," he said.

"I like the fact I have more time to spend with my family and how flexible Amazon can be. I'm enjoying interacting with, and meeting, new people, learning new tasks and hope to work my way up to manager level."

'Back to square one'

Industry body UK Hospitality warned on Friday that hospitality venues were struggling to fill thousands of jobs.

Ceri Cook, owner of the Rocket and Rye restaurant in Cowbridge, said some staff had handed in their notices after lockdown, which had left the restaurant "back at square one".

"I've had to step in myself, so work the floor and manage all the team... it has been a real juggle," she said.

"Then trying to interview during that time and also train the very new staff."

She added that many of her new staff were school-leavers wanting to get "a taste of hospitality" and she saw this as a potential major source of new workers for the sector.

"It's really promising that they're coming into the industry now as their first job," she added.