People are at "more significant risk of death and of serious illness if they are co-infected" with both viruses, she told the BBC.

She said: "It's a more uncertain year but I certainly would be encouraging everybody to go and get their vaccine."

More than 40 million people in the UK are being offered a flu jab this year.

For the first time this includes all secondary school children up to the age of 16.

The over-50s and younger adults with health conditions are also being offered a Covid booster jab this autumn and winter.

Dr Harries, former deputy chief medical officer for England, told the BBC's Andrew Marr Show: "This is probably the first season where we will have significant amounts of Covid circulating as well as flu.

"People's behaviours have changed, we are mixing more, winter weather is coming along, everybody is going into enclosed spaces."

She said because of social distancing and other measures during the pandemic the public has not had the flu exposure they usually would, "so people are susceptible".

Flu kills about 11,000 people on average every winter in England and during the last bad flu winter of 2017-18 the toll was more than double that - with more than 300 deaths a day during the peak.

Research shows those infected with both viruses are more than twice as likely to die as someone with Covid alone.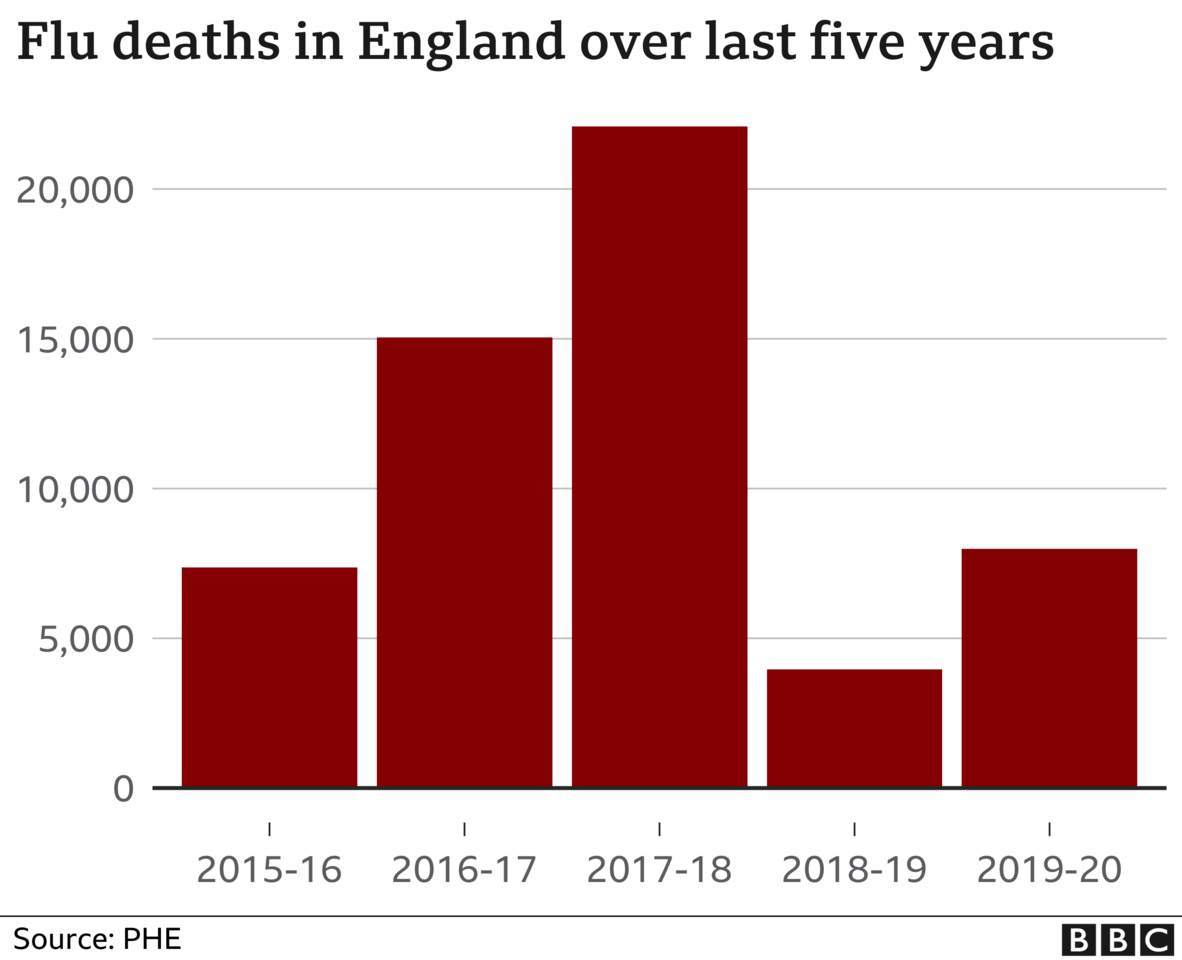 A report from the Academy of Medical Sciences suggests that respiratory illness could hit very high levels this winter, causing severe strain on the NHS and between 15,000 and 60,000 deaths.

The latest government figures released on Sunday show the UK recorded new 34,574 Covid cases.

There were also 38 deaths recorded within 28 days of a positive test, taking the total number of people to die in the past week to 785.

Dr Harries said the current number of deaths from Covid was not seen as "acceptable" officials were still "taking it extremely seriously".

She told the Andrew Marr show: "We are starting to move to a situation where, perhaps Covid is not the most significant element and many of those individuals affected will of course have other comorbidities which will make them vulnerable to serious illness for other reasons as well."

She said the "extremely good vaccine uptake" was preventing "very significant amounts of hospitalisation and death".

But Dr Harries said it was now "one of the most difficult times to predict what will come" with coronavirus.

"We have different levels of vaccination, we have a little bit of immunity waning in older individuals, which is why we're now starting to put in a Covid booster vaccine," she said.

"We have slightly different effectiveness in different vaccinations that have been provided."

She added that it appeared the global dominance of the Delta variant had seen other coronavirus variants "become extinct".

But the public needed to "stay alert" as it was "still very early days of a new virus".

The following groups are among those eligible for winter vaccines:

*  over-50s (Covid booster and flu jab)

*  younger people with health conditions (Covid booster and flu jab)

*  health and care workers (Covid booster and flu jab)

*  pregnant women (flu jab)

*  two- to 16-year-olds (nasal flu jab)

*  at risk infants aged six months to two years (flu jab)