Residents' relatives said pandemic restrictions are having a detrimental affect on their loved ones.

They are calling on Health Minister Robin Swann to ensure guidance on issues like visiting is implemented consistently across the sector.

The Department of Health said protecting residents and staff in care homes continues to be a key priority.

During Saturday's protest, relatives said they want certain policies re-examined - these include 14-day isolation periods after hospital stays.

Christina Girvan's father, who is in a care home, has just completed two periods of 14 days of isolation.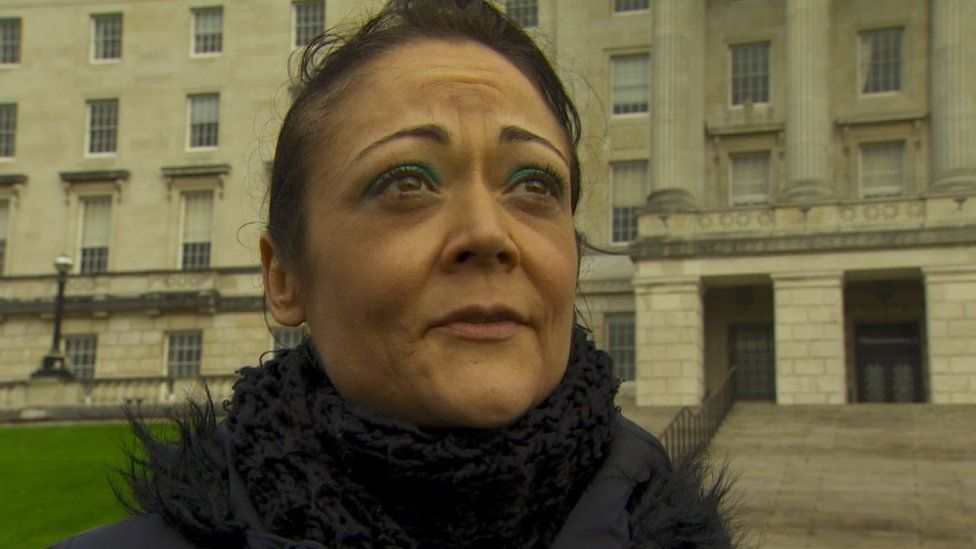 Christina Girvan says protesters are there on behalf of all care home residents

She said he cannot understand why he is not allowed to leave his room.

"Myself and many other families feel that the pathway is too slow, and it's not in line with the easing of restrictions for the rest of society," she said.

And she said that she believed other family members should be allowed in to homes.

Restrictions on visiting in care homes were eased in the middle of October.

The Department of Health website said up to four people from no more than two households could now visit, with a maximum of four such visits per week allowed.

However, this may not fully apply if the care home has an active Covid-19 outbreak.

The arrangements are set out in the Department of Health's Visiting With Care - A Pathway document.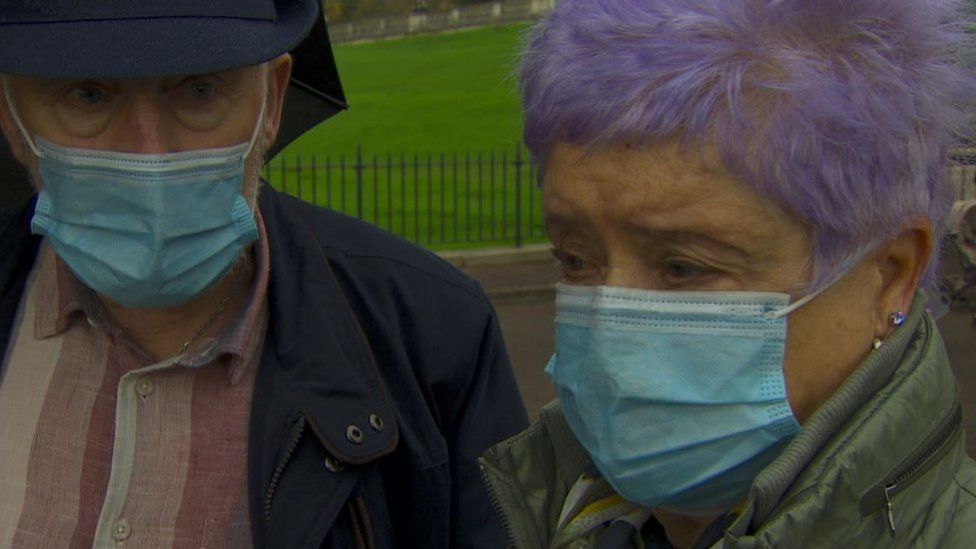 Sandra and Brian said their daughter is a "lost soul" as she can't attend her day care

Sandra and Brian's 52-year-old daughter, Cathy, who has a severe learning disability and other conditions, has been unable to attend her usual day centre because she lives in a care home.

"We're here campaigning for her to have equal rights, the same as her friends with disabilities living in the community," Sandra said.

"She can't go to her day centre she's attended for the last 30 years every day, and she is just a little lost soul now, she is just living her own nightmare because there's nothing for her to do except watch television."

In a statement, the Department of Health said care homes are "particularly at risk" of Covid-19, adding that not all individuals who may carry the virus will have symptoms.

It said it encouraged staff and care partners to take a weekly PCR test and visitors to take Lateral Flow Tests.

"The department's Visiting with Care pathway is reviewed regularly to consider the risks associated with the current visiting arrangements," it said.

"Decisions to change the current arrangements will be informed by the scientific and medical evidence and our public health professionals continue to review that evidence at every decision point."