He said Christmas may be "very different" but he hoped taking action now would mean families can gather.

Pubs, restaurants, gyms and non-essential shops will have to close for four weeks from Thursday, he said.

But unlike the restrictions in spring, schools, colleges and universities can stay open.

After 2 December, the restrictions would be eased and regions would go back to the tiered system, he said.

Mr Johnson said: "Christmas is going to be different this year, perhaps very different, but it's my sincere hope and belief that by taking tough action now we can allow families across the country to be together."

The prime minister told a Downing Street news conference that he was "truly, truly sorry" for the impact on businesses, but said the furlough system paying 80% of employee wages will be extended through November.

"No responsible prime minister" could ignore figures which suggested deaths would reach "several thousand a day", with a "peak of mortality" worse than the country saw in April, Mr Johnson said.

He said hospitals even in the south-west of England, where cases are among the lowest, will run out of capacity in weeks.

"Doctors and nurses would be forced to choose which patients to treat, who would get oxygen and who wouldn't, who would live and who would die," Mr Johnson said.

Under the new restrictions:

* People are being told to stay at home unless they have a specific reason to leave, such as work which cannot be done from home and education

* And people are also allowed to leave home for exercise medical reasons, food and other essential shopping and providing care for vulnerable people or for volunteering

* Meeting indoors or in private gardens will not be allowed

* But individuals can meet meet one other person from another household outside in a public place

* Pubs, bars, restaurants and non-essential retail across the nation will close but takeaways and click-and-collect shopping can remain open

* Leisure and entertainment venues, including gyms, will also close

* Construction sites and manufacturing workplaces can remain open

* People are still allowed to form support bubbles

* Children can move between homes if their parents are separated

* Clinically vulnerable people are asked to be "especially careful" but people are not being asked to resume shielding

Mr Johnson, who chaired a cabinet meeting on Saturday afternoon, or Health Secretary Matt Hancock is expected to make a statement to Parliament on Monday.

Labour leader Sir Keir Starmer said the government had "finally taken the decision it should have taken weeks ago" and indicated the party would support the lockdown in a Commons vote.

Because of the delay, "the lockdown will be longer, it'll be harder and there's a human cost which will be very, very real," he said.

Mr Johnson had previously resisted pressure to introduce nationwide restrictions, saying they would be "disastrous" for the UK's finances and opting instead for a three-tiered system targeting local areas in England.

The UK recorded another 21,915 confirmed coronavirus cases on Saturday, bringing the total since the pandemic began to 1,011,660.

Another 326 people were reported to have died within 28 days of a positive test.

The UK is the ninth country to reach the milestone of a million confirmed cases - after the US, India, Brazil, Russia, France, Spain, Argentina and Colombia.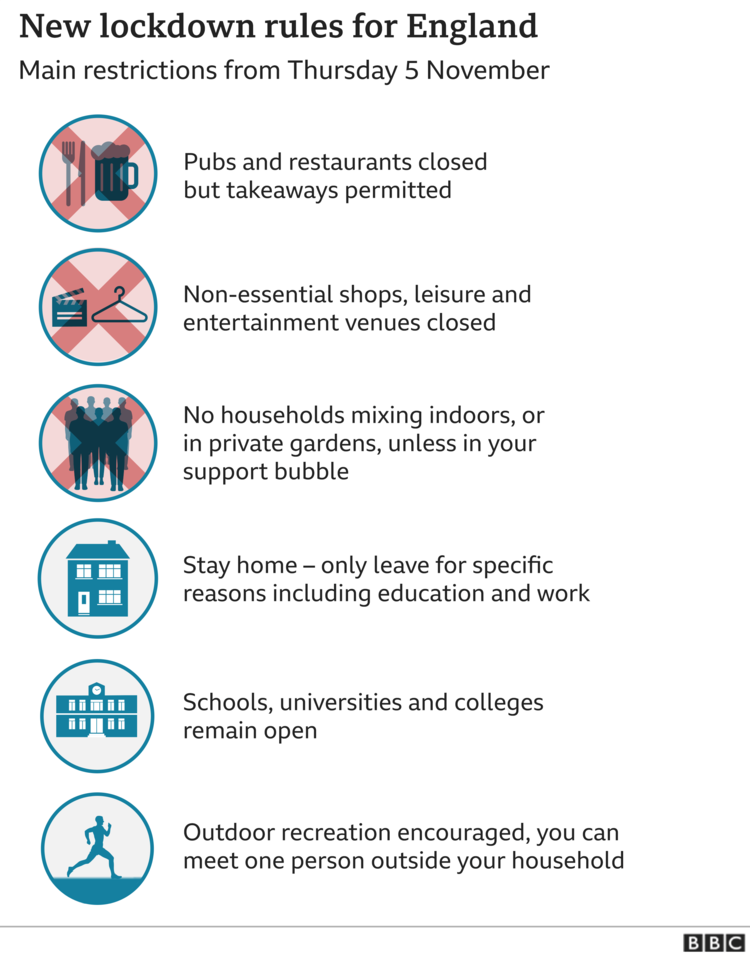 England's chief medical officer Prof Chris Whitty said at the news conference that 10 hospitals had more coronavirus patients now than at the peak of the epidemic in spring, adding that the virus was spreading "extremely rapidly".

"If we did not act now, then the chances of the NHS being in extraordinary trouble in December will be very, very high," he said.

Almost 11,000 people are now in hospital with Covid-19, including 978 on ventilators.

Sir Patrick Vallance, the government's chief scientific adviser, told the briefing that modelling suggested the number of deaths over winter could be "twice as bad or more compared to the first wave".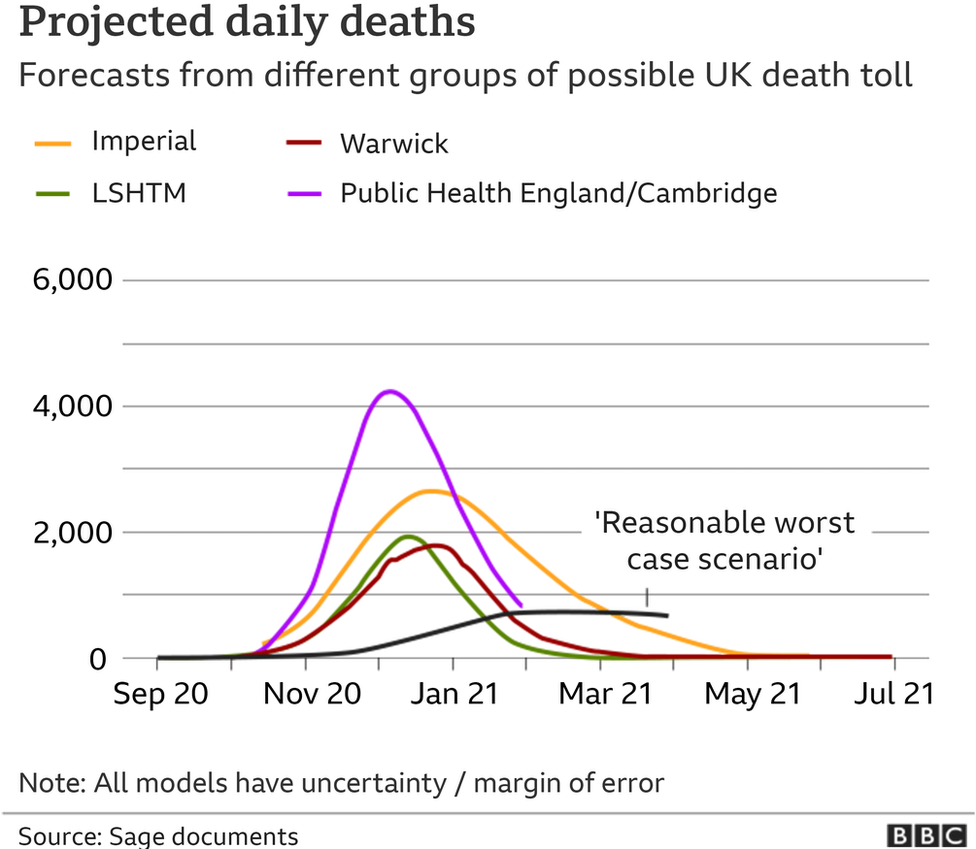 One key document shows several UK daily death projections by different modellers, compared with the first wave and the government's "reasonable worst-case scenario" - which was seen in a report in August


A presentation by the government's pandemic modelling group SPI-M shown to Boris Johnson and seen by the BBC included one forecast which suggested deaths could reach more than 4,000 a day if no action was taken.

Most of the models peak at about 2,000 deaths a day.

Prof Neil Ferguson, whose modelling was crucial to the decision to impose the first lockdown, said keeping universities and schools open meant infections would decrease more slowly this time.

He said the new restrictions could reduce cases by anywhere between 20% and 80%, adding that he hoped larger groups of people would be able to gather by Christmas "if only for a few days".
Why did ministers delay the lockdown?


The government was advised to bring in a form of lockdown in England by its scientific advisory group on 21 September.

Instead, it opted first for 22:00 closing of pubs and restaurants.

This was followed a few weeks later by its tier system where the greatest restrictions would be placed in the worst-hit areas.

Purely from a public health point of view, a lockdown when the experts advised it would have been the sensible thing to do.

It would have been shorter, brought cases down more quickly and given the test-and-trace system a chance to catch up with the rise in cases.

But minsters had to consider the economic impact as well as the politics. They had hoped their light touch approach might have been enough to control the spread of the virus while preserving jobs and businesses.

Many scientists on the scientific advisory group were deeply sceptical at the time that this would work.

All of them appreciate the difficult decisions ministers are faced with and none of them take any satisfaction from having been proved right.
Presentational grey line

Ahead of the news conference, school and university unions called for education institutions to be closed and for teaching to move online in another national lockdown.

The National Education Union said it would be "self-defeating" to ignore how schools helped to spread the virus.

And "the health and safety of the country is being put at risk" by the insistence on keeping in-person teaching on campuses, the University and College Union said.

Dame Carolyn Fairbairn, director general of the CBI, said the lockdown announcement marked the start of "a bleak midwinter" for business.

She said extending the furlough scheme was a "vital step" but urged the government to use the next month "to prepare and roll out mass testing as a matter of national urgency".

The prime minister told the Downing Street briefing that over the coming weeks there would be a "massive expansion" in the deployment of rapid turnaround tests, with the Army being brought in to distribute swabs.

He said the tests could be used "in an ever-growing number of situations from helping women to have their partners with them in labour wards when they're giving birth, to testing whole towns and even whole cities".

Elsewhere in the UK, Wales' First Minister Mark Drakeford said the 17-day "firebreak" there will end as planned on 9 November.

He said that his cabinet will meet on Sunday to "discuss any potential border issues for Wales in light of any announcement by No 10".

Scotland's First Minister Nicola Sturgeon has issued new advice that people should not travel to or from England, except for essential purposes, ahead of the nation's five-level system of restrictions coming into force on Monday.