Lorries began boarding ferries at Dover on Wednesday after travel restrictions were lifted by the French government on the condition of a negative Covid test.

Transport Secretary Grant Shapps said the government was using "every tool we can" to clear the backlog.

Around 170 army personnel are helping to conduct tests, but police and weary drivers have clashed over long waits.

At the temporary lorry park at Manston airfield, drivers complained of limited food supply and inadequate bathroom facilities.

Mr Shapps warned of "a lot of congestion and some, I'm afraid, anti-social behaviour around the ports that the police have been dealing with".

He said 6,000 lorries were in the area and the government had called in the Army to assist with getting the hauliers who had tested negative on their way - but added it was "not something that could be done instantaneously" and said people should stay away from Kent and the ports.

France closed its border to arrivals from the UK late on Sunday amid concern over a highly-transmissible virus variant that was spreading in the UK.

Latest measures allow French citizens, British nationals living in France and hauliers to travel - if they test negative less than 72 hours before departure.

All drivers, regardless of nationality, are required to take a rapid lateral flow test - with the results sent by text within 30 minutes. Drivers who test positive will be offered Covid-secure accommodation to self isolate, government minister Robert Jenrick said earlier.

Testing will also take place on the French side for hauliers entering the UK.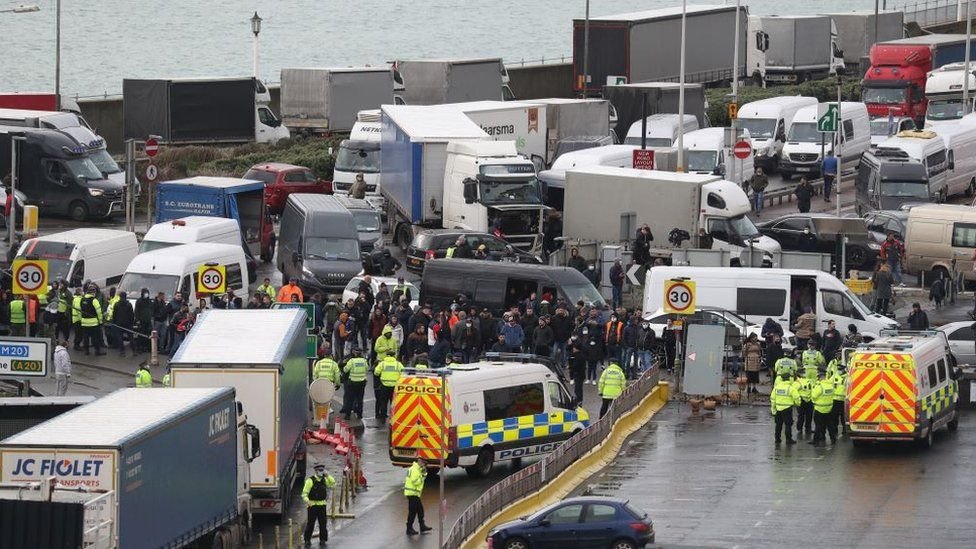 Some frustrated drivers staged a protest outside the port earlier in the day

Mr Shapps said the NHS Test and Trace team were conducting "roving tests of hauliers".

He added: "They have to do that in many different languages because almost all the hauliers, I think well over 95%, are not UK hauliers. So they're having to deal with a lot of different things."

Eurotunnel said around around 700 cars, 50 vans and 20 trucks have been able to cross the Channel since this morning, and a "flow" of trucks has arrived at the British terminal since 16:00 GMT.

Kent County Council leader Roger Gough said tensions between police and drivers had calmed down but added the situation remained "quite fragile".

He told BBC Radio Kent that the "most difficult" challenge is clearing a route from Manston Airport to Dover, around 20 miles south, because of standing traffic.

"Whilst we're able, for instance, to get some progress in terms of people travelling via the Eurotunnel, it's much harder to get vehicles to the port in the current situation," he said.

One lorry driver complained to the BBC: "Police three days ago told us that testing will start soon, but they don't know when and that's why people are protesting.

"We just want to do the test and just go straight home."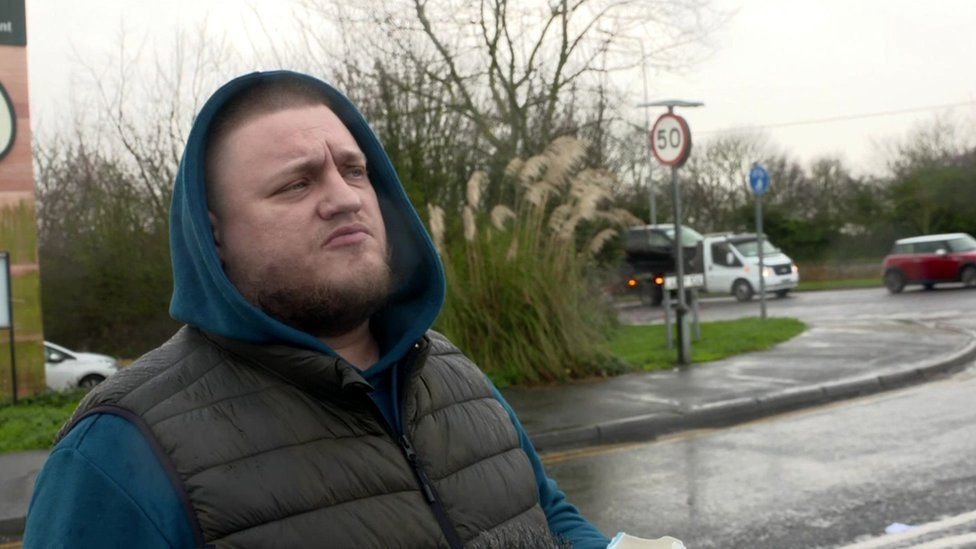 Rod McKenzie of the Road Haulage Association described the situation as "chaos", saying information given to lorry drivers had been "extremely poor".

"They're tired, frustrated, desperately wanting to get home for Christmas," he said.

A government statement said they were "working tirelessly to provide support to hauliers awaiting testing at Manston and the M20" and free food and water was being provided.

Typically around 10,000 lorries a day travel between Dover and Calais at Christmas, bringing in the fresh produce and the British Retail Consortium has warned the border closure may lead to some temporary food shortages.

It comes as a further 39,237 people in the UK tested positive for virus - an all-time high - and there were 744 deaths within 28 days of a positive test, according to government figures.