New Covid-19 measures:

• Four regular testing centres to operate long-term, offering free service for those at high risk of infections, and paid screening for those requiring certification to travel, especially for Singapore-Hong Kong bubble

• A virus notification app will be set up for users to record their travel history and notify them of exposure risks

• A multi-pronged strategy will be adopted to close border loopholes for people exempted from quarantine, including a mandatory negative test for those from high-risk countries, and point-to-point pickups instead of public transport

Hong Kong revealed plans to step up border controls against Covid-19 as possible new infections among taxi drivers emerged on Wednesday, sparking concerns that the next wave could be starting.

Health minister Professor Sophia Chan Siu-chee moved to close quarantine loopholes to prevent another onslaught of cases during the winter flu season, saying the city had to remain vigilant.

"If we let down our guard, a fourth wave can start anytime and can become more severe with the flu season in the autumn and winter," the secretary for food and health said. "Externally [we must] guard our border well, and internally stop the spread."

The city recorded 18 new cases, with the three local cases all untraceable, on top of five possible infections among the drivers.

Health officials said the possible infections involving four cabbies and a driver of a bus for rehabilitating patients would be alarming if confirmed, as they carried many passengers and lived across the city – in Sham Shui Po, Sai Ying Pun, Sheung Shui, Yuen Long and Fo Tan.

"We are also worried about whether a hidden transmission chain still exists in the community," said health director Dr Constance Chan Hon-yee. "The public must stay vigilant and maintain personal hygiene."

One of the cabbies and the rehab bus driver had tested preliminary positive, while the results for the other three remained uncertain.

The rehab bus driver had also operated buses for a primary school in Fo Tan and a kindergarten in Tsuen Wan. It was unclear how many people he had transported.

Chan said the virus-screening scheme for drivers, which had just ended, would be extended in light of the latest findings.

She also urged vigilance as more upper respiratory tract infection outbreaks had been reported among schools. As of 4pm Wednesday, the city had this week recorded 129 outbreaks in such institutions, mostly kindergartens and primary schools, affecting nearly 1,540 people.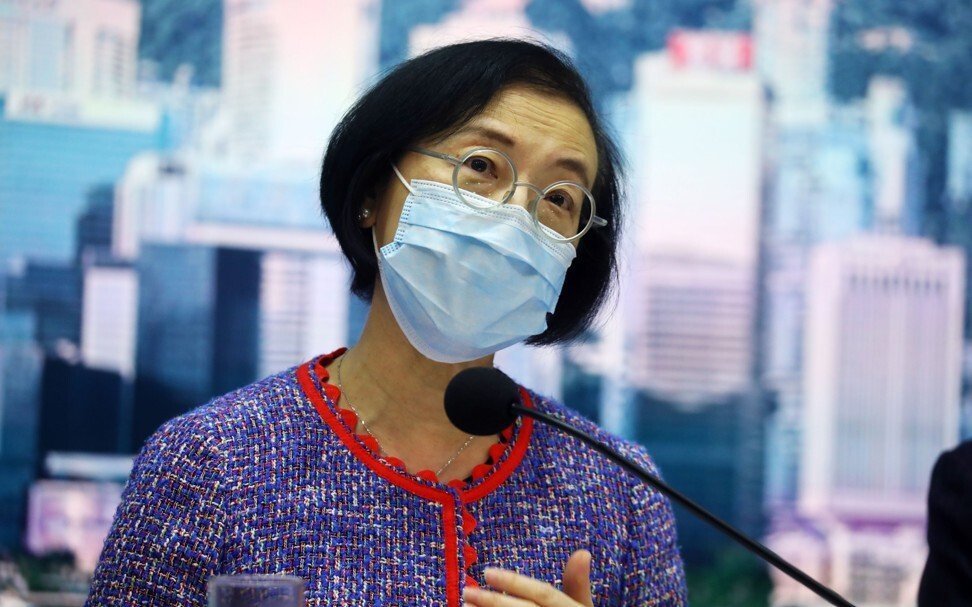 Secretary for Food and Health Sophia Chan.

One of the three confirmed local infections involved a 76-year-old man who lives in Kwai Shing West Estate. His viral load was low and he tested positive for coronavirus antibodies, the Centre for Health Protection's Dr Chuang Shuk-kwan said, suggesting he was infected earlier.

Another case involved a 23-year-old Baptist University student who had stayed overnight at two hotels in North Point and Mong Kok with 10 and six friends respectively, during her infectious and incubation period.

The third patient was a 44-year-old man who lives in Tsuen Wan and works in Shek Mun in Sha Tin.

The remaining 15 confirmed cases on Wednesday were imported, involving seven people from Nepal, two from India, two from the United States, one each from Britain, Morocco and Ecuador, and a domestic worker from Indonesia.

Nepal Airlines flights from Kathmandu will also be banned for a third time after 12 passengers on its service on Tuesday were found to be infected with Covid-19. Flights from the country's capital will be barred for 14 days, starting from Thursday.

Chuang said the coronavirus strain currently circulating in Mui Wo, Tung Chung and Tai Po recently was similar to the type in Nepal. "This may indicate that this type of virus … has been spreading quite extensively in Hong Kong."

Warning of a looming fourth wave of infections, Sophia Chan announced the launch next week of the long-term operation of four testing centres and a Covid-19 exposure risk notification app.

She laid out the escalated measures during a press conference unveiling details for the November 22 launch of a quarantine-free travel bubble with Singapore.

Chan said local transmissions had crept up recently, including an infection cluster linked to a staycation in Mui Wo, while the number of new imported cases remained high, with 60 infections recorded in the last fortnight.

The four testing centres will commence long-term operations on Sunday. They are located in community halls at Quarry Bay, Yau Ma Tei, Sha Tin and Yuen Long, and offer free screening for people deemed at higher risk of infection.

Those requiring a Covid-19 test certificate for personal or travel purposes can get tested for HK$240 a time. The centres will be in operation for at least three months, but that could be extended if necessary.

Separately, innovation and technology minister Alfred Sit Wing-hang announced that the Leave Home Safe app – which aims to notify users of their exposure risks to Covid-19 in public areas – would be available for download on Monday.

He said the app could be used to record visits at more than 6,000 public and private venues, as well as rides on some 18,000 taxis.

On border control, Chan, without specifying a start date, said those currently exempted from quarantine and arriving from Covid-19 high-risk countries would need to obtain a negative coronavirus test report within 48 hours before leaving for Hong Kong. They would also need to take point-to-point pickups instead of public transport back to their homes.

Consular officials, who are among those exempted from quarantine, must also self-isolate for 14 days if they have visited high-risk countries.

Exempted people arriving from low-risk countries without a negative Covid-19 test will be screened upon arrival and must wait for the results before leaving. They must also follow the new public transport requirement.

City authorities currently have 14 countries on their high-risk list, including India, Pakistan, the United States and Britain. Turkey has now been added, effective from November 13.

Hong Kong has imposed an indefinite ban on non-residents from overseas without exemptions such as holding work or student visas.

Those arriving from mainland China, Macau and Taiwan can enter subject to quarantine requirements and their travel history.

The government will also ramp up its crackdown on airlines bringing in passengers from high-risk places who do not meet entry requirements, which includes holding a valid hotel booking.

Arrivals from outside China will also have to quarantine at hotels, rather than in their homes starting from November 13, as announced previously. Those coming in under the travel bubble with Singapore, however, will be exempted.