Matt Hancock insisted 21 June was a "not before" date to end restrictions and No 10 "would look at the data".

He said the Delta variant first seen in India was about 40% more transmissible than the Alpha (Kent) strain.

But he added that hospitalisations were "broadly flat" which meant Covid vaccines were working.

Speaking to the BBC's Andrew Marr show, the health secretary said the increased transmissibility of the Delta variant made the decision on lifting lockdown "more challenging".

The final stage of lifting restrictions would see all legal limits on social contact removed. Nightclubs would reopen, and restrictions on performances, weddings and other life events would also be lifted.

But concerns about the spread of the Delta variant, now dominant in the UK, have led some scientists to call for a delay to ending lockdown.

Another 5,341 infections were recorded on Sunday, and another 4 people died within 28 days of a positive Covid test, according to official figures.

Asked whether lockdown easing could be delayed if the data on the Delta variant appeared "bad," Mr Hancock said the government was "absolutely open to doing that if that's what needs to happen" and that its "roadmap was set up to take these changes into account".

Mr Hancock added that while new infections have "risen a little", the number of people admitted to hospital with the Delta variant was "broadly flat".

He said the majority of patients in hospital appeared to be those who have not had a vaccine, with "only a very small minority" of patients fully vaccinated. Those who had been double vaccinated appeared to be less seriously ill, he said.

This showed vaccines were working, he said, and that the link between infection and hospitalisation had been "severed but not broken".

On Saturday, Chris Hopson, the chief executive of NHS Providers, which represents hospital trusts, said the number of people in hospital with the Delta variant was rising but not "very significantly".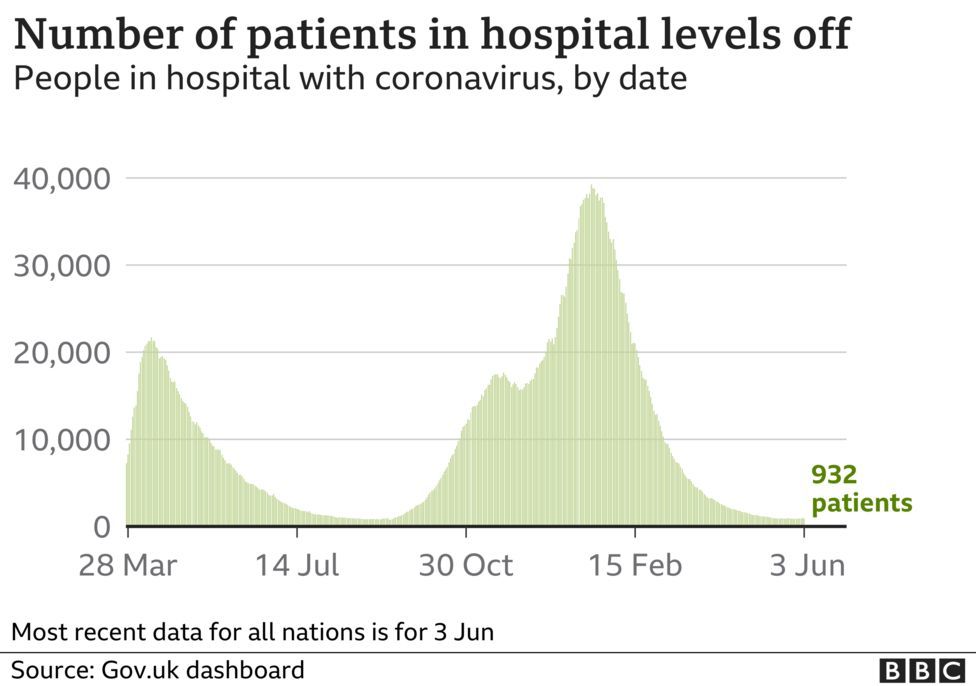 Mr Hancock urged people to get their second jab, saying: "The best scientific advice I have at this stage, is that after one jab it's not quite as effective against the new Delta variant, but after both jabs it is."

A final decision on whether to ease England's lockdown further will be made on 14 June.

Asked whether some measures, such as the wearing face coverings and working from home, might stay beyond June, Mr Hancock said: "I wouldn't rule that out."

Reviews into social distancing measures and domestic vaccination passports were ongoing, he added.


There is genuine uncertainty about the additional level of threat posed by the Delta variant.

In mid-May, the government scientific advisory committee Sage said if it was 40% more transmissible than the Alpha - or Kent - variant it could lead to a summer wave of hospital admissions bigger than was seen in January.

That was never meant as a prediction, but rather an indication that things could turn very bad, very quickly, if the variant evaded vaccine protection. The good news is those who are fully immunised are well protected.

Around three-quarters of all cases caused by the Delta variant are in unvaccinated people, and just one in 25 infected has had both doses.

And although the Delta variant seems more likely to cause severe illness, those in hospital are generally younger, and recovering more quickly than patients admitted over winter.

Every jab, in every arm, is another brick in a wall of immunity against coronavirus.

Few doubt that the further lifting of restrictions will bring much higher case numbers over the summer. What's still unclear is whether the increase in Covid hospital admissions will be a wave or a ripple.

The government's scientific advisory group for emergencies (Sage) had previously said there was a "realistic possibility" the Delta variant could spread 50% faster.

It estimated that if the variant were to be 40-50% more transmissible it "would lead to a substantial resurgence of hospitalisations" and put pressure on the NHS.

In other developments:

*  Former prime minister Tony Blair called for fully vaccinated people to get extra freedoms, including the right to travel abroad more easily. This would encourage more vaccinations, he told BBC One's Andrew Marr Show

*  People under the age of 30 in England will be invited to have a coronavirus vaccine this week, the health secretary said

*  Mr Hancock urged secondary school pupils in England to take a Covid test before they return to school after the half-term break

*  Boris Johnson will urge leaders of other wealthy countries to commit to vaccinating the world against Covid by the end of next year at a summit of the G7 group on Friday

*  Charities have criticised the UK government's cuts to foreign aid spending, saying they have caused "devastation" that could undermine the UK's credibility at the G7 summit

Labour's shadow foreign secretary Lisa Nandy said the lifting restrictions on 21 June was "looking very difficult", given rising infection rates in the north-west of England, particularly among young people, and that vaccines needed to be rolled out "much more quickly".

Ms Nandy also criticised the government's traffic light system for foreign travel, saying that the amber category should be "scrapped".

"We think it's pointless. We think it's confusing and that confusion is actually dangerous at the moment - it risks unravelling all of the progress that we've made."

Meanwhile, the health secretary said inviting the under-30s for a vaccine would bring the government "a step closer" to its target of offering all adults a vaccine by the end of July.

He added that he expected "around three-fifths" of all adults to have been fully-vaccinated by 21 June, with 52% currently double-jabbed.

Asked if he thought the UK should be vaccinating children, Mr Hancock did not commit to saying he believed it should happen, stressing that the government would follow the "clinical advice".

Reducing onward transmission of the virus to adults and protecting education were advantages of vaccinating children, he said.

This week, the UK's medicines watchdog approved the use of the Pfizer-BioNTech vaccine in children aged 12 to 15.

The Joint Committee on Vaccination and Immunisation will advise the government on whether this age group should be vaccinated as part of the UK rollout.