The protest in Piccadilly Gardens was condemned by Greater Manchester Police (GMP) as "irresponsible" after new Covid rules came into force.

Police officers suffered minor injuries at Sunday's event, which included protesters who had travelled from Cumbria, said GMP.

The force said the organiser ignored its pleas to call off the event.


'Reckless and irresponsible'

The 40-year-old man from Trafford was issued with a £10,000 fixed penalty notice.

Three men, aged 40, 32 and 30, and a 23-year-old woman arrested on suspicion of public order offences have all been fined £200 and 25 protesters have been issued with £200 fines.

GMP's Assistant Chief Constable Mabs Hussain, said: "Ahead of Sunday, officers attempted to engage with the person organising this gathering - warning him of the likely consequences and advising, for his and everyone else's sake, to abandon his plans.

"However, he decided to ignore this advice and pressed ahead with a reckless and completely irresponsible course of action."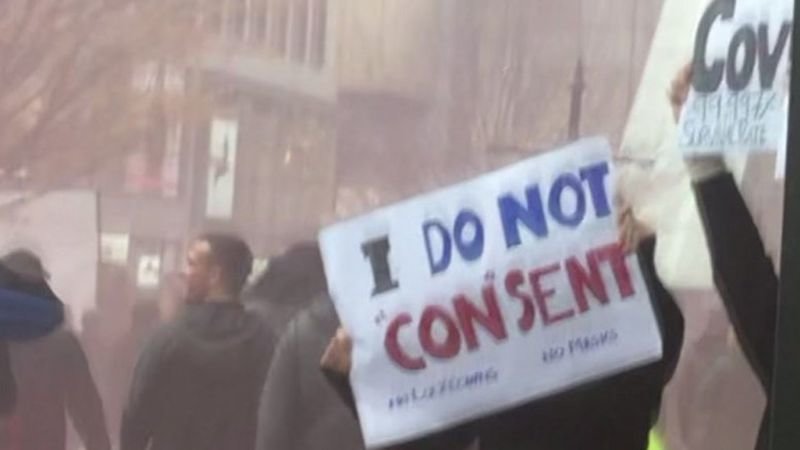 Protesters held up anti-lockdown banners

Mr Hussain said during the protest officers also tried to engage with the organisers and attendees to "explain the restrictions and encourage compliance", but this was ignored, too.

"Whilst responding to this gathering, a number of officers were injured," he said.

"This is unacceptable behaviour towards officers who were simply doing their job and protecting people."

He said work was continuing to identify other people in attendance who blatantly breached government restrictions.

GMP Federation chairman Stu Berry said: "The scenes witnessed in Manchester this weekend were simply a stupidity contest with approximately 600 participants.

"Those individuals have increased the risk of this disease for themselves, the wider public and my colleagues despite the scientific advice and legislated lockdown."