At present, about 22% of adults have received at least a first dose of a vaccine.

Dr Michael McBride said he believed some restrictions could be in place "into next year".

Speaking at a media briefing on Tuesday, Dr McBride said new variants mean "it is difficult to predict".

"It's really important that we ease restrictions gradually," he said.

"We need to be realistic that the current restrictions that we have in place will be in place for a significant part of this year to a greater or lesser extent and into next year as well."

Dr McBride said if the rate of case numbers keeps falling, "we will hopefully be able to do some things this summer like we did last summer".

He explained that "over time" new variants such as those which have emerged in South Africa and Brazil could be detected in NI, however, he said "they may not become the dominant strain".

The briefing heard that almost all care homes in NI and those aged over 80 have had their second vaccination.

Patricia Donnelly, who heads up NI's vaccine programme said about 345,000 vaccines have been administered to date, with 317,000 of them being first doses.

It has also been outlined that clinically vulnerable 16 to 18-year-olds could be vaccinated within weeks, using the Pfizer vaccine.

Ms Donnelly said the Oxford-AstraZeneca vaccine is only licensed for people aged over 18.

Neither Pfizer nor AstraZeneca, however, have been approved for under-16s.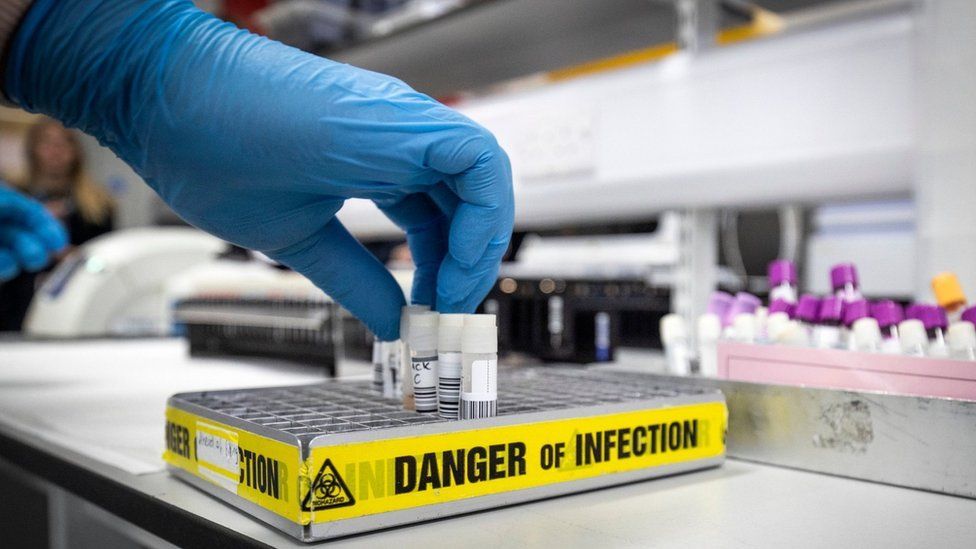 She said there have been concerns about the uptake of the vaccine among 65 to 69-year-olds.

Describing it as good, she highlighted it has not been as strong as the 90% response rates documented for other age groups.

"They may still come," she added.

"We will keep the booking line open and will be in a better position to assess that next week."

On Monday, Dr McBride said people in NI should have a high confidence in the vaccines which are being used.

On Tuesday, it was reported by the Department of Health that a further 10 people had died having tested positive for Covid-19.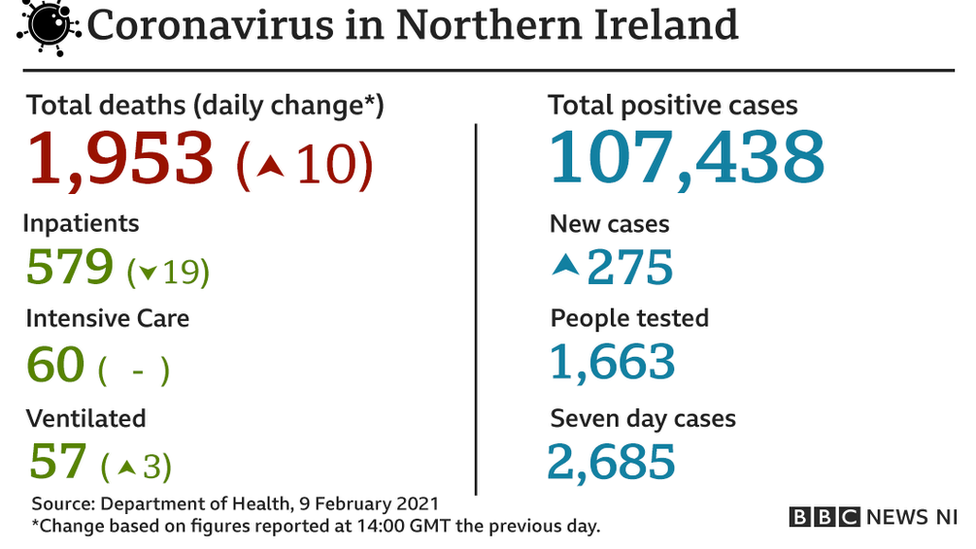 This brings its total during the pandemic to 1,953.

There have been 107,438 cases of the virus after an additional 275 cases were confirmed.

The latest figures published on Tuesday show there remains 60 patients in intensive care and 579 Covid-19 inpatients.

There are 90 outbreaks in care homes, a fall from 94 on Monday.

The department's daily dashboard reveals hospital occupancy level is at 94%.

NI's deputy chief scientific adviser, Dr Declan Bradley, said there is "so much momentum" and the "epidemic is slowing down gradually".

"But driving the epidemic with our foot on the accelerator of social contact will absolutely bring the epidemic back to reality," he warned.