Beijing offered no immediate response on Thursday to US President Donald Trump's accusation that the coronavirus was "China's fault", signalling that Beijing does not want to add to tension with the US and be dragged into a presidential election already overshadowed by the pandemic.

In a video posted on Twitter on Thursday, Trump – who returned to the White House on Monday after being treated for the coronavirus – vowed that China "will pay a big price for what they did to the world, and to us", his second such video threat within 24 hours.

The backdrops for the two messages were slightly different, although both were on the White House grounds, part of a storm of tweets, videos and repostings in recent days as he has sought to project an image that he is back in charge.

Trump then went further in an appearance on the Fox Business network on Thursday. "They want to keep me happy," Trump said, apparently referring to the Chinese government. "Because they know that I'm a hair-trigger when it comes to them and I'm sick of them. Everything that we have – we have that Covid, the China virus – because of them. You look back at other infections that we've gotten because of them – this isn't the first time."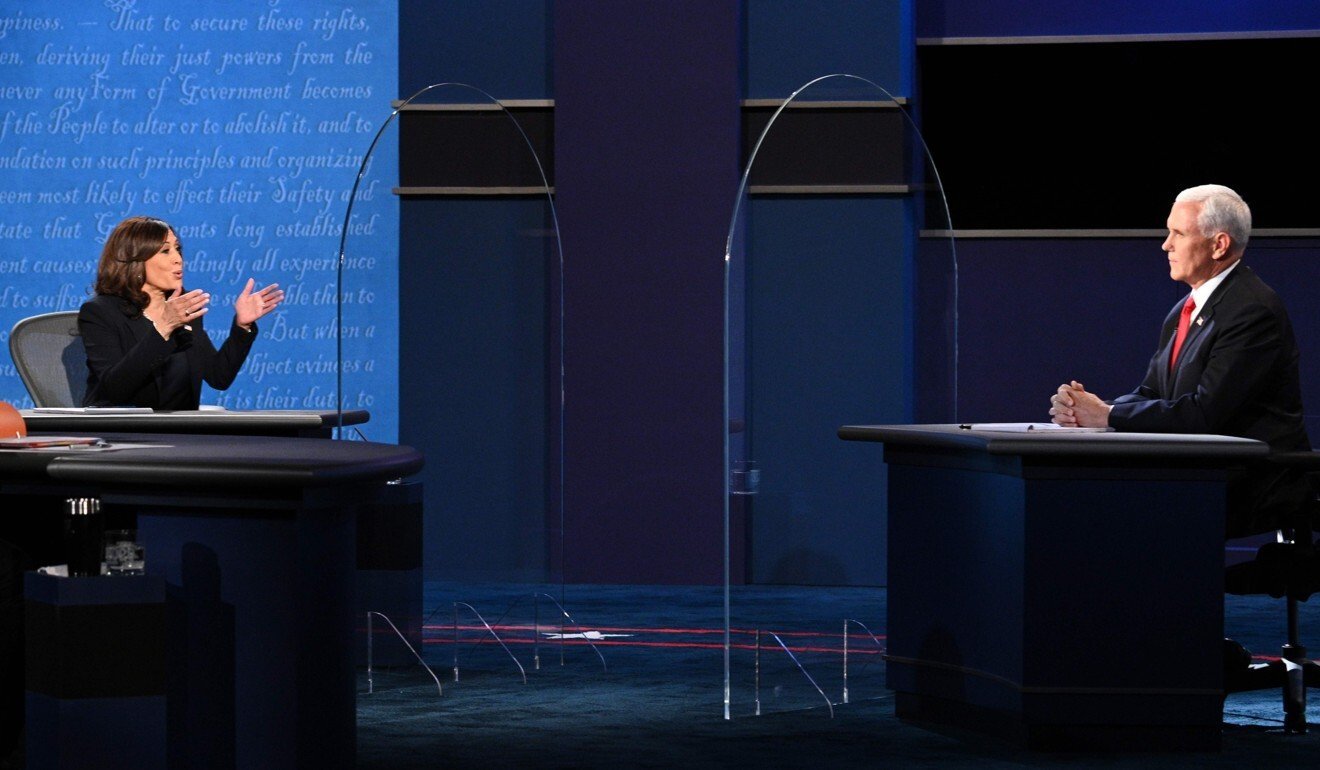 The Democratic vice-presidential nominee, US Senator Kamala Harris, and Vice-President Mike Pence during their debate in Salt Lake City, Utah, on Wednesday.
The message was echoed by Vice-President Mike Pence in his debate with Democratic challenger Kamala Harris on Wednesday night.

"China is to blame for the coronavirus, and President Trump is not happy about it, he's made that very clear and made clear again today," Pence said.

"China and the World Health Organization did not play straight with the American people. They did not let our personnel into China to get information on the coronavirus until the middle of February."

He said Trump would continue to stand strong against China, which "has been taking advantage of America for decades".

China's Ministry of Foreign Affairs did not respond to requests for comment on Thursday, the last day of a week-long national holiday.

There was almost no mention of Trump's warnings in Chinese state media. Global Times, the nationalistic tabloid under People's Daily, reported about Trump's video but edited out his comments on China.

Senior Chinese officials have said at various times that Beijing will not "dance with the US" and go down the path of a "new cold war".

Fuelling further turbulence in an already tumultuous last few weeks of the presidential campaign, Trump said on Thursday that he would not participate in the next debate with Joe Biden scheduled for October 15 given plans to hold it remotely.

"I'm not going to waste my time on a virtual debate, that's not what debating is all about. You sit behind a computer and do a debate – it's ridiculous," he said on Fox Business. "That's not acceptable to us."

Trump's doctors and White House staff have repeatedly evaded or provided contradictory information on how sick the president has been, when he last tested negative and what treatment he is receiving, making it difficult to determine how safe an in-person debate would be.

Later on Thursday, the Biden and Trump campaigns proposed pushing back the debate, which was supposed to be the second of three, by a week. Trump's campaign also proposed holding an additional one October 29, which the Biden campaign rejected.

In the elbowing over debates, Biden's campaign then quickly arranged a town hall-style event in Philadelphia on October 15.

Chinese academics, meanwhile, have suggested an asymmetrical approach to the administration's aggressive policies that would avoid a tit-for-tat retaliation.

While Trump repeated his hawkish comments on China on Wednesday and Thursday, analysts said the chance of extreme action such as a limited military operation was low.

"It's hard to tell in what way China could be held responsible," said Pang Zhongying, an international affairs analyst at the Ocean University of China. "China-US relations can hardly get any worse now, but I think war is still not likely."

Pang added that a number of people in Trump's administration and his campaign had caught the virus, limiting his capacity to take extreme action.

But he acknowledged that Trump could see his infection as a serious issue, affecting the way he viewed China.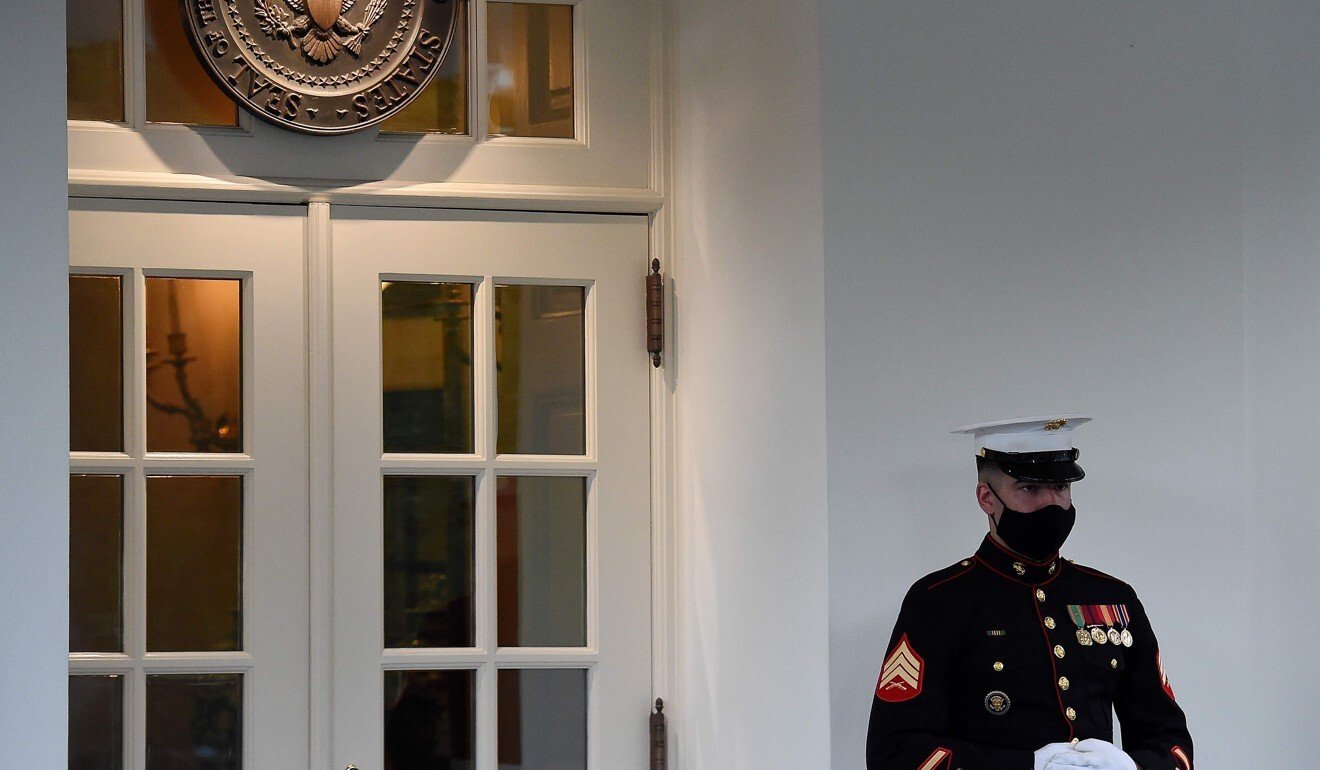 The Democratic vice-presidential nominee, US Senator Kamala Harris, and Vice-President Mike Pence during their debate in Salt Lake City, Utah, on Wednesday.A masked US Marine stands guard outside the West Wing of the White House on Wednesday, indicating that US President Donald Trump was back in the Oval Office.

China analyst Michael Hirson of the Eurasia Group said Trump's having fallen victim to what he has called the "China virus" could deepen animosity toward Beijing, particularly if Biden wins and the president blames China, pushing through tough measures in the final two months of his presidency.

"And of course, should the president face severe health consequences from the virus, the hostility toward China among his base would almost surely be more intense and more durable," Hirson, formerly the US Treasury's chief representative in Beijing, said in a report.

Trump tested positive for the coronavirus last week and was briefly hospitalised. Since then, more than 30 top aides and White House staff have also reportedly tested positive.

Until late February, before the pandemic swept across the United States, Trump repeatedly complimented China and Chinese President Xi Jinping on efforts to control the outbreak.

But in May, he toughened his rhetoric and began referring to the pathogen as the "Chinese virus".

Since the summer, when infections grew dramatically in the US, Trump has pulled no punches with Beijing. In his first debate with Biden in late September, Trump referred to the pandemic as "the China plague".

Shi Yinhong, a specialist on China-US relations at Renmin University in Beijing, said ties might not worsen quickly.

"I don't see any significant escalation from [Wednesday's] remarks alone, though [Trump] might introduce more sanctions on [issues such as] the South China Sea, Hong Kong and Xinjiang," Shi said. "He could also scale up diplomatic support for Taiwan or send other senior officials there."

Other possible options included stepping up law enforcement against China's "infiltration activities" and imposing more market restrictions on Chinese companies doing business in the US. Such measures could continue until January even if Trump lost the election, Shi added.

But Washington might need more time to realise action – such as compensation demands – that were tied directly to China's response to the pandemic, he said.