Strategic cooperation between the United States, Japan, Australia and India in the form of the Quadrilateral Security Dialogue is part of Washington's effort to build an "Indo-Pacific Nato", China's Foreign Minister Wang Yi said on Tuesday, warning that the initiative would severely undermine regional security.

The senior Chinese diplomat's withering assessment of the so-called Quad grouping came as he spoke to the media after meeting with his Malaysian counterpart Hishammuddin Hussein in Kuala Lumpur – the second pit stop in his five-nation Southeast Asian tour this week.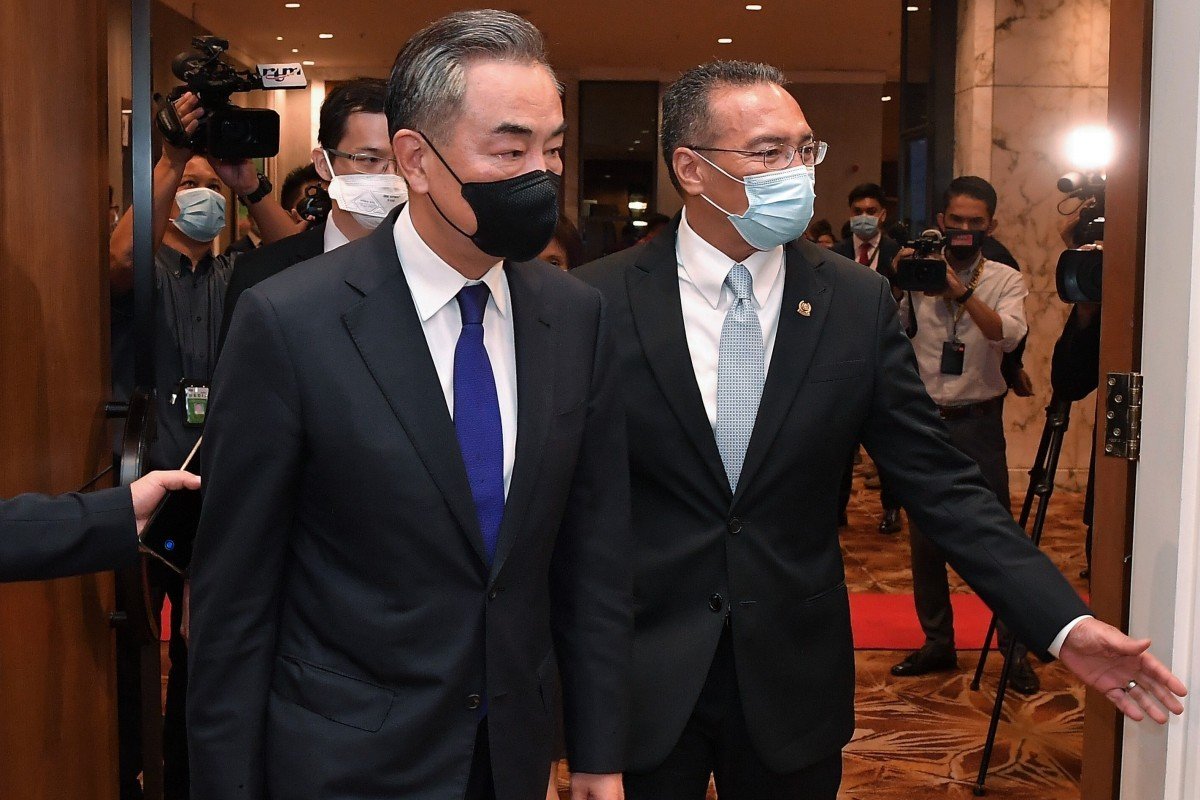 Malaysian Foreign Minister Hishammuddin Hussein, right, receives Chinese Foreign Minister Wang Yi ahead of their meeting.

Both foreign ministers offered glowing reviews of bilateral ties in the press conference, and outlined plans for a new high-level committee to steer cooperation on dealing with the Covid-19 pandemic.

Malaysia has been listed by Beijing as a "priority recipient" of the four Chinese vaccines for the coronavirus currently in late-stage trials.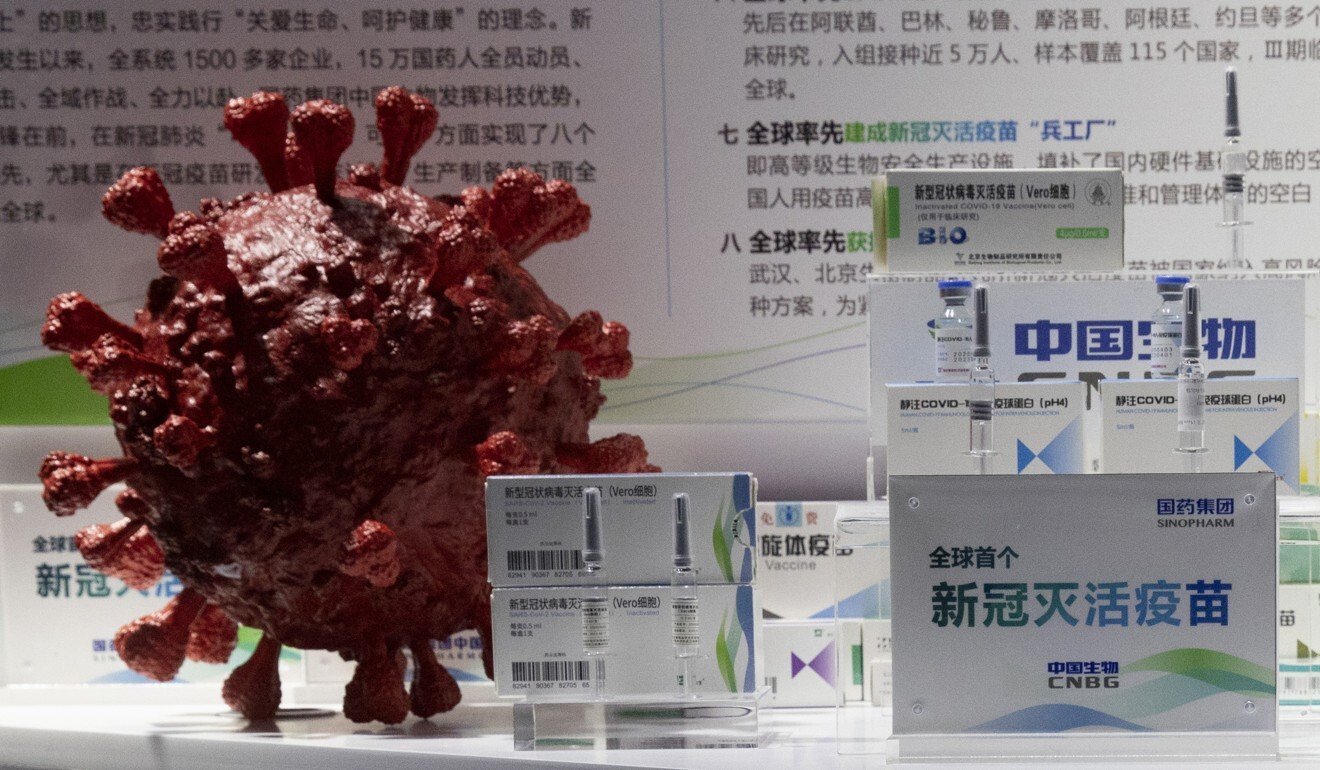 Samples of a Covid-19 vaccine are displayed near a 3D model of a coronavirus during a trade fair in Beijing last month.

Hishammuddin said the government was closely monitoring developments as Beijing begins making its vaccines available to the general public from November. Wang said as "Malaysia was a good friend of China", the Chinese government was standing ready to "pursue detailed consultations and to carry out collaboration on vaccines".

On the South China Sea dispute, one of the sore points in bilateral ties between Beijing and Kuala Lumpur, the ministers sought to present a united front, saying peace and stability was a priority in the resource rich waters, which are claimed almost in their entirety by China.

In a veiled reference to the waterway's increasing status as a proxy arena for US-China rivalry, Wang said the area "should not be a ground for major power wrestling, teeming with warships."

He said China and the 10-nation Association of Southeast Asian Nationsneeded to work together to remove "external disruptions" in the sea and move forward with talks to enact a code of conduct governing the waters.

Both foreign ministers also highlighted China's commitment to purchase 1.7 million tonnes of Malaysian palm oil over the next three years. The Southeast Asian country, the world's second largest palm oil producer and exporter, has been battling anti-palm oil lobbyists in the West in recent years.

A five-page joint statement listed various other issues discussed during Wang's visit, including the possibility of a travel bubble between the two countries and plans for Hishammuddin to visit Beijing at a "mutually convenient time".

While the US was not mentioned in his prepared remarks, Wang was later asked by a Xinhua reporter for his views about US President Donald Trump
's Indo-Pacific strategy– widely seen as an effort to contain Beijing's influence in the Asia-Pacific.

"In essence, [the Indo-Pacific strategy] aims to build a so-called Indo-Pacific Nato underpinned by the quadrilateral mechanism involving the United States, Japan, India and Australia," Wang said.

"What it pursues is to trumpet the Cold War mentality and to stir up confrontation among different groups and blocs and to stoke geopolitical competition. What it maintains is the dominance and hegemonic system of the United States."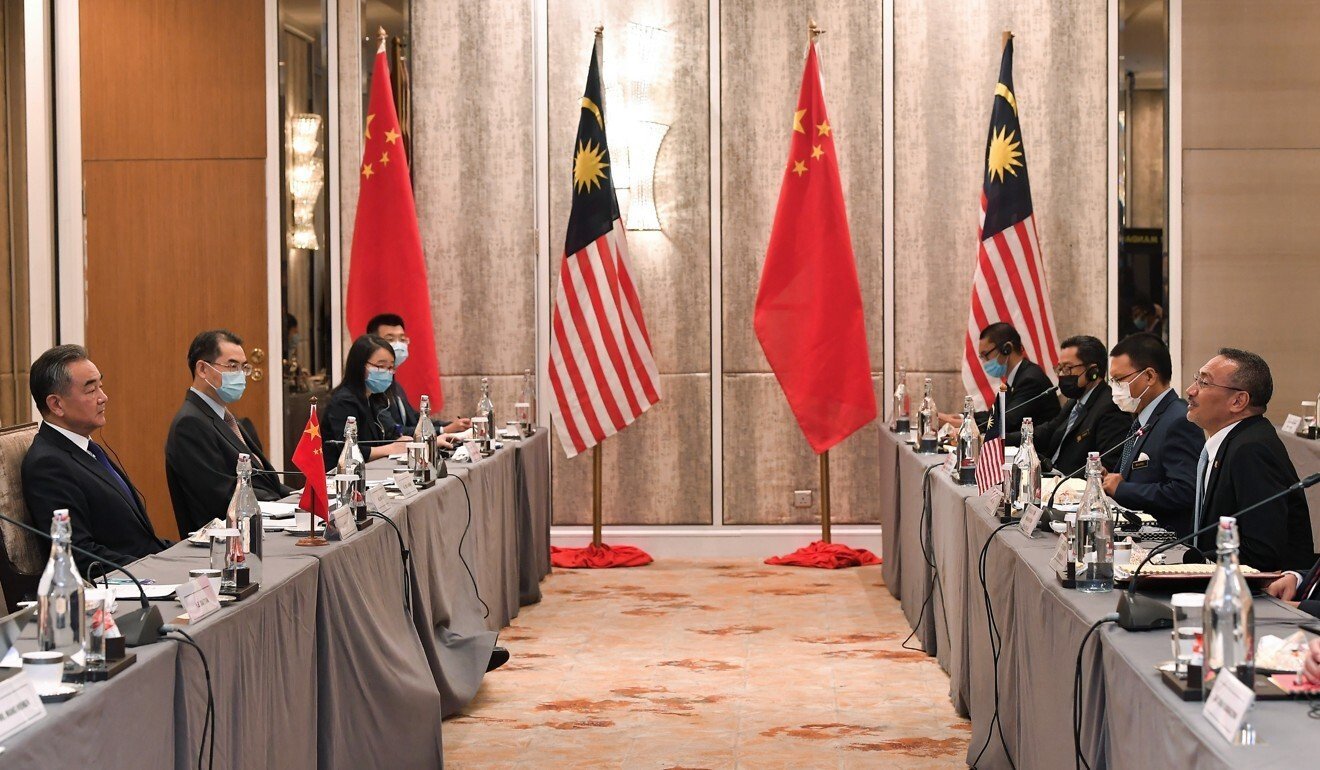 Malaysian Foreign Minister Hishammuddin Hussein, right, meets with Chinese Foreign Minister Wang Yi, left, on Tuesday.

"In this sense, this strategy is itself a big underlying security risk. If it is forced forward, it will wind back the clock of history," he added.

Wang's hard-hitting comments follow last week's meeting in Tokyo of the Quad's foreign ministers – only the second such gathering they have had, after one on the sidelines of the UN General Assembly in New York in September last year.

In an interview with Nikkei Asia, US Secretary of State Michael Pompeo said he hoped that the grouping would be institutionalised to "build out a true security framework".

He described the Quad as the "fabric" that could "counter the challenge that the Chinese Communist Party presents to all of us", adding that other nations could join the grouping at "an appropriate time".

In August, Pompeo's number two, Deputy Secretary of State Stephen Biegun, had cautioned against "loose talk about an Indo-Pacific Nato and so on" in describing the Quad. "I'd just be very careful to not define it solely as an initiative to contain or to defend against China. I don't think that's enough," Biegun said in an interview.

Malaysia's Prime Minister Muhyiddin Yassin, who is self-isolating at home after coming into contact with a minister who tested positive for Covid-19, said in a press conference late on Tuesday that he held talks with Wang via videoconferencing. He said the government was glad that Malaysia was earmarked as a priority recipient of China's Covid-19 vaccines.

Kuala Lumpur is also part of the World Health Organisation's Covax Vaccination Plan, but Muhyiddin said a downside of the multilateral initiative was its requirement for countries "to fork out a large amount of money before we can get a vaccine for our use".

Ngeow Chow Bing, the director of the Institute of China Studies at the University of Malaya, said that based on the foreign ministers' statements, their commitment to bilateral cooperation over Covid-19 vaccines was the highlight of Wang's trip.

"Wang of course feels that the Quad is becoming a security threat to China and has to respond strongly when he is asked about it, but I do not think [the purpose of his visit] was to dissuade Malaysia from joining the Quad," Ngeow said.

"There has never been any indication Malaysia is interested in the Quad, and Malaysia will not be interested."