Hong Kong aims to use technology to enhance its Covid-19 contact tracing ability by the end of the year in order to speed up the full reopening of the border with mainland China, but the city's leader did not say when that might happen in her policy address on Wednesday.

Chief Executive Carrie Lam Cheng Yuet-ngor reiterated in her speech that keeping the virus under control was the top priority.

"We have to do our best to control the epidemic for the community, so that normal cross-boundary flow of people can be resumed as early as possible," she said.

While Lam did not give a clear indication when that would be, a government source said raising the city's contact tracing ability would be one of the factors taken into account.

"The border can only be fully reopened when our epidemic risks are in line with the mainland's," the source said.

A man scans the QR code for the Leave Home Safe app before entering a restaurant in Wan Chai.

Officials have yet to confirm whether they are considering an enhanced version of the government's "Leave Home Safe" risk exposure notification app, or a separate app.

And the source admitted that there were challenges in raising the contact tracing ability.

"The social systems in Hong Kong and the mainland are different," the source said. "People do not have organised records of their travel information."

Other factors to be taken into account by the mainland included testing among high-risk groups, quarantine arrangements, hospital discharge criteria for Covid-19 patients and measures to prevent the spread of the virus from imported cases to the community.

The source said more frequent testing could be required for those considered high risk, such as health care workers who might come into contact with Covid-19 patients, or staff at care homes.

Lam also mentioned in her policy address that the core functions of the Department of Health could be strengthened in the future in formulating public health strategies, following experiences during the pandemic. Details being considered included introducing a long-term defence mechanism against different types of infectious diseases post-Covid, the source said.

IT and health experts, however, have expressed doubts over how far the government can go in making Hongkongers use a strengthened tracing app.

Francis Fong Po-kiu, honorary president of the Hong Kong Information Technology Federation, said a new app might include a round-the-clock GPS system that tracked a user's movements, adding residents might not accept such an intrusion into their privacy.

"It may not provide an 'allow while using the app' option for the tracking, as it would defeat the purpose and be just like the existing Leave Home Safe app, where you only register your whereabouts when entering premises," he said.

"You may also share your 24-hour movements currently with Google Maps. But how many people are willing to do that with the Hong Kong government? That I very much doubt."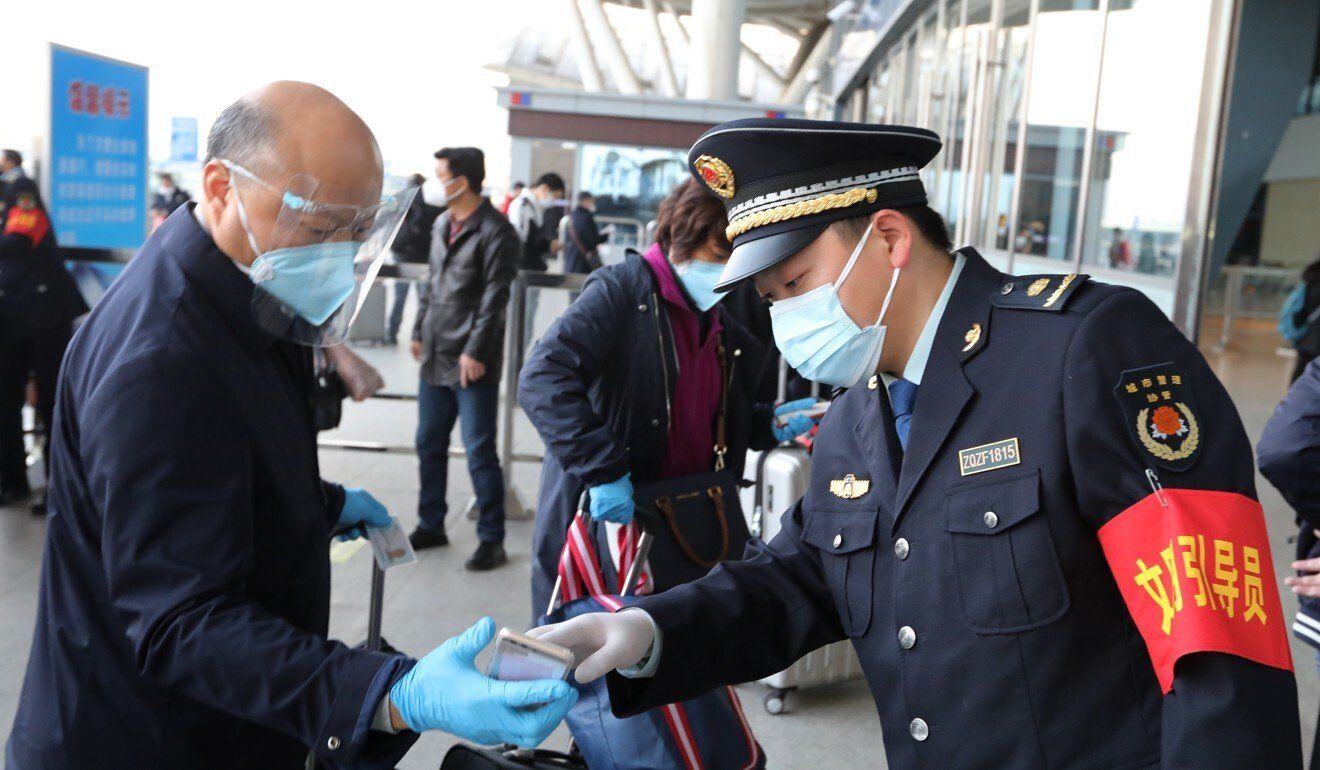 An urban management officer checks a passenger's green code, showing if he is healthy or not, at the railway station in Wuhan.

Dr Leung Chi-chiu, a respiratory medicine expert, said the government should not mix up the means with the end – in this case, eradicating the coronavirus in the city.

"Hong Kong has achieved zero Covid-19 for a long time … and it is worth noting that even though Macau has aligned itself with the mainland's health code, its quarantine-free travel still got suspended by Zhuhai when infections were once again detected there in recent days," he said, questioning the need for stepped-up contact tracing.

Leung suggested any additional tracking requirements should be rolled out in phases, starting with high-risk groups. They should also only be applied to those with the need to cross the border.

On Wednesday, Hong Kong's confirmed six new cases, all imported. They included a domestic helper from Indonesia, who tested positive after her 21-day quarantine. The Centre for Health Protection believed the woman, who was also tested positive for antibodies, was likely a re-positive case from a past infection.

The other cases included two sea crew members from Ukraine, an airline employee from Russia, and two travellers from Pakistan, taking the city's total number of confirmed cases to 12,243, with 213 related deaths.