India's hospitals are running out of oxygen and patients are being left untreated for hours as the country's health systems buckles.

Last night, Mr Johnson said: "We're looking at what we can do to help and support the people of India, possibly with ventilators.

"Thanks to the ventilator challenge, the huge efforts of British manufacturers, we're better able now to deliver ventilators to other countries. But also possibly with therapeutics, dexamethasone, other things, we'll look at what we can do to help."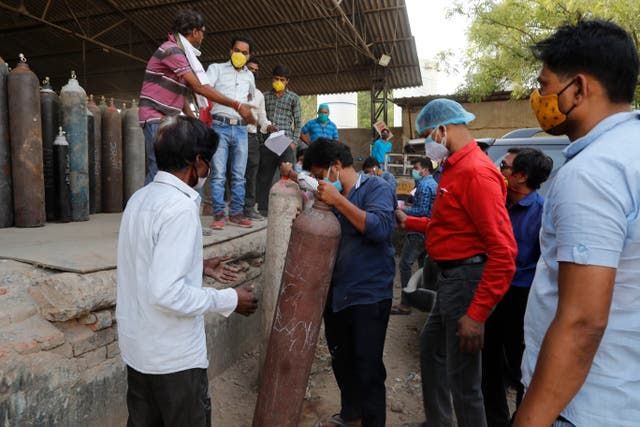 People wait to refill medical oxygen cylinders at a charging station on the outskirts of Prayagraj, India
India's coronavirus infections rose by 346,786 overnight, the health ministry said on Saturday, setting a new world record for the third consecutive day.

The crisis is being felt across the country as several hospitals issued public notices that they don't have medical oxygen.

At the Jaipur Golden Hospital in Delhi, 20 people died overnight because of a lack of oxygen, an official said.

The government says it is deploying trains and the air force to transport supplies to hard-hit areas.

India has now surpassed the US record of 297,430 single-day infections anywhere in the world on Thursday, making it the global epicentre of a pandemic.

The surge has been fuelled by a "double mutant" variant, thought to be more infectious.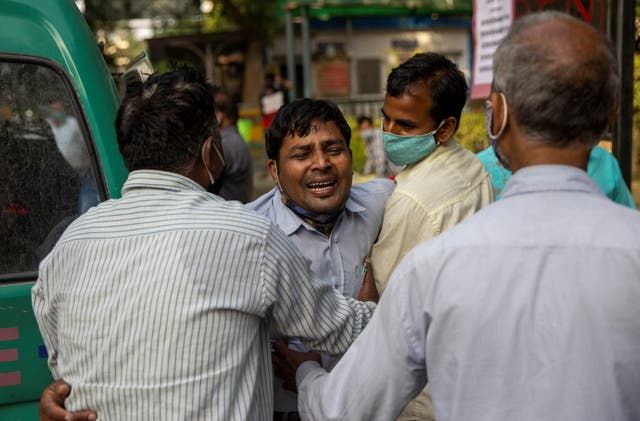 Family members mourn after a man is declared dead outside the coronavirus disease (COVID-19) casualty ward, at Guru Teg Bahadur hospital
So far 132 cases of the Indian variant have been detected in Britain, around half of which are in London.

The variant – also known as B.1.617 – was first noted internationally in October and first identified in the UK on February 22.

It has 13 mutations including two in the virus' spike protein known as E494Q and L452R.

India was added to the UK's travel 'red list' this week following concerns about the number of coronavirus cases in India and the emergence of a new variant.

The Prime Minister also cancelled a trip to New Delhi this weekend where he had hoped to secure millions of vaccine doses.