Beijing's top official in Hong Kong says he is becoming more confident in the city amid sweeping changes following the political turmoil of 2019, and has given a public assurance that it will continue to be governed under the "one country, two systems" policy and remain a free market.

Hosting the liaison office's annual spring reception online for the first time because of the Covid-19 pandemic, director Luo Huining on Friday highlighted the unchanging nature of the city's constitutional order, civil liberties and way of life among his list of expectations for Hong Kong's future.

He cautioned that Hong Kong was still facing major challenges in containing the pandemic, setting the economy back on track and relieving people's hardships, but expressed confidence that the city would overcome them with Beijing's full backing.

"When my relatives and friends ask for my impression of Hong Kong, I can summarise it in one sentence, 'I am becoming more confident in our home Hong Kong'," he said in a pre-recorded video message, looking back at more than a year since he took up the job after the anti-government protests and political turmoil of 2019.

"The central authorities made a series of important decisions on national security legislation in [Hong Kong]. Thenceforth, the once-rampant street violence has ceased, Hong Kong residents have regained their safety and freedom, and Hong Kong has marked a turnaround from chaos to law and order," he said.

"I know many people may wonder: what is next for Hong Kong? What other changes will there be for Hong Kong?

"I would say that 'changes' should be viewed from an objective, dialectical and developmental perspective. Hong Kong's 'changes' over the past year were to set things right. As long as we bring the twisted and distorted back in form, 'one country, two systems' will definitely progress steadily down the right path."

Luo spelled out his four expectations, or assessments, for the future of Hong Kong.

"First, the principle of 'one country, two systems' will not change. The bottom line of 'one country' will be further consolidated and 'two systems' will show more vitality," he said.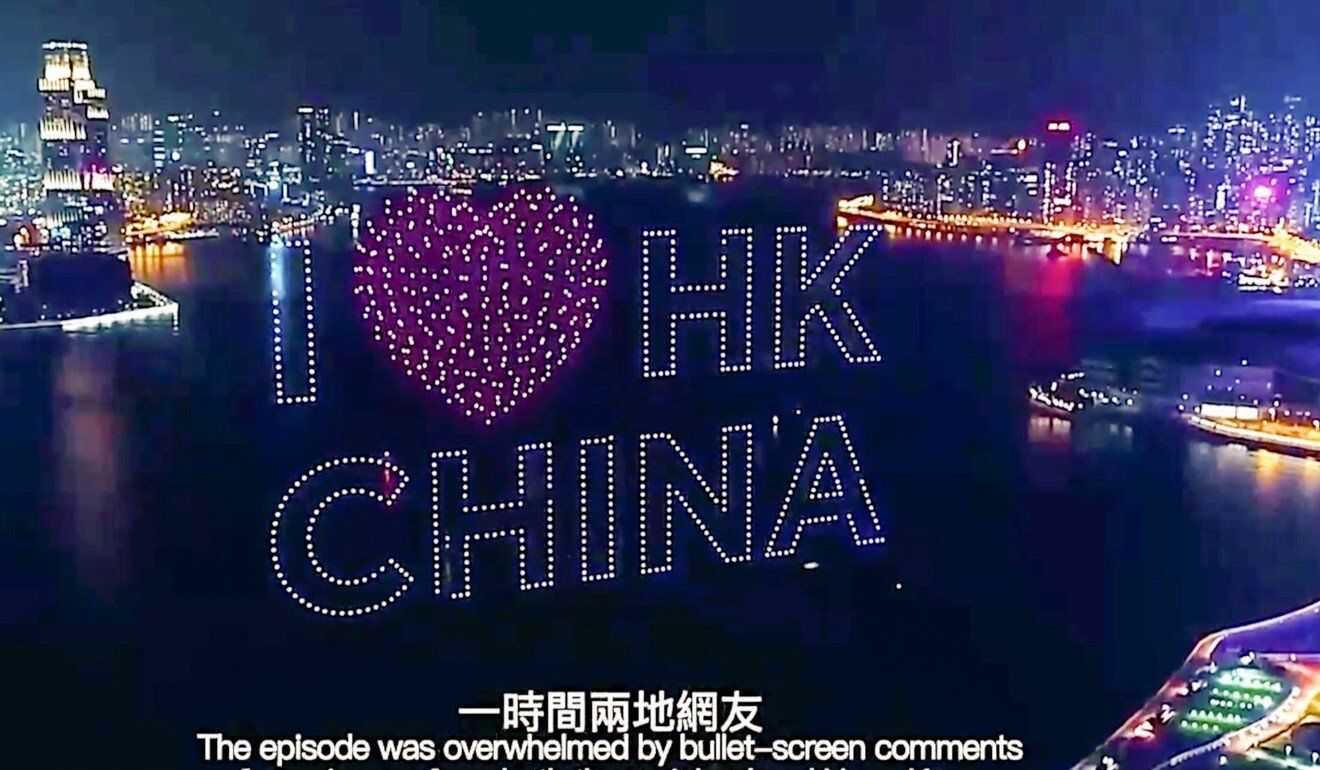 A screengrab of the reception video.

But Luo also reminded everyone that the city would have to uphold the principle of "patriots governing Hong Kong" and stressed the central government's "overall jurisdiction".

"Second, people's rights and interests guaranteed by [China's] constitution and the Basic Law of [Hong Kong] will not change. Hong Kong will have stronger capability to ensure social stability and safeguard national security more effectively," he said.

"Third, Hong Kong residents' way of life will not change. Bigger steps will be taken to develop Hong Kong's economy and improve the livelihood of Hong Kong residents."

Luo promised "more precise and effective measures" would be rolled out to address crucial livelihood problems in areas such as employment, income, land, housing and health care.

His fourth expectation was that Hong Kong's advantages as a free market and its openness to the world would remain unchanged, and it should make the most of enhanced prospects to join in the nation's ambitious development programmes such as the Belt and Road Initiative.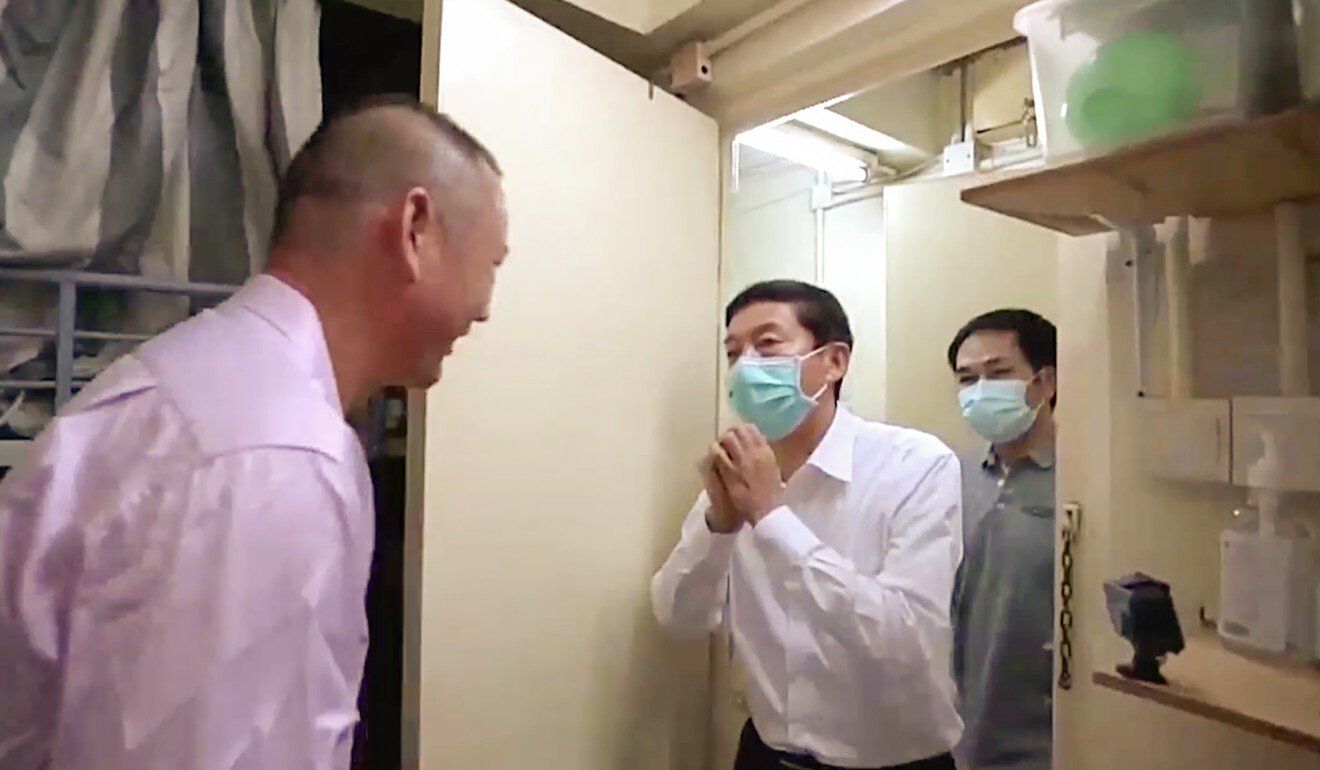 Luo visiting an unemployed man in a subdivided flat last October.

Along with speeches by Luo, several mainland officials in Hong Kong, and the city's current and former leaders, the pre-recorded video message featured scenes of Victoria Harbour, the Kwai Chung container terminal and the government's headquarters.

The mainland figures featured included Zheng Yanxiong, director of Beijing's national security office in Hong Kong; Chen Daoxiang, commander of the People's Liberation Army Hong Kong garrison; and Cai Yongzhong, the garrison's political commissar.

Luo also shared his "four unforgettable moments" since taking office in Hong Kong.

One was on October 1, when he visited an unemployed man in a subdivided flat, and an elderly resident in a Mid-Autumn Festival charm offensive
which marked the first time in three years that the liaison office had publicised such a community outreach effort.

"I felt acutely aware that we should waste no time reviving the economy and relieving people's hardships," he recalled.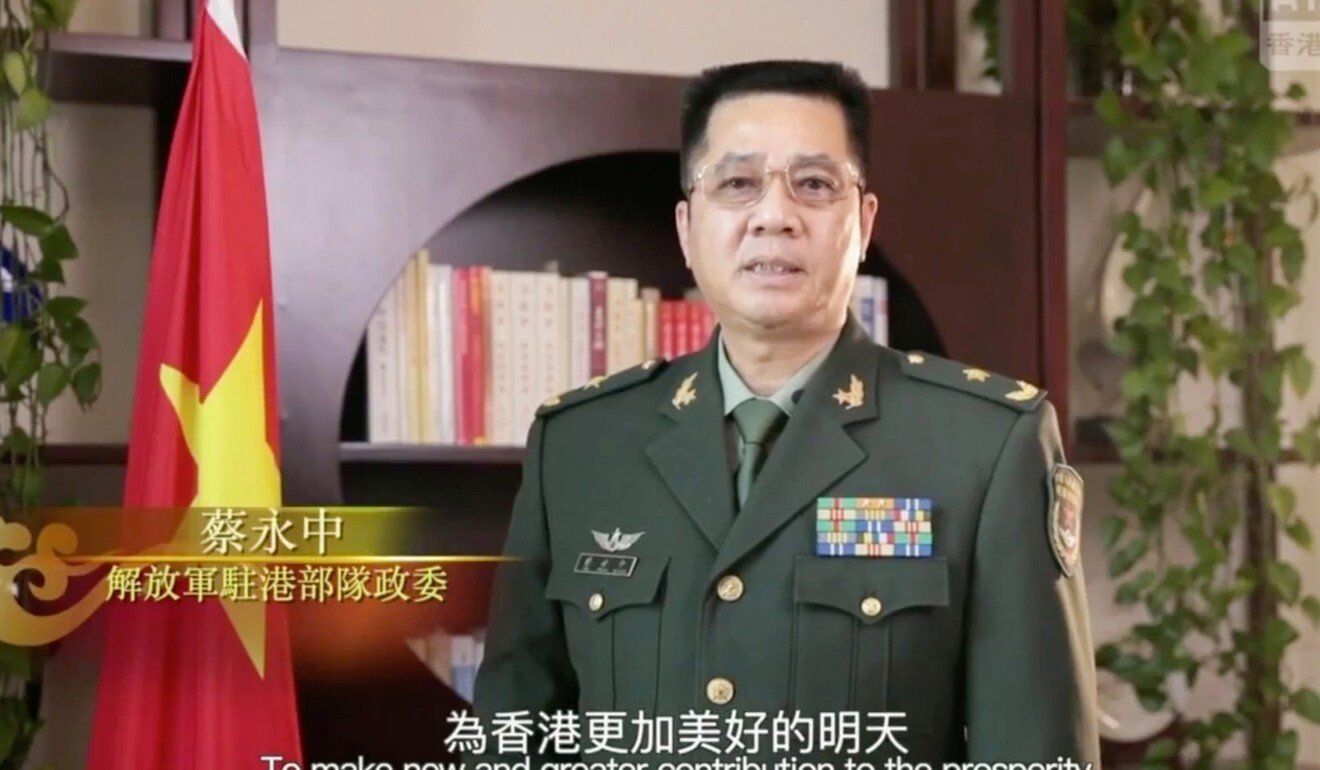 Cai Yongzhong, the PLA Hong Kong garrison's political commissar.

Other memorable moments for Luo were a fishing boat parade in support of the national security law after its implementation in Hong Kong, local residents welcoming specialists from the mainland when they arrived to help with Covid-19 testing, and drones forming the words "I love Hong Kong, I love China" during a local television broadcast of China's New Year's Eve gala last year.

"To me, these four moments epitomise the spiritual and material pursuit of Hong Kong residents," he said.

Luo recalled how President Xi Jinping was especially concerned about the Covid-19 crisis, as well as the well-being of Hongkongers, when he heard Chief Executive Carrie Lam Cheng Yuet-ngor's work report last month.

"Although uncertainties remain in the world, storms loom along the way, and Hong Kong still faces major challenges in epidemic prevention and control, economic recovery and relieving people's hardships, I fully believe that with the care and support of President Xi and the central authorities, the strong backing of the motherland, and the joint efforts of the [local] government and various sectors of society, the dark clouds can be dispelled eventually and our home Hong Kong will become better," he said.

Pro-business lawmaker Felix Chung Kwok-pan, leader of the Liberal Party, said Luo's emphasis on Hong Kong's advantages as a free market was aimed at countering international criticism of the national security law and its implications.

"Washington has frequently criticised Hong Kong as turning into just another mainland city under the new law," he said. "Hong Kong has changed but still has significant differences with the mainland, especially in terms of openness in its financial market. Beijing highlighted this to offer assurances to investors around the world."

Former opposition lawmaker and Democratic Party vice-chairman Lam Cheuk-ting, who was arrested under the national security law, said Beijing's imposition of the sweeping legislation had stopped street violence but aggravated citizens' resentment.

"The city's own deep-rooted conflicts cannot be resolved by a draconian law," he said. "Beijing can only improve Hong Kong's governance and restore its international reputation by loosening its grip on us."