Beijing will stop recognising British National (Overseas) passports as travel and identification documents from Sunday, and may retaliate further against Britain's offer of a pathway to citizenship for 5.4 million eligible Hongkongers.

China's first official move against Britain over the issue is widely seen as more symbolic than immediately impactful, as Hongkongers do not need BN(O) passports to travel in and out of the city or the country, but it could signal tougher action to come.

The Chinese foreign ministry announced Beijing's decision on Friday afternoon, hours after London released details of the application process for the new BN(O) visa scheme that will be officially launched at 5pm on Sunday.

"China will no longer recognise the BN(O) passport as a valid travel document or for identification, and we reserve the right to take further actions," foreign ministry spokesman Zhao Lijian said at a regular briefing in the capital.

"In disregard of China's solemn position and the fact that it has been 24 years since Hong Kong returned to the motherland, the British side blatantly violated its commitment, formulated the so-called 'bespoke' policy of abode and citizenship in the UK for BN(O)s, and continued to expand its scope of application.

"The UK's move grossly violates China's sovereignty, interferes in Hong Kong affairs and China's internal affairs, and runs counter to international law and basic norms governing international relations."

Zhao warned that Hongkongers would become "second-class citizens" in Britain, and noted that the BN(O) scheme was no longer the one that had been agreed upon by both sides.

According to the Sino-British Joint Declaration, signed before the 1997 handover, the BN(O) passport was to be a travel document only, and did not entail citizenship.

The Hong Kong government followed up with a statement on Friday night echoing Beijing's position and declaring that with effect from January 31, BN(O) passports could no longer be used for immigration clearance and would not be recognised as proof of identity.

"When passengers board flights for Hong Kong, airlines must require Hong Kong residents concerned to present their HKSAR passports or Hong Kong permanent identity cards as proof," the statement said.

It accused Britain of playing politics in the name of concern for Hongkongers.

The statement added that the "possibly very few" permanent Hong Kong residents who were not Chinese nationals and only held BN(O) passports could apply to the Immigration Department for identity documents to travel overseas.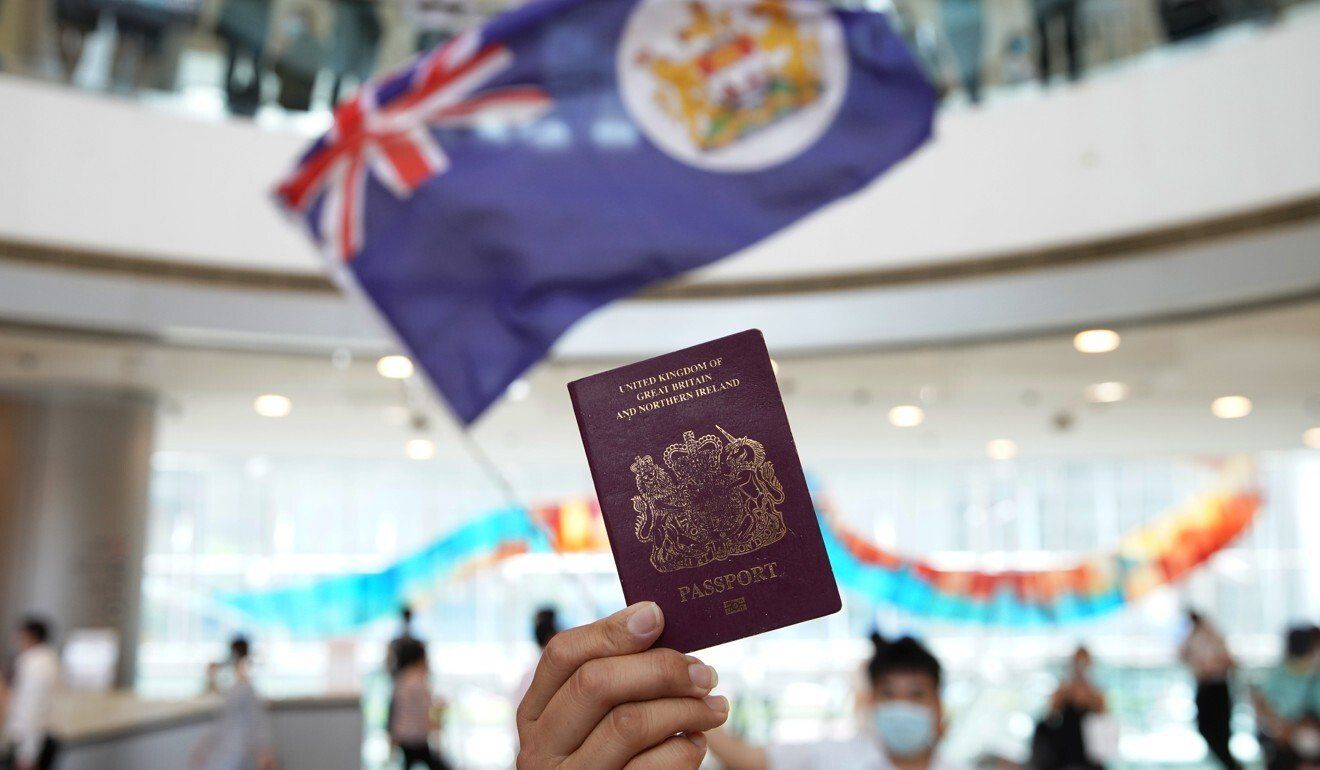 A protester holds a BN(O) passport in a mall rally last year in Hong Kong.

The immediate impact on BN(O) passport holders could be negligible at this stage, observers said, given that most eligible Hongkongers were known to use their Hong Kong passports, or other travel documents if they held dual citizenship. Residents travelling in and out of the mainland would only have to use their home-return permits.

However, some also raised the possibility that Hongkongers could be banned from using their BN(O) passports to enter countries allied with China.

The immediate reaction from local residents planning to move to Britain under the new BN(O) visa policy was dismissive. They said they would not be threatened into abandoning their emigration plans, and pointed out that the visas would be issued digitally by Britain – they could simply use their Hong Kong identity cards or Special Administrative Region passports to fly out of the city.

"It's just a threat against people who are planning to leave. I have both the BN(O) and the HKSAR passports and I can still use my HKSAR passport," said a 36-year-old father of two planning to move to Britain once the Covid-19 pandemic was brought under control.

The new visa will allow everyone with BN(O) status and their dependents to stay in the country for up to five years, with the right to work and study, and to apply for citizenship after six years.

The British government last October estimated that more than 1 million Hongkongers might emigrate over the next five years, although that was an extreme forecast and a more likely number was around 320,000.

Tian Feilong, a Hong Kong affairs expert at Beihang University in Beijing, said the impact of China's rejection of the BN(O) passport could be broader than immediately evident.

"Countries along the Belt and Road Initiative might follow Beijing's move and no longer recognise BN(O) passports in the near future," he said, referring to Beijing's ambitious plan to connect more than 70 countries across Asia, Europe and Africa.

On whether Beijing would take further retaliatory action, Tian said it would depend on the number of Hongkongers applying for the visas.

"If there's just a small group of people applying, then probably Beijing would not see that as a threat. Otherwise, the central government could further consider demanding those who immigrate to Britain give up their permanent residency and voting rights in Hong Kong," he said.

Such drastic action, Tian said, could be taken by reinterpreting China's nationality law on how it might apply to Hong Kong.

Former Democratic Party chairwoman Emily Lau Wai-hing, an advocate of BN(O) holders' rights, pointed out that people could still travel with their Hong Kong passports, and she had never known Beijing to recognise the British document.

"How would Beijing know who are BN(O) passport holders unless they are asked to make a declaration? But what could happen even if Beijing really asked them to declare so?" Lau said.

Pro-Beijing lawmaker Priscilla Leung Mei-fun, a member of the Basic Law Committee which advises China's national legislature on Hong Kong's mini-constitution, described Beijing's move as relatively mild and restrained.

"Most Hongkongers do not rely on BN(O) passports to travel. Thus, the consequences would be limited. I guess the central government still cares about Hongkongers, and so is taking a wait-and-see attitude before considering any further actions," she said.