Insurers and property agents in Hong Kong are snapping up flight attendants and ground crew made redundant by Cathay Pacific Airways, absorbing some of the shock from the city's biggest corporate lay-off in decades.

Flight attendants are particularly sought after by property agents and firms looking to fill customer service positions, owing to their training in hospitality and their experience in dealing with passengers, said company executives. Insurers are also seeking them for their communication skills, especially those who are bilingual or multilingual.

Hong Kong's flagship carrier axed 5,300 jobs in the city last week and completely shut down Cathay Dragon, its regional airline.

The record cull came after Hong Kong's unemployment rate had already climbed to 6.4 per cent for the three months to September, an almost 16-year high brought on by the Covid-19 pandemic. The hiring spree may soften the blow to the city's job market, though the former airline staff may well face lower salaries.

AIA, Prudential and Manulife, the city's three biggest insurers, said they are busy recruiting the laid-off flight attendants.

The AIA group has made a promotional poster specifically to target them. Chief executive Peter Crewe called on people laid off from the tourism, hospitality and airline industry "to engage directly … to discuss a career change to become a financial planner at AIA."

In an earlier interview with the Post, Crewe said the company aims to recruit 6,000 people this year.

Canadian insurer Manulife also has its eyes on the recruitment opportunity. "Our team has already taken steps to connect with former Cathay Pacific employees about the opportunities we can bring. We provide highly competitive packages and a full suite of training support to get new agents on board," said Damien Green, chief executive of Manulife Hong Kong and Macau.

Manulife has at least 10,000 agents working for its major sales channel, which represents about 70 per cent of its annual sales of policies.

"We have been actively recruiting for our agency force despite the pandemic, and we are still looking at double-digit growth of our agency headcount by end of this year," Green said.
Hong Kong third wave
Tracking the spread of local Covid-19 cases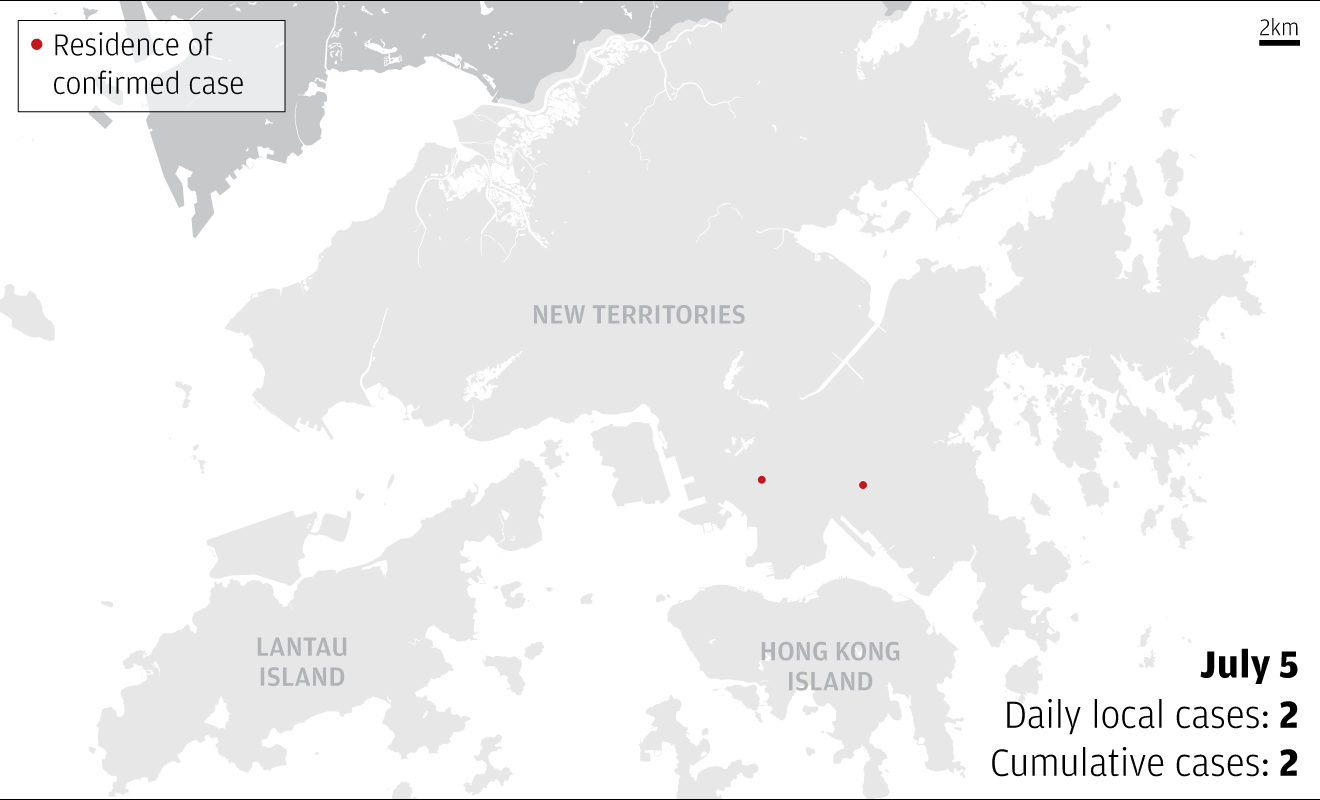 Prudential is also absorbing flight attendants and other workers from the tourism and hotel sectors that have been devastated by the coronavirus, according to Derek Yung, chief executive of Prudential Hong Kong.

"[We] will take this as a golden opportunity to capture talent to develop a career in the insurance industry," said Yung, who noted their experience in providing services to customers. "This is a good skill set for them to become successful insurance professionals as we are running a business to provide protection to people."

Yung said he has hired a number of flight attendants and people from the tourism industry in the past few months. He said: "Covid-19 has alerted people about the importance of insurance protection and we need to hire more to serve our customers."

Two of Hong Kong's biggest estate agents, Centaline Property Agency and Ricacorp Properties, told the Post they will offer free training to prospective employees from the aviation industry even before they are formally hired so they have more time to make their career decisions.

Centaline, with a staff of 5,000, will hire a total of 200 new employees in the rest of this year, Ricacorp will take on 300, while Midland Realty and Hong Kong Property Services (Agency) have set no exact targets.

Sun Hung Kai Properties' subsidiary Kai Shing Management Services is aiming to hire 200 people at a recruitment day next month, having already taken on more than 100 this year, while another subsidiary, the Hong Yip Service Company, is also hiring. Both said they would welcome people from the aviation industry.

Cheung Kong Center Property Management, CK Hutchison's flagship supermarket, ParknShop, and online shopping platform HKTVmall are also likely to attract former Cathay staff in their recruitment drives.

Perfect Shape, which provides beauty treatment services, said it has 1,000 openings and is specifically trying to attract former cabin crew. Great Eagle Holdings' Eton Hotel in Yau Ma Tei said it will hire former Cathay Pacific and Cathay Dragon employees for several positions in sales and marketing, front office and at its restaurants and bars.

Retrenched pilots may find it hard to be rehired, amid a global travel slump that has grounded all but a few Chinese carriers. The Hong Kong Aircrew Officers Association, representing 2,200 Hong Kong-based pilots of Cathay Pacific, has asked the city's Labour Department to intercede on their behalf over the airline's restructuring plan.