Asean has no reason to stand in the way of Hong Kong joining the world's biggest free-trade deal, according to a director of the bloc's secretariat who says accession will improve the flow of goods and services in the region.

Hong Kong officials have expressed strong interest in signing up to the Regional Comprehensive Economic Partnership (RCEP), an agreement removing trade barriers among 15 countries including China and the 10 members of the Association of Southeast Asian Nations.

Speaking in a personal capacity, Anna Robeniol, director of the market integration directorate at the Asean Secretariat, exclusively told the Post: "In my opinion, there is no reason why Asean will not support Hong Kong should it apply for membership in RCEP."

On how quickly Hong Kong could become a member, Robeniol said: "As provided for in the RCEP agreement, any state or separate customs territory can accede to the agreement 18 months [after it comes into force]. This would apply to Hong Kong."

The application is also subject to members' approval and the RCEP joint committee will finalise details of accession procedures once it has formed. The deal still needs to be ratified by a number of member nations before it takes effect.

Hong Kong already has free-trade agreements in place with the Asean bloc, and Robeniol said having the city sign up to RCEP would consolidate those existing deals to allow a "smoother flow of goods and services within the region".

The world's biggest free-trade pact was signed on November 15 by China and 14 other Asia-Pacific nations but excluded the United States, thereby extending Beijing's economic sway in the region.

The founding nations include Japan, South Korea, Australia, New Zealand and the 10 members of Asean.

Hong Kong was not among the signatories, but business leaders and economists have lent their backing for the financial hub to become a member and fully reap the deal's benefits, which include boosting trade with the likes of Japan and South Korea.

Secretary for Commerce and Economic Development Edward Yau Tang-wah last week registered Hong Kong's strong interest in joining the partnership.

Days later, Chinese Ministry of Commerce's spokesman Gao Feng stated that Beijing supported Hong Kong to engage in international and regional economic cooperation and join RCEP as soon as possible.

In a statement to the Post, a spokesman for the Commerce and Economic Development Bureau said Hong Kong would continue to "engage [with] the RCEP member states and work towards seeking early accession to [the bloc]".

"Against the unprecedented challenges brought by the Covid-19 pandemic and the headwind of protectionism, RCEP will be an important agreement for promoting inclusive development and strengthening regional supply chains, contributing to the post-pandemic economic recovery," it said.

Writing on his official blog on Sunday, Financial Secretary Paul Chan Mo-po said Hong Kong was seeking to sign the deal to help the city's economy.

"Even though most imported goods can enter Hong Kong tariff-free … joining RCEP will benefit sectors such as services, trade and investment," he said.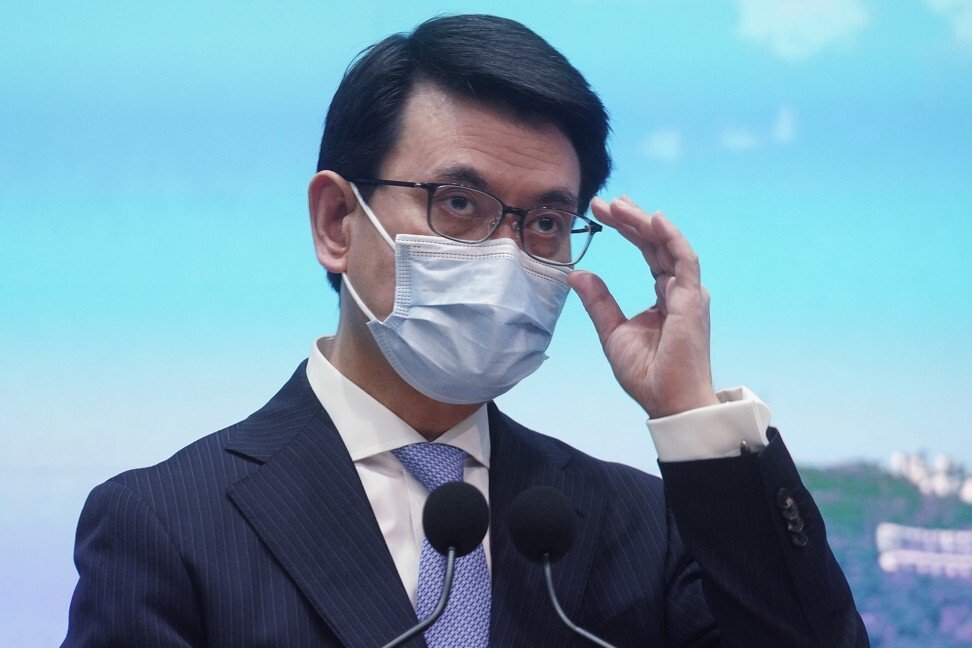 Secretary for Commerce and Economic Development Edward Yau.

Last year, Hong Kong's bilateral trade with the 15 RCEP members amounted to US$765.5 billion and accounted for 71 per cent of the city's total, Chan added.

He also said signing RCEP was especially meaningful after the emergence of criticism against globalisation and the World Trade Organization within the international community.

Chan said economies would benefit from the cost savings resulting from RCEP members agreeing to reduce tariffs, remove barriers, open their markets and simplify customs clearance procedures.

"This agreement will help countries to boost foreign investment and the import of technological appliances and parts," he said.

US President Donald Trump in July ended the city's preferential trade status by signing an executive order paving the way for sanctions against individuals and banks deemed to have helped erode the city's autonomy.

The move, which left financial institutions liable to penalties for dealing with targeted individuals, followed Beijing's imposition on June 30 of a sweeping national security law on Hong Kong.

The US has imposed economic sanctions on at least 14 current and former Hong Kong and mainland China officials, including city leader Carrie Lam Cheng Yuet-ngor.

The city was also forced to abide by Washington's new rules requiring its exports to be labelled as "Made in China", prompting the Hong Kong government to launch legal procedures under the WTO's dispute mechanism.

Louis Chan, assistant principal economist of the Hong Kong Trade Development Council, believes that it is only "a matter of time" before Hong Kong joins the trade partnership.

Hong Kong has signed similar deals with Australia, New Zealand and the mainland, but has yet to reach agreements with Japan and South Korea.

"We are recalibrating the global supply chain and not focusing only on mainland China as a manufacturing destination, but also the nearby Asean countries as manufacturing alternatives," Chan said.

Being a part of RCEP would allow for the free movement of goods among the signatories, he argued.

"A Hong Kong company with production operations in Malaysia can sell freely to Japan or to South Korea, as well as New Zealand or Australia for instance," Chan said. "This is something that would add value to the existing free trade network Hong Kong already has."