A children's clothing retail chain known for its anti-government stance has announced it will shut down its Hong Kong stores by the end of next year over what the owner called "harassment by the evil force".

Opposition-friendly businessman Herbert Chow Siu-lung, founder and CEO of Chickeeduck, said he and his shops had been targeted by smear campaigns and subjected to pressure from the authorities since he gave his high-profile support to anti-government protesters during the 2019 social unrest.

"The situation now is such that if you do not speak up in support of the government, you will be regarded as an enemy of the state," he said on Thursday, as he revealed his decision to cease local Chickeeduck operations.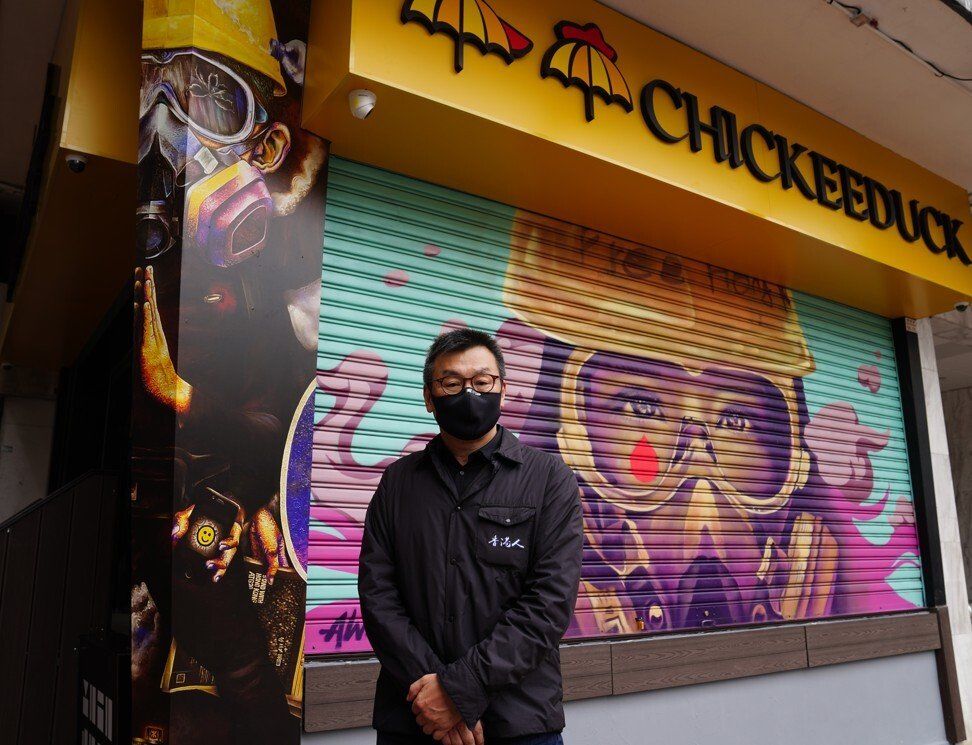 Herbert Chow, founder of Chickeeduck.

Chow also said his suppliers in mainland China and overseas had received warnings not to do business with his company.

"If we cannot guarantee a stable supply of products, our business model cannot be sustained. And our decision is to exit the Hong Kong market in the second half of 2022," he said.

But he was quick to add he was not shutting down the Chickeeduck brand altogether.

"I am not leaving Hong Kong and I have no plan to emigrate overseas either. I may start other businesses in the future under the trademark of Chickeeduck," he added.

As an example, he suggested potentially moving into early years education by setting up a "Chickeeduck nursery" or turning his focus on expanding his clothing business in overseas markets.

Chow said Chickeeduck's local exit should not be viewed as the failure of the "yellow economic circle", referring to a campaign for people to spend money at businesses that supported the 2019 anti-government movement.

"Hong Kong people's support for the yellow economic circle has been strong," he said. "You can see long queues outside some yellow restaurants. They have no problem with their business. Chickeeduck is an exceptional case because we cannot sustain ourselves if we cannot keep a steady supply of products from our suppliers."

Chow, a close friend of Occupy co-founder Benny Tai Yiu-ting, grabbed headlines in 2019 with his backing of the protests against the now-withdrawn extradition bill.

Last year, he displayed a protest statue in the Chickeeduck store at the D-Park shopping centre in Tsuen Wan, only for the mall operator to quickly order its removal.

He eventually took down the feature, claiming "political suppression", and later said he had been ordered to vacate the premises when his lease expired.

Last year he announced a bid to run in the Legislative Council election. The poll was subsequently delayed by the government on public health grounds amid the Covid-19 pandemic.

It was rescheduled for next month after Beijing overhauled the city's electoral system, but Chow did not put his name forward this time.

Chow said he had experienced difficulty renting shop space and many landlords declined to renew his leases. At its peak, Chickeeduck had some 20 outlets across the city, but Chow said only five remained.

Remaining defiant, he said: "Although Chickeeduck has experienced disturbance from the evil forces in the past 18 months, we have never given up on voicing out against injustice and will never consider backing off."

Chow insisted he was not afraid of the national security law, saying: "I do not think selling clothes is against national security."

He made headlines again in May when national security police searched the Chickeeduck shop in Tsuen Wan. Officers said they were responding to public complaints about an alleged breach of the national security law by displaying graffiti-style writing over the store's entrance reading "Liberate Hong Kong; revolution of our times".

The slogan was popular with protesters in 2019, but a court ruled this year that use of the term could incite others to commit secession, an offence under the security law.