About 500 families in a housing block in Hong Kong were urged to get tested for Covid-19 after a resident was confirmed as the sole local infection among the city's three new cases on Thursday.

The patient was linked to a previous case, extending an overall streak of traceable infections to four days. The other two cases were imported from Germany and the United States, pushing the official tally to 5,313 cases, with 105 related deaths.

There were less than 10 preliminary positive cases on Thursday.

The Centre for Health Protection (CHP) confirmed the latest local case involved a 50-year-old woman, who lived in block H at Lok Man Sun Chuen, a residential building under the Hong Kong Housing Society, in To Kwa Wan.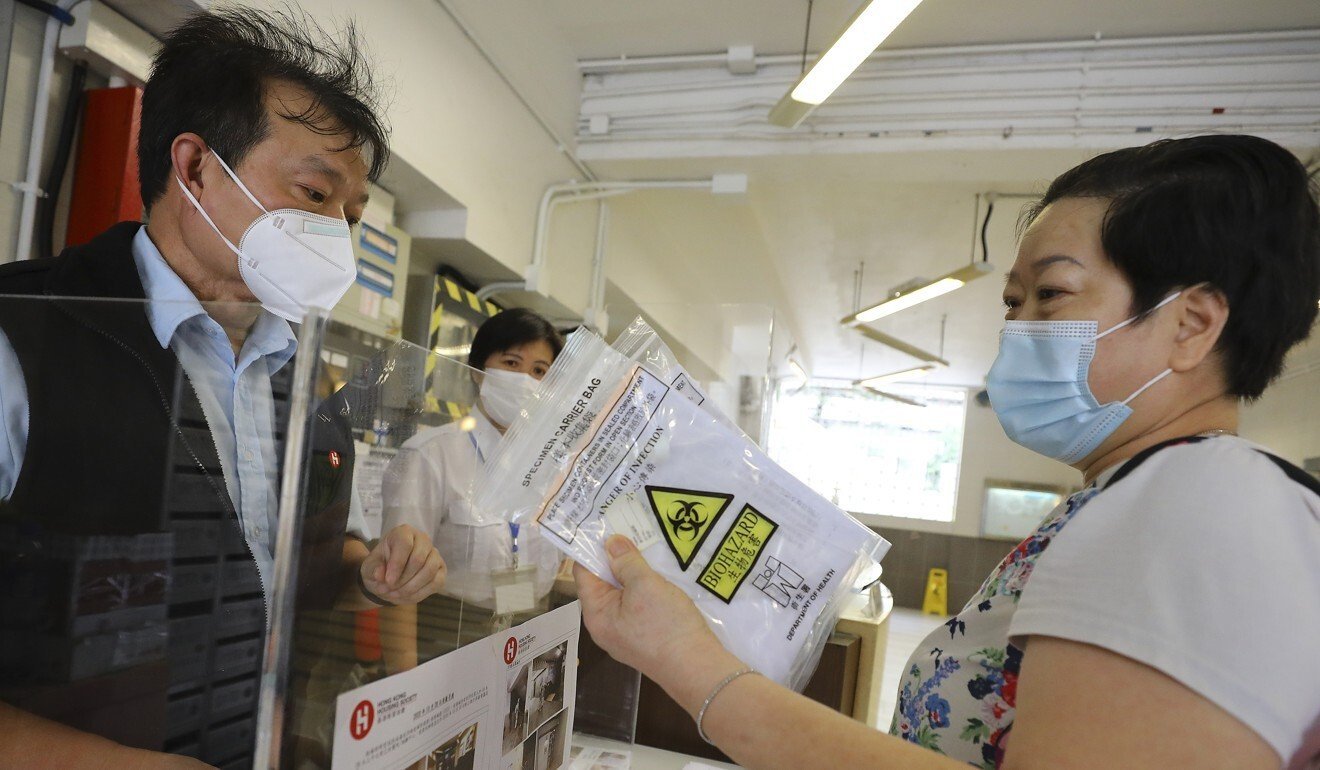 A resident of Lok Man Sun Chuen in To Kwa Wan collects a test pack.

The patient is the colleague of a 42-year-old clerk who works in Siu Ying Commercial Building in Sheung Wan. The clerk had been confirmed as infected on Sunday, but from an unknown source.

Authorities have asked some 500 households in that block to give deep-throat saliva samples and return the bottles on Friday and Saturday. Public health experts have recently called for mandatory testing of people with mild symptoms, as well as those with a high risk of exposure to the virus, but such screenings remain voluntary.

About 20 staff members from the Sheung Wan office in question would be quarantined at a government facility, the CHP added.

Meanwhile, the Department of Health announced that annual health assessments for Primary One and Two, as well as Secondary One students will gradually resume at 12 of 13 Student Health Service Centres – the exception being the branch at the West Kowloon Government Offices – from Monday.

ll 18 Elderly Health Centres will resume normal operating hours starting on the same day.

Hong Kong will relax social-distancing measures on Friday, with six people allowed to be seated at a restaurant table, up from four, while the size limit for groups in bars and pubs will rise from two to four.

In a move to take effect in time for the weekend, dine-in services will also be permitted until 2am, an extension from midnight. But customers must wear a mask when not seated and are not allowed to eat or drink away from their table.

Capacity limits are to be raised from 50 per cent to 75 per cent for restaurants, bars and pubs, nightclubs, public entertainment venues such as theme parks and museums, and swimming pools.

But the ban on more than four people gathering in public, the mandatory wearing of masks on public transport, and other related social-distancing rules remain in place until at least next Thursday.

The Leisure and Cultural Services Department said public beaches would reopen next Tuesday, after more than three months, but barbecue facilities there would remain closed.